Despite EOS critical vulnerabilities found by Chinese Internet Security Company, 360, prices are making a comeback. Of course, this is encouraging for hodlers who have seen their initial investment shrink by more than 70 percent in the last five months. I remain positive, first on EOS and Tron who have positive developments in the next two or three days, and IOTA because of that strong bullish engulfing pattern. On the light side though, if today's Stellar Lumens and Litecoin candlesticks end up higher then we shall buy on dips from tomorrow.
EOS Price Analysis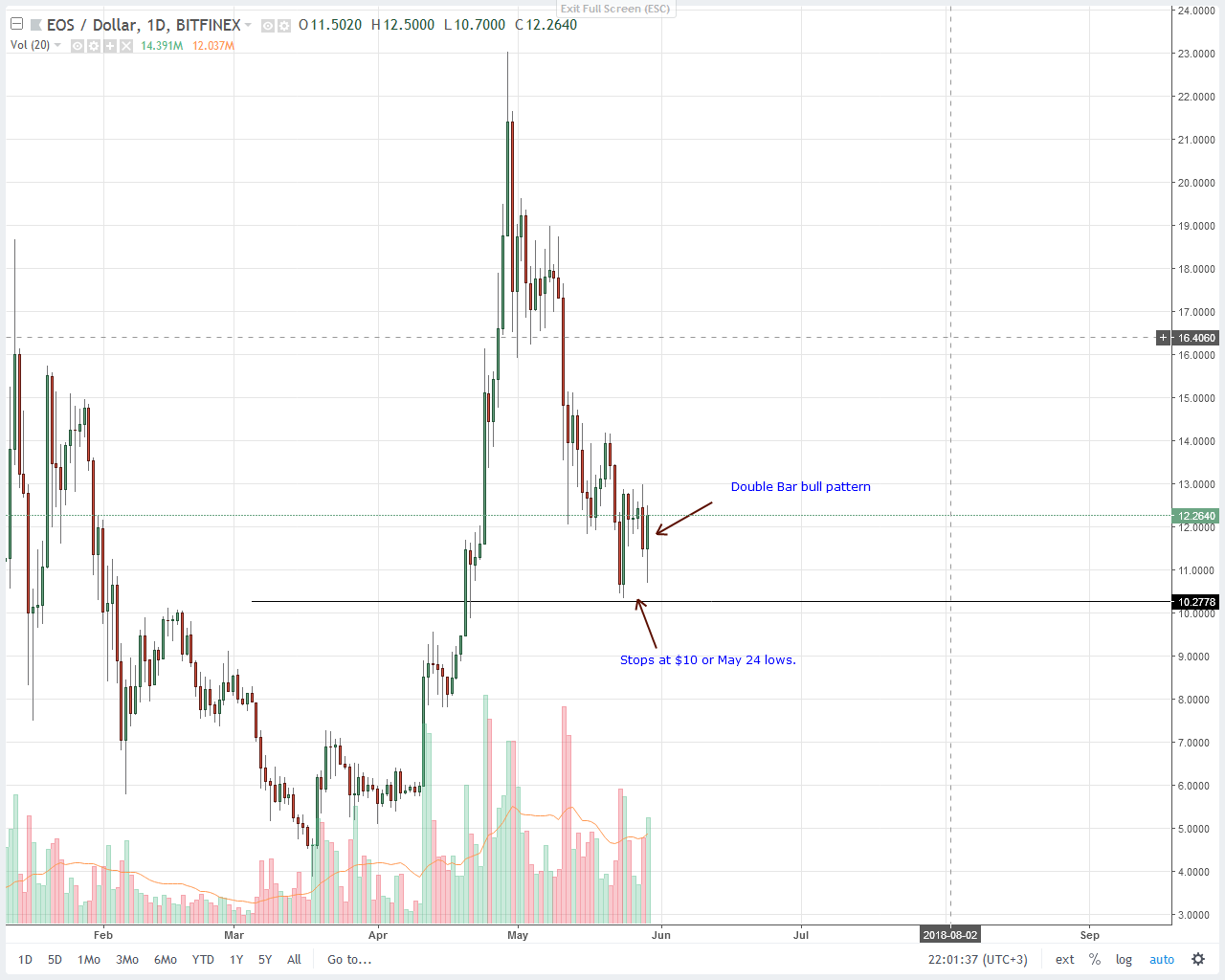 What a bummer! After all those EOSIO hype about security and what not, a Chinese Security Company 360 found a black hole within EOS architecture. In their chilling description, the security firm said the vulnerability is "epic" and a talented hacker could literally take over the network, mine coins and even steal your user profile.
3/ 360: attacker can deploy smart contracts w/ malicious code to EOS super node, which will execute the contract and trigger a security bug. Once the contract is included in a new block, all full nodes including backup nodes, exchges, wallet nodes, are all susceptible to attack.

— cnLedger (@cnLedger) May 29, 2018
What they mean to say is that you would have been exposed if not for 360. Of course, considering the proportion of this systemic risk, EOS and Dan Larimer were quick to assure the community that the issue has been patched. If not, they say, the upcoming mainnet launch shall not take place. Now, here is the thing. Ethereum has the same thorny issue with smart contract code and things like those but they have a bigger development team than EOS. If it's true that they did solve that in a record two hours, then they do have a super team.
Price wise, with relatively high volumes, EOS prices seems to be fighting bears. Well, notice that while bears are technically in charge, our previous trade plan is panning out okay. We might even see a recovery as June 2 mainnet launch nears. At the moment though, our trade plan remains constant. EOS supporters have to wait for a breach and close above May 24 highs at $13. On the other side, conservatives should wait for up thrusts above $14.
Litecoin (LTC) Price Analysis
If Bitcoin is the crypto Gold and a store of value as proponents shill it, then Litecoin runs the retail payment section. It is and continues to show intention of completely taking over as a means of exchange now that Crypterium app is availing LTC to their customers. Like most cryptocurrencies, Litecoin doesn't have their own payment solution.
Litecoin is the 4th cryptocurrency that we have added to the #Crypterium app. LTC is currently in test mode and will be fully available in a week. We have also added Australian dollar as a balance currency. Learn more here: https://t.co/bbxu2ytaEM pic.twitter.com/K3dJ67R1So

— Crypterium (@crypterium) May 14, 2018
Litecoin is simply a solution for cross border payments like Bitcoin but with low fees, people ready to pay in LTC. Crypterium is available at Google Store and App Store. Through it, users can easily buy stuff using LTC via a QR Coder Scanner and even view their balance in USD, GBP, Euro and AUD.
As I reiterate, our emphasis and short term trend depended mostly on whether bears will have confirmed May 28 candlesticks or if buyers would jump in. Well, buyers did jump in at support and we now have a nice double bar reversal candlestick with high trade volumes. In my view, buying Litecoin at current prices with stops below $110 would be catching the train earlier. It's also riskier. However, if you want to be sure then wait and observe today's price action. Any confirmation with higher highs towards $130 is likely to usher in Litecoin buyers.
Stellar Lumens (XLM) Price Analysis
As usual Stellar Lumens news are hard to come by. Releases or investor updates come in far and between but regardless, it seems like prices are cuing in just like other coins. Obviously, we have a double bar bull reversal pattern in the midst of bears and that's why it's not prudent to jump right away and buy. Today shall define if indeed yesterday's appreciation and volume spike was buying activities or short coverings. Thereafter, and assuming today's candlestick is bullish, I would recommend buying on dips in lower time frames.
Tron (TRX) Price Analysis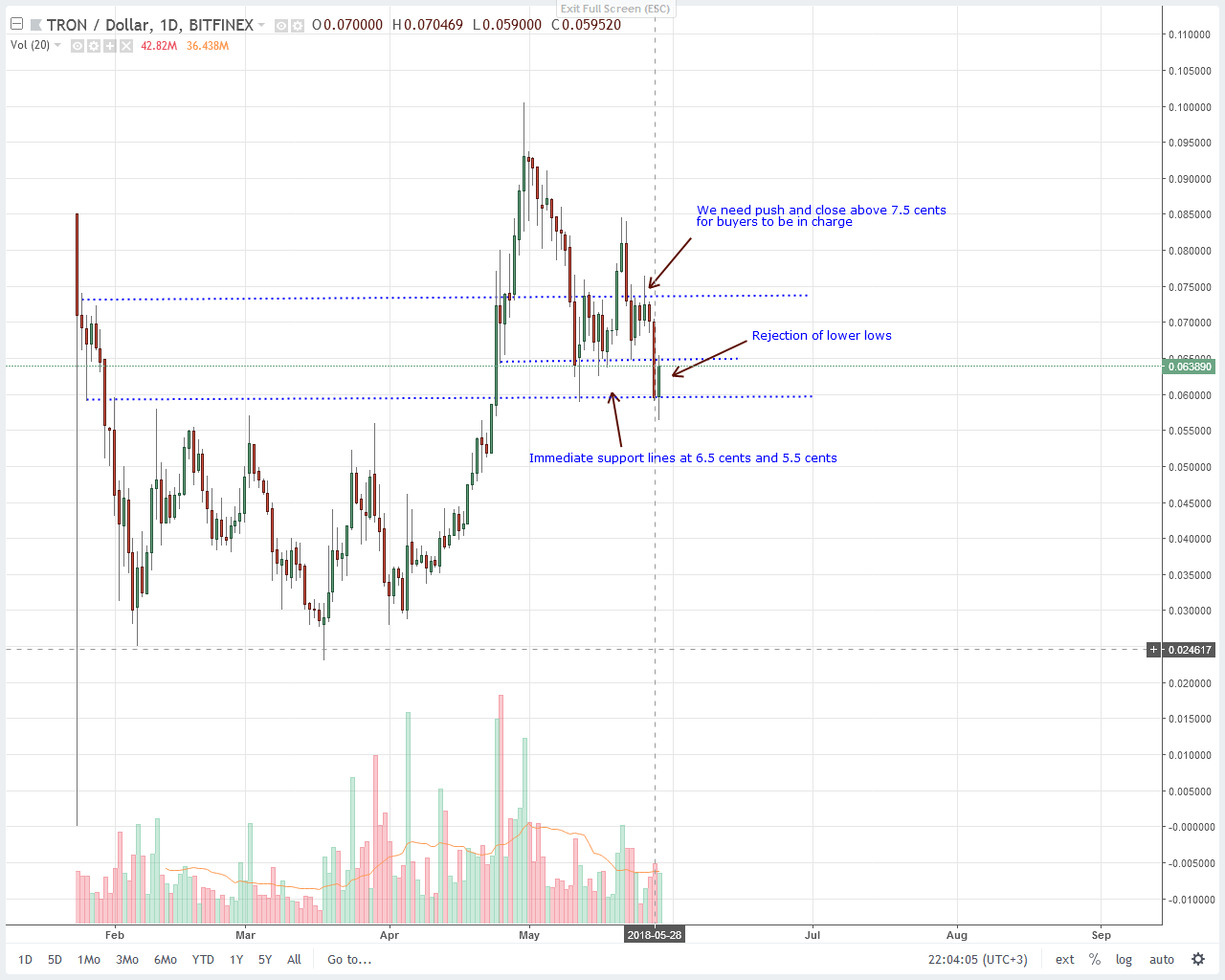 Different exchanges are flocking to Justin Sun and the Tron Foundation. In a Tweet, Justin Sun announced that OEX shall be supporting their Tron mainnet launch. As it has been the case, this is good news. OEX is a special cryptocurrency exchange that prioritizes user data security and speed of order settlement. With TRX amongst the coins exposed to OEX clients, expect general trade volumes to increase.
In our previous analysis, we laid emphasis on patience because of technical events happening in next 72 hours or so. Now, as the chart shows, buyers appear to be taking center stage,charging forward as they seek to recoup May 28 losses.
In my view, like EOS and Lumens, waiting for a confirmation can be a better strategy than buying right away which by the way you can. If that's the case, safe stops at 5.5 cents or below May 29 lows would pan out okay assuming today prints higher. Nevertheless, conservatives should wait for a clean break above 7.5 cents and consolidation just like our assertion in previous trade plans.
IOTA (IOT) Price Analysis
If you have been following IOTA's Trinity wallet then just know that their mobile version audit is complete.
Trinity Audit Complete!!!!! https://t.co/x3lF2sNjVI #IOTA #IOT #Tech #m2m

— /r/IOTA (@Reddit_IOTA) May 28, 2018
On the chart, buying IOTA at current prices with stops at May 29 lows is but a nice idea. Notice that yesterday's volumes was above average and the resulting bullish engulfing candlestick completely eclipsed the last five bearish candlestick meaning buyers are indeed in this trade. Like before, buyers should target May's highs at $2.6 with stops at $1.28 or there about.