Ripple (XRP) range bound, 34 cents immediate resistance
IBM Hyperledger Fabric and World Wire offer stiff competition
All in all, Ripple Inc haven been prosperous in their promotions. Banks in the Middle East, SE Asia, and India are using their solutions. Despite that, Ripple (XRP) prices are stagnant and stuck within a 4 cents range.
Ripple Price Analysis
Fundamentals
It may be seven years down the line and with more than 200 banks leveraging Ripple Inc's solutions, the blockchain start-up is successful. With Banco Santander, SBI Group, Federal Bank, Western Union and a foothold in the Middle East and Asia, investors are eager for more.
If anything, a measure of success would be on how financial institutions and processors respond to xRapid and XRP. The latter is the enabler that facilitates near instant payment settlement which Inter Ledger and a couple of other payment apps seek to achieve. Of the three solutions, xCurrent—an option that allows end-to-end tracking of transactions is popular.
However, if there is a regulatory clarification on XRP and the US SEC comes forth, declaring the asset as a utility with no central point of control, then we expect processors and even banks to jump in the fray, enjoy security, transparency, and cost-cutting that XRP and xRapid tags along.
Nevertheless, the sphere is heating up, and IBM's World Wire, JP Morgan's JPM Coin designed for institutions as well as its Hyperledger Fabric—in use by firms featured in Forbes Blockchain 50 List promise to slow down progress as clients do have options.
Candlestick Arrangement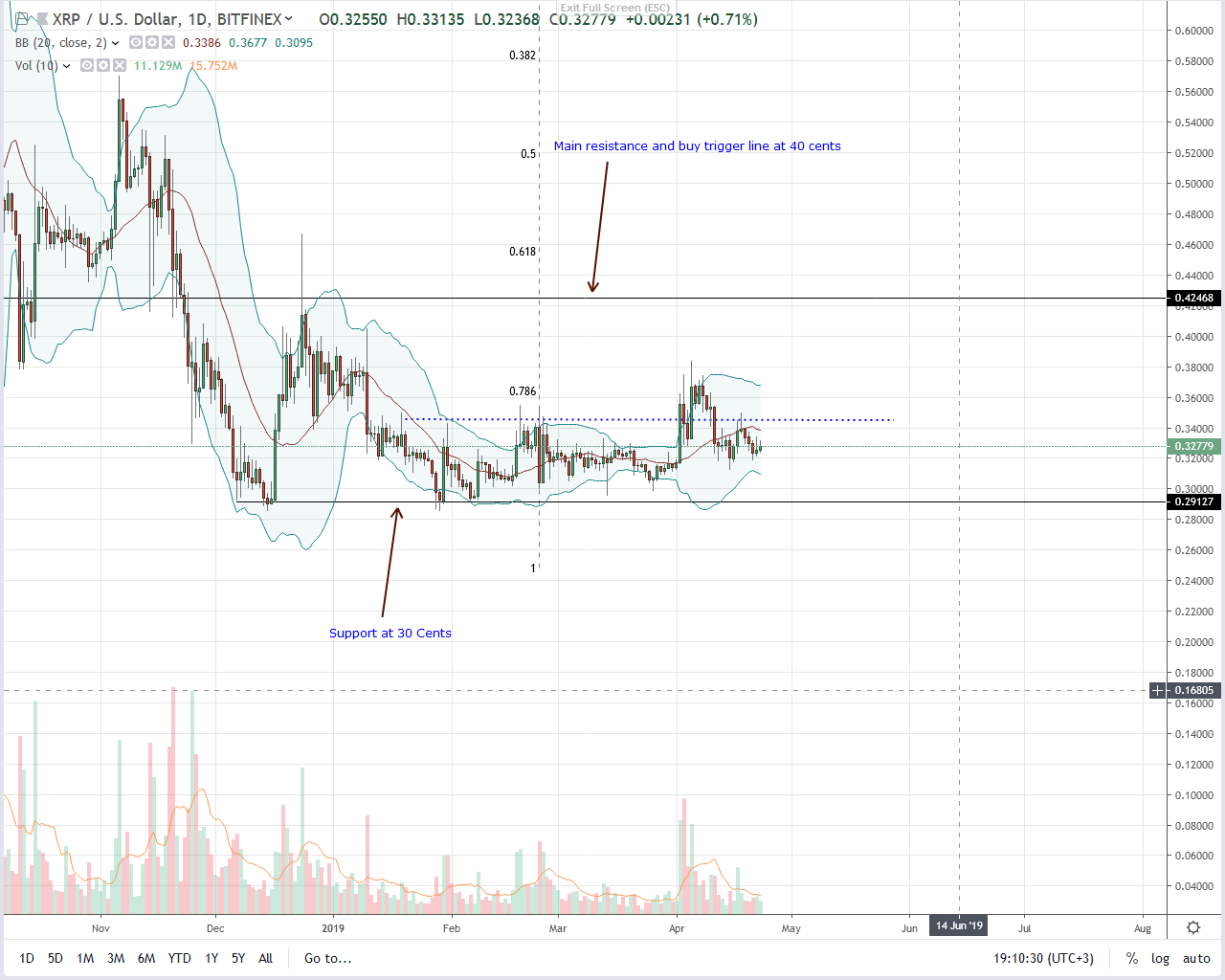 Price wise and Ripple (XRP) is bouncing off the 30 cents support. Even so, prices are ranging within a 4 cents zone and yet to break off above the 34 cents buy trigger line.
In line with our previous XRP/USD trade plan, the coin's performance is mostly dependent on how prices react at this level—flashing with the 61.8 percent Fibonacci retracement level of Dec 2018 high low.
If buyers build up enough momentum and break off from this zone at the back of high transaction volumes, then from an effort versus result point of view, we expect the momentum of Jan 30 to continue as XRP surge past 34 cents towards 40 cents.
Technical Indicators
As aforementioned, buyers are in control despite the headwinds of Apr-11. Nonetheless, it is imperative that XRP prices edge past 34 cents and feeding this momentum should be an influx of buyers reversing Apr-11 losses with high volumes exceeding 32 million and recent averages of 15 million.
Chart courtesy of Trading View