Tron (TRX) is recovering, adds 13.2 percent
Justin Sun is safe and not restrained from traveling
Justin Sun, the co-founder of Tron, is "safe" as NewsBTC reported. Other sources indicate that he is in San Francisco and not detained by Chinese authorities. Overly, this is bullish for TRX. Already, the coin is up 13.2 percent from last week's close.
Tron Price Analysis
Fundamentals
Blockchain, as an emerging technology, is broad and global. Touted as a leading innovation in the 21st century, it is the foundation of the current disruption.
Although it is borderless, projects leveraging the technology operate from jurisdictions with different interpretations of blockchain. While some are against its applications, the majority are supportive though skeptical-even apprehensive, of cryptocurrencies.
To that end, the US Senate Banking Committee will hold an open session, the "Examining Regulatory Frameworks for Digital Currencies and Blockchain" on July 30. Even though clarifying information is scarce, the intention, according to reports, is to discuss regulatory framework around cryptocurrencies.
Away from the US, the rumor that Chinese authorities are detaining Justin Sun is false. The Tron co-founder likely landed in San Francisco earlier today as per a CoinDesk report.
Candlestick Arrangement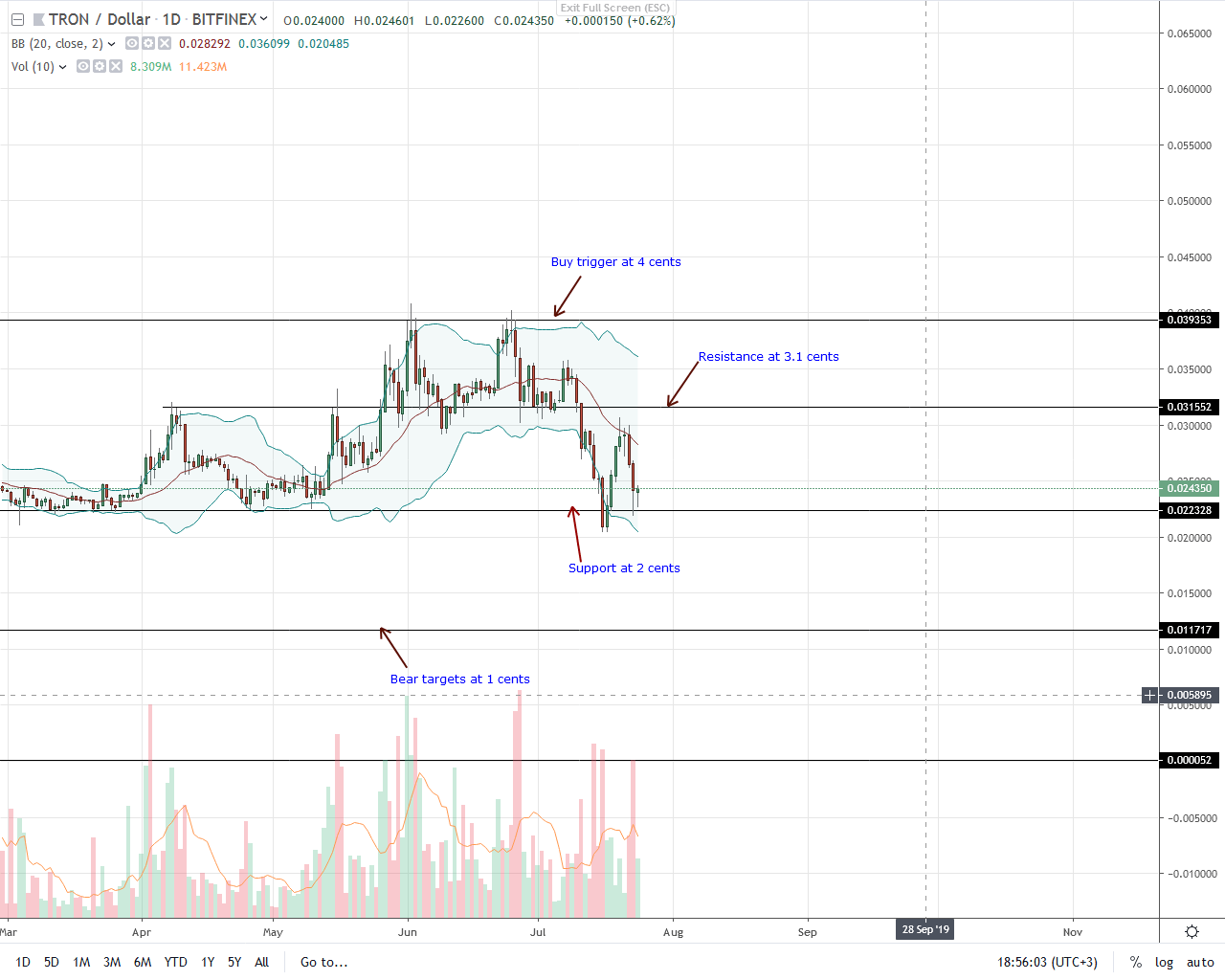 Presently, TRX bulls are firm, adding 8.8 percent in 24 hours. Furthermore, the coin is up 13.2 percent from last week's close. Overly, this is indicative of demand.
From previous TRX/USD trade plan, prices must oscillate above 2 cents. The rationale is that the coin is trading within a bullish breakout pattern against the USD. Besides, the coin is mostly in range mode, trending within a 1.5 cents zone, with caps at 4 cents.
Additionally, there is support for TRX following the undervaluation of July 17, affirmed by the subsequent correction of July 18 through to July 21.
Therefore, as long as prices are trending above 2 cents, aggressive traders can buy the dips with targets at 4 cents as laid out in previous TRX/USD trade plans.
On the flip side, losses below 2 cents will heap pressure on TRX, forcing liquidation as sellers aim at 2018 lows of 1 cent.
Technical Indicators
Bullish, the short-to-medium term trajectory of TRX anchors on July 17 bear candlestick. Indicative of buy pressure because of the long lower wick, the bar has above-average trading volumes.
Although traders can buy the dips as aforementioned, better signals will be present if there is a break out above 3.1 cents. Accompanying this bullish signal ought to be high participation, preferably exceeding 23 million of July 23.
Conversely, losses below 2 cents, ushering in sellers should be with a similar level of participation. In that likelihood, TRX will likely tumble to 1 cent.
Chart courtesy of Trading View. Image Courtesy of Shutterstock