As Bitcoin businesses continue to hunt down the ideal places for their unceasing habitation, their feet might get some rest on the soil of the Isle of Man.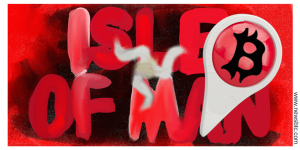 The self-governing British Crown nation is just inches away from passing new regulatory framework for digital currency businesses that could literally give the US a run for their 'Bitcoin'. As Business Insider reported, this place possesses the rightest legal infrastructure to implement the next-generation payment systems without breaking a sweat, a modern gospel truth that could make Isle of Man "a true paradise for digital currencies" as compared to other nations.
The country has proved the same by hosting a series of the successful online gaming businesses, a step that also added significant numbers to their economy, reportedly $20 billion on an annual basis. It is also set to be the first place to ever try 5G services, as reported by multiple leading news networks.
When it comes to Bitcoin, Isle of Man therefore neatly illustrates itself as a technologically-secular jurisdiction. An example of this could be noted from the amendments they made in one of their acts (read here) to specifically embrace a newer form of payment infrastructure.
Isle of Man's E-Commerce Business Head Peter Greenhill, in his statements to Business Insider, further exhibited their plans to become a point of attraction for new and seasoned Bitcoin ventures. He referred to their attractive tax plans to make his point which, as we noticed, clearly exempts cryptocurrency businesses from paying a number of usually-applicable taxes such as capital gains tax and corporation tax.
At the same time, Isle of Man has certain challenges in hand before commencing the new digital currency law. There is, first, a need to address the growing security concerns for Bitcoin consumers and businesses. Some of the previous Bitcoin-related thefts have cost companies and users around a billion dollars, a reason why many nations have been delaying the release of their regulator laws for Bitcoin.
Greenhill however ensures businesses of being granted a proper risk assessment mechanism, while citing Isle of Man's Proceeds of Crime Act 2008 that would safeguard digital currency businesses from every sort of online crime.
The other, and the most important, is to attract mainstream banking partners, a thing that had once gone horribly wrong in the past (read here).