Ripple price trajectory is up
Yoshitaka Kitao endorses Ripple (XRP)
Transactional volumes on the rise
SBI Holdings and Yoshitaka Kitao are Ripple (XRP) proponents and believe the coin will somehow revolutionize cryptocurrency. Anyhow, with the launch of SBIVC expected in weeks, our previous XRP/USD trade plans will be validated.
Ripple (XRP) Price Analysis
Fundamentals
Sometimes, the head of SBI Holdings Yoshitaka Kitao may appear over-optimistic about Ripple and XRP abilities to revolutionize crypto. SBI Holdings anchors and is the nucleus of Ripple activities in Asia. As the majority holder of SBI-Ripple Asia alliance, they have been promoting adoption in the crypto-active region.
March is when the SBIVC exchange will launch and with XRP paired against the Japanese Yen, we expect an immediate effect on price. However, the real impact is projected to be in August when adoption will be center stage, and there will be regulatory clarity on the status of XRP as a token.
Add this to SBI Holdings plans of supporting Ripple Inc and aid in their ambition of driving the coin to new heights. Bullish signals are flashing. Here is what Yoshitaka Kitao said:
"Under these circumstances, we will promote efforts to expand the practical use of virtual currency like XRP more and more. Also, on the other side, we will provide investment instruments incorporating virtual currency into institutional investors."
He continues, adding that BTC is expensive and XRP is designed for global cross border payments because it is cheap and settlement is almost instantaneous:
"There is basically no value for Bitcoin. The current price of Bitcoin makes it harder and harder to use in practical ways. So I think that XRP will probably become the number one crypto asset. We are aiming to make that happen."
Candlestick Arrangements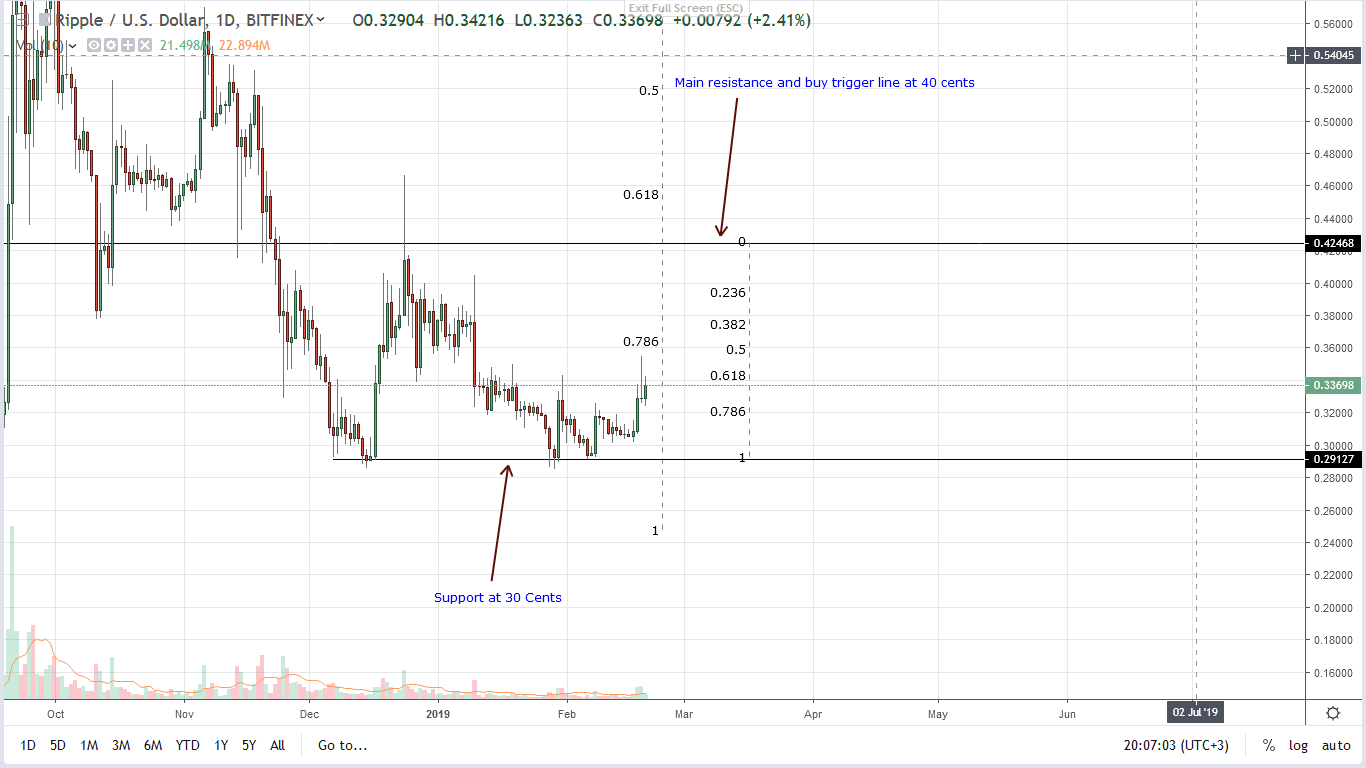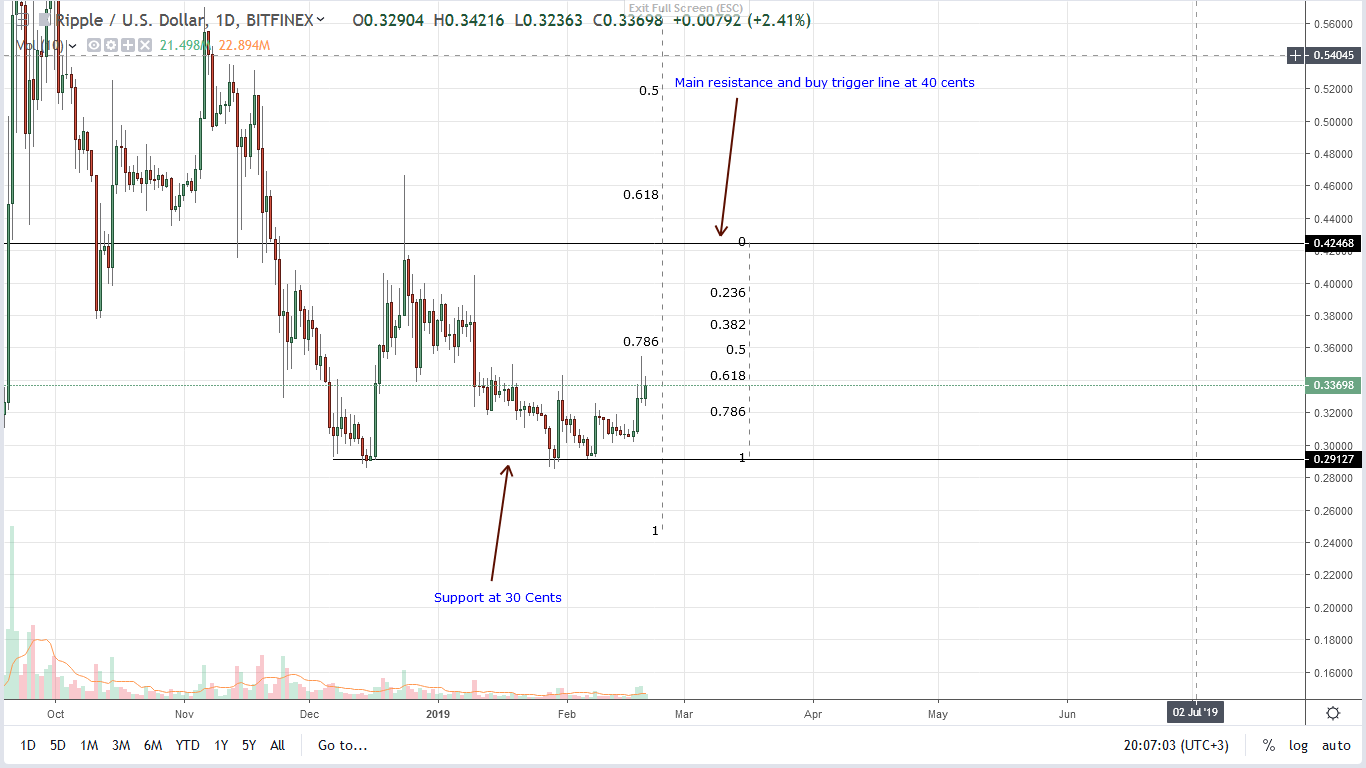 The path to a possible BTC–XRP flip is long if not next to impossible. At current valuations, XRP is more than 4.5 times more valuable than BTC, and if Kitao comments are valid, then XRP is grossly undervalued.
The third most valuable coin is now changing hands at 33 cents and up 7.1 percent in the last week. While BTC and ETH are posting huge gains from last week's close, XRP is struggling against bears and consolidating in lower time frames.
Because of this, our XRP/USD trade conditions are not yet true and risk-off traders ought to hold off from executing longs despite high-volume bull bars trending below 34 cents. It is only after a full bar close above 34 cents is when traders can load up on dips with first targets at 40 cents and later 60 cents.
Technical Indicators
Encouragingly, transactional volumes are increasing, and XRP is expanding as a result. In the last few days, averages have risen from 15 million of Jan 29 to 22 million posted yesterday. However, as aforementioned, we need strong market participation driving prices above 34 cents with volumes above 52 million or 83 million of those of Jan 10.