Ethereum prices in an uptrend, add 9.3 percent
Break above $190 and $200 ought to be with high transactional volumes
ConsenSys are building and developing infrastructure, apps, and tools useful in the Ethereum ecosystem. That will support prices forming the base for Ethereum (ETH) rockets aiming at $250 or higher.
Ethereum Price Analysis
Fundamentals
Joseph Lubin is the co-founder of Ethereum and the founder of ConsenSys, and he is optimistic of Ethereum's future. Being a billionaire, Joseph is an influencer and is actively driving Ethereum to the masses. Through ConsenSys–which serves as an Ethereum studio, Joseph owns a majority of ETH.
Now that markets are recovering after last year's crypto winter saw his studio restructure, subsequently laying off staff, Joseph projects ETH value to increase by 1000X in the next two years. He said this while delivering his keynote at the South by SouthWest (SXSW) in Austin mid last month. If that is the case, then Ethereum (ETH) is grossly undervalued more so if we factor in the prospects of Ethereum 2.0 and how it will shape the platform's speed, efficiency, and security.
At ConsenSys, Lubin said his team is getting started and at stage-0 in a four-phase journey that will take 18 months to execute. It is these developments that will not only fuel demand for Ethereum as a smart contracting platform, but as more businesses launch their project beneath a secure and trusted platform, then the network will gradually evolve into a global settlement layer.
"The Ethereum ecosystem has the diversity, expertise, and momentum to get this done well and quickly. It takes an enormous amount of work and network effect to build an ecosystem, so by that time, Ethereum's ecosystem will be orders of magnitude larger than the other two and will already have strong scalability at layer two."
Candlestick Arrangements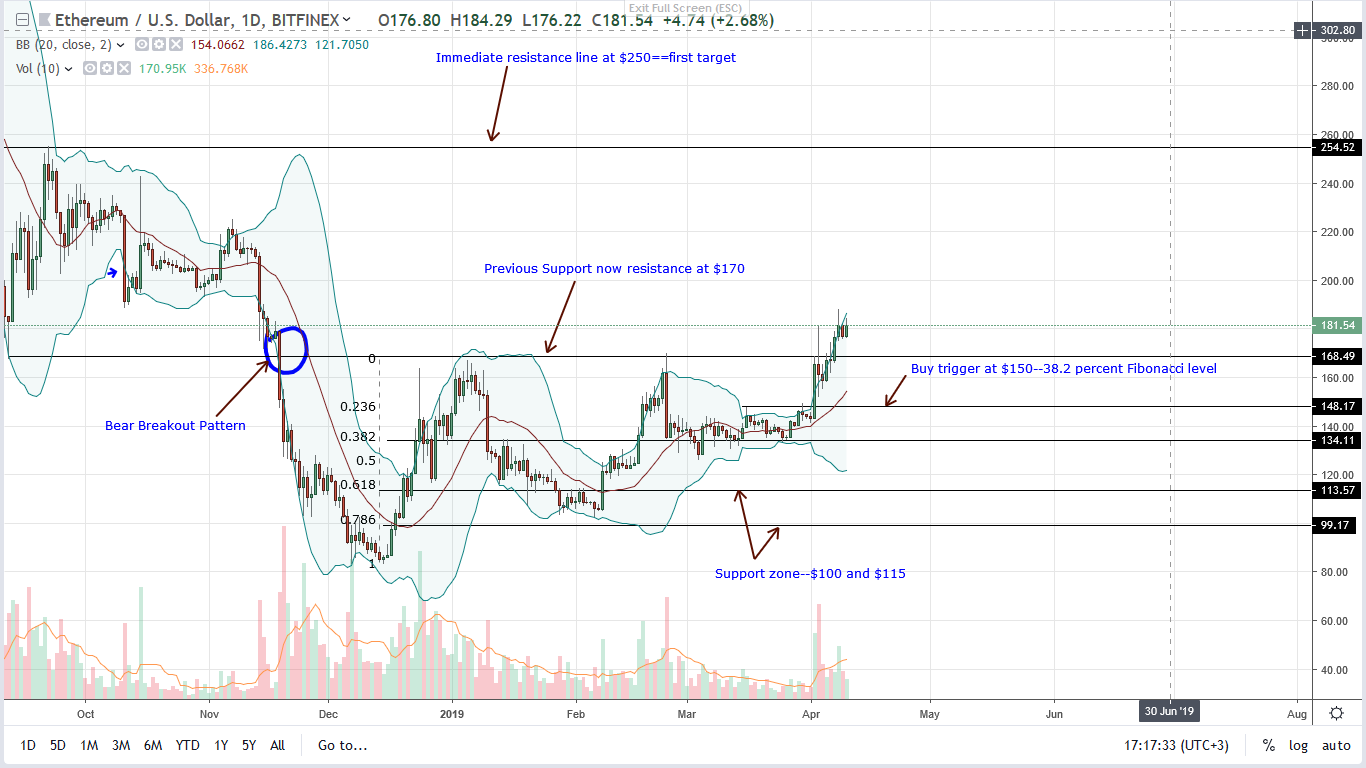 Up 9.3 percent from last week's close, Ethereum (ETH) is on a roll and trading within a bullish breakout pattern. Although we expect prices to expand in days ahead mostly because of fundamental factors and supportive candlestick arrangement, traders are watching $190, our recent highs and whether bulls will clear the resistance line.
Note that prices are technically accumulating and with a long upper wick visible in today's bar, sellers are pressing on, looking for a reversal. Even so, every low would be a buying opportunity as long as prices trend above $170, our immediate support line previous resistance.
In a spring, that will feed the next wave of higher highs that will eventually drive prices above $200 towards $250 and even $300 as laid out in our last ETH/USD trade plan. On the reverse side, any drop below $160 would force liquidation more so if the slide is with high transactional volumes above 880k or 575k of Apr 2.
Technical Indicators
Bulls are in control, but we need confirmation for trend continuation. That is why even if prices are edging higher, we need a rally towards $200. Fueling this surge should be high volumes exceeding 820k of Apr 3 cementing buy pressure of Apr 2 and setting in motion the next leg that will eventually drive prices to $250 or higher.
Chart courtesy of Trading View