It's rare we see uniform appreciation of altcoins prices. Could BitFinex and the rest involved in another "coordinated BTC pump" and helping alt coins recover? Well, maybe, we don't have data but we should draw some nuggets from recent Amin Shams research paper done by the University of Texas-Austin. While that may be true, we for sure know that EOS is up because of the good voting vibes that finally breathes live and gives its token value.
Let's have a look at these charts:
EOS Technical Analysis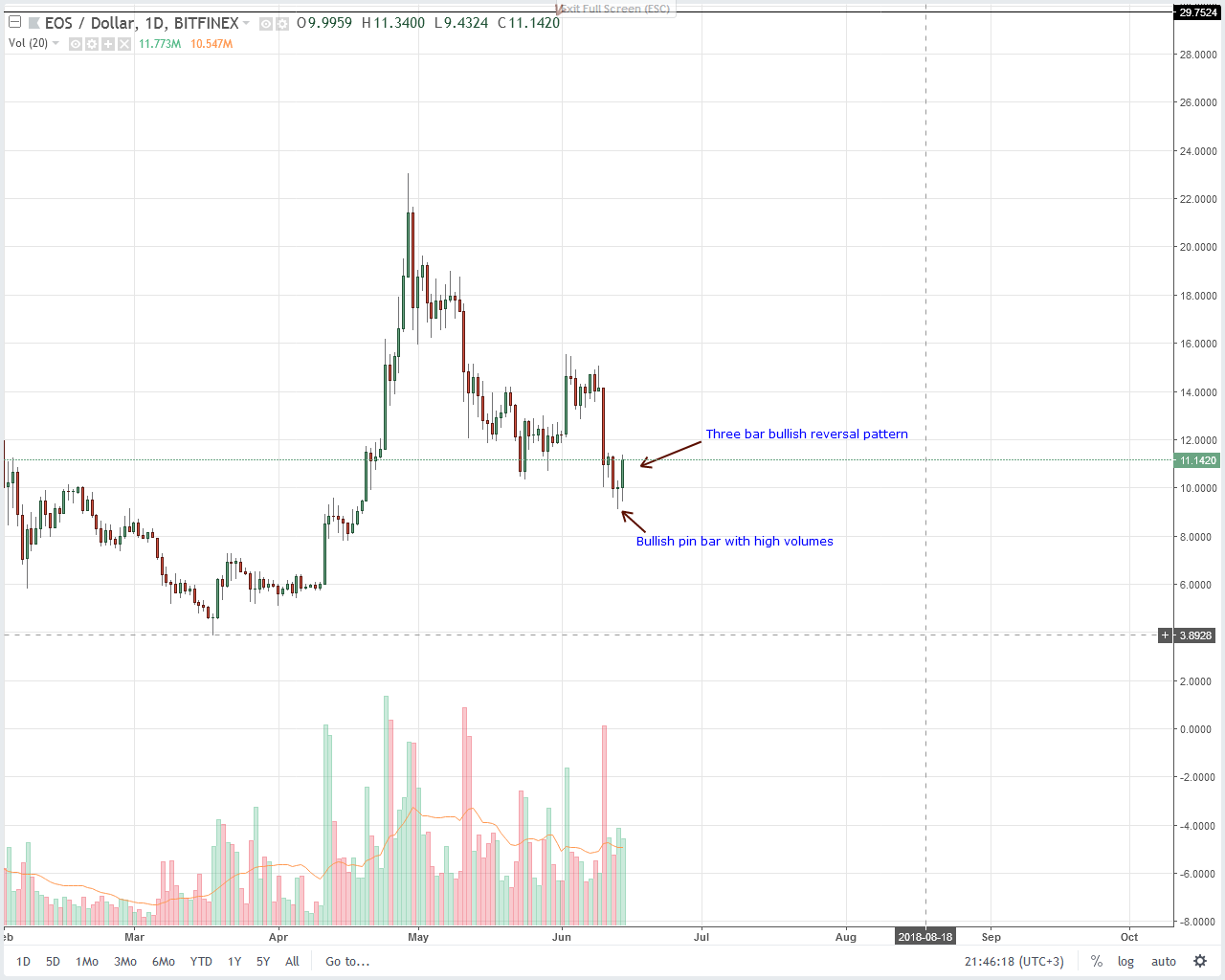 According to EOSAuthority, it's Eureka for Dan Larimer, Block One and EOSIO. EOS has successfully staked 150 million EOS coins enough for block producer voting to begin and that was the only trigger that was needed as we had said before.
EOS Voting it is Complete Now WOW,??? pic.twitter.com/Z6E1aC7ulx

— ffghof (@gnamet29) June 14, 2018
The shift of sentiment is clear from the chart and it couldn't be any better because not only do we see a moment of pure coincidence but that nice three bar reversal pattern and a morning star means we buy going forward. After all, yesterday's candlestick was overwhelmingly bullish with high volumes following through that bullish pin bar we had on June 13. As such, ideal stops lies at June 13 lows at $8 with take profits at $15 and later $23.
Litecoin (LTC) Technical Analysis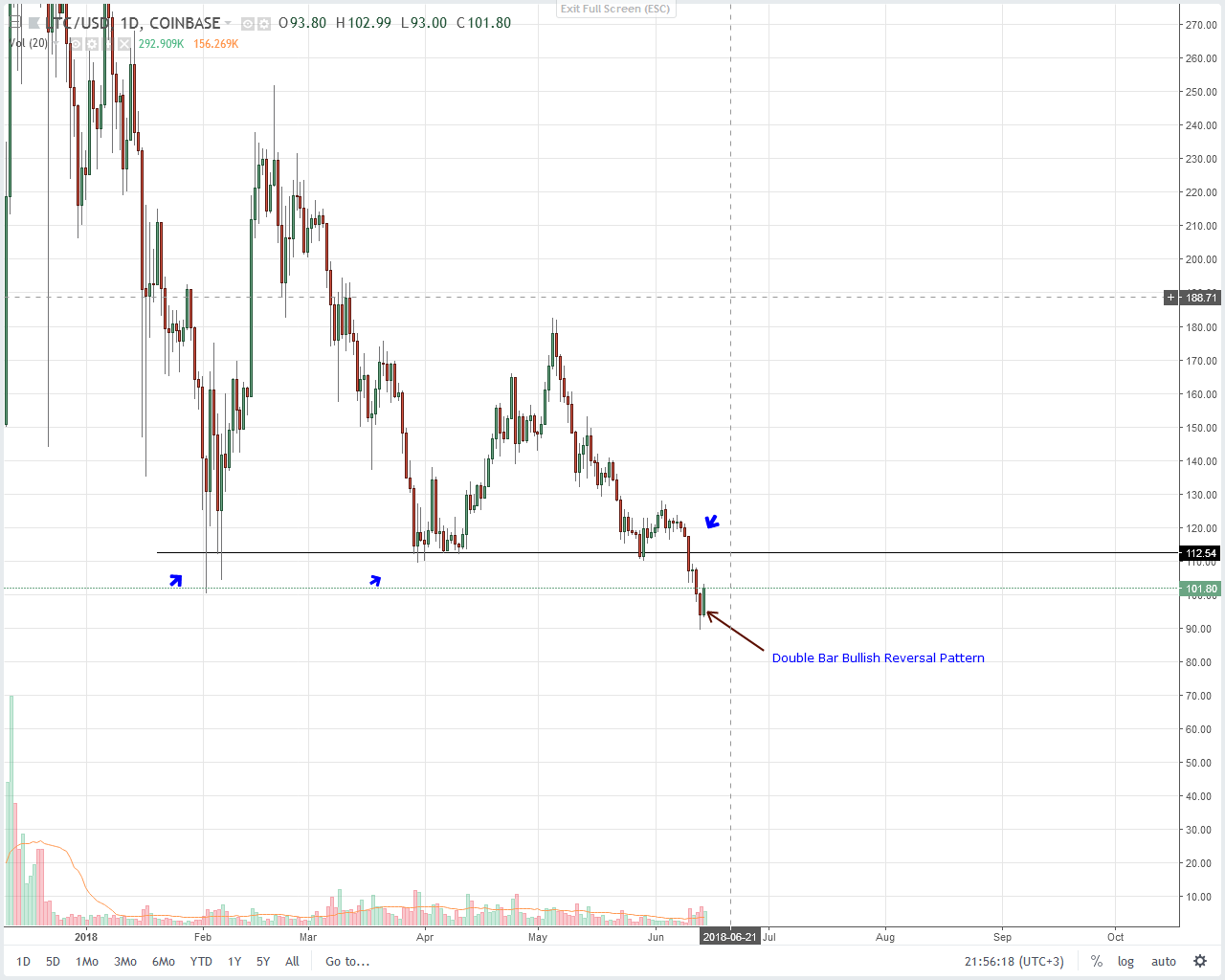 It's no secret that financial institutions under the oversight of government oversight treasure regulation. On the other hand while cryptocurrencies are generally investment grade products, the sheer lack of regulatory oversight slam the door for institutional level investments. However, things are changing.
Like Gemini, ItBit a regulated exchange received the nod from the New York State Department of Financial Services (NYSDFS) to list four other cryptos including Litecoin and Stellar Lumens for their customers. This means under their new arrangement, they can hold custody, allow OTC trading and even exchange coins under their watch for their customers.
Looks like ItBit will be trading Litecoin soon! https://t.co/b1uP41C4g0

— Charlie Lee [LTC⚡] (@SatoshiLite) June 14, 2018
While this is happening, it seems like EOS event is generally jerking prices back to live. After yesterday's nine percent gain, we have a clear double bar reversal pattern right in the thick of bear pressure. I won't recommend buys today but should we see a confirmation of June 14 buy pressure then we can start buying once prices edge past $110. In that case, stops at $110 with targets at $140 would do the job.
Stellar Lumens (XLM) Technical Analysis
Like LTC, Stellar is up eight percent in the last 24 hours and this is good news and a reprieve for coin supporters. Of course Stellar as a platform is perfect even for launching projects and besides it expediting value transfer, it has different user cases and investors are seeing value in Jade McCaleb vision.
So, because of yesterday's bullish bar, it's quick to enter back and buy because of those high volumes in the past few days rejecting lower lows. Yes, you can buy with stops at 20 cents or even 18 cents but I prefer waiting for confirmations today. When that happens, ramping longs with first targets at 30 cents and later at 40 cents will be perfect. However, should sellers get back and break below 20 cents, then this projection would be valid and in that case selling with targets at 9 cents will fit right.
Tron (TRX) Technical Analysis
Do you think the new Tron Web wallet available via a Chrome plugin is a hack in waiting? If you think so, your concerns are well founded and we can draw many similarities to past exploits of MEW and several other third party wallets where coin holders have lost million of USD worth of coins.
On the flip side, Justin Sun may be right with this new announcement of what he terms as an "amazing" wallet specifically made for Tron. Of course, it's fodder for critics but while it's well meaning, the community is asking for solid partnership with say Ledger or KeepKey for an official Tron hardware wallet.
#TRON An amazing multi-functional wallet applying to Chrome plugins designed specifically for the TRON web. #TRX  $TRX https://t.co/TzMSfnTSTw

— Justin Sun (@justinsuntron) June 14, 2018
Price wise, those long lower wicks on June 13 combined with high trading volumes were spring boards for buyers especially now that prices are at key support lines. Since we are seeing these reversals happening at our previous inflection points and bear targets, safe stops may be at these levels. So, in line with the new found buy momentum inside a deep decline, buying with stops at 3.5 cents is what I suggest. Buy targets would be at 6.5 cents and later 8.5 cents.
IOTA (IOT) Technical Analysis
I think there is no better time than now for that one person whose main aim is to bridge the "community and IOTA Foundation". Fahad Sheikh is here to do that and during his tenure-hopefully permanent, he shall help foster vibrant leadership, create awareness and allow the team to respond to community needs.
Welcome Fahad Sheikh to the IOTA Foundationhttps://t.co/yOnEV2ssia#IOTA

— IOTA (@iotatoken) June 14, 2018
As that was happening, IOTA is lifting itself up from the dredges and for the very first time in a three weeks or so, IOTA and the top 10 is printing a uniform green. It means IOTA is up close to 10 percent and beckoning early buyers to jump in and help propel prices back to $3 if not $4.5 on the upper side of the spectrum. That's what I suggest and conservatives should wait until prices are up above $1.3 or May 29 lows before ramping up. Safe stops are at June 14 lows of $1.1.