Litecoin price surge, up 14.8 percent
Venezuela approves Bitcoin and Litecoin as remittance agents
Volumes explode as Litecoin (LTC) likely to close above $50
It is only through Remesas, which has the support of the Venezuelan government and under its regulators, that users can send funds using Bitcoin and Litecoin. Perhaps, this move (not trusted by many) will further help pump Litecoin, up 14.8 percent in the last day.
Litecoin Price Analysis
Fundamentals
Even though Litecoin (LTC)–like all coins may be recovering, the decision made by the Litecoin Foundation that they will be complementing Bitcoin (as its silver) was strategic and is now paying dividends. Trading at around one percent of Bitcoin's value, Litecoin is proving to be a cheap cross border alternative that governments like Venezuela are recognizing. Besides, it is available in almost all exchanges across the world meaning it is liquid and suitable for merchants.
Aside from being a medium of exchange—and gravitating towards privacy, Litecoin (LTC) and Bitcoin will be the two coins that users can use as agents of remittance. The Venezuelan backed crypto platform, Remesas only accept Bitcoin and Litecoin.
It will run on the Patria under the direct oversight of Superintendency of Cryptoassets and Related Activities (SUNACRIP), the country's regulator.
"Remesas is a service of the Patria Platform that allows you to send remittances to Venezuela in Cryptocurrencies. The resources sent will be available in Sovereign Bolivars in the Monedero Patria as soon as the transfer is confirmed. The cryptocurrencies that can be used to send [remittances] are Bitcoin and Litecoin."
Candlestick Arrangements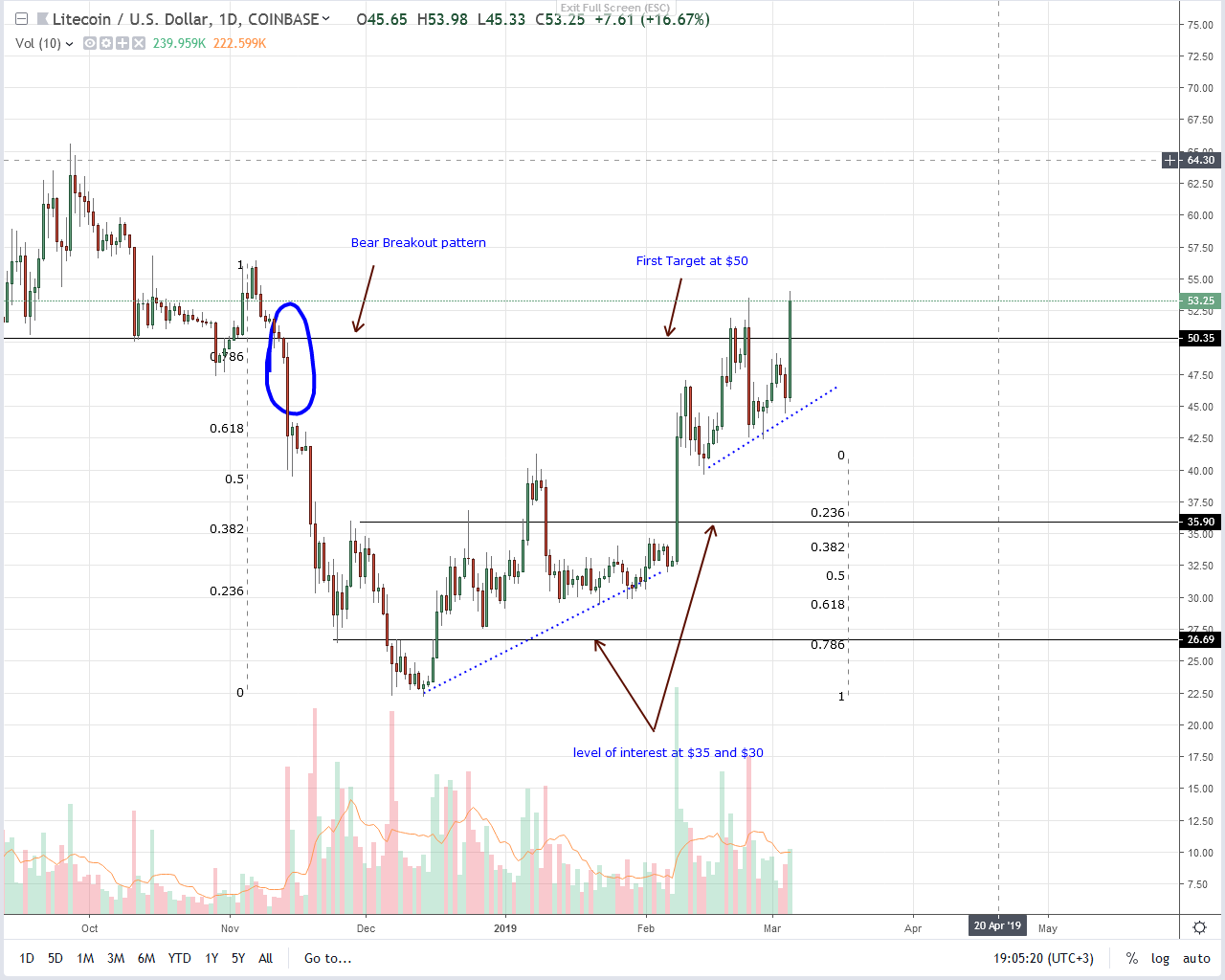 Trailing Binance Coin (BNB), Litecoin is up 14.8 percent in the last day. As a result of this upswing, our previous LTC/USD trade plans are valid. We expect this pump to continue throughout the NY Session and it is likely that Litecoin will for the first time this year close above $50.
The resistance level is critical. Because it is previous support, any close above this mark will usher bulls aiming at $70. After that happens, the bar breakout pattern of mid-Nov 2018—as mentioned in our last analysis–becomes invalid.
If not and bears reject attempts of higher highs, then we shall have a classic bear trend resumption phase as the second stage, the retest comes to an end. All the same, we are optimistic. Our first modest target is $70.
Technical Indicators
All we need is a mirror of Feb 8 bull bar. Not only does it have transaction volumes—832k versus 202k average, but it is wide-ranging. After today's close we shall know the exact participation level but from the look, volumes are above average. If tomorrow's bar complements today's price action, then accompanying volumes must be above 220k averages. It will be perfect if volumes surpass 832k of Feb 8 as bulls cement their position.