Development wise, prospects of lightning Network and Casa should boost prices. This comes at a time when Litecoin has been agitating for mass adoption by forming strategic partnerships with payment providers, news of a one-in-all solution that simplify LN node set up and channel transactions further reflect the divergence between fundamentals and price technicals. Regardless, bears are yet to breach $50 and it doesn't matter when but once they do, LTC would be available for cheap allowing enthusiasts and coin believers to accumulate this under priced digital asset.
From the News
CoinBase remains one of the world's largest cryptocurrency trading in the world if not the most influential. The clout might be because of location, it's in the US so regulatory oversight is top notch, their custodial exchange type and warm crypto laws makes the crypto exchange attractive to investors or consumers across the sphere. Talking of trading and CoinBase Pro, the trading interface which was rebranded from GDAX on May 23 and given a face lift has begun offering support for a couple of coins as LTC/GBP. Though the path towards full trading support is in lock steps, traders can at least deposit directly to their GBP wallets without the need of conversion as before. What this means is that UK traders, though contributing less than one percent of the global trading volumes would have an easy time making same day deposits and withdrawal.
On the development front, Litecoin's foundation plan of a widespread global adoption is definitely on course. Though the foundation had to content with lack of GitHub inactivity since their partnership with Wirex back in April, news of CASA Lightning node set for Q4 of this year should be steeling for coin supporters. Lightning Network being a layer two solution meant to scale the network, the introduction of CASA—an all-in-one solution allows one to run a full node and transact on the LN network, will further simplify node set up spurring adoption.
Litecoin (LTC) Technical Analysis
Weekly Chart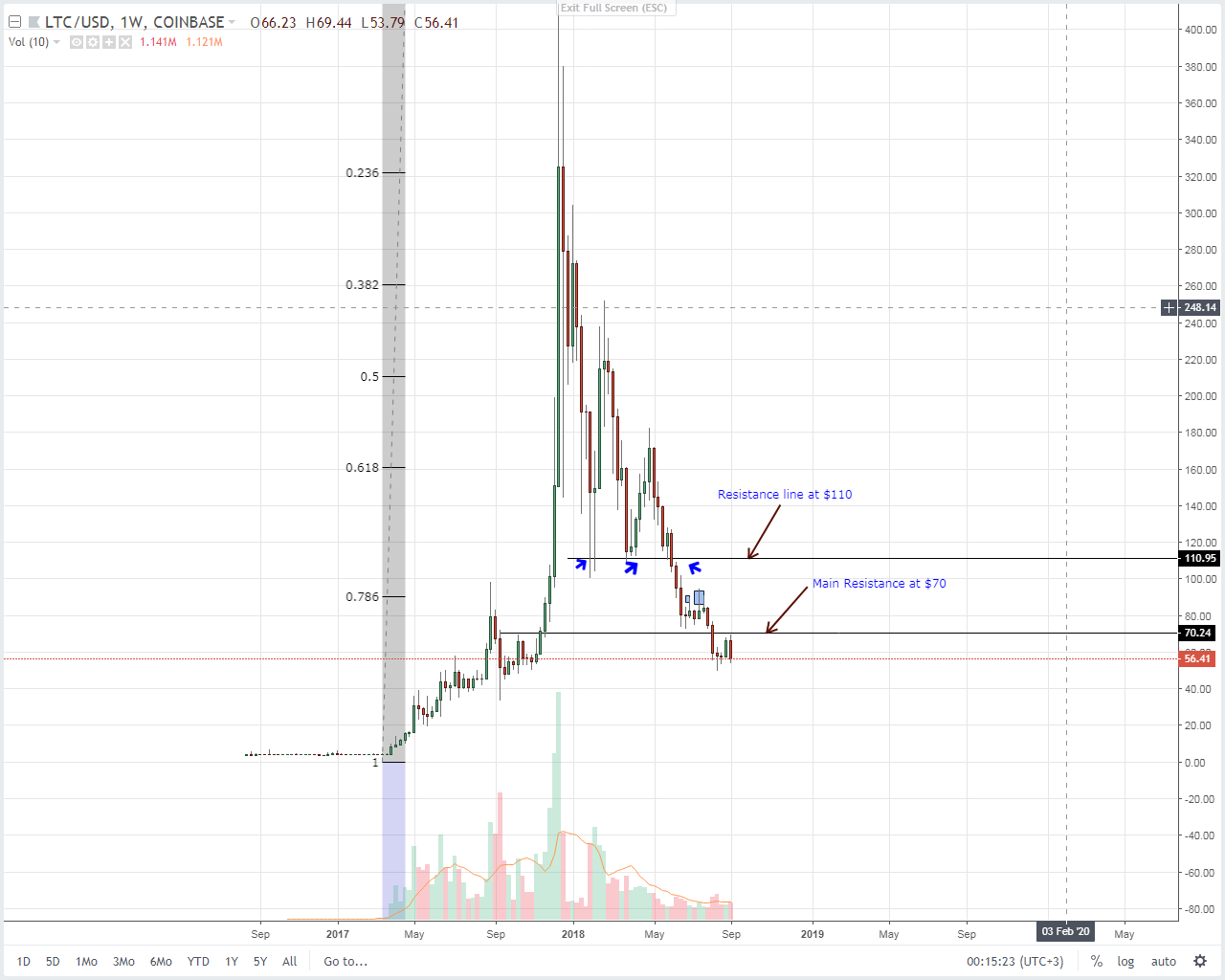 On a weekly basis, LTC is down nine percent according to data from popular coin trackers. And this translates to a bearish market in contrary to our expectations same time last week. Then, LTC bulls were on a high and testing $70, a level of interest in our analysis. At the moment, the deep decline in price means bears are back in trend and likely to melt through $50. In this case and considering erosion velocity, we suggest taking shorts in line with the abnormally high market participation. Risk off trader can trigger shorts at current prices. In the flip side, conservatives can wait for solid breakaways. That's probably below $50 before selling on pull backs with first targets at $30.
Daily Chart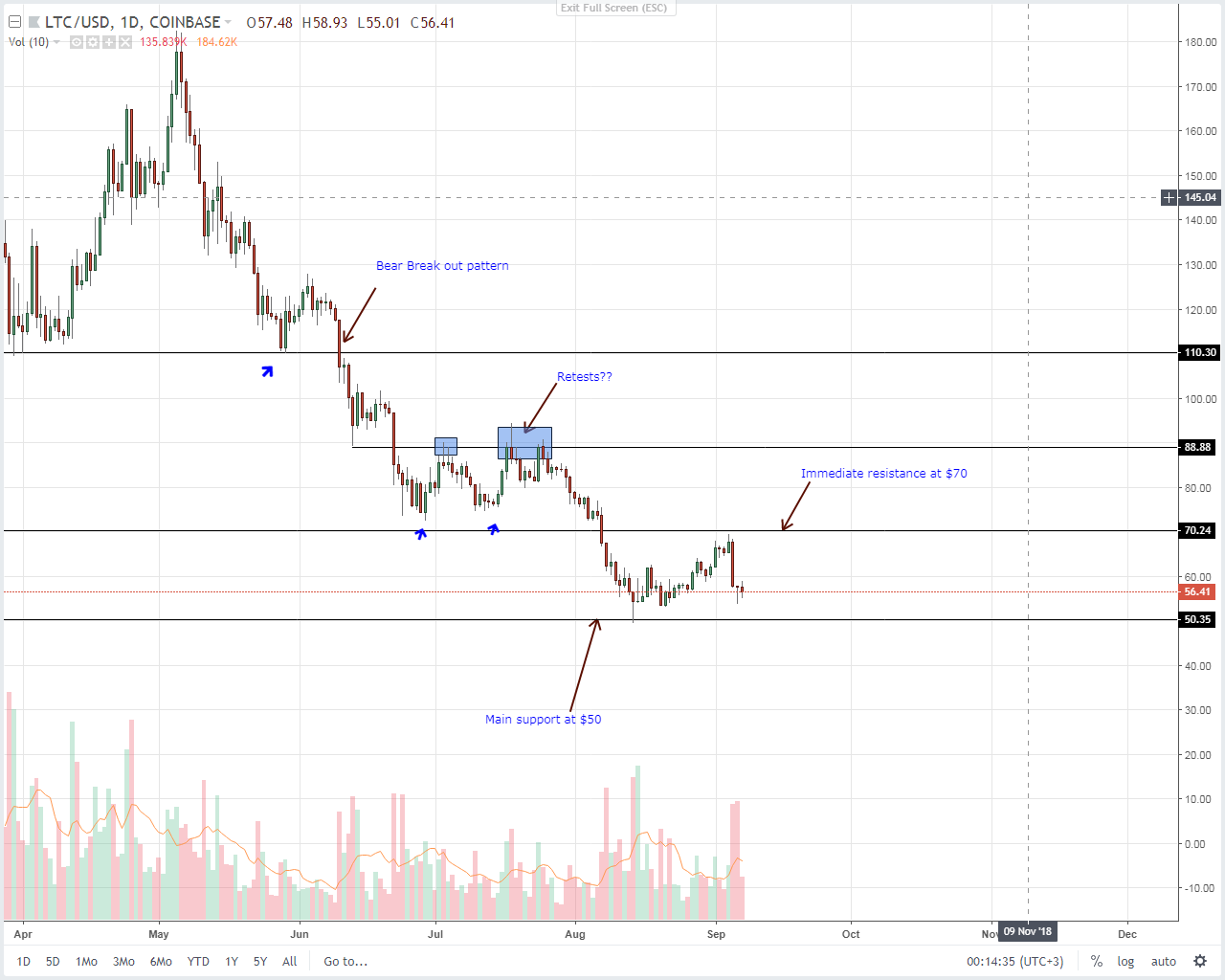 Basing our trade decision on previous LTC highlights, our trade plan seems to be right on track. As it is, bears are commanding this trend. They are following through Sep 5 high volume depreciation and rejection of higher highs right at $70. That ceiling did confirm the end of the retest phase and the beginning of the bear trend resumption phase with triggers set by Aug 7 bear candlestick. Because of this, we suggest selling at spot prices with stops at $60 and targets as mentioned above.
Disclaimer: This is not investment advice and views represent that of the author. Do your own research before making an investment decision.