It's apparent that cryptocurrency, prices are immune to any form of "minor" news event. We have seen many of these not only from Charlie Lee but straight from Litecoin Foundations. VRPorn, LitePay, several merchant listing and even news from CoinBase Fund Management index are not appeasing these angry bears. As a matter of fact, Litecoin is down 25 percent in the last week but with a market cap of $5.2 billion, its $3.5 billion shy from EOS market cap. This means should EOS problems continue, we another flip could happen propelling Litecoin back to the top 5.
Let's have a look at these charts:
From the News
Here's a thing or two about cryptocurrency lending business models: most people consider them as Ponzi schemes if not outright fraud. We have see BitConnect and similar platforms go under with investors coins sparking outcry and "I told you" remarks across the board. However, Japan's BitBank is planning to do things differently with their cryptocurrency lending programs which they plan to launch.
To ensure that this is not a quick rich scheme, not everyone qualifies for this program as they will thoroughly check the eligibility of each interested party account. Besides, there is a barrier to entry and up-to one Bitcoin would be required for participation. One an investor qualifies, BitBank shall lock that coin for one year during which investors would earn anywhere between three to five percent of interest. While trading would be better, the current bear market and the common volatility of cryptocurrencies is deterrence for many-including institutional investors.
While Litecoin would be among the coins drawing interest in the days to come, BitBank will start by experimenting with Bitcoin before spreading out to other popular coin with deep liquidity as Litecoin in the coming months. Of course, once everything is ready, it will be a boost for Litecoin coin holders who rather put their capital in this crypto bank and earn decent interest payment.
https://t.co/h7U90d1eZQ is happy to announce that we are now accepting Litecoin. The future of #cryptocurrency in both the adult and VR industries is very bright.

Thanks to the #LTC community for helping to make this happen. @SatoshiLite @LTCFoundation https://t.co/TNDyFMks0F pic.twitter.com/fCDFI9nCdl

— VRPorn.com (@VRPorn) May 31, 2018
In other news, VRPorn, the first of its kind Virtual Porn Reality website now accepts payment using Litecoin. This comes weeks after their announcement that they would support Charlie Lee's LTC and it has been good business it seems. The CEO of VRPorn Lisa Moore acknowledged that sales have shot up since their LTC incorporation.
Litecoin (LTC) Technical Analysis
Weekly Chart
If anything, there is no chart that shows the pace of price erosion that Litecoin's weekly chart. Here it's clear to pick out previous support lines, now resistance at $110. The resulting break out is what advises our bearish stand. Before this week, our expectation was that buyers would follow through week ending June 3 minor bullish candlestick despite printing in a deep bearish trend.
It was an optimistic approach because not only was there strong rejection from $110 at the daily chart but because the last three support points in the last four quarters stretching back to Q4 2017 was at this level. That level was clearly a point of interest for our analysis. Now, following this week's break down, odds are Litecoin might end up testing $70 and later $40 should sellers keep up with this pace of depreciation.
Daily Chart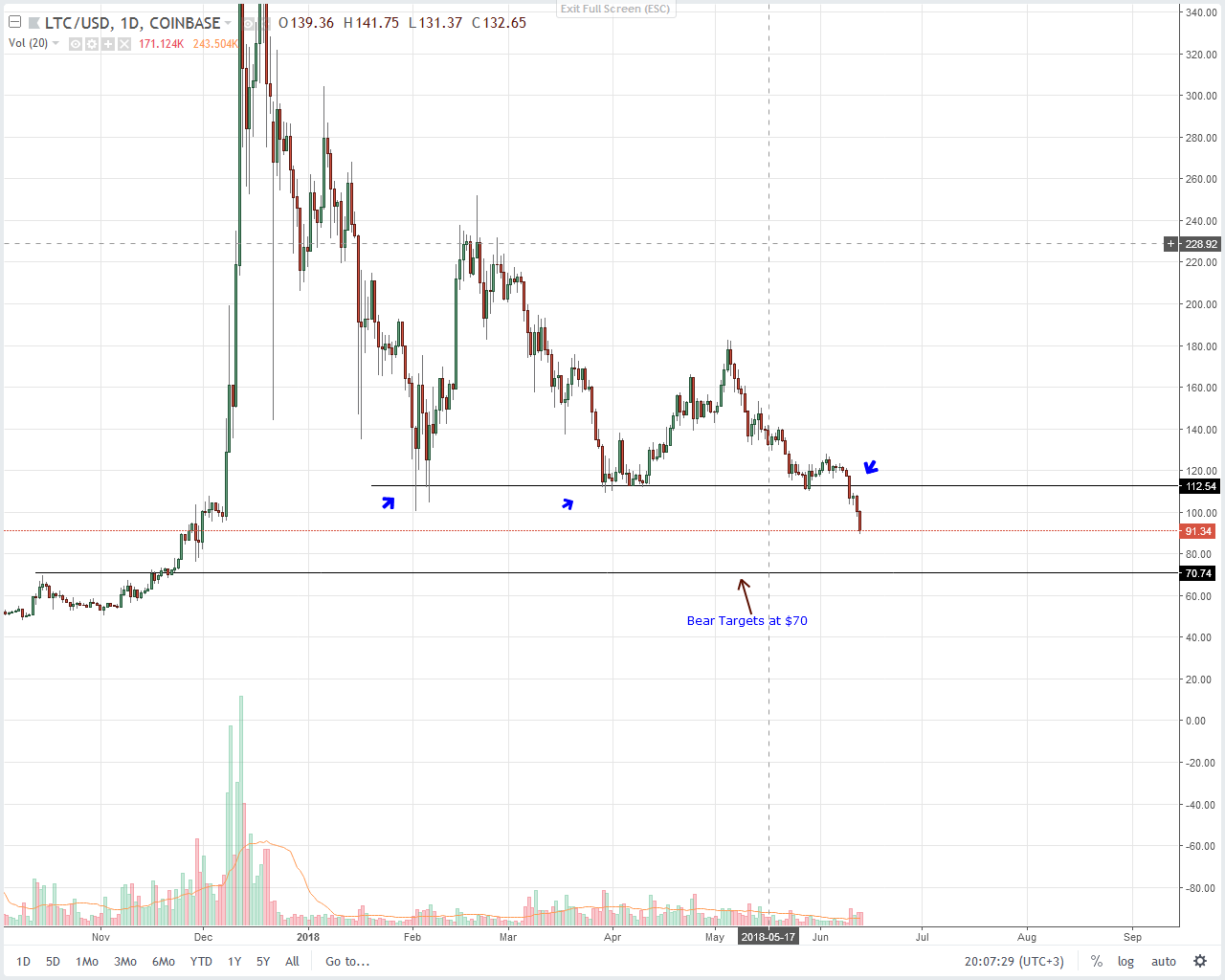 For perspective and to gauge the strength of bears following that break below $110 on June 10, realize that LTC is down 13 percent in the last 24 hours. Besides, there are strong confirmation of the bearish trend that was initiated by June 10 candlestick. Like before, I recommend shorting this coin with first targets at $70 and later $40.