Price wise, LTCUSD is stable and still ranging/accumulating along $50. Though strong fundamentals are missing to back our bullish outlook and recommendation of short term buys with stops at $50, technical and favorable candlestick formation advises our upbeat forecast.
Latest Litecoin News
Thing is, Charlie Lee, the social-media active founder of the world's seventh largest cryptocurrency, should be counting his victories. It all goes back to Mt Gox and his objective of working closely and even liaising with major world exchanges to offer support for Litecoin.
Ever since MtGox announced Litecoin support in 2013 and failed to deliver, I've been on a mission to get LTC added to exchanges to help increase liquidity.

With the launch of LTC on Gemini today, every single major Bitcoin exchange supports Litecoin. Mission accomplished! ?? pic.twitter.com/6jvSyvsKdm

— Charlie Lee [LTC⚡] (@SatoshiLite) October 16, 2018
As one of the pioneering coins whom Tushar Jain infamously referred to as a "relic" in his tweet storm, Litecoin is reaping big from its pioneering status and deep liquidity due to is massive use. Complete with a social media campaign urging coin holders to spend them at various LTC supporting outlets, Litecoin got the nod of approval from Gemini. There is a benefit of getting listed at Gemini and a with an analyst's lens, Gemini is seeing long term potential.
As one of the most open source coin in the sphere, Litecoin is always on a development and expansion drive recently announcing Litecoin core 0.17 whose implementation will see network fees drop by a factor of 10. Though this is a double edge sword considering Litecoin make use of proof of work consensus algo where miners earn their rewards and charge fees, the side effect will be clear later.
Already critics are pointing to a future weak network as miners move their hashing power to alternatives. Furthermore, Litecoin reward halving is less than 11 months away.
LTC/USD Litecoin Price Analysis
Weekly Chart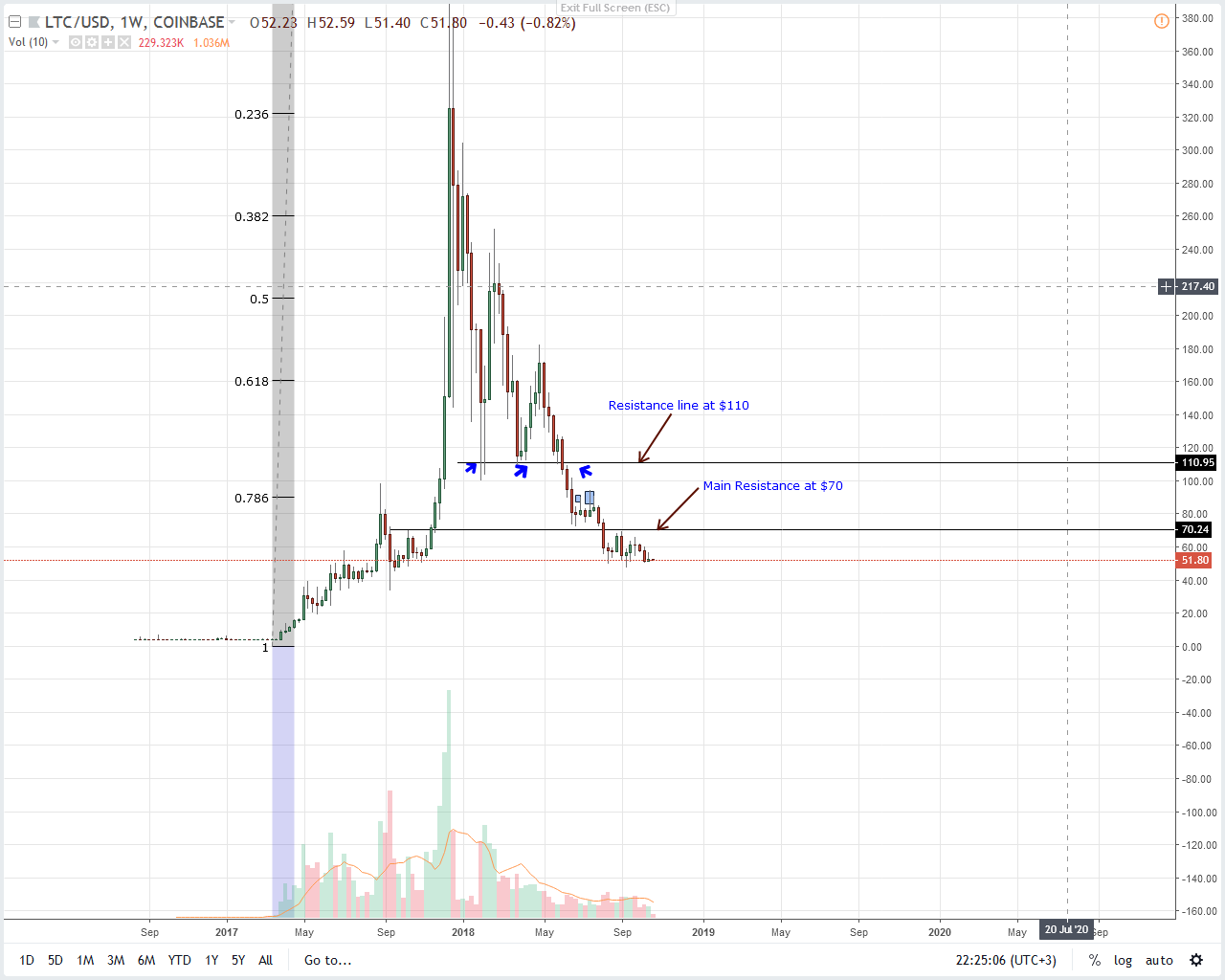 Technically, LTC/USD is bearish and it has been since breaking below the main support line at $70 in early August. As such, while prices are steadying, events of week ending Sep 9 seem to confirm the bear break out pattern of week ending Aug 12.
Clear support is between $45 and $50 while immediate resistance is previous support now resistance at $70. Between these two levels, prices continue to range. Unless there are clear breakouts in either direction then our Litecoin trade plan holds true.
Like before, we shall recommend patience for conservative, risk-averse traders while we shall hold a positive outlook on LTC as we angle for price recoveries now that prices are down 80 percent from 2017 peaks. However, break down below the $45-$50 floors shall cancel this projection opening a torrent of sells eyeing $30.
Daily Chart
Two things are clear in the daily chart: First, LTC is oscillating within a tight $20 range. Clear limits are at $50—a psychological level and a round number and at $70, previous support now resistance. It's also a retest level in an overall bear break out pattern set rolling in early Aug meltdown. Secondly, Litecoin is yet to reverse Oct 11 losses despite a temporarily revival of Oct 15. It could be because of the accumulation along $50. But, it could also point to underlying sell momentum.
Needless to say, patience should be the case. Nonetheless, when we apply Fibonacci retracement rules, then we are inclined to suggest buys at spot. That is in reflection of yesterday's rejection of bears with stops at $50. In that case, first buy targets should be at $70. This aligns well with our  previous Litecoin price outlook.
Disclaimer: Views and opinions expressed are those of the author and aren't investment advice. Trading of any form involves risk and so do your due diligence before making a trading decision.