In my Friday's analysis post, Drops, But Still Near Highs!, I had mentioned that bulls were challenging a key resistance level of $1.865 and may eventually take the price higher to north of $2.000. But, they were overwhelmed by the strong selling pressure over the weekend and Litecoin's moments of glory came to an abrupt end!
As bears hammered bulls, Litecoin lost 9.82% over the weekend to trade at $1.670.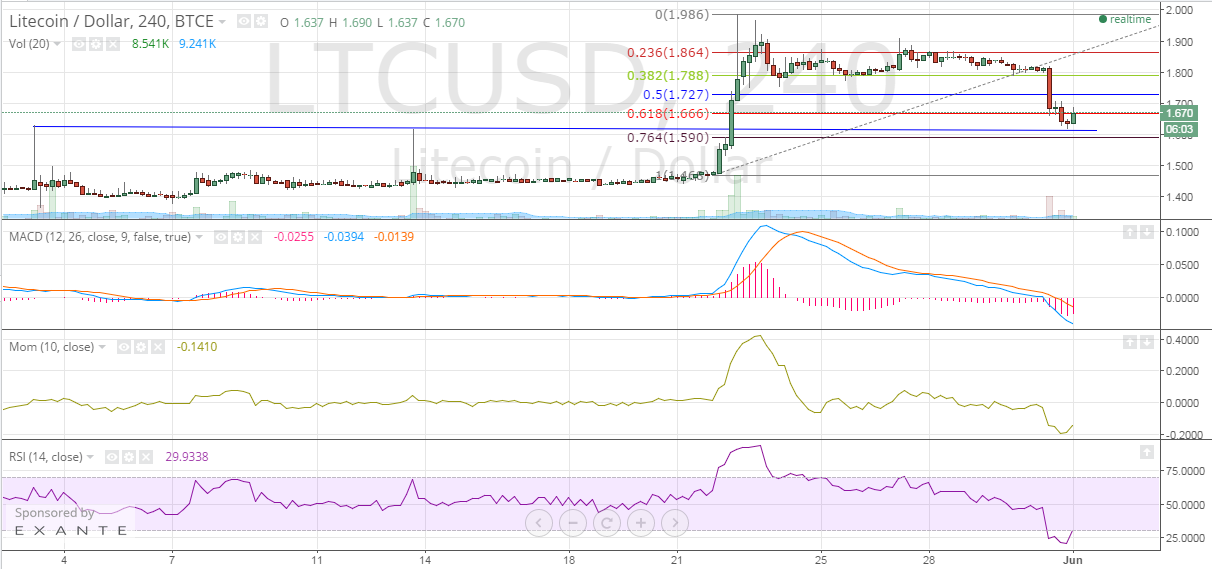 Image: https://www.tradingview.com/x/Zr5SuKMK/
The 240-minute LTC/USD price chart reveals that the cryptocurrency is now considerably near the crucial support zone, below which we may witness a flash crash.
Litecoin Chart Structure – As can be seen from the chart above, Litecoin was trading between $1.790-1.865 for a considerable period until yesterday which saw bulls lose their patience and important support levels cracked. The freefall came to a stop near the previous peaks (marked as the horizontal blue line) and the price edged slightly higher.
Fibonacci Retracement – With bulls getting steamrolled, the price sliced through strong Fibonacci support levels – 38.2% retracement, 50% and 61.8%. This makes things extremely difficult for the buyers and incredibly easier for the short-sellers.
Moving Average Convergence Divergence – The MACD and the Signal Line hit their lowest levels in over a month as the price crashed and sentiment turned strongly pessimistic. The latest MACD and Signal Line readings are -0.0394 and -0.0139 respectively.
Momentum – The Momentum indicator closed at the lowest level of 2 months – 0.1908 before rising up to – 0.1410.
Relative Strength Index – The RSI reading also slumped to a 2-month low of 20.6194 before paring some losses to 29.9338.
Conclusion
The technical considerations above convey that Litecoin may be oversold from an immediate-term perspective and hence, shorting at current levels would not be wise. Allow the price to rise up to $1.720 to create bearish positions by placing a stop-loss above $1.750. The downside target is $1.590.