Hardly any facet of real life has not yet been reflected by simulator games. Widely ranged, from extra-popular The Sims to realty tycoons and trading simulators, they aim to help users train their skills and fresh thinking rather than merely entertain them. The same applies to the cryptosphere, with mining simulators spreading across the Internet. The reason why more and more users are getting hooked on seemingly uneventful mining gameplay is getting real rewards in cryptocurrency, without spending a dime on rigs or utilising CPU power.
The blockchain-empowered mining simulator RollerCoin is taking a huge step further by empowering players to build their own virtual enterprises. The real market model, tough competition, realistic levers for building a business empire, as well as customized characters – from geeky engineer to hard-boiled capitalist – are what 1,000 website's daily newcomers are getting excited with. The thought-out in-game economy, which elaborately reflects the real market system, sets RC apart from mining simulators that largely turn out to be BTC-faucets.

At first glance, the difference between mining simulators and Bitcoin-faucets may seem vague. The latter ones dispense tiny rewards every few minutes in exchange for watching ads and luring new users to get traffic from them. You are supposed to sign in as often as you can, watch videos and complete surveys. Although such websites are often titled with the words "mining" and "game" and position themselves as mining simulators, this only halfway corresponds to what they are really all about. De facto, they barely satisfy those seeking for more sophisticated game process – and this is what RollerCoin aims to offer, along with the close-to-real-world in-game economy.
While bitcoin mining is full of quite tedious tasks such as buying bulky equipment and paying electricity bills, RC gets users rid of all these hassles. The player signs up without any registration fee and starts earning initial capital simply by playing games, by now at a low level of difficulty. Started small, the difficulty gradually levels up and this leads to getting more satoshis and hash power. The Proof-of-Fun algorithm verifies the results of each game before winnings are distributed among players.
Once having enough money, the user is able to either withdraw them or spend on a mining rig to earn more, without even playing games. From this moment, the player gets a taste and begins to actively reinvest earnings in rigs to gain passive income. The higher your hashrate, the more satoshis you get when a new block on the blockchain is mined. The mining power is not dependent on the hardware you play on, be it powerful PC or budget mobile device.
The passion for victory is required for keeping things going. Upon winning a certain amount of games the user gets a virtual computer which enhances the mining power for a few days. Special events and contests where users are granted various upgrades are constantly adding fuel to the fire.
Starting with nothing but the bare-bones – an office equipped with a table, chair and fan – the player constantly expands his enterprise by acquiring new miners and rigs.
A new location (office, warehouse or even airport) will definitely be needed soon to be rented and properly equipped.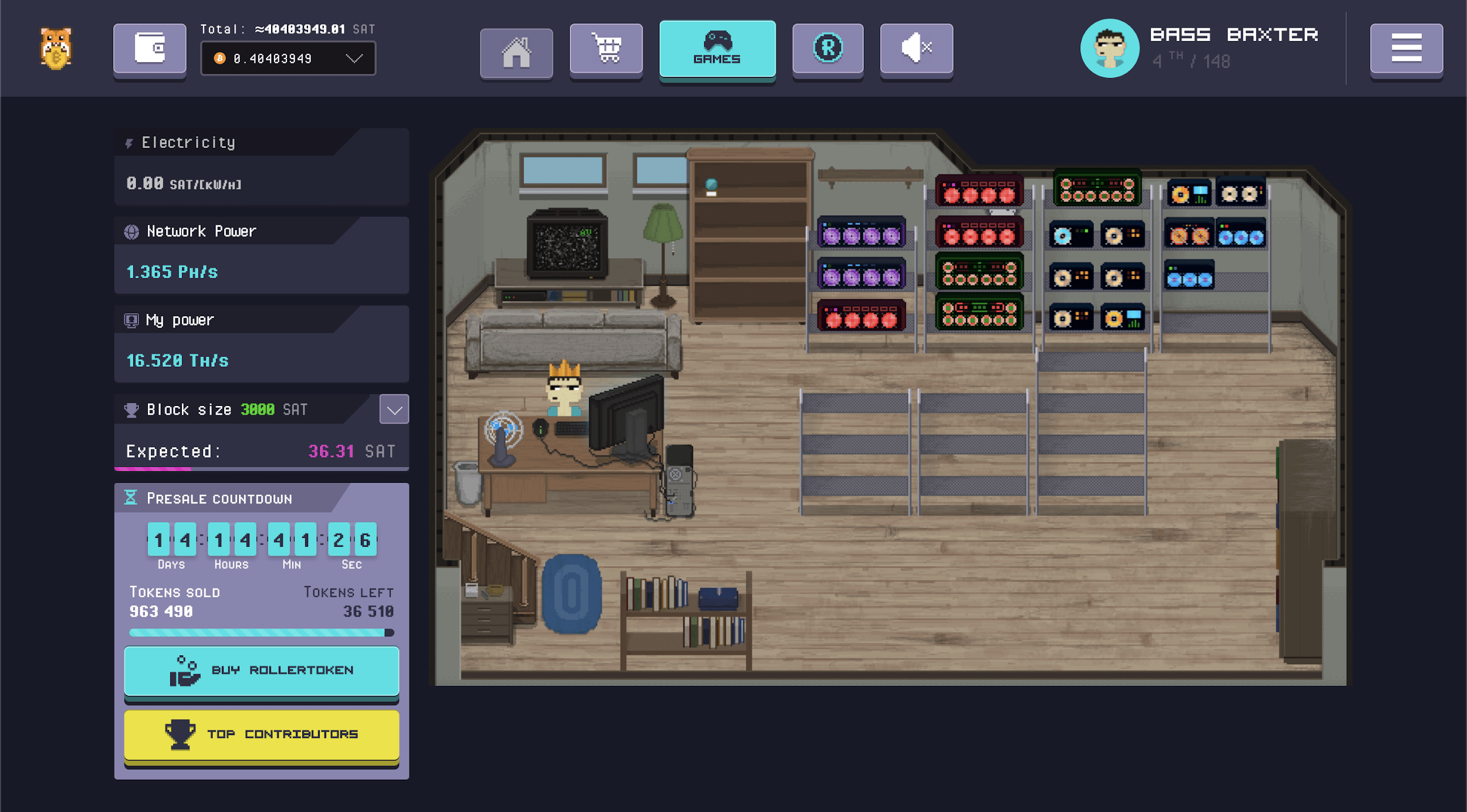 All acquired real estate, hardware, as well as branded clothes that match your character's individuality, can be sold on the internal websites' marketplace. That is what the internal token, now being distributed among active community, is needed for. It enables to exchange upgrades and bonuses, open hidden levels and loot-boxes with rare items, pay entrance fees for championships and events and carry out any operation within the game. Apart from transacting on a trusted website, players are getting free of problems associated with the use of multiple cryptocurrencies. Besides, the holders will be eligible to vote on RollerCoin's governance issues.
According to the RC website, within the next nine months, the service will be updated with 10 new games and chats for more smooth users communication. What is more, the project's roadmap features the launch of a mobile application set for spring 2020. It is thought to be independent of app stores infamous for cracking down on blockchain-enabled products, meaning users will be able to savour the crypto-anarchy spirit, RollerCoin says.
To get a better grasp of what the game is all about and to find out more about the crowdfunding campaign, head to rollercoin.com.