36 hours after hard forking and Monero buyers are yet to confirm Oct 15 gains. If anything, there seems to be resistance for upsides and this is negative for bulls. Anyhow, we suggest aggressive buyers to load at spot prices with stops at $190 while risk-averse traders should be on the side lines until there are gains above $150. Such gains will most likely trigger a torrent of buyers aiming at $300 and higher.
Latest Monero News
Talk of privacy coins won't leave Monero out and for good reasons. While the coin is not short of opposition, Monero is one of the most liquid and capitalized coin around. It's on the top 10 meaning it's an on-demand. However, that's not what we are after. A coin is only as good as the team that is working behind it. From GitHub and the release by Monero Labs, it is obvious that Monero is one of the most active coins around.
And there we are, transactions using Bulletproofs are now live on Monero mainnet https://t.co/Lag7K0j1r5

— Howard Chu (@hyc_symas) October 18, 2018
Yesterday's hard fork went on to cement the general objective of the coin: that of reinvigorating its mission of providing privacy and safeguarding the interest of users. With Bullet proofs, Monero is now cheaper to use because what they did is reduce the size of transaction size from 13.5 KB to 2.5 KB which in proof of work system translates to reduction of network fees. Aside from that, the team went ahead and increased the number of rings from seven to 11 further enhancing the privacy of the network.
Another stand out about Monero is their mission of rejecting ASIC miners in their midst. To achieve this rather hard duty, the team regularly update the core, evolving before the designers behind Bitmain's miners ran havoc by centralizing the network. By itself, this is problematic and an existential threat to the network.
Monero Price Analysis
Weekly Chart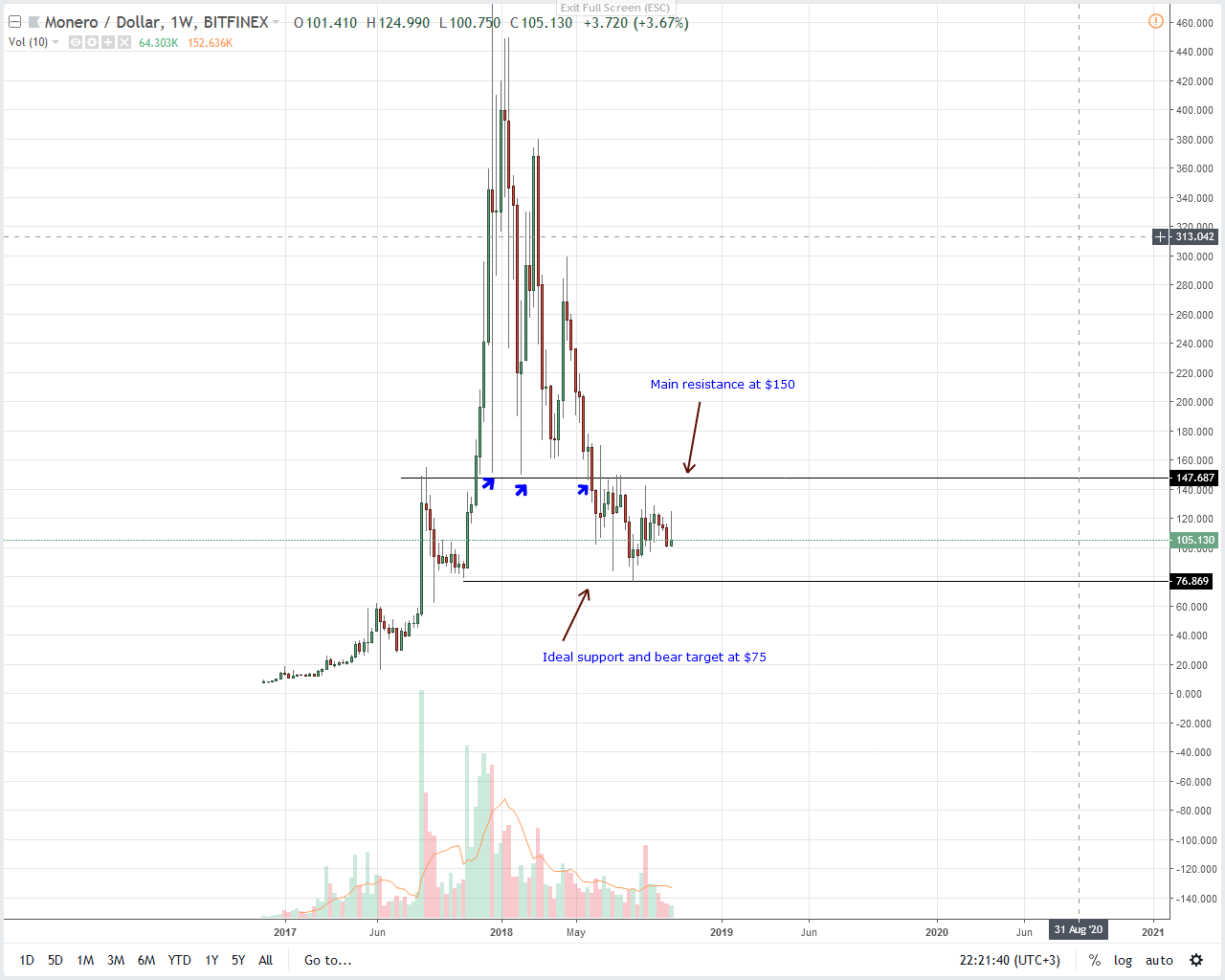 Two things are visible from the weekly chart. First, the simple fact that XMR is oscillating within a tight range marked by $75 on the lower side and $150 on the upsides. Secondly, the last two months or so price action has failed to break and close above or below week ending Aug 5 and 12 high lows.
This means after 10 weeks of higher highs, bulls are yet to reverse two weeks of sell pressure meaning bears are technically in charge and we could possibly see XMR drift towards $75 or Aug lows.
However, given the length of consolidation in lower time frames, conservative set of traders should stay on the sidelines waiting for conclusive breaks above $150—for buyers to be in control, or below $75 as prices melt down towards $20.
Daily Chart
Back to the daily chart and the last few days price action could be positive for price. After all, Monero prices are down more than 80 percent following this year's strong price correction, and Fibonacci retracement rules hints of upward pressure around these price tags.
Anyway, we retain a bullish outlook in lower time frames as long as prices are trending inside Oct 15 high low and above $100.
Like in our last Monero price analysis, bulls should load at spot prices with stops at Oct 15 lows at around $190. Any sharp losses revert us back to neutral but should there be momentum then our first targets would be at $150.
Disclaimer: Views and opinions expressed are those of the author and aren't investment advice. Trading of any form involves risk and so do your due diligence before making a trading decision.