Monero (XMR) spikes 25.3 percent
RandomX under audit
In Monero, decentralization is vital. As a result, the next enhancement of its mining algorithm, via RandomX, is a step in the right direction. Eventually, the hash rate will pick up as more ordinary miners flow back. In turn, their participation will fortify the network, instilling confidence, and XMR could surge higher in response.
Monero Price Analysis
Fundamentals
Given the threats of Application Specific Integrated circuits (ASICs) in a network, creators of Monero are not taking this lying. The founder of Monero has more than once expressed his distaste for ASICs, and is walking the talk.
To put this in perspective, Monero is firmly built around adherence to ground rules. Therefore, that means compliance to blockchain principles governing other liquid coins as Bitcoin and Ethereum.
Fronting decentralization-which ASIC miners, mostly churned by Bitmain, often crash as their miners are turbo-charged to maximize hash power, their use fosters an unfair mining landscape. It causes a destabilization, cutting out interested and honest GPU miners from participation.
As such, their walling off of ASIC miners has been lauded. However, it was a hard choice to make because their hash rate plummeted at the wake of this upgrade. Crashing from around 1,000 MH/s to less than 300 MH/s, the network was susceptible.
All the same, it was done for the betterment of the Monero community, which by far is a well-capitalized privacy-centric coin. Currently, plans for a new mining algorithm are in progress. The activation of RandomX will be in July 2019, dependent on the satisfaction of code auditors.
Candlestick Arrangements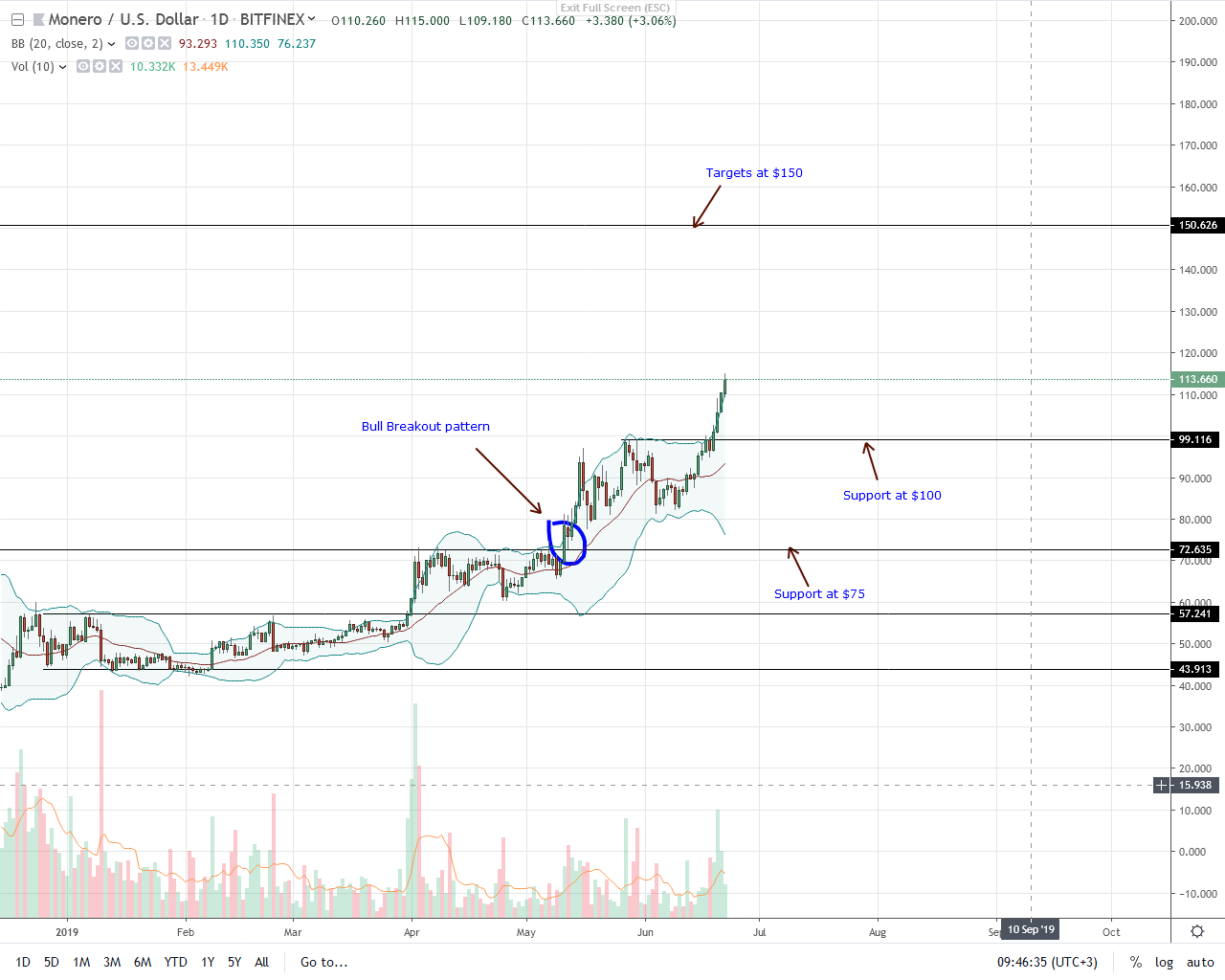 At the time of writing, XMR is one of the top performers. By surging 25.3 percent, the coin is more valuable than Dash. Notably, it is less than $400 million away from flipping TRX as buyers aim at a spot in the top-10.
Behind this resurgence are favorable fundamentals and supportive candlestick arrangements. Additionally, note that underlying momentum is strong thanks to bull candlesticks banding along the upper Bollinger Bands.
From the chart, XMR is trading within a bullish breakout pattern. Effortlessly clearing $75 and psychological $100 at the back of high trading volumes, buyers are firmly in control. In light of this, every dip is another buying opportunity.
That means traders can buy the retracements with first targets at $150, another resistance level previous support. Should buyers slowdown, expected support will be at $100 or May 2019 high.
Technical Indicators
As momentum builds up, trading volumes should increase. That means in days ahead, participation levels confirming buyers should exceed current averages of 14k and even 32k of June 22.
Chart courtesy of Trading View. Image Courtesy of Shutterstock