Bitcoin prices steady after yesterday's sell-off
Mt Gox trustee approved 802,521 BTC as claims
Volumes stable but below average
Wholesale liquidation of Bitcoin and Bitcoin Cash stash in the hands of Nobuaki could heap pressure on responsible exchanges. Besides, it will also cause unnecessary price fluctuation that may work against victims triggering a sell-off towards Dec 2018 lows.
Bitcoin Price Analysis
Fundamentals
All eyes are on Nobuaki Kobayashi and how he plans to compensate victims of the now defunct Mt Gox following his approval of "802,521 BTC, 792,296 BCH and $38,165,664, and other amounts in various fiat currencies". At his disposal, according to his latest submission, are cryptocurrencies worth $593 million—in 141,686.35 BTC and 142,846.35 BCH, plus $629,594,540 in cash. However, the trustee is adamant that more of the stolen Bitcoins will be retrieved increasing the number of coins under their control.
Everyone is talking about the 140k BTC potential sell-side pressure from the Mt Gox coin redistribution to creditors

Absolutely no-one is talking about the $627million being distributed to creditors who may then decide to *buy more* Bitcoin pic.twitter.com/3xodxeyxSy

— Alistair Milne (@alistairmilne) March 21, 2019
While previous arrangement has it that settlement will be in BTC and other coins of their preference, the Mt. Gox Legal has now submitted a proposal, a draft, detailing their agreement on how best Nobuaki should compensate clients.
I'm definitely buying BTC back once I get my cash distribution and definitely not selling any BTC if I ever get any of the remaining coins back from Civil Rehabilitation. I know many in creditor groups I'm in are talking about doing the same.

— Adam Pokornicky (@callmethebear) March 21, 2019
Noting that direct injection of all these coins will be too complex and "are concerned that any attempt by the Trustee to sell them en masse on the open market would result in a downward movement of the value and also not be in the creditors' interests", they propose that Nobuaki should only sell BTC and BCH—the two most valuable coins under Kobayashi—only when they have been moved to a secure location or redistributed.
Candlestick Arrangement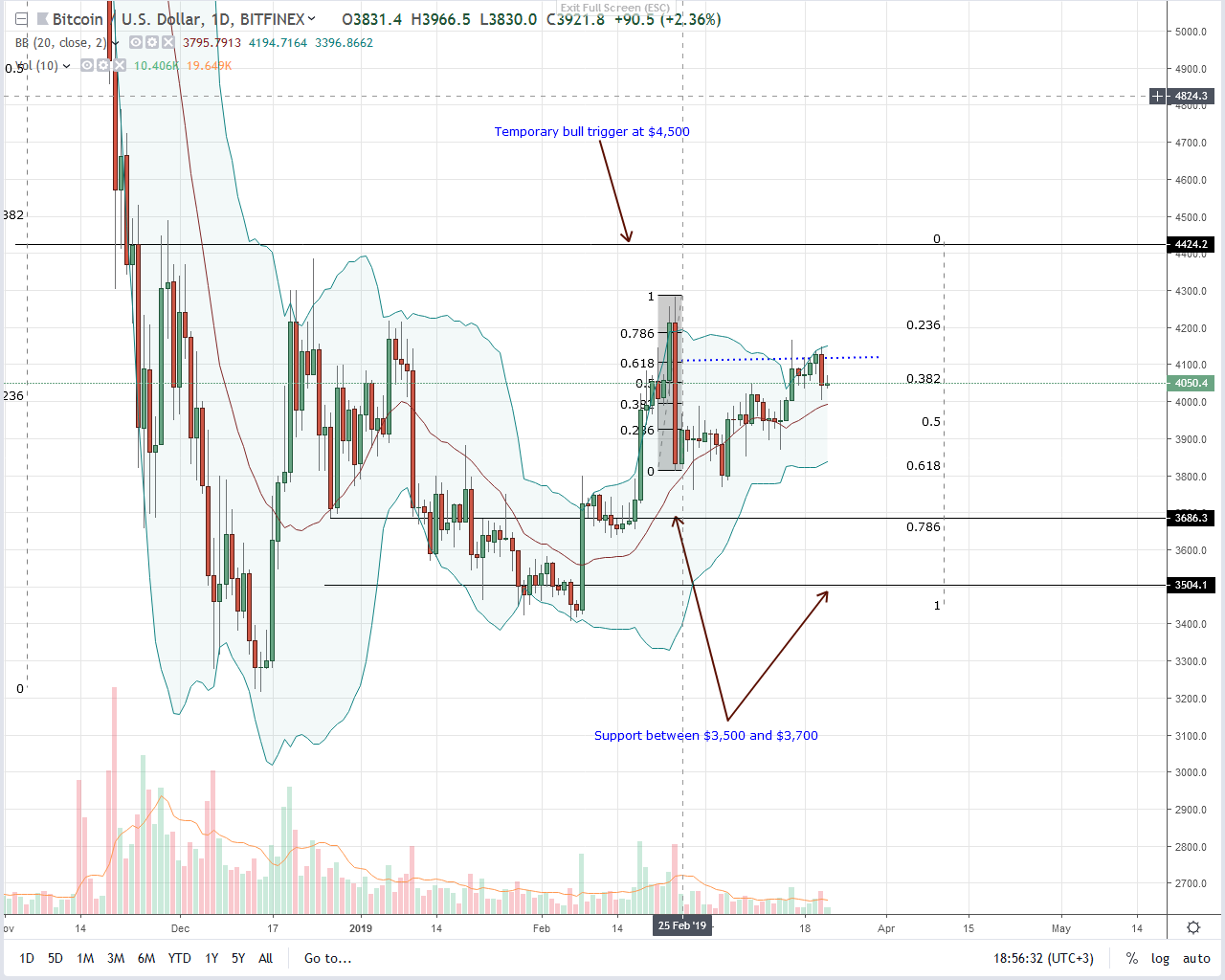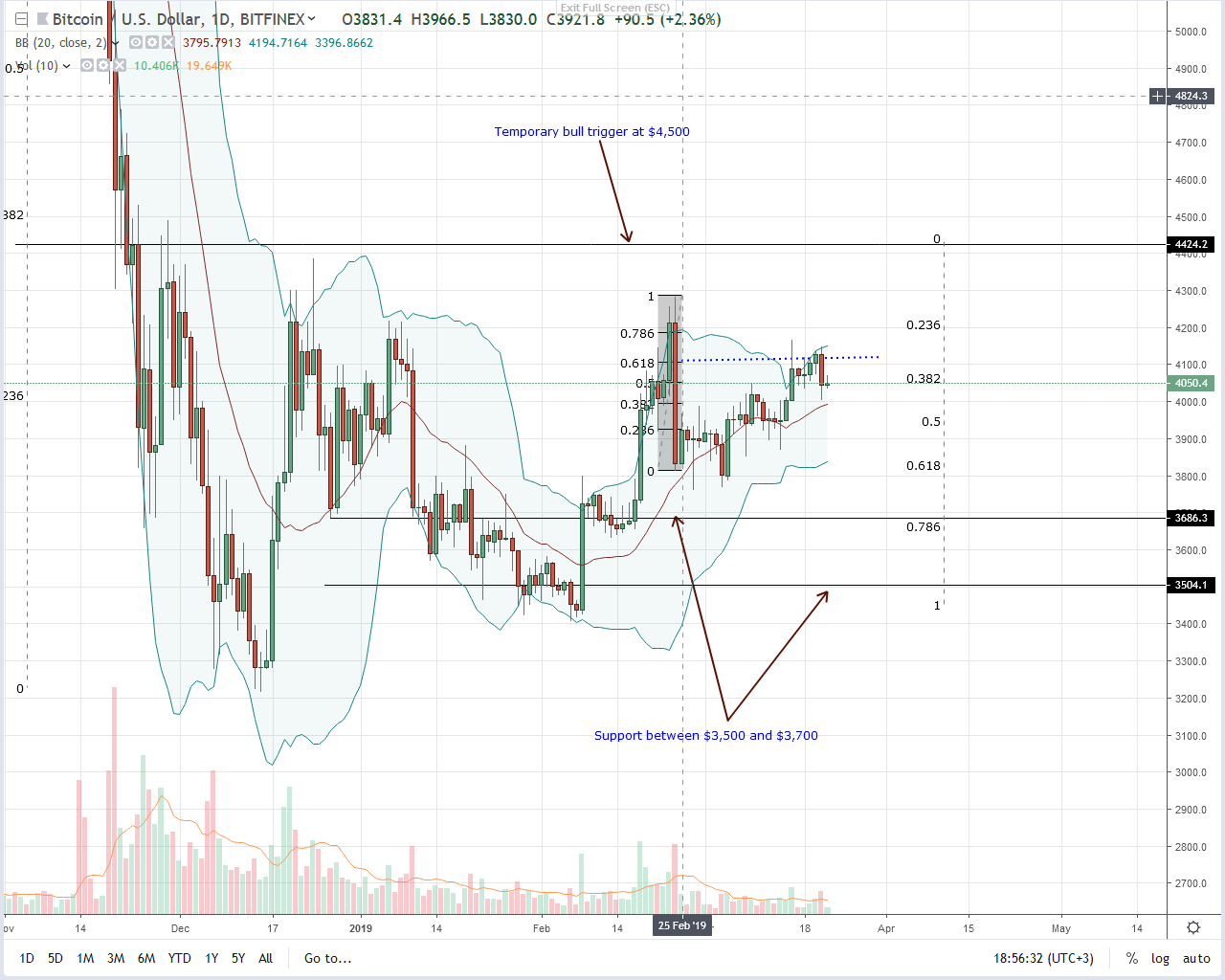 Despite yesterday's pressures, Bitcoin (BTC) bulls are resilient. It is up 3.2 percent in the last week and surprisingly firm even after yesterday's liquidation. Even so, it is likely that prices will trend lower in days ahead as BTC prices re-adjust in light of decreasing volumes over the last couple of days.
Note that our analysis depends on how fast Bitcoin bulls can reverse Feb 24 losses. A month later and buyers are yet to build enough momentum needed for a break and close above $4,500. Besides, when we paste a Fibonacci retracement of Feb 24 high low, yesterday's sell-off is off the 61.8 percent level.
All the same, for bulls to be in charge as reiterated in previous trade plans, bulls must first close above $4,500 and float above $3,800 meaning every dip is a buying opportunity for risk-off traders.
Technical Indicators
Participation levels are low, and volumes are drying up averaging 7.4k by yesterday's close. For bears to sail through, then they must convincingly close below $3,800, and that by extension means volumes must exceed Mar 16 of 13k or those of Feb 24 at 36k.
Chart courtesy of Trading View