The world still remembers the decade-old global recession that had the whole world reeling in shock. Many people and industries are still recovering today from the impact of poor management and corruption by some of the leading banking institutions. The severity of such an event is directly related to the number of people who are exposed to the banking and financial services, which in the present-day scenario is almost everyone.
The centralized institutions, along with the governments, have created a monopoly over banking and financial services, leaving people with no other way but to entrust their hard-earned money with them. But that doesn't end here as being customers they are also subject to the whims and fancies of these very institutions when it comes to accessing and spending their own money.
However, things are not going to stay the same thanks to cryptocurrencies. These digital currencies, most of which are peer-to-peer and decentralized, offer a way out for individuals and businesses to break free from the clutches of centralized financial institutions and gain true financial independence. Since the introduction of Bitcoin in 2009, the definition of financial services has gradually changed. The benefits of the underlying blockchain technology of cryptocurrencies have been widely recognized and even the financial institutions are exploring ways to leverage them for their advantage.
Cryptocurrencies are the store of value and can be used like regular currency for the buying and selling of goods and services. It is also an attractive asset that can be traded against other cryptocurrencies. The best part, one doesn't really need a financial institution to facilitate it. Unlike conventional financial infrastructures, the blockchain provides unprecedented levels of transparency, allowing crypto users to control and track their own funds.
In the past couple of years, a lot of new decentralized fintech services have come up, making banking and financial services accessible to everyone, irrespective of where they are and what they do. Cryptocurrencies have proven themselves to be the solution for the financial inclusion of unbanked and the underbanked. The ease of access and versatile nature of cryptocurrencies and their underlying blockchain technology has gained a strong following from the tech-savvy crowd, and the millennial generation is heavily invested in it. They see cryptocurrencies as a way to attain financial independence and financial liberation at the same time – a view which is being shared increasingly by mainstream investors and traders as well.
Cryptocurrencies generally have a much higher volatility range compared to conventional assets, and the ease of trading one crypto against another and/or fiat on dedicated trading platforms makes them highly profitable. The growing crypto market has acquired plenty of crypto-trading platforms, some of them specialized enough to include crypto-derivatives and futures as investment/trading options. The tokenization of conventional assets using blockchain based smart contracts now makes it possible to offer conventional assets like stocks and commodities as crypto tokens that can be owned and traded just like Bitcoin and other cryptocurrencies.
As cryptocurrencies and its blockchain technology provide endless possibilities, the NAGA platform brings them all onto one place; a single window for all crypto-needs. Powered by the NAGA COIN, the ecosystem includes a multi-currency NAGA WALLET, NAGA TRADER – a social network for trading – and NAGA MARKETS – a licensed brokerage, as well as NAGA VIRTUAL, a safe, fair and modern marketplace for virtual goods. All of these separate platforms are interconnected and make the handling of cryptocurrencies easier than it has ever been before. Users of the NAGA Ecosystem can receive, send, buy, sell and trade cryptocurrencies, trade virtual assets and even convert crypto assets to fiat of their choice in easy steps. The NAGA Ecosystem is an equal opportunity platform and to ensure that everyone benefits from it, the platform also features NAGA ACADEMY which offers education and trading in economics and finance to its users.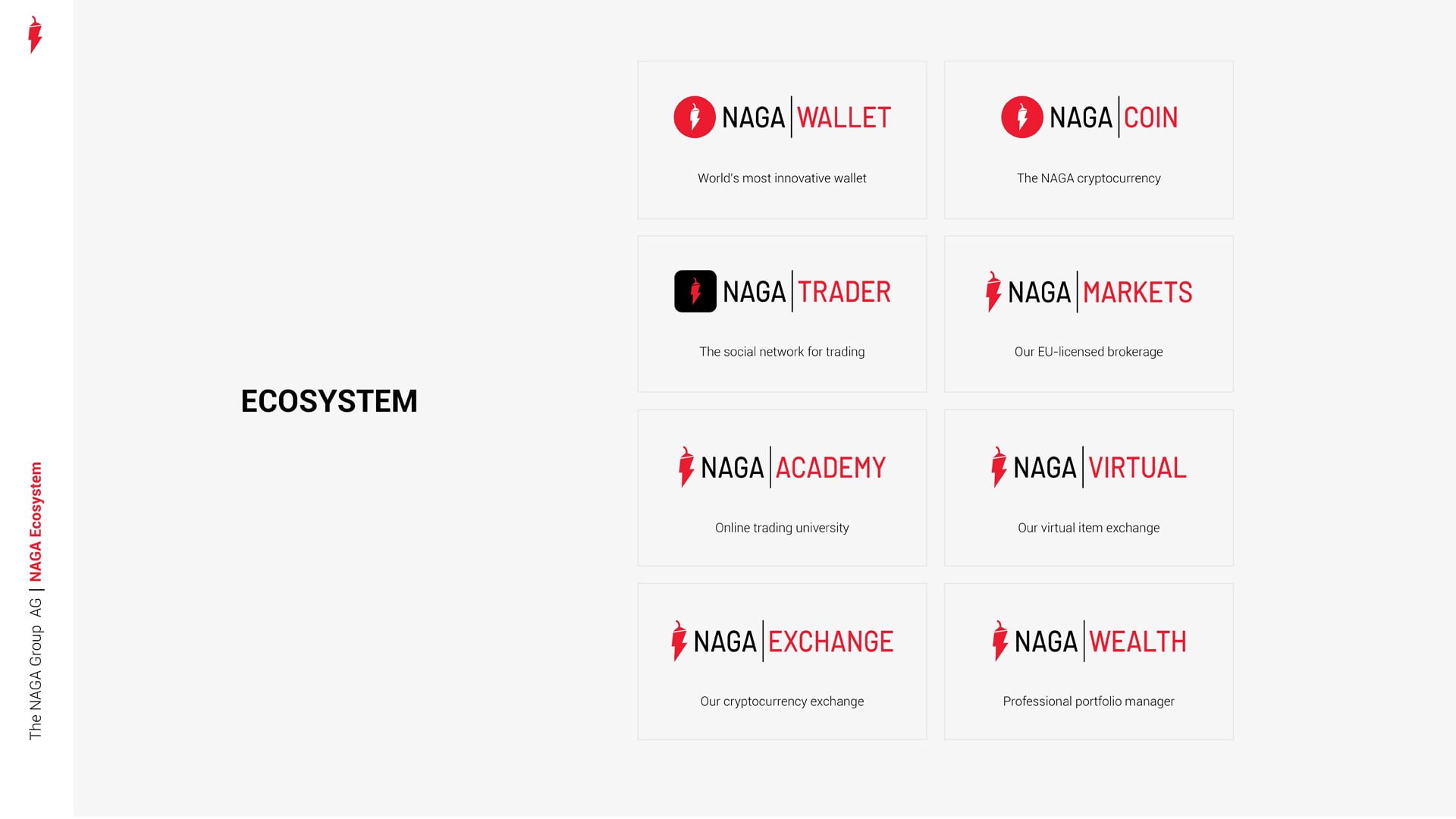 The Founder and Executive Director of THE NAGA GROUP, Benjamin Bilski, who also happens to be one of the brains behind the NAGA Ecosystem shares his views on, as well as an appreciation for, the changing fintech landscape. Bilski says,
"Current shifts in financial markets towards cryptocurrencies open a new door to fintech developers, such as myself. Every day, new decentralized products are introduced to the market, providing a wider choice and opportunity for personal banking, especially for the younger generations. I am very content that young age groups are shifting from investing and saving in traditional safe haven assets, to new, volatile assets such as cryptocurrencies. However, recent attempts in prohibition and unfair regulation in leading IT countries display an obvious fact – cryptocurrencies are seen as a threat to the banking sector, and a large loss for private institutions, both in profits and client base. The diversification of cryptocurrencies and the expansion of their holders, means a liberation from banking institutions' control and obligations. This is why I have a strong stance on this matter – cryptocurrencies and blockchain technology are the new, direct path to financial independence."
The NAGA Ecosystem is designed to ensure financial inclusion for everyone, across various asset classes, products and continents. The platform will be soon launching more innovative products such as NAGA CARD or NAGA WEALTH which will further enhance the interoperability of NAGA's services with conventional markets and financial systems.