NEO, Litecoin, Stellar Lumens, IOTA and EOS are inching higher but it's that strong surge in Litecoin that makes it our highlight today.
For the second consecutive day, the top 10 liquid cryptocurrencies are in the green. That's a breather and considering the positive correlation of Bitcoin and altcoins, gains in the former should help drive prices in the later.
Let's have a look at these charts:
XLM/USD (Stellar Lumens)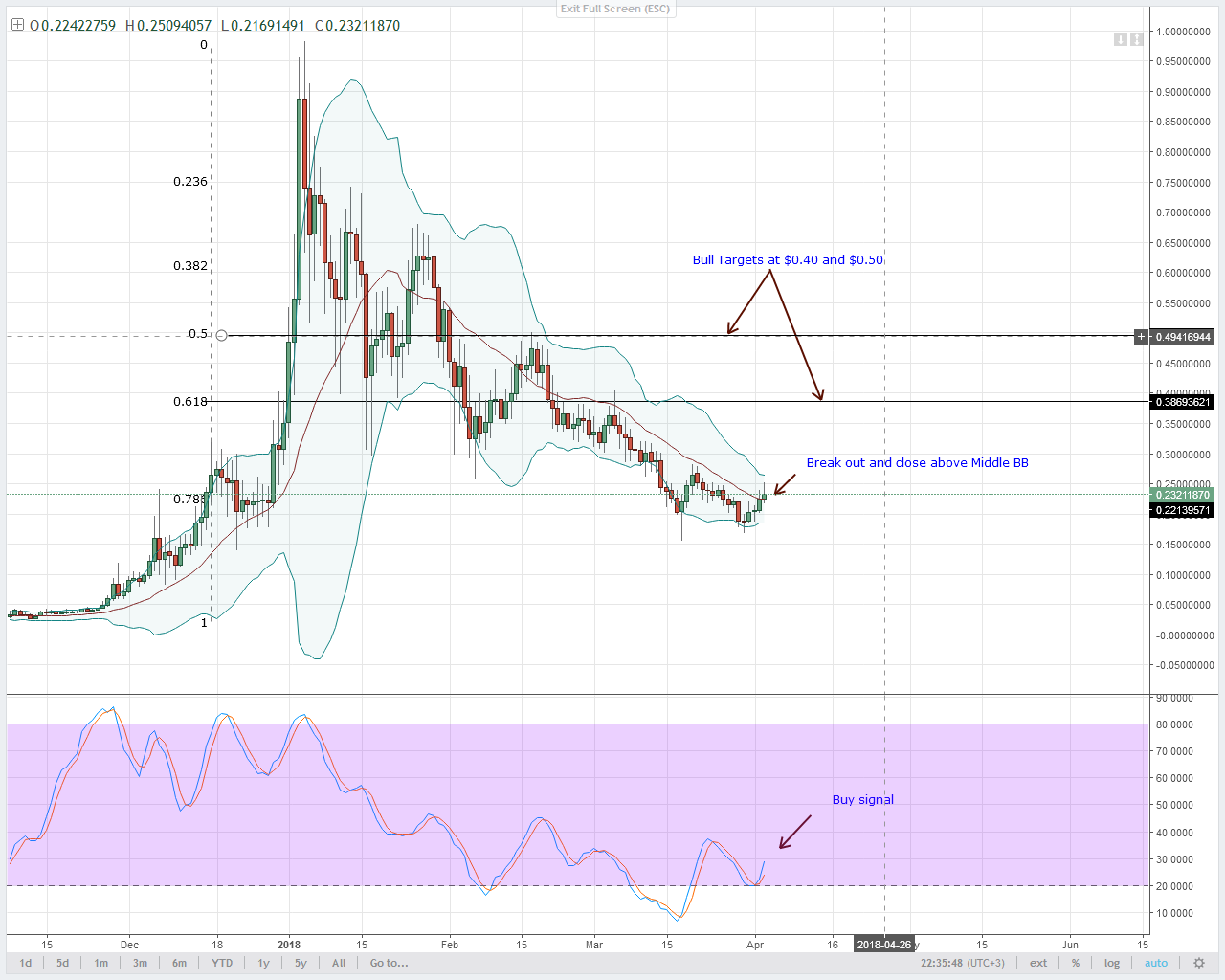 Leading the altcoins charge is Stellar Lumens. Adding on yesterday's gains, Stellar Lumens is up 3.15% in the last 24 hours according to data from CoinMarketCap. From our previous stellar Lumens technical analysis, all buyers needed was a close above $0.22 and that is exactly what we are seeing.
In the 4HR chart, the resistance trend line is our immediate barrier for higher highs but fortunately, bulls can take reprieve with price developments in the daily chart.
Stellar Lumens buyers are trending above the middle BB, a major resistance line in Q1 2018. With a stochastic buy signal in place, it's likely that buyers will add to their gains today. Buyers should aim for $0.40 in the short term.
On the fundamental front, Smartlands, the global ICO platform will held an AMA session on March 3. Already, plans are there for this platform to run their tokenization and crowd funding from Stellar platform. Solid plans as such will surely help drive demand for Lumens.
@Smartlands' Victor Yermak and George Burlakov will answer questions on r/Stellar. Join the live discussion on April 3 at 16:00 UTC (9:00 PST).https://t.co/GJA0OEOc5n@StellarOrg #Smartlands #AMA #reddit #Tokenization pic.twitter.com/UthvcCoN6N

— Smartlands (@Smartlands) March 30, 2018
IOT/USD (IOTA)
Whether IOTA is the future or not, investors should always have positive returns. In the past 3 months, that has not been the case and with losses exceeding 80% from the coin's all-time highs, traders and positional investors need assurance. IOTA is doing exactly that. Yes, there is revamp of Trinity and with addition of Merali, the CTO of Mobli, things might turn green if he brings on board his experiences.
Welcome Emannuel Merali to the IOTA Foundationhttps://t.co/m4kzRK9bUx#IOTA

— IOTA (@iotatoken) April 1, 2018
From price action, buyers seem to be in charge. In the daily chart, our IOTA analysis hints of possible higher highs since there is a stochastic buy signal in place.
Without going overboard, buyers can look for long entries in lower time frames and aim for $1.2 and $1.45 in the short term. Afterwards, any surge and close past the 78.6% Fibonacci retracement level might open doors for further long considerations.
EOS/USD (EOS)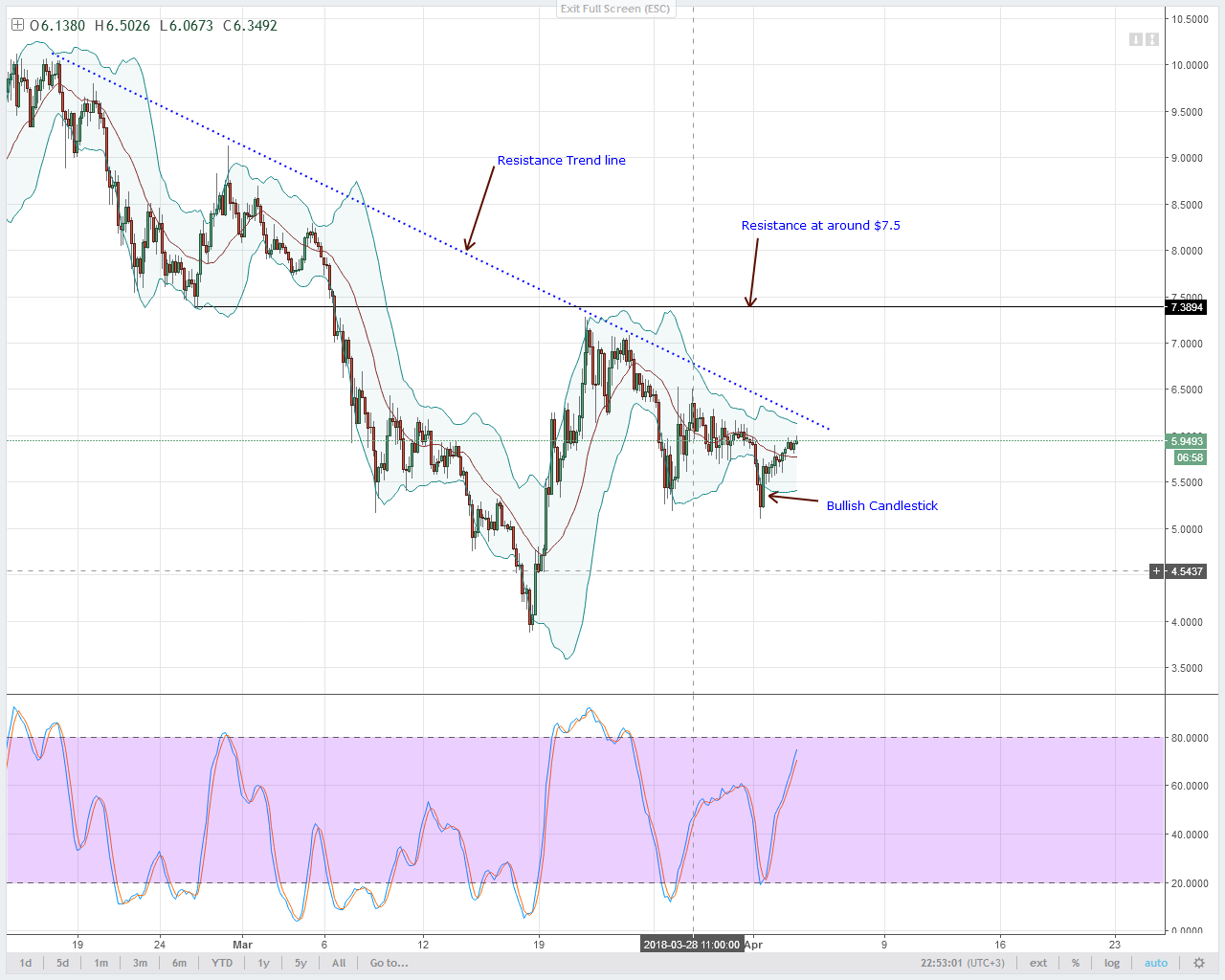 At $6, EOS is up 5% according to CoinMarketCap and that also means this DApp platform is in the green for the past 3 consecutive days. It also means buyers are building up momentum and feeding off the bullish divergence pattern in the 4HR chart.
Apart from this momentum, chances are buyers will find enough momentum to close above the major resistance trend line and surge past $7.5 in the next couple of days.
Of course, from our EOS technical analysis, it's obvious that there is a change of tide and with sellers slowing down, bulls can look for buy entries in lower entries and aim for $7.5 and $9 if the pressure is high.
LTC/USD (Litecoin)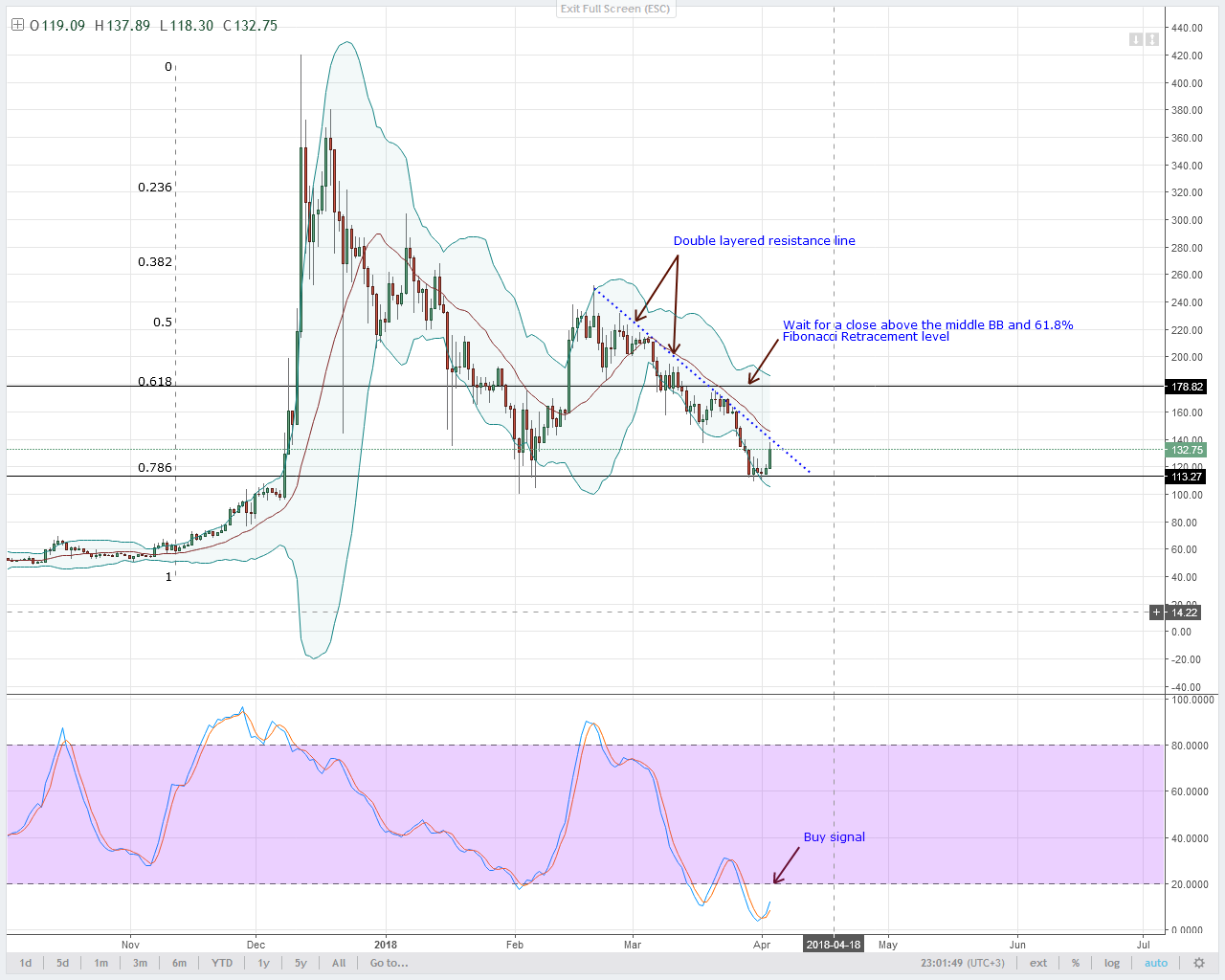 Despite selling his Litecoins and admitting influence on price, Charlie Lee is back again shilling the coin. Judging from his tweets, he seems upbeat urging supporters to spread the Litecoin gospel.
"Ask not what Litecoin can do for you, ask what you can do for Litecoin." – ?

Here's how:
1. Tell all your friends and family about Litecoin
2. Show your favorite merchants how to accept LTC
3. Spend LTC wherever you can
4. Buy back your LTC that you've spent#PayWithLitecoin

— Charlie Lee [LTC⚡] (@SatoshiLite) April 3, 2018
Anyhow, Litecoin is up 15% as I type this and it looks like buyers are stepping up their pressure. A stochastic buy signal and a bullish engulfing candlestick latter, buyers are eyeing our first resistance level at $140.
If prices manage to break and close above that resistance trend line in the daily chart, $180 would be the next feasible target.
NEO/USD (NEO)
The general NEO coin slide has been painful to watch. After Kucoin de-listing and a couple of other altcoins bad news, NEO is making a recovery. Regardless of all the negativity, there is meaningful development on the cards. You can now sync your blox.io app and your NEO wallet.
#NEO Auto Sync Wallet Integration Is Now Live on Our Web App! Go to https://t.co/8wZrLAprjm and Sync Your NEO wallet together with your #Nep5 Tokens! Check out our video tutorial for more information: https://t.co/wPbnCcOYgh @NEO_Blockchain @NEOnewstoday @NEO_council pic.twitter.com/vp0D03IzI0

— Blox.io (@Blox_Official) April 3, 2018
On the technical front, NEO prices are bouncing off last year's highs at around $50 completing the retest phase of a larger bullish market.
Because there is a stochastic buy signal in place, I recommend long with stops at $45 just like yesterday's NEO technical analysis recommendation.
All charts courtesy of Trading View
Feature Image courtesy of PixaBay.