Of all the altcoins under our focus, Stellar Lumens is the top performer for the week gaining 45 percent which increases its market cap to $6.8B. Despite this, NEO, Litecoin, IOTA and EOS are correcting. In this case, buyers should wait until stochastic buy signals print before loading longs probably in the coming week.
Let's have a look at these charts:
XLM/USD (Stellar Lumens)
We can't write much from the fundamental front but what is obvious is that Stellar Lumens is pretty much stagnant. In the last 24 hours alone, the coin is up 0.54 percent and 43 percent for the week. That's not bad at all but here is the thing.
We were pretty much bullish for the better of the week but with a double bar bear reversal pattern in the daily chart and a strong stochastics sell signal in the 4HR chart, sellers might pick up momentum through to next week. Personally, and from my Stellar Lumens technical analysis, a short term correction is bound. Potential reversal points lies between $0.27 and $0.30.
IOT/USD (IOTA)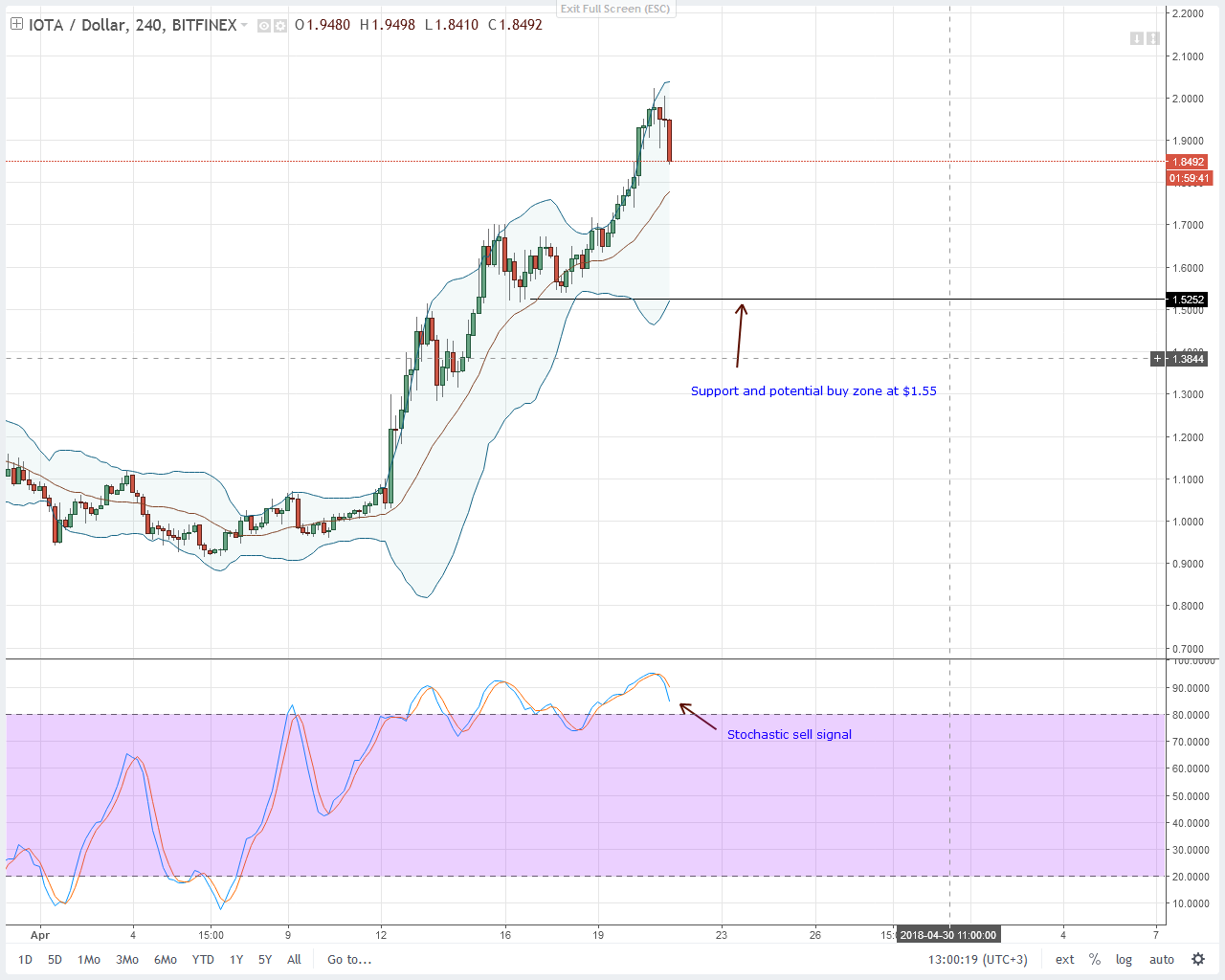 Of course, IOTA at $1.90 is awesome. It would even be better if we have some sort of upsides where IOTA would test $3 or so. We can't discount that and after all, our IOTA technical analysis projects buyers testing this key resistance line in the coming days.
In my view, I shall point at increasing demonstration of how IOTA solves real life problems. After all, after Fujitsu and a couple of other projects, IOTA is now partnering with InnoEnergy in a bid to create this futuristic smart energy economy. Now, is this where Metcalfe's law applies? Well, maybe and if it does, then expect IOTA to gain.
#IOTA, #InnoEnergy together with ÖBO and #ElaadNL team up to demonstrate the IOTA #Tangle on a smart community testbed to explore new business model for #emobility and #smartcommunity energy markets. https://t.co/Ootoek5VNe pic.twitter.com/nvFsGO2WtK

— IOTA News (@iotatokennews) April 20, 2018
From the charts, prices are correcting. Even though we remain bullish, we can refer to the 4HR chart which shows clear lower lows complete with bearish engulfing candlesticks testing and a stochastic sell signal. I remain net long but swing traders can sell and take profits at around $1.55 and $1.65 or whenever a stochastic buy signal prints in the course of next week.
EOS/USD (EOS)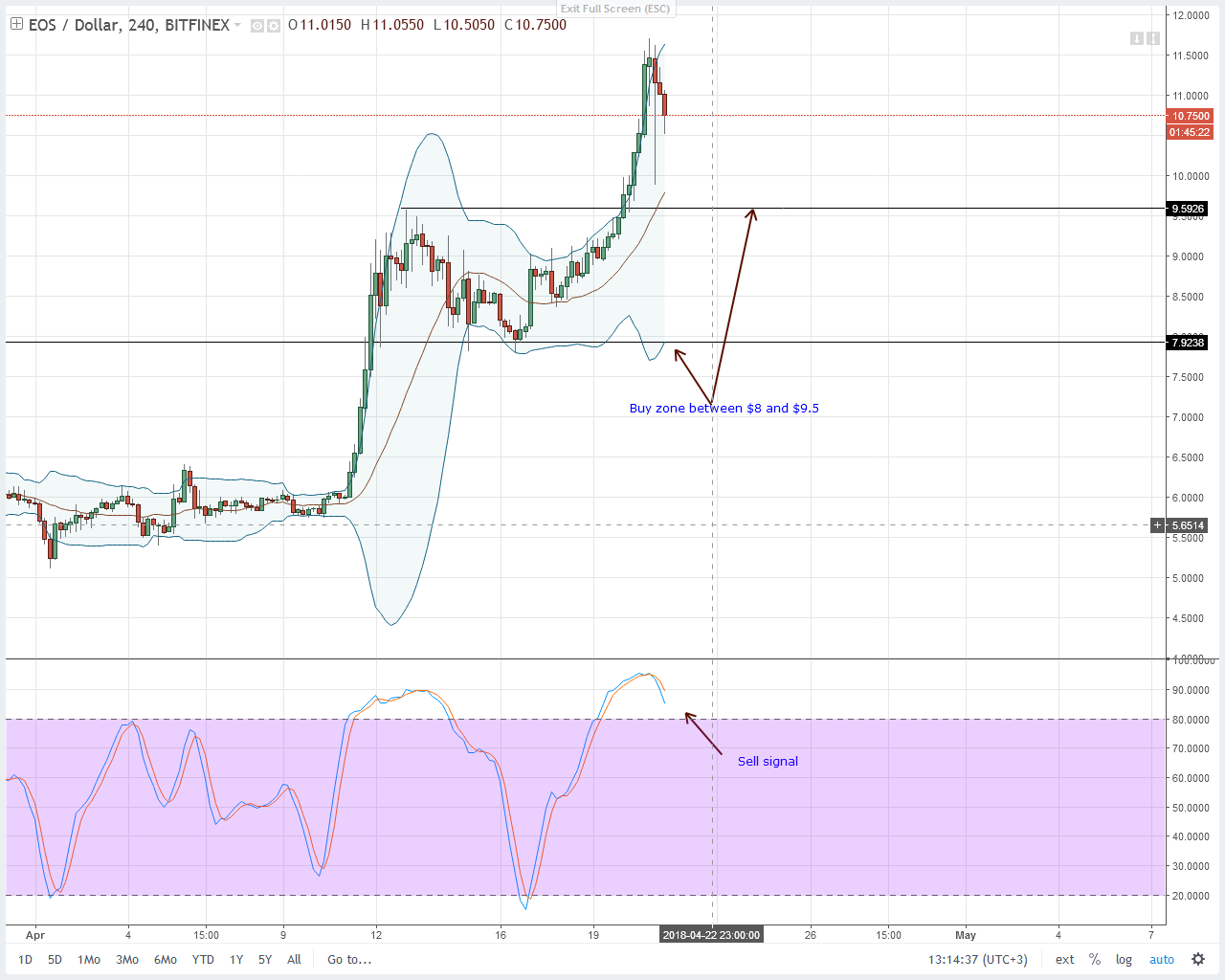 After gaining 18.24 percent in the last 24 hours, EOS now occupies the number 5 spot usurping Litecoin in the process. By now, you should know that all developments are geared towards that well publicized EOSIO launch in June.
Know this though: EOS shall freeze the EOS ERC tokens on June 2 for a maximum of 20 days to allow BP vote in. Now, what is causing a buzz is the potential number of projects that shall launch post mainnet. Already, Block One CEO promised that there will be thousands of projects from all sorts of companies and earlier,OK Blockchain Capital announced a $100M slush fund kitty to support projects launching on EOS blockchain.
OK Blockchain Capital Campaigns EOS Supernode, Offering USD100 Million Supporthttps://t.co/kDwhxuaKn8

— OKCoin (@OKCoin) April 19, 2018
In the daily chart, it's obvious that there is a break out past the main resistance line at $10. That's a bullish break out we have been waiting. However, with prices correcting across the board, we expect EOS prices to follow suit and probably test $8 in the coming few days. After all, there is a stochastic sell signal in place and as such I recommend short term sells as above.
LTC/USD (Litecoin)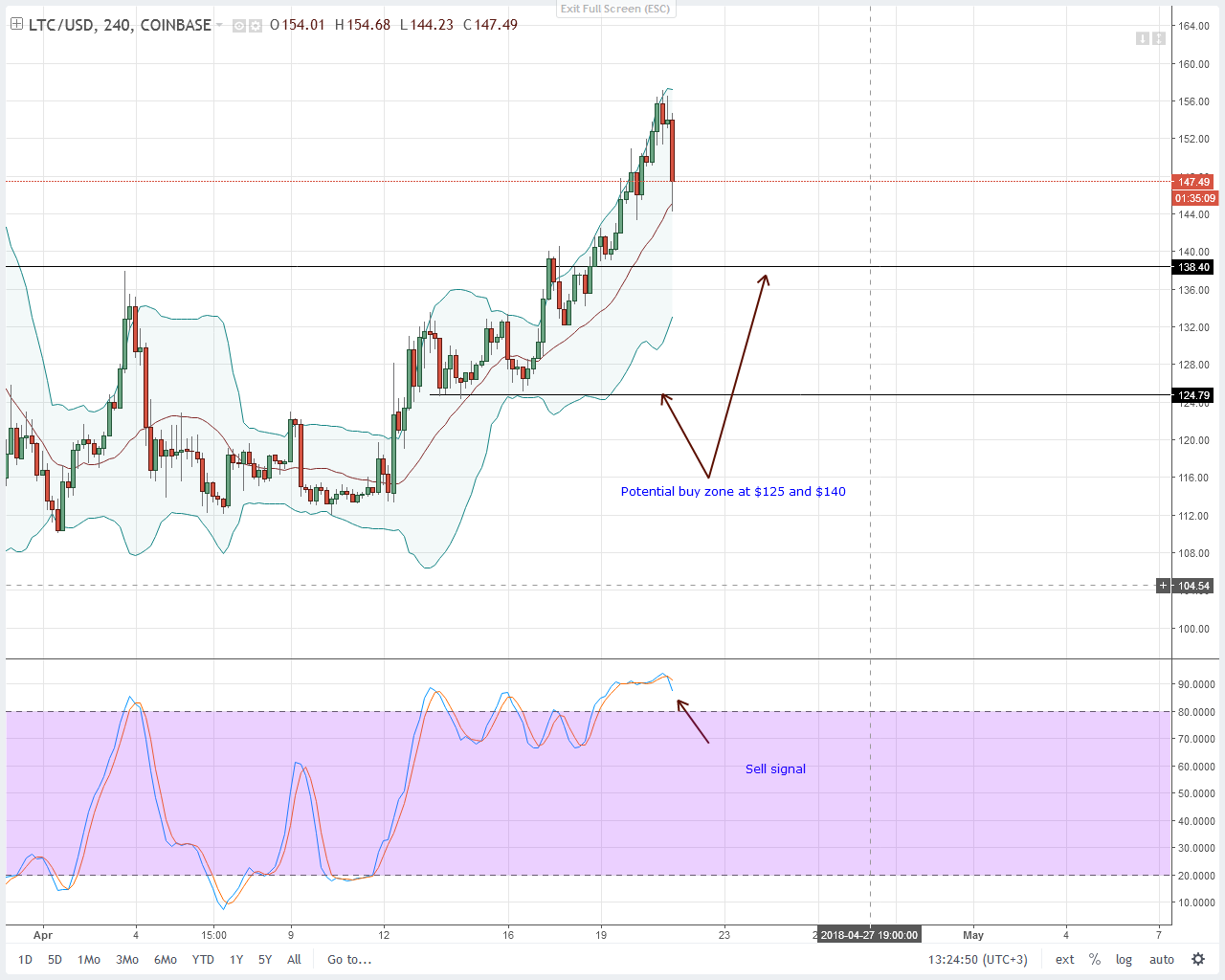 It's a flap guys. Litecoin's market cap stands at $8.25B. Even with marginal gains in the course of the week, it couldn't prevent EOS from taking over that spots. Anyways, I'm selling Litecoin at the moment but I'm overly bullish. Potential buy target is at $125 on the lower end or when a stochastics buy signal prints and there's a bullish candlestick confirming that.
NEO/USD (NEO)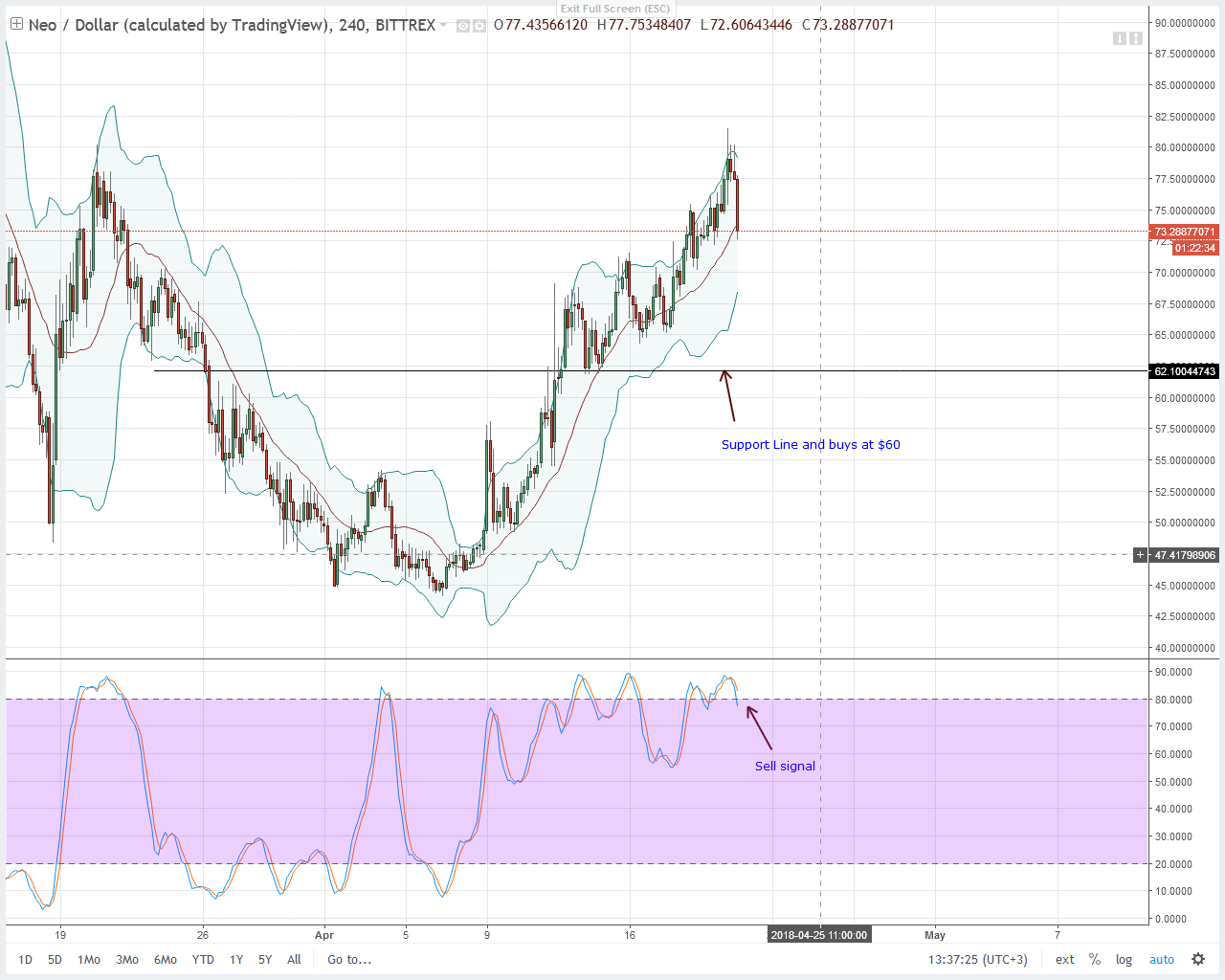 It has been a generally busy week for NEO straight from impressive Switcheo trade volumes, Ether Capital trading on NEO exchange, Asura ICO and white listing and of course Aphelion desktop wallet release. What I like about Aphelion is that it easily integrates with Ledger Nano S. Cumulatively, all these are bullish for NEO and we expect prices to catapult in the coming weeks.
Introducing the Aphelion NEO Desktop Wallet Available Now. Get yours FREE here: https://t.co/UeIWNFuy0p

— Aphelion (@Apheliontoken) April 20, 2018
Price wise, it's the same pattern and even as we trade a bearish divergence pattern in the 4HR chart, prices should bounce back. Buy zones lies at $60 or whenever a stochastic buy signal prints from deep the oversold territory in the 4HR chart.