Despite moving up one spot, IOTA and the general altcoins market is sluggish. In fact, most coins are shedding and retracing. In my view, waiting until proper signals prints in NEO, Litecoin, Stellar Lumens, EOS and IOTA is prudent as our altcoins technical analysis shows.
Let's have a look at these charts:
XLM/USD (Stellar Lumens)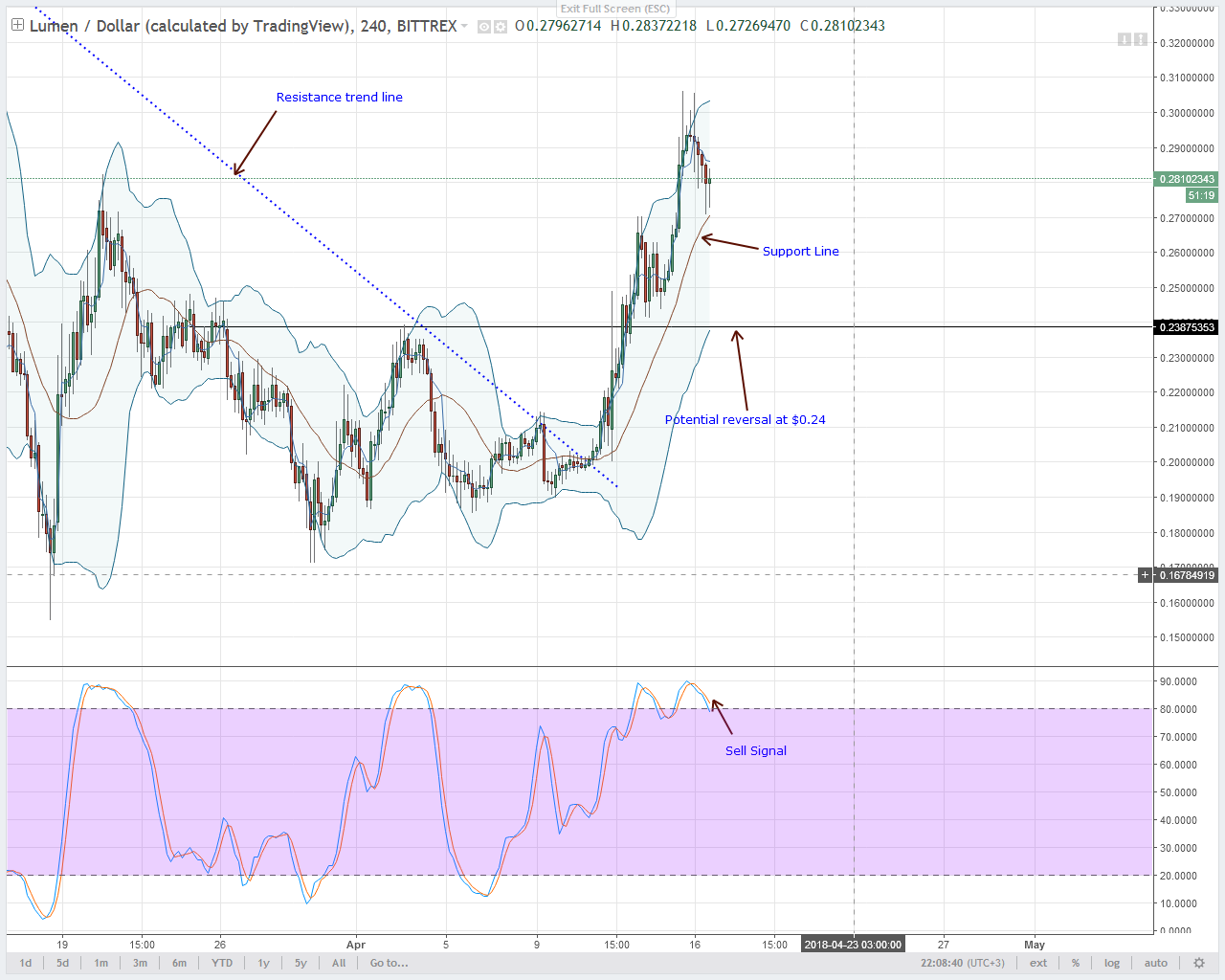 Even though Stellar Lumens is generally up, the coin is giving back some of its earlier gains. In the last 24 hours alone, the coin is down 3.75 percent and technically, we expect further declines.
In our entry chart for example, there is a small bearish divergence pattern and with bearish stochastics turning from deep the overbought territory, bears are likely to ramp up especially if there is a breach below $0.28. Remember, this level is a minor but key support line-the middle BB.
From our Stellar Lumens analysis, our first point of support lies at March highs at $0.24 and if a stochastic buy signal prints at that level, we anticipate buyers to test $0.5 in the short to medium term.
IOT/USD (IOTA)
After breaching the $1.5 mark, IOTA is up one spot up the liquidity table with a market cap of $1.58B despite losing 5 percent in the last 24 hours. That's not a worry though because from the development and human resource point, things are moving in the right direction.
Yesterday, IOTA announced that Eric Hop will be joining the IOTA foundation. That's not all, there is news that they blockless platform shall be working with DXCT technology on a joint project to automate order processing.
Welcome Eric Hop to the IOTA Foundationhttps://t.co/lFftbn8RnB#IOTA

— IOTA (@iotatoken) April 16, 2018
To cap this up, IOTA's new website is now up and running.
IOTA's new website is live!https://t.co/ONBzK0REFg#IOTA

— IOTA (@iotatoken) April 15, 2018
From price action, our conservative buy triggers lies at $1.5. At current prices, those positions are live and it should remain so. Those looking for entries should remain patient and wait for a stochastic sell signal to print or prices to surge past April 16 highs of $1.7.
Considering price action and our IOTA technical analysis projection, chances of the latter happening is high and in that case, we should gear up and target $3 with suitable stops at $1.6.
EOS/USD (EOS)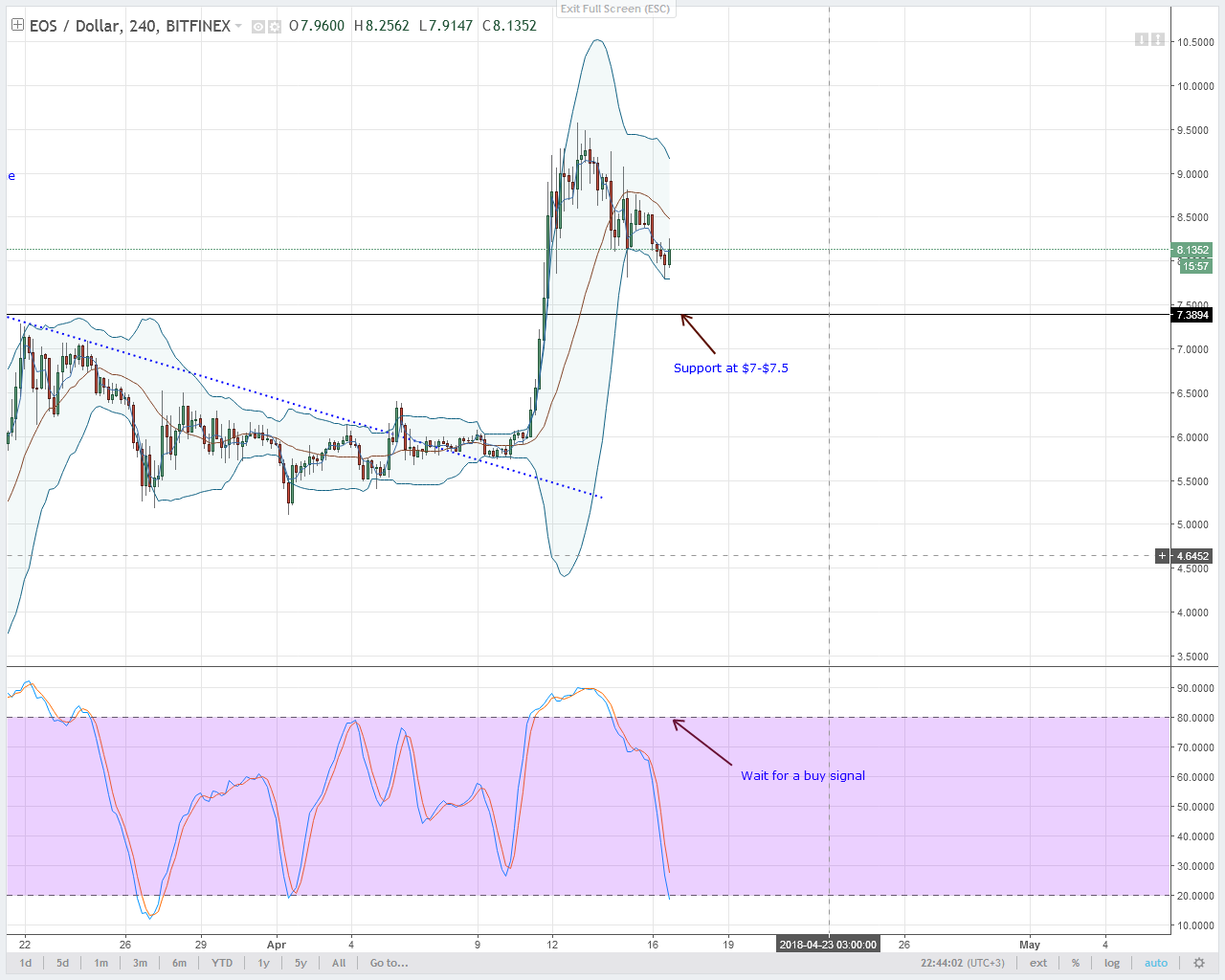 With more than 159K EOS holders, an efficient system and growing support in Europe and Asia, it's hard to deny bullish potential of this token. We can see this popularity in Asia and yesterday, India's largest cryptocurrency exchange ZebPay now avails EOS pairs for their 3M users.
Introducing EOS on Zebpay! Wallets are now open, trading begins tomorrow. https://t.co/Mhy6EZdBU2 pic.twitter.com/BLfZBmyF1J

— ZebPay (@zebpay) April 16, 2018
As a platform, several DApps as ONO and WAX shall leverage EOSIO blockchain to run their businesses. Of course, this is bullish for the coin. Anyhow, as Block One CEO said, more projects are on the pipeline come June 2018.
https://twitter.com/eos_italy/status/985950734201081856?s=21
When it comes to price action, I shall retain a short term bear skew unless there is a surge and close above April 13 highs of $9.5. Otherwise, according to our previous EOS technical analysis, I shall only recommend long entries when there is a stochastic buy signal preferably at around $7 to $7.5. In the meantime, staying off this trade until price action meets either condition is what I will suggest.
LTC/USD (Litecoin)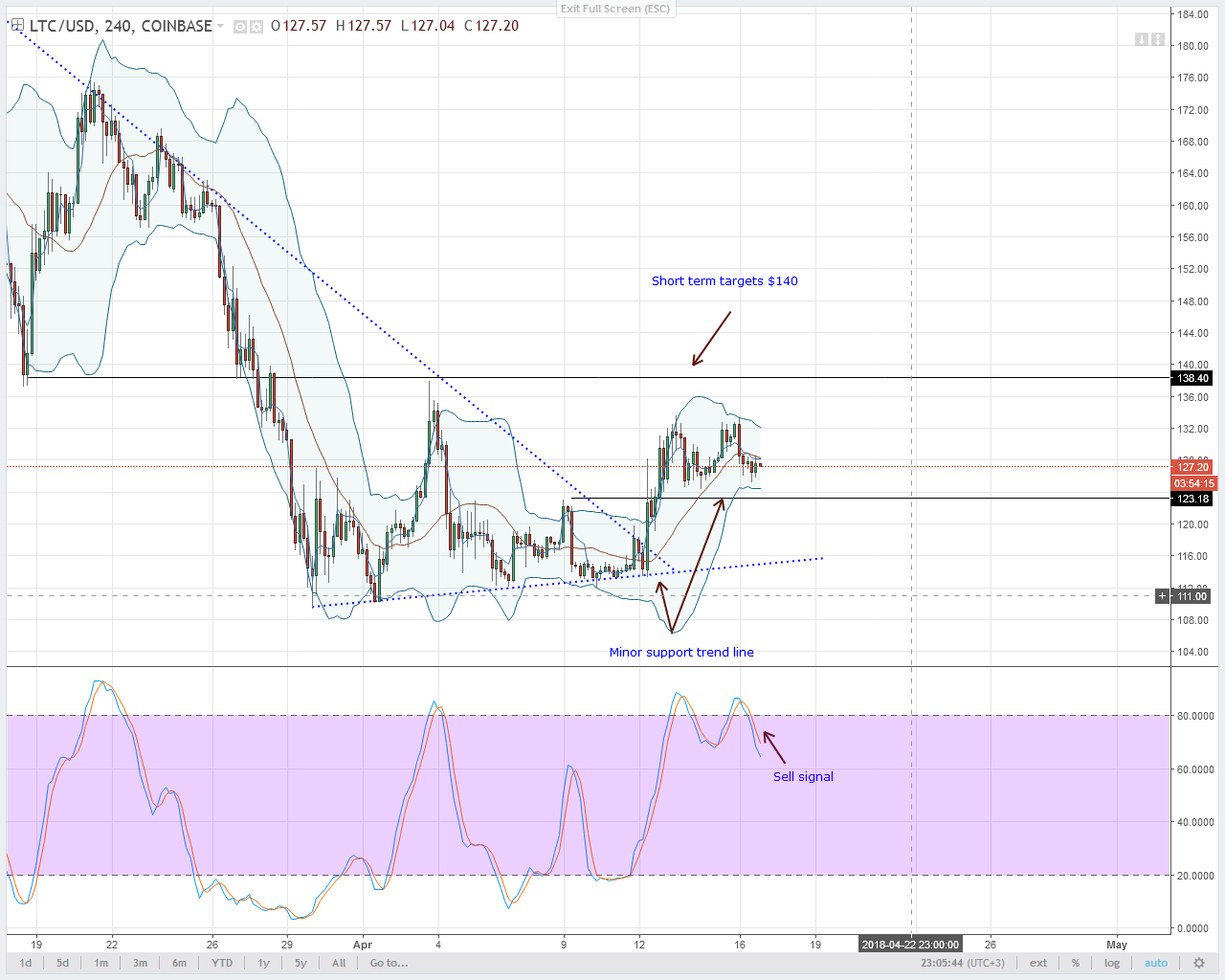 The Litecoin Foundation and Charlie Lee are busy popularizing the coin and while yesterday's prices were sluggish, Litecoin is bullish.
We remain upbeat for Litecoin and expect more now that more exchanges are availing Litecoin for exchange. CoinOne for example is now open in Indonesia and Litecoin is available for trading. Other companies are considering Litecoin for settlement. TenX is one of them.
Hi, ayo ikutan!
Coinone Indonesia sudah mulai Pre-Registration ??
Untuk 10,000 orang beruntung yg mendaftar di Pre-Registrasi akan mendapatkan Kupon Gratis Fee 0.00% & Qtum Airdrop ?
Visit: https://t.co/3eKIIxqk1a#preregistration #coinone #bitcoin #cryptocurrency #blockchain pic.twitter.com/w1iKMYne4i

— Coinone Indonesia (@CoinoneID) April 16, 2018
Most notably, TenX business is interesting because not only can payments be made using Litecoin but their partnership with Visa allows it to be used anywhere where Visa is accepted.
Some #TenX updates regarding @LTCFoundation and @BlockfolioApp https://t.co/DfCptzqCnn

— TenX (@tenxwallet) April 11, 2018
Now, whether Litecoin buyers will maintain prices above $120 or not depends on price action. Personally, I do think taking longs in lower time frames shall increase odds of turning in a profit in the short term.
After all, if we borrow insights from our previous Litecoin technical analysis, we expect prices to react at around $120. Should a stochastic buy signal print at this level, then taking longs with stops at $115 should make sense. Keep in mind that we are trading a break out pattern clear in the daily chart.
NEO/USD (NEO)
Nothing much from fundamentals. However, when it comes to price I do think we should hold on to our horses. It can be bumpy today. From yesterday's NEO technical analysis, we were anticipating sellers to increase their position and drive prices back to $60 or there about. That seems to be happening