You can now buy porn using Verge coin, Porn Hub made this official yesterday. Of course, this is breaking the crypto-sphere and sinking Verge because investors expected more. Litecoin founder is endorsing this move. In a tweet to Porn Hub, Charlie asked them to message them about a potential deal.
This is definitely interesting because Litecoin continue to attract merchants and financial payment players to its platform. Porn is a $14B industry and so it won't be a bad addition. In general, altcoins under our focus are in the green and others as IOTA might continue to edge higher today.
Let's have a look at these charts:
XLM/USD (Stellar Lumens)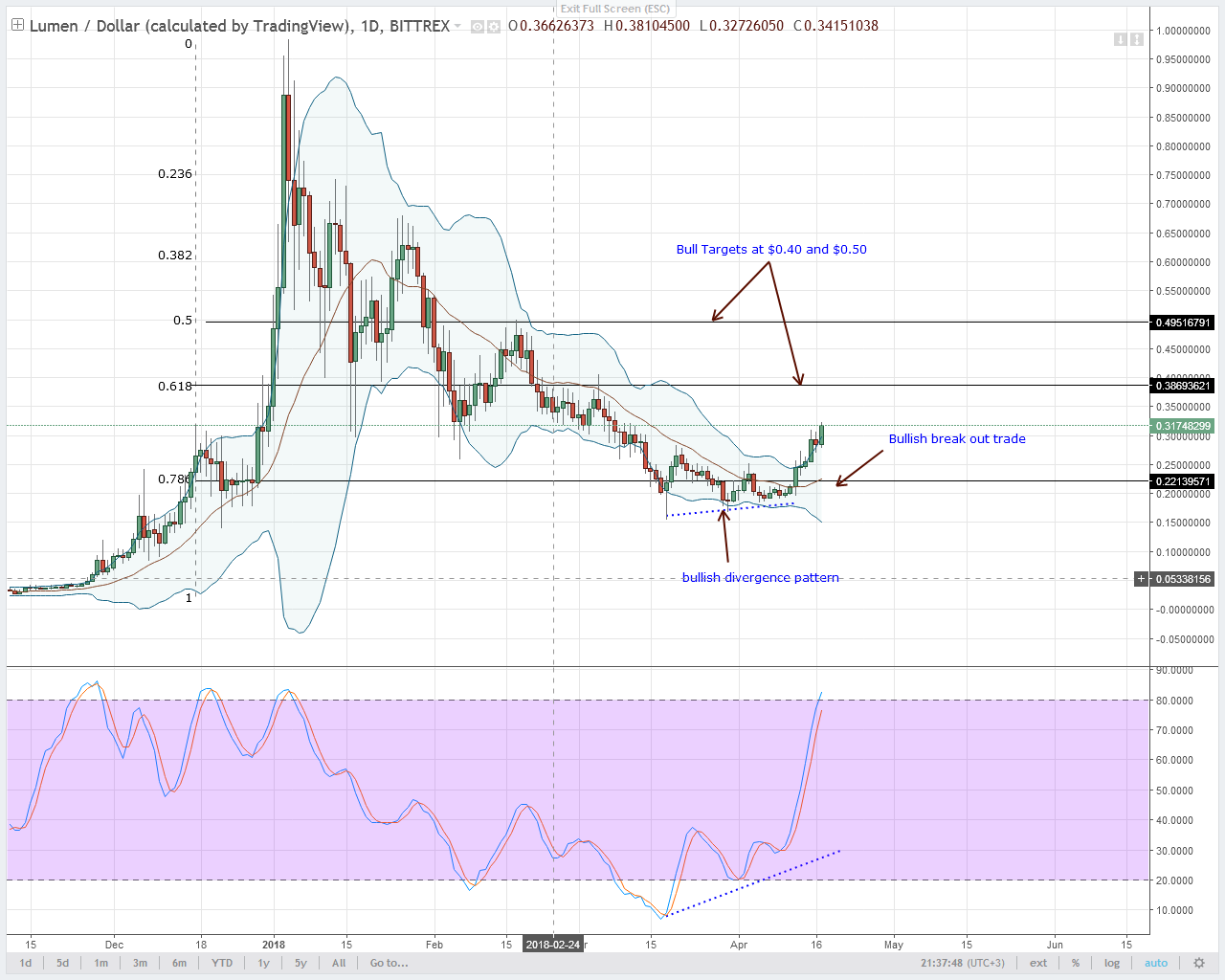 With an impressive market cap of $5.83B, Stellar Lumens continues to cement its position at the top 10 most liquid cryptocurrency in the whole. As you might be aware, Ripple and Stellar compete for the same clients and/or interest but unlike the latter, this coin is inherently meant for normal users due to its distribution nature and design. Fundamentally, there is little to talk about Stellar but price wise, traders are optimistic.
In the last 24 hours alone, Stellar Lumens is up 13 percent as I type this and as it is there is more room for upside potential. I will recommend trading with the trend and from our previous Stellar Lumens technical analysis, our short term target is at $0.40 and $0.50. Because of this bullish skew, those who are not in this trade should actively look for under-valuation in lower time frames and buy this coin.
IOT/USD (IOTA)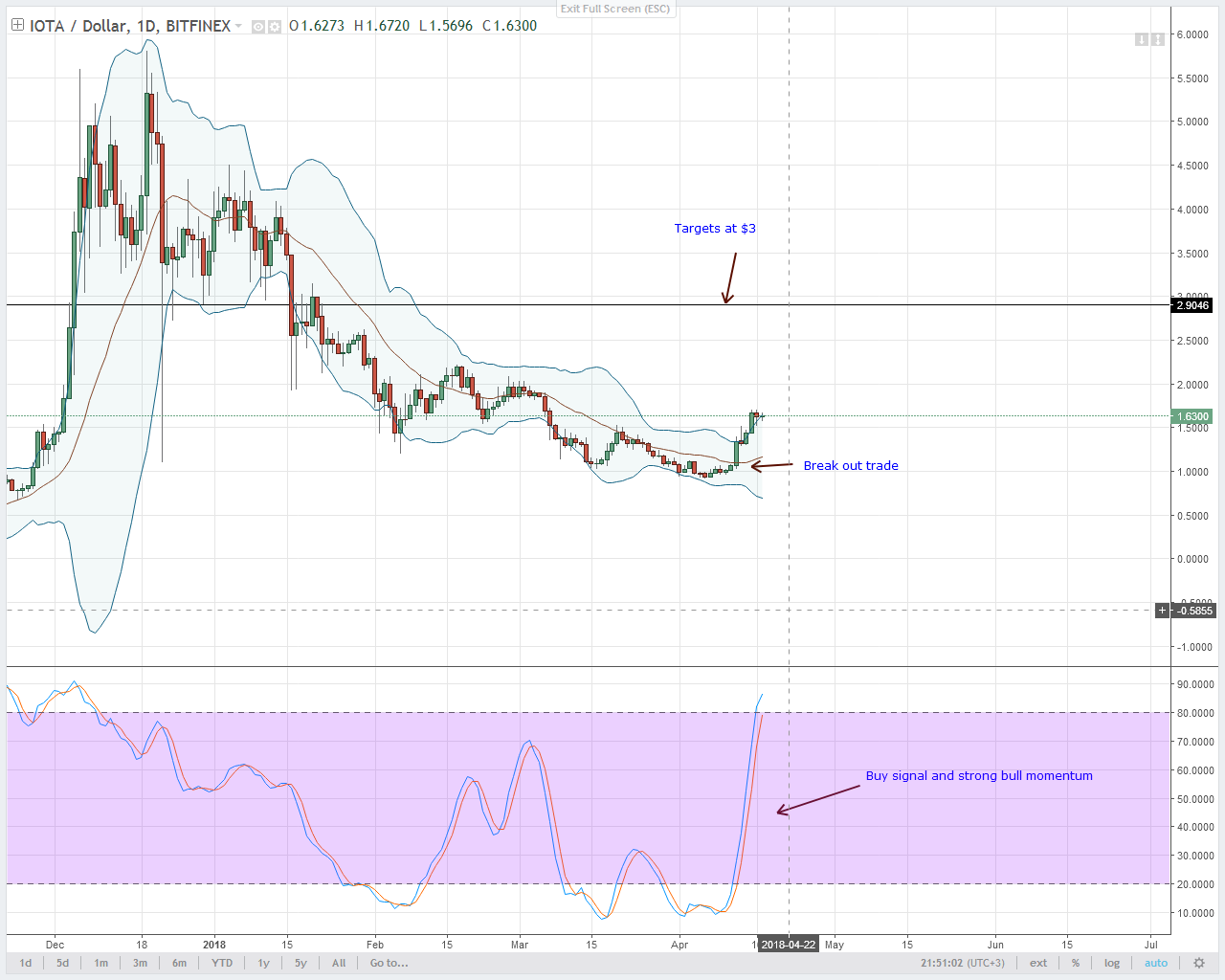 Undoubtedly, IOTA touts itself as the go-to facilitator of the Internet of Things (IoT). To further juice it up, both IMF and the EU recognizes the benefits of IoT and blockchain and so it is therefore not rocket science to see the potential of IOTA in the long term. Remember, it's the long-term investment that is always lucrative and not these minor short term swings we are currently witnessing.
To emphasis the real life application is IOTA, Dr Rolf Werner will be demonstrating this at the Hannover Messe where Angela Merkel shall grace the event.
Dr Rolf warner will be showing demo of iota use case at Hannover messe https://t.co/pn5oBawPy7

— hTTpS://crypto.bi (@cryptodotbi) April 17, 2018
The presence of Merkel is by itself significant but during this industrial fair, Fujitsu shall also introduce IOTA to the people.
#Fujitsu will introduce the #IOTA technology with a Live-Demo at the largest industrial fair in the world #HannoverMesse Industrie in #Germany next week! https://t.co/NGtpjhvMyw #Industry40 #HM18 @RolfWerner @Fujitsu_DE @hannover_messe @iotatoken @DomSchiener @DavidSonstebo

— IOTA News (@iotatokennews) April 17, 2018
Price wise, IOTA is up 3 percent with a market cap of $4.53B. Technically, prices are slow but we expect higher highs today. In that case, I recommend buys with targets at $3 in line with our previous IOTA technical analysis. After all, stochastics are bullish and candlesticks are beginning to band along the upper BB meaning buy momentum is high.
EOS/USD (EOS)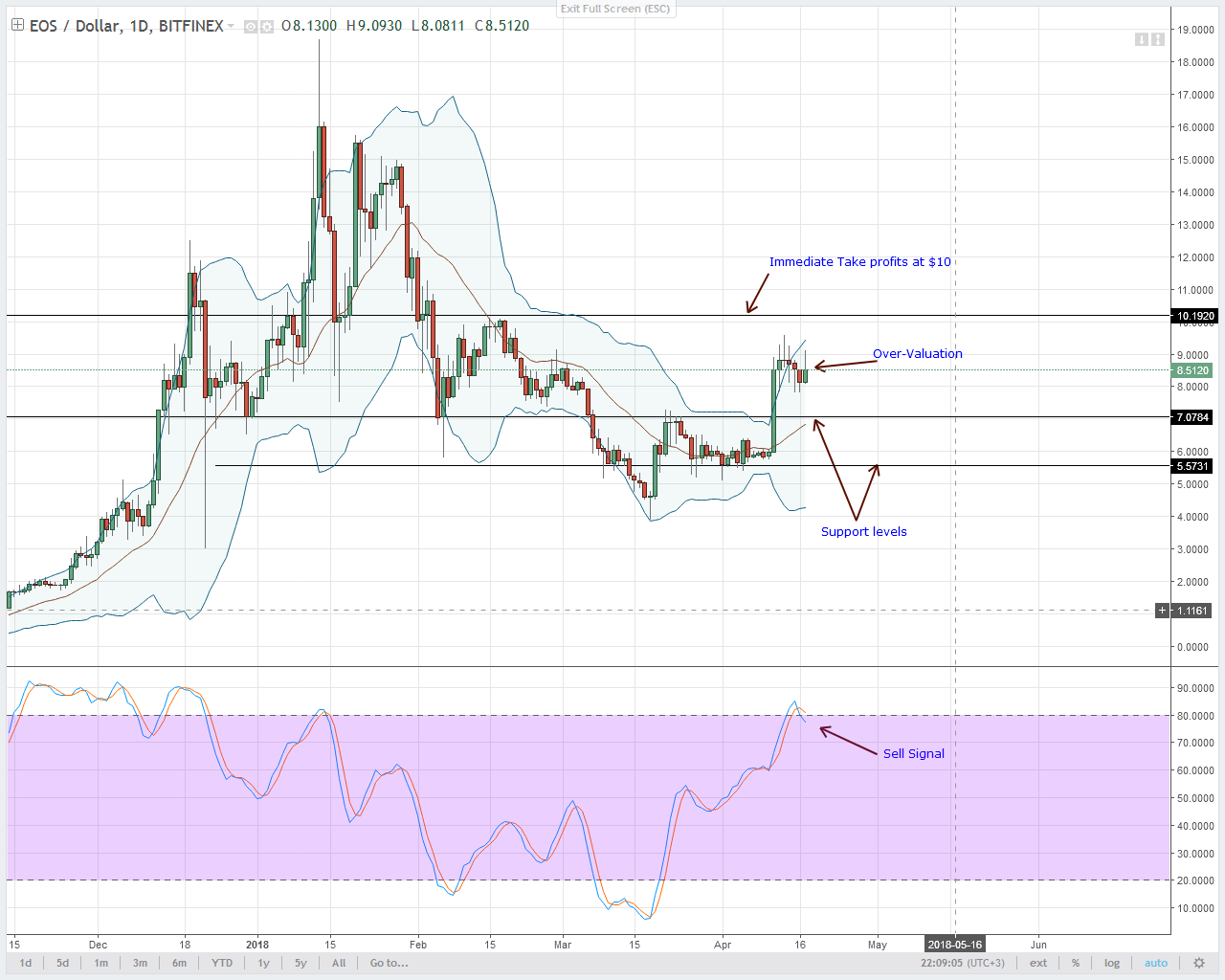 No major take-away from the news front in the last 24 hours besides WAX EOS blockchain fork and subsequent clarification from Block One. As far as price is concerned, it looks like EOS is still trending within a $2 range. The upper limit and our short-term resistance trend line is at $9.7 or April 13 bear pin bar.
Regardless of this correction phase following April 15 events, EOS is up adding 6 percent in the last 24 hours. I will hold my cards close to the chest and practice caution despite high time frame trends over-riding short-term price movements.
As you can see, there is a stochastic sell signal but still I remain bullish. In this regard, I shall wait until prices break above $10 and April 13 highs before urging traders to buy on dips with targets at $15 or 2018 highs.
LTC/USD (Litecoin)
Verge and Charlie Lee have something in common. Both are controversial and apparently love the limelight. Following Verge-Porn Hub partnership, Charlie was the first one to send his congratulations to Verge Founder Justin.
I think I was a bit too negative on this news. Wasnt trying to be. Anyways, congratulations to @justinvendetta and the Verge team. Porn industry is definitely a leading indicator of technology adoption. I'm glad to see them opening up to cryptocurrency. ? https://t.co/lS9bekE3aS

— Charlie Lee [LTC⚡] (@SatoshiLite) April 17, 2018
Not being self righteous but we must agree that the adult industry is a multi-billion industry. Sex sells! Waiting for Litecoin? It will be awesome right? Anyways, following CoinOne and TenX steps, Korbit and Wirex shall be listing and availing Litecoin cards respectively.
Seems like another Litecoin debit card in the works. Not hyping… Just excited to see so many companies supporting Litecoin! ? #PayWithLitecoin https://t.co/ctyxPabRfA

— Charlie Lee [LTC⚡] (@SatoshiLite) April 17, 2018
To be specific, Korbit shall avail Litecoin pairs for trading starting today.
Tomorrow, @KorbitBTC will launch LTC trading. It's awesome that one of the oldest Korean exchanges will now support Litecoin. I still remember asking Korbit many years ago. ?

I have donated 100 LTC for a promotion. See blog post for more details. ?https://t.co/f2H4HoJm9p

— Charlie Lee [LTC⚡] (@SatoshiLite) April 17, 2018
When we take a look at the chart, Litecoin buyers are pushing prices higher. Yes, we are still trading within a $20 range. As per our initial Litecoin trade plan, we need a strong break above $140 for prices to eye $180 in the coming weeks.
NEO/USD (NEO)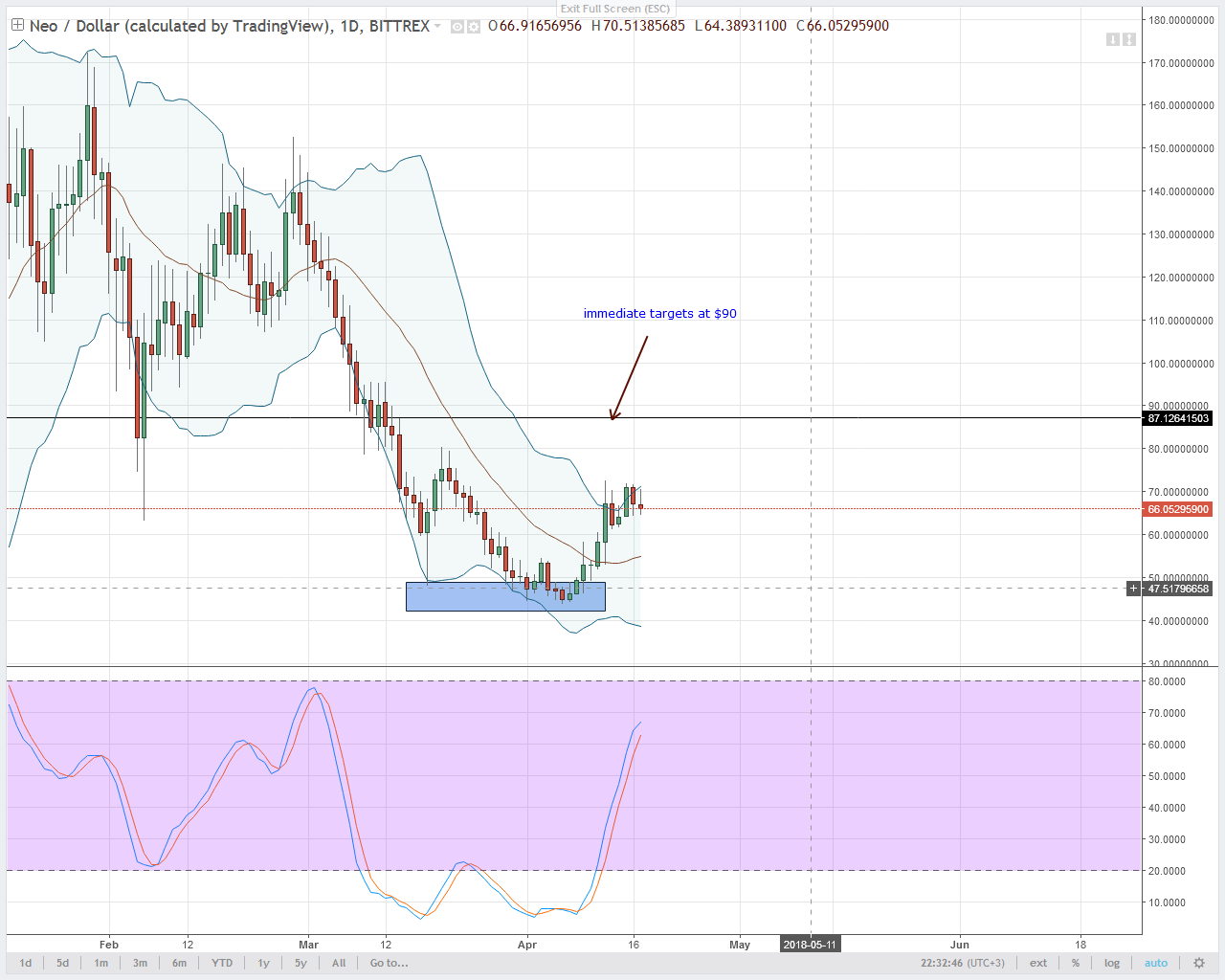 It's hard to argue but blockchain technology is still at its early stages. NEO is one of them and as developments continue and more ICOs launch on the platform, we expect the demand of NEO to rise. That's not hard to figure out and remember, relative to Ethereum, NEO is under-performing and therefore has more upside potential.
Aside from this fact, Switcheo, a NEO DEX is live and allows trading of NEO, GAS and a host of other NEP-5 tokens as RPX and later on, it shall allow trading of QRC-20 tokens. This is good news for NEO and GAS.
Why $swh switcheo is the next big thing

First Dex on neo
Dex with neo and eth,qtum token coming soon
Mcap just 5m currently

Using coin burn system similar to binance

All neo ico first to launch on $swh
Good team
Mainnet ready$btc $eth $ltc $neo $ven$trx $ven $icx $xrp $wan

— Dragon25 (@Aminder17) April 2, 2018
Price action wise, Sellers are driving prices down and considering our previous projection, we can only take long positions when a stochastic buy signal prints at $60 or when prices break past $70.
Image from Shutterstock.