We need to see some fundamentals to jolt altcoin price action today. Should there be further gains say in Bitcoin and EOS, they are lagging behind, prices could explode. As statistics shows, Stellar Lumens is spearheading this week's gain with an impressive 66 percent gain while IOTA is following closely at 43 percent. Even though I still maintain my bullish skew, buying Litecoin, EOS and NEO might present superior returns in the short to medium term.
Let's have a look at these charts:
XLM/USD (Stellar Lumens)
Everything digital is bound to have their own weaknesses. When it comes to cryptocurrencies, some savvy black hat hackers are having a field day. According to a report from Stellar Protocol Foundation, some $618 Million is missing in 2018 alone. The large chunk of it comes from CoinCheck heist.
As expected, this is but a huge deterrence to adoption as many payment systems are shying away and barring customers from making payment in crypto. To counter this, the Stellar Protocol foundation tasked with mapping out Stellar Addresses shall introduce HTTPS connection between their servers and wallets for security purposes.
https://twitter.com/dcuthbert/status/987033490456760321
Price wise Stellar is towing in as per our previous Stellar Lumens technical analysis. What draws my attention is that upper BB bull candlestick banding and a nice follow through of last week's bullish pressure. Because of this, we should brace ourselves for higher highs as Lumens add up to their gains. After $0.40, buyers should eye $0.50 and the 38.2 percent Fibonacci retracement line at $0.70 in the coming weeks.
IOT/USD (IOTA)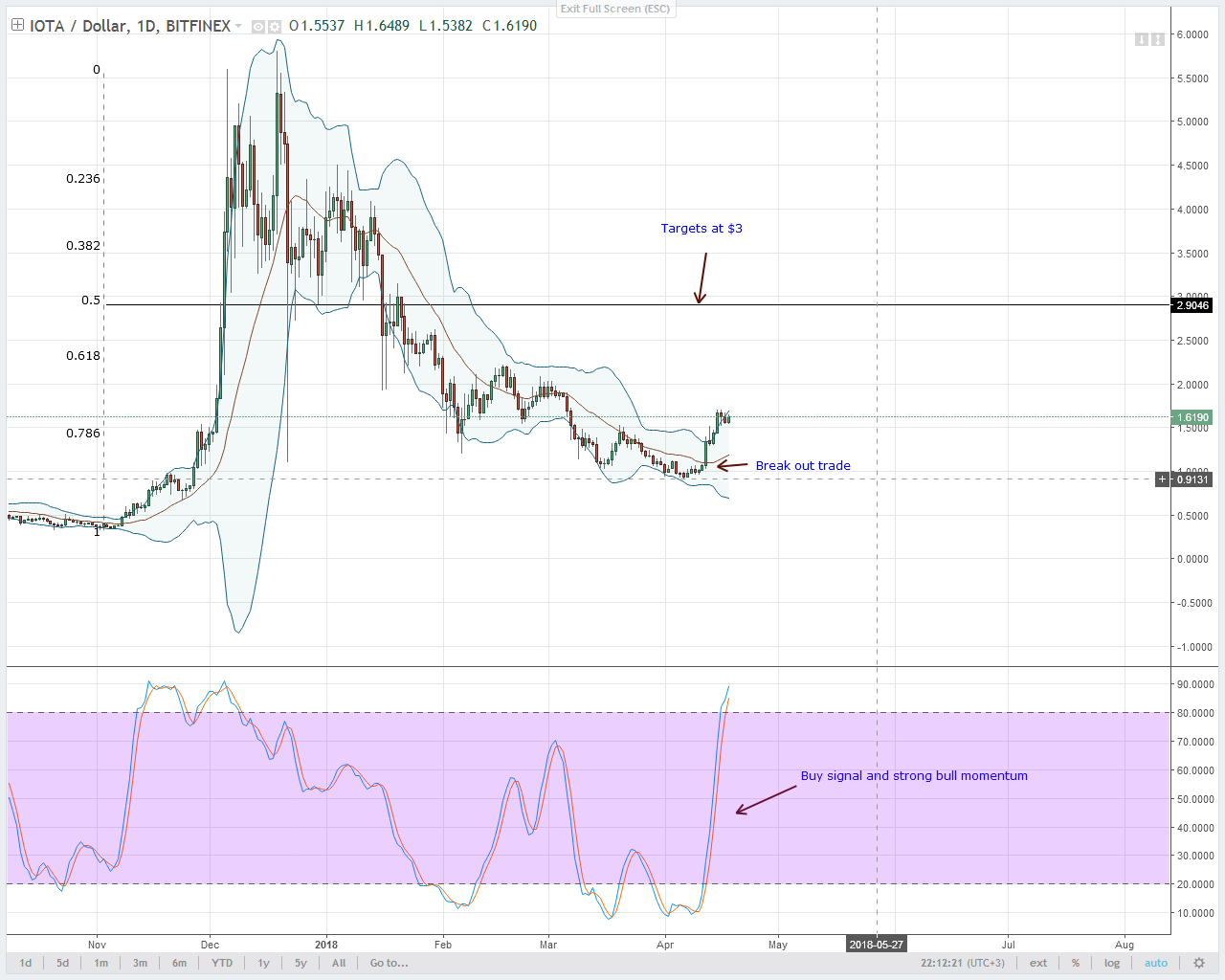 After Amazon, everything else is now possible. We might as well hear Facebook and Google getting into the blockchain data market place and relaying Bitcoin user transactions to law enforcement. It's weird because it waters down everything decentralization efforts.
Such moves makes me think IOTA is doing the right thing and holding is a just about the right thing to do. Anyways, so you know the next IOTA wallet snapshot will take place on May 6, 2018. Then the issue of obsoluteTag field and fixes on IRI will be dealt with.
The next global #IOTA snapshot will be coming in the first weekend of May: May 6, 2018 at 16:00 UTC | Network Restart: May 6, 2018 at 23:00 UTC. This #snapshot will introduce some fixes for #IRI. Learn more and be prepared: https://t.co/7vaVPgYbkb & https://t.co/LzxF0V9yNK pic.twitter.com/KyfB3NtWDO

— IOTA News (@iotatokennews) April 18, 2018
It will sound like a song but there is nothing else I could say. If you look for IOTA buying opportunities in lower time frames and buy in line with our previous IOTA technical analysis, I really think you stand to turn in a profit.
After all, IOTA is up 8 percent in the last 24 hours and 43 percent in the last 7 days. Besides it's up 15 cents from last week's highs and that's why I recommend buys.
EOS/USD (EOS)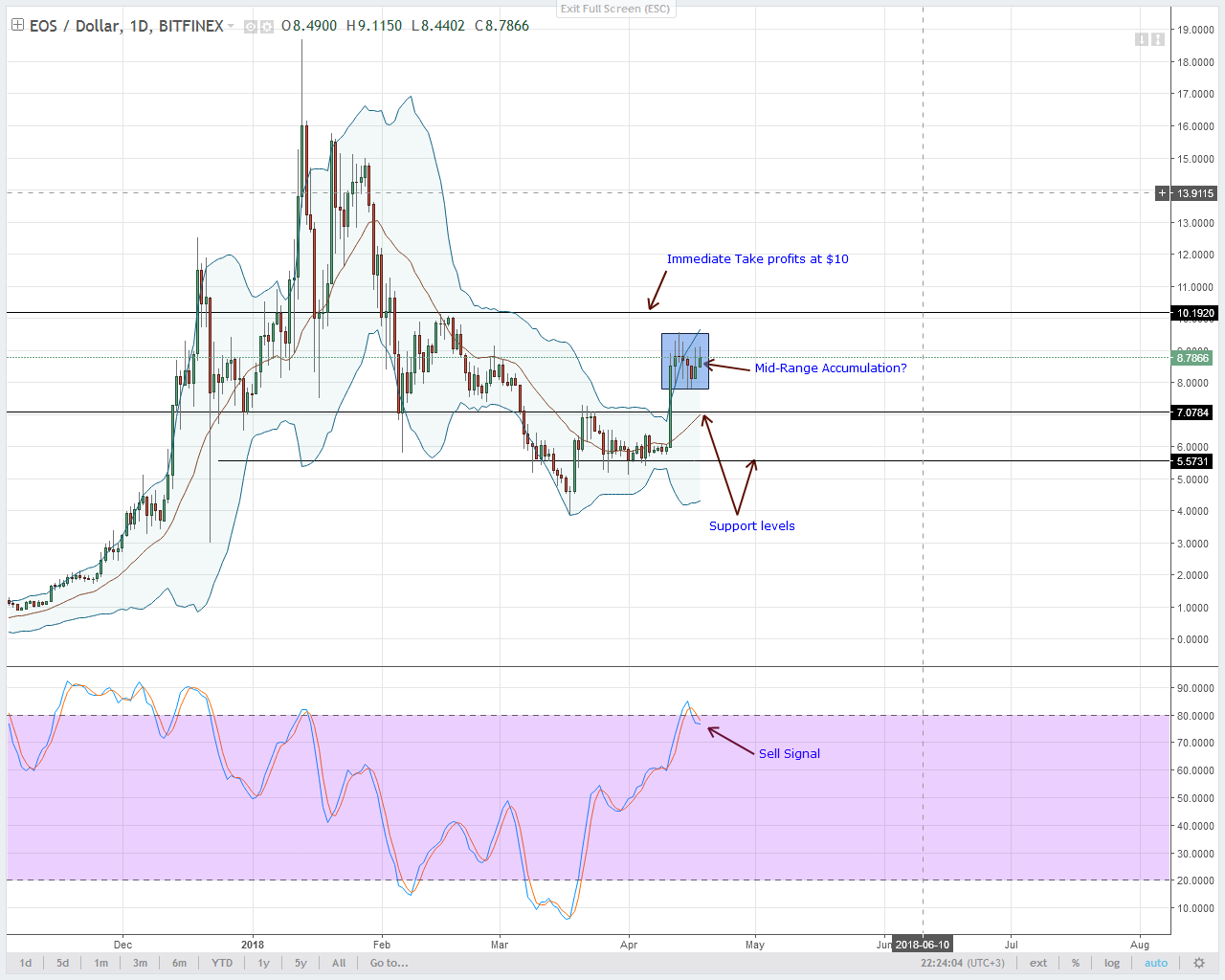 Remember, EOS is still crowd funding, don't forget that. Already it has more than $2B yet the project is not even live. EOS developers are working hard behind the scenes and with Dawn 3.0 and proper decentralization which the platform promises, will it wreck havoc on Ethereum? Well, that's a maybe or not.
I won't rely on current EOS vs. Ethereum metrics because the former has a working product while the later is gearing for a mainnet launch. Price pumps are inevitable so let's wait and see. Then again, EOS is still an Ethereum token.
I will reiterate what I said yesterday. EOS is still trending within a mid-range accumulation and logically, I shall trade with the trend. Already, EOS is up 5 percent and what I need is a break past $9.5 or even $10-the 50% Fibonacci retracement line before I jump in and buy.
In that case stops should be below $8 with targets at $16. Regardless of short term price swings, expect a pump as we approach June mainnet launch.
LTC/USD (Litecoin)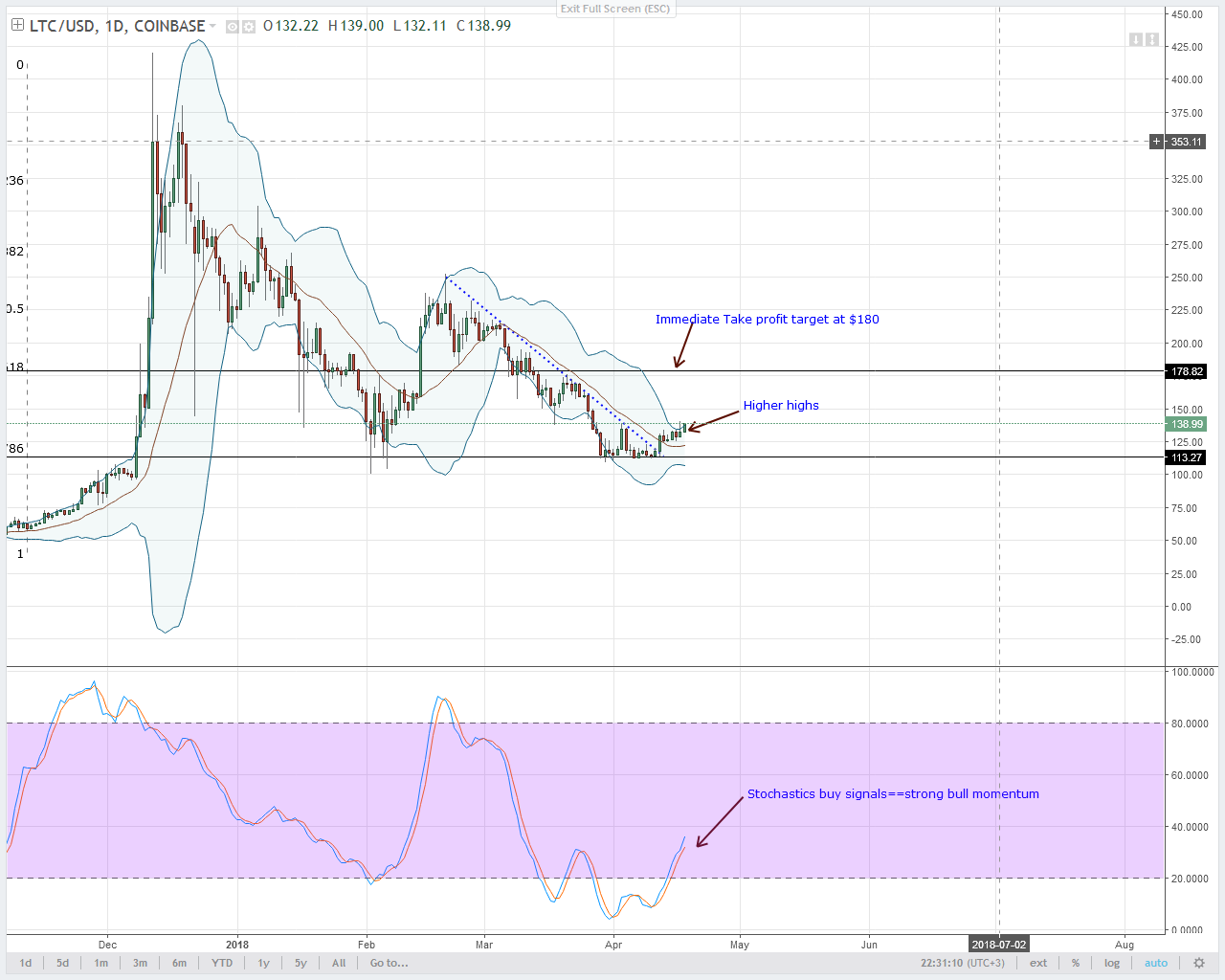 Apart from that 20 percent jump, there is nothing much from the fundamental front we can talk about Litecoin in the last 24 hours or so. Anyways, price action is in line with our Litecoin forecast.
Encouragingly, following yesterday's price expansion, a bullish break out is visible in the 4HR chart while candlesticks are now banding along the upper BB in the daily chart. All these hints of possible higher highs in the coming weeks and that is why buying on dips in lower time frames can be a good trading plan.
NEO/USD (NEO)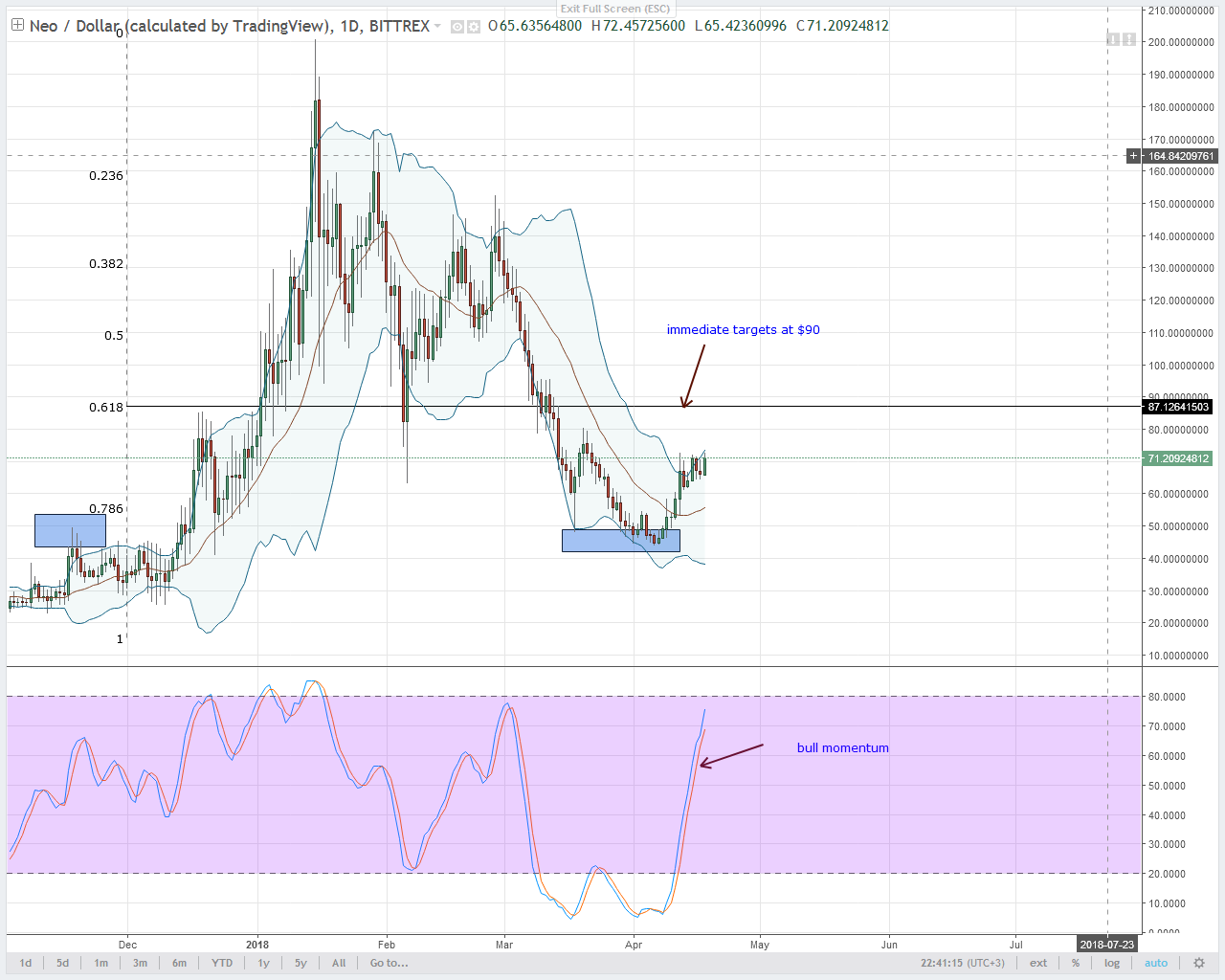 Ok, the Restart Energy team plans on meeting Da Hong Fei and undoubtedly their plans of deregulating worldwide energy markets is grand. However, when possible investors begin talking of Restart Energy plagiarizing their whitepaper from a competitor, Grid+, then those are a lot of red flags.
@RestartEnergyio meets with @NEO_Blockchain at a small conference in the @Europarl_EN . Speakers will be from $NEX, $NEO and $ONT.

Doesnt seem like a big event, but its an important one for #blockchain and #smarteconomy in general.https://t.co/PSFshJmR7d$crypto

— Seaside (@seaside_crypto) April 19, 2018
While this is happening, Moonlight is working towards reducing resource compartmentalization. They shall make this possible through easing recruitment and availing superior analytical project management system.
Moonlight will be the tool that awakens the @NEO_Blockchain community to action.#NEO #smarteconomy #Blockchain #BlockchainWorkforce pic.twitter.com/ZBC5KGeZqz

— Moonlight (@Moonlightdotio) April 18, 2018
Technically, NEO is at cross roads and you can check out April 19 doji candlestick if you need some evidence. Even if prices are above $70, conservative trades can stay on the sidelines until there's further price appreciation.
After all, those who got in early can target $90 on the lower limit and $110 on the upside as per our previous NEO technical analysis.