Our altcoins technical analysis remains pretty much the same and with IOTA sliding, Monero found its way back to the top 10 spot.
It definitely has to do with Lithium Luna network upgrade that makes it ASIC resistance which in turn fosters decentralization. Besides, streams of good news slowed down the erosion in Litecoin but generally speaking, odds of further lower lows are high.
Let's have a look at these charts:
XLM/USD (Stellar Lumens)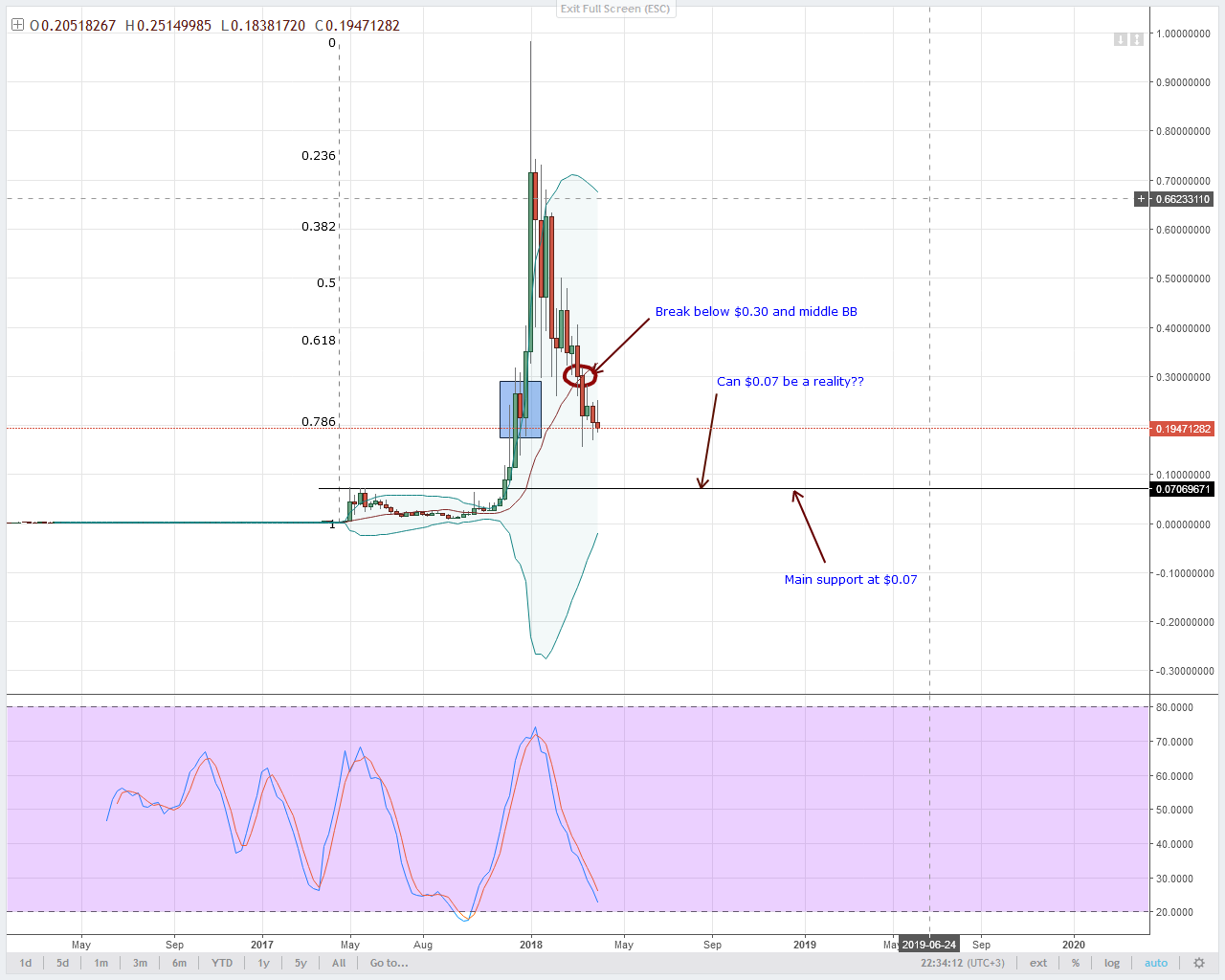 Other than prices which is trending at a 5-month lows, there is nothing much that can be said of Stellar Lumens even from a fundamental point of view. Just to put it in perspective, Stellar is down 10.3% in the past 24 hours as I type this.
Judging from our previous coin analysis our first layer of support lies at $0.15. Coincidentally, that happens to be week ending March 18 lows and like yesterday, bears should be aiming at that key level.
XMR/USD (Monero)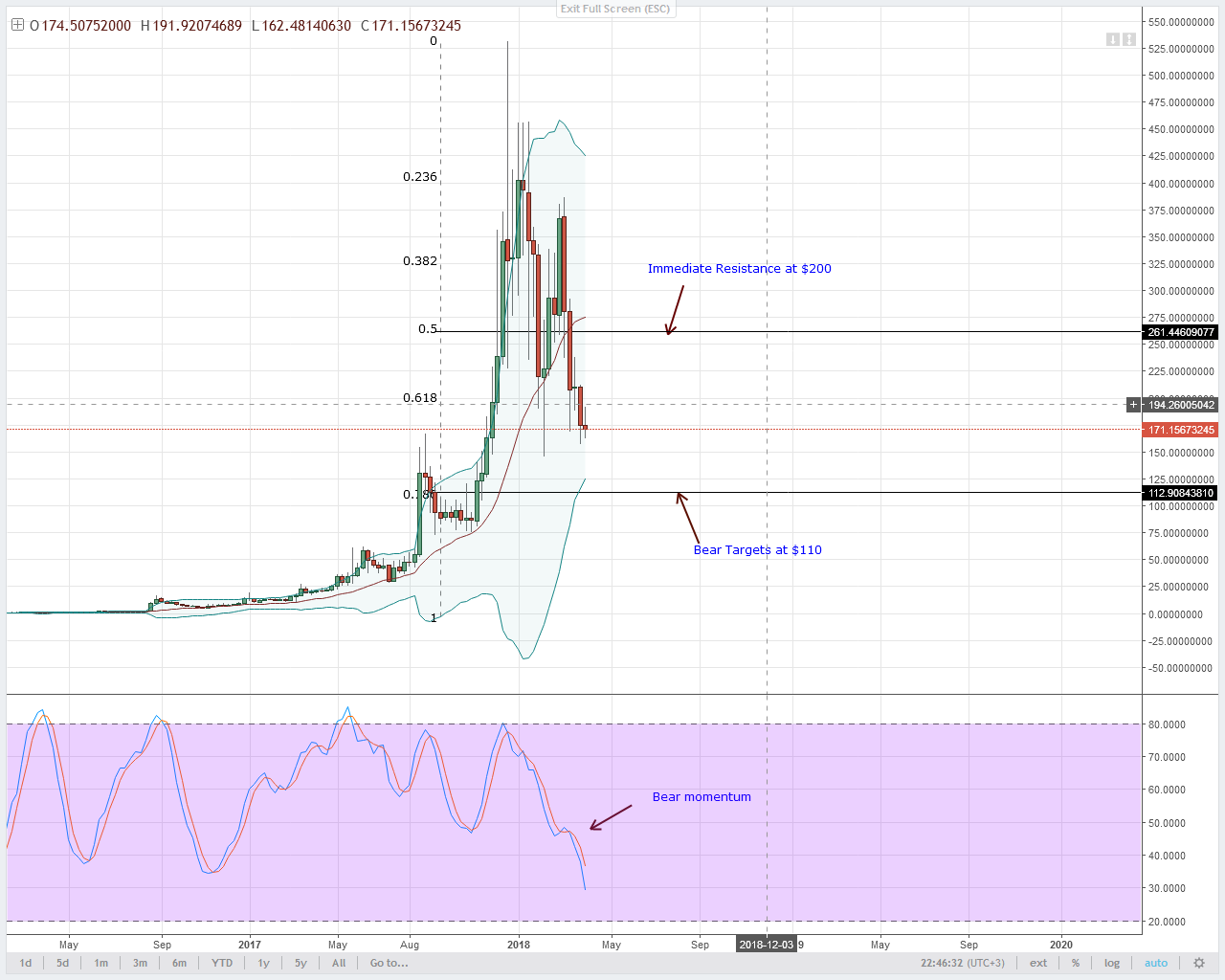 Technically, Monero depreciation continues. Supporting this is the recent weekly reds. Adding to this bear momentum is a miniscule 0.08% gain in the past 24 hours and a spot in the top 10. It's understandable, with the Canadian banks frustrating this coin, the slide was inevitable.
Fundamentally, tomorrow will see the release of Monero's Lithium Luna, a GUI software upgrade version 12.0.0. With the new software, there Monero will be ASIC resistant hence improving decentralization while at the same time add the number of ring signature inputs thereby beefing privacy.
A Scheduled Network Upgrade is Planned for April 6: https://t.co/1JQwQlA5di

— Monero || #xmr (@monero) March 28, 2018
Anyhow, a glance at the chart and our Monero technical analysis hints of further sells with immediate targets at $110. We can see that not only are stochastics bearish and signals diverging with every lower lows but that break from $200 means the 61.8% Fibonacci retracement line shall be our immediate resistance. In line with this, traders should wait for stochastic sell signals in the 4HR chart and short.
EOS/USD (EOS)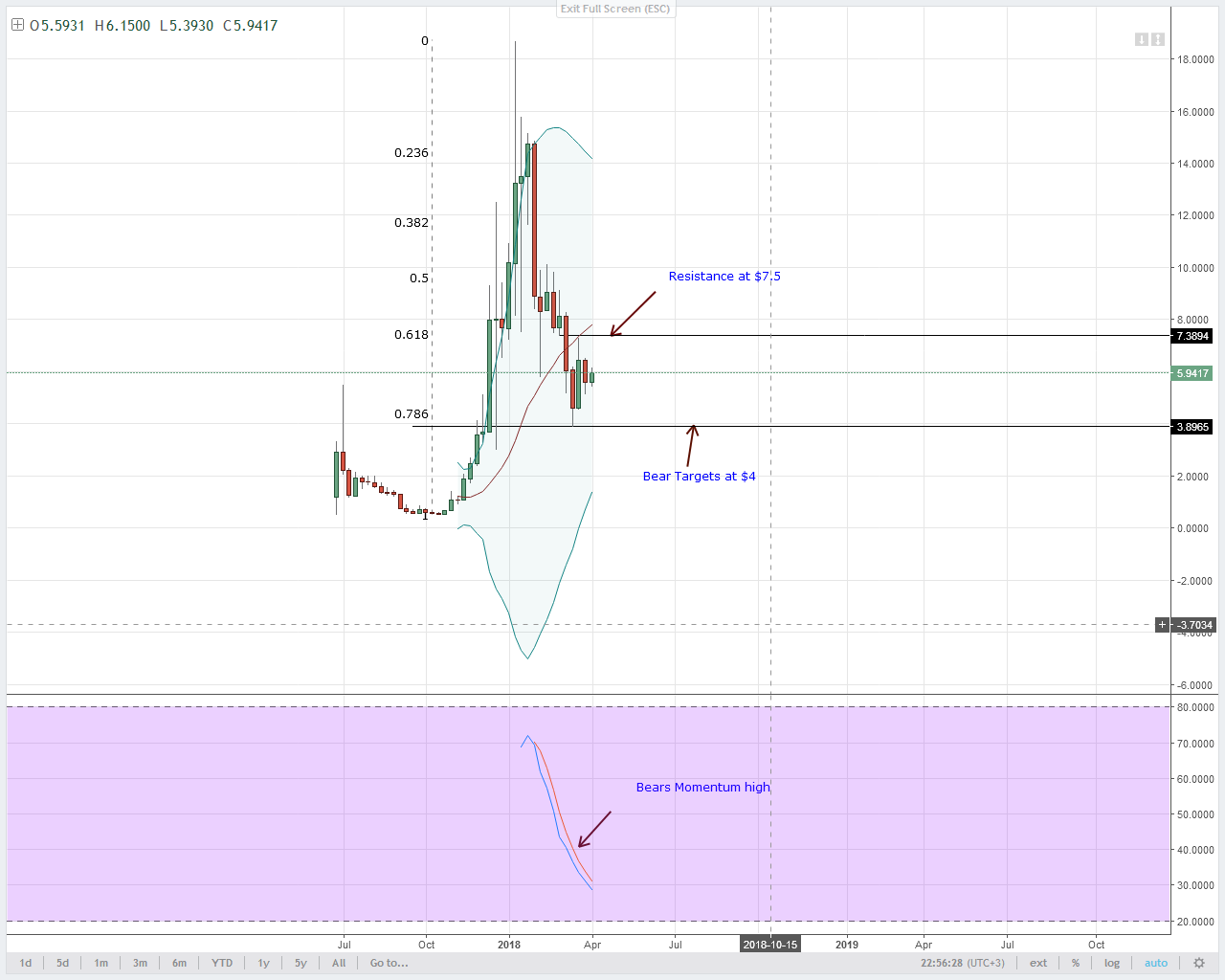 News is, ONO shall run on EOS and that is good news and something that shall hopefully help prop EOS prices. After all, the DApp platform is up 5% and while we can link tomorrow's event, Dawn 3.0 to this slight recovery, bears are still in control.
Then again, notice that prices are actually range bound in lower time frames with last week's high low acting as minor support and resistance. In my view, and basing this forecast on EOS technical analysis, buyers have strong reasons to buy if there is a rapid appreciation and a close above $7.5.
Stochastics are bearish and EOS is trending within a bearish break out meaning any sell signal in the 4HR chart can be inviting for sellers. I'm net bearish and as such traders can wait for a break below $5 and sell with immediate targets of $3.7 and $4.
LTC/USD (Litecoin)
Of the coins in the green, Litecoin is one of them. In the last 24 hours we have seen small gains but nonetheless, it's one of the top 10 coins in the green albeit strong bear pressure as the weekly chart shows. Notice that long upper wick signaling sellers? Well, considering the stochastics alignments in our main chart, it will be prudent to trade with the trend in lower time frames.
This is all contrary to some nice development now that another U.A.E trading firm is availing Litecoin to their customers. Complementing this, Aliant, a process payment system, has a new partnership with Litecoin Foundation while Singaporeans can now buy Litecoin through inter-bank transfers.
We're excited to announce that Aliant has partnered with the Litecoin Foundation, making us the first official Litecoin payment processor! https://t.co/jb2qC5B5vh

— Aliant Payments (@AliantPayment) April 5, 2018
Previously, our Litecoin technical analysis pointed with ambitious targets of $90 and lower and that's  will surely happen if bears continue pushing prices beyond last week's lows of $110 today. To counter this, we need to see strong rejection of bears at $110 in the course of the day. If not, sellers might as well smash $90 by March 7.
NEO/USD (NEO)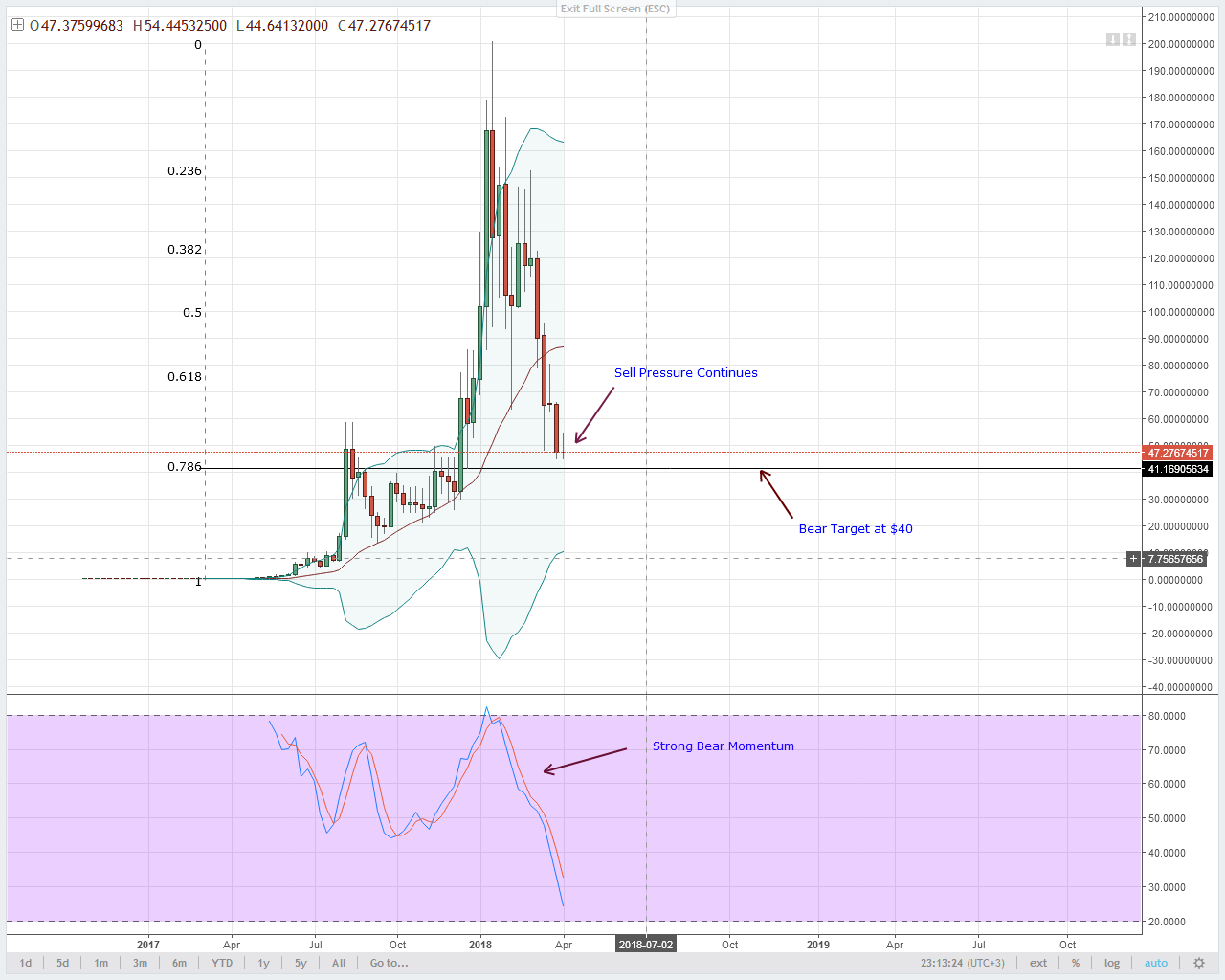 It's about time china comes up clean on their position with NEO and blockchain in general. Yes, their central bank head has a soft spot for cryptocurrencies but what's overt now is the clear flirtation China has with the prospects of NEO's smart economy. Any hint of coupling and NEO will hit the moon.
Officials of the Party committee of Science and Technology (Shanghai) visited Onchain office today and discussed their high expectations for using blockchain technology to serve different industries of the real world economy. pic.twitter.com/BAWP93dqE1

— ZHANG Keke (@caterina_zhang) April 4, 2018
In the meantime, sellers are in charge and pushing prices towards our targets at $40. Before we speculate anything, let's see if there shall be a follow through on our projection.
All charts courtesy of Trading View