For the first time in a while, the top 10 liquid cryptocurrencies are in the green. That's a breather and considering the positive correlation of Bitcoin and altcoins, gains in the former should help drive prices in the later. Even though NEO, Litecoin, Stellar Lumens, IOTA and EOS are still ranging below previous resistance lines, impressive gains in Stellar Lumens could potential kick start a new wave of bulls.
Let's have a look at these charts:
XLM/USD (Stellar Lumens)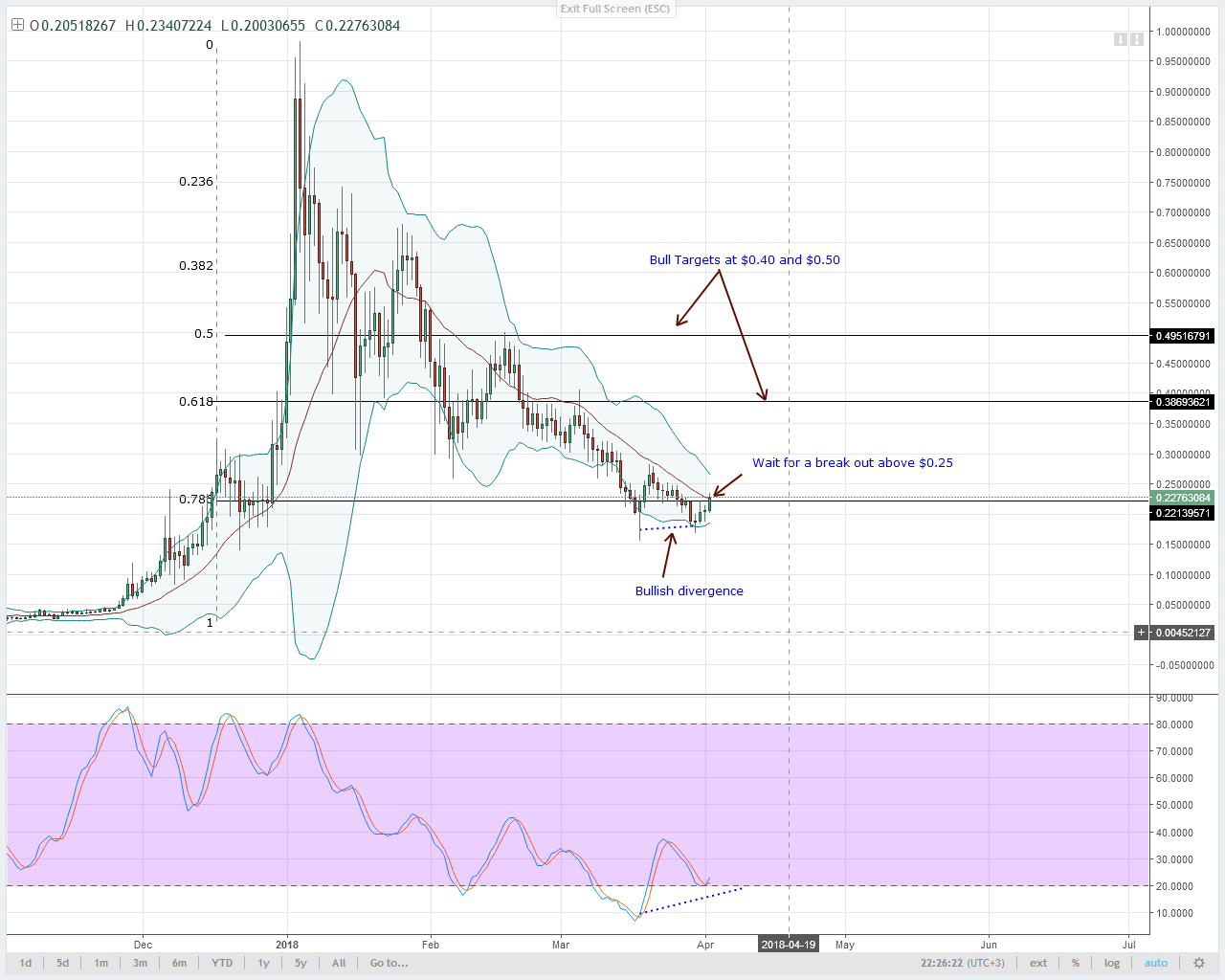 Most altcoins are on a recovery path and Stellar Lumens is up 10% in that regard. In fact, most altcoins are in green territory as I type this and surprisingly, Stellar Lumens is leading the march.
Anyways, from yesterday's Stellar Lumens technical analysis, all that we needed was a close above $0.22 and with a 10% gain, that's exactly what we are seeing.
Going forward, chances are, prices might inch higher with buyers building up their momentum as they capitalize on that bullish divergence pattern in play.
In line with this technical formation, there is room for more upside with $0.40 or the 61.8% Fibonacci retracement line the most viable short term bull target.
IOT/USD (IOTA)
Even with E-Krona announcement from Swedish authorities, IOTA couldn't muster enough momentum to push prices higher. All we are seeing are attempts for higher highs from our IOTA technical analysis despite a stochastic buy signal in the 4HR chart.
All in all, prices are still trending around the $1 mark which is also our previous bear target and main support line. For IOTA to move higher-it registered moderate gains yesterday-then we should have strong gains above $1.1, the middle BB in the 4HR chart and $1.20 in the medium term.
As a result of this preview, seller should reduce their short holdings especially if prices break above $1.1 today. IOTA buyers can look to enter long with targets at $1.2 and $1.5.
EOS/USD (EOS)
According to Daniel Larimer, the co-founder of EOS, the token is experiencing fast development to cope up with potential threats. When Google or IBM will run supreme in the world of quantum computing, EOS will adopt blockchain technologies that would make it quantum resistant.
Of course, this is awesome news and not market moving per say—until of course when quantum computing becomes a real threat.
Before then, EOS movement is still moving within a tight range and as long as prices are below $6.5 and the resistance trend line, bears are still in charge.
This decision comes at the back of a 1.75% gain in the last 24 hours but really, that is a small gain that doesn't influence a thing. If bears push price action lower below $5.5, then we shall maintain our previous bear targets at $4.
LTC/USD (Litecoin)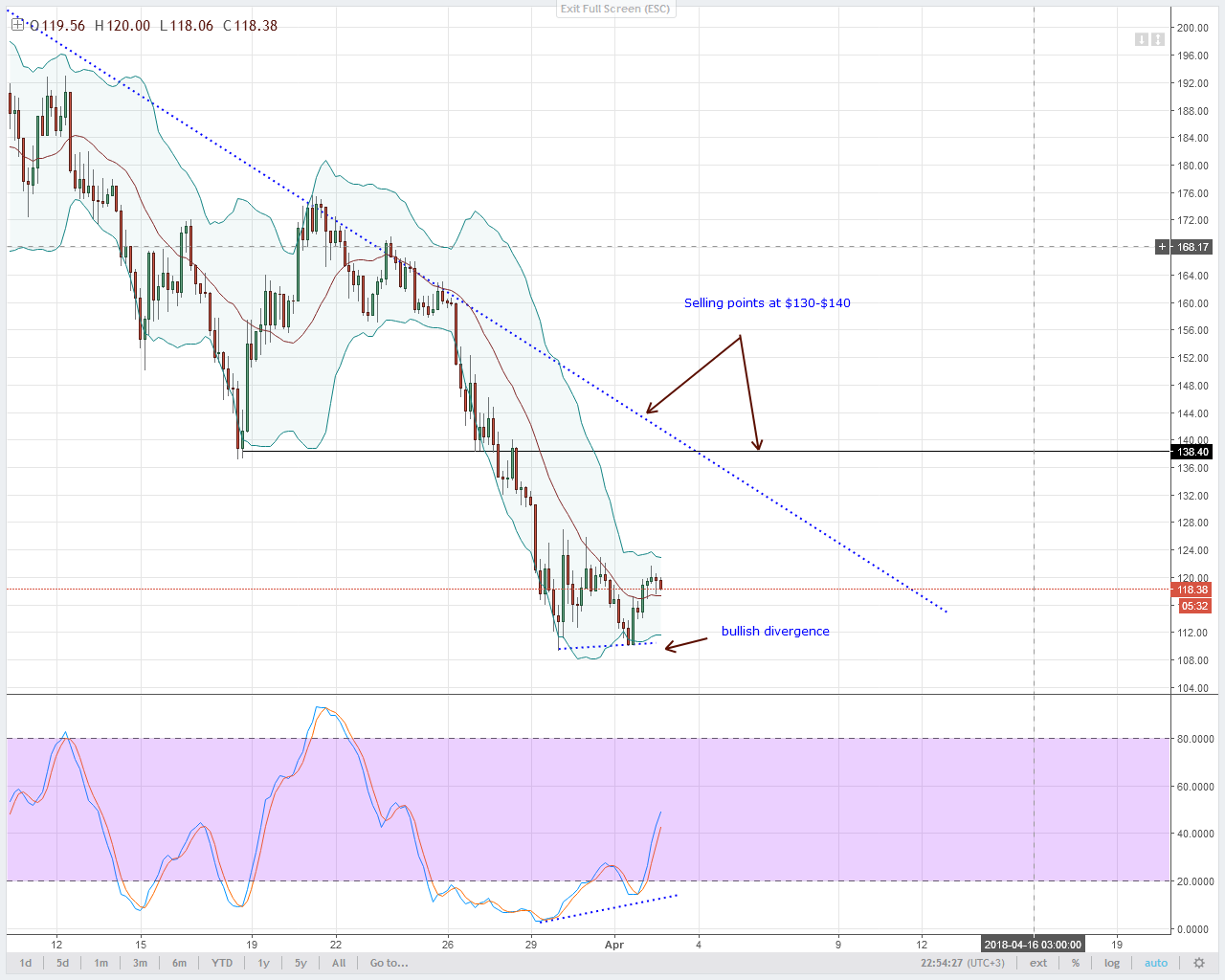 Nothing much filtering in from the news but notwithstanding, Litecoin is up 2.35% in the past 24 hours. That's somehow encouraging for hodlers who have been on the receiving end in Q1 2018. How fast time moves!
Anyway, from our previous Litecoin Technical Analysis, buyers are rejecting lower low and all we need is prices to inch higher with ultimate reversal of fortunes being confirmed when prices push above $140. In the mean time, sellers can wait for further appreciation before shorting at around $130-$140 whenever sell pressure is evident.
NEO/USD (NEO)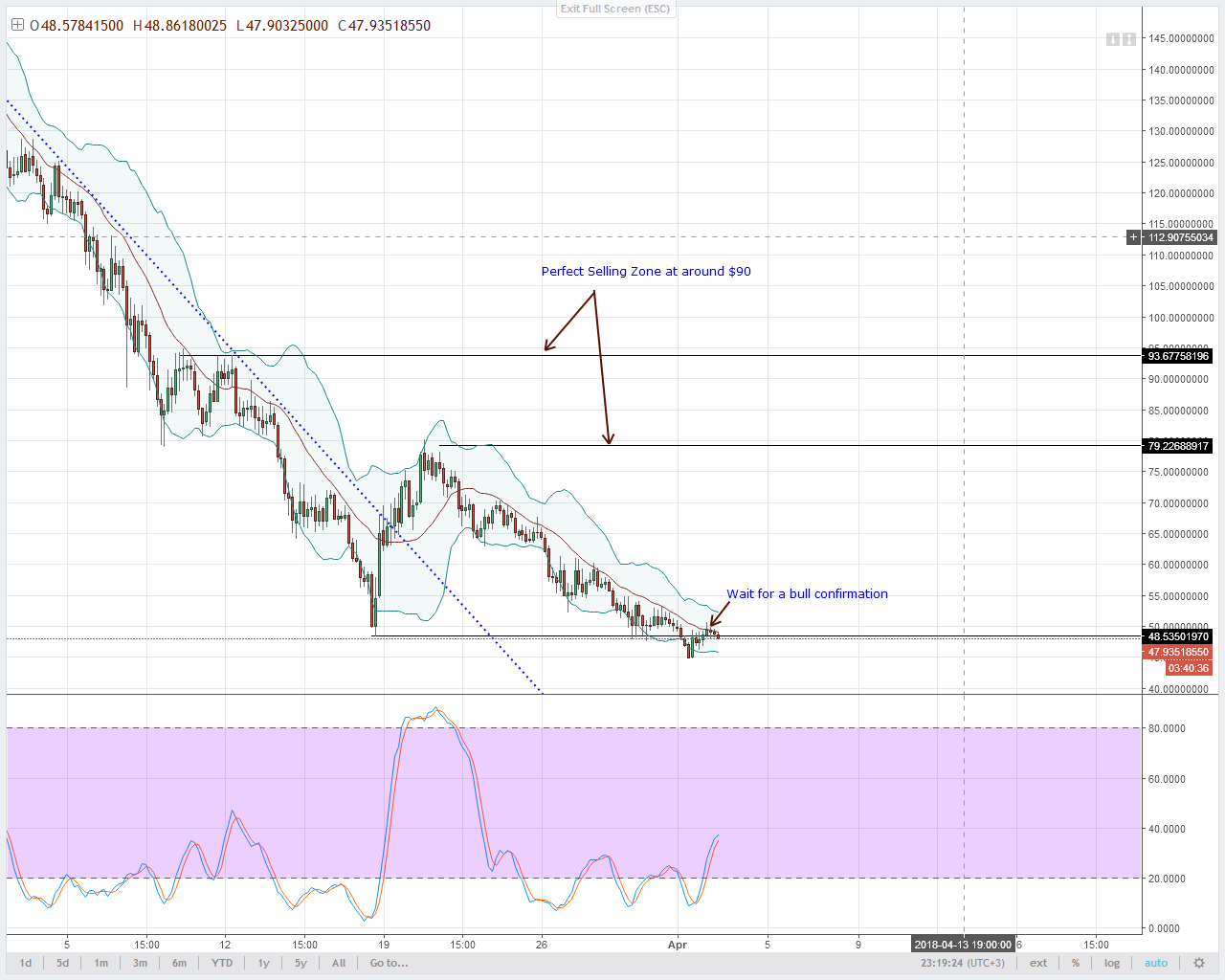 It appears that Kucoin is in a de-listing campaign and after purging Bitcoin Cash pairs, they are removing some pairs involving NEO. There is no apparent effect on price but overly, this could be negative when it comes to liquidity of this pair. Listing=utility=volumes-value gain.
To counter, news that Switcheo, a NEP-5 token exchange was launching on NEO's mainnet is definitely supportive. If there is enough volume on this DEX, then it will definitely be a boost on NEP-5 tokens and NEO.
Switcheo (@SwitcheoNetwork) will launch it's decentralized NEP-5 token exchange on March 31st, at 5:00 pm (UTC +8). Initial tokens available for trading will be $RPX, $TKY, $IAM, $TNC, $DNC, $SWH, $NEO & $GAS. https://t.co/Tv55iocVO7

— Neo News (@NEOnewstoday) March 30, 2018
While at it, NEO is still trading within a $2 range and finding it hard to close above the middle BB in the 4HR chart. It's on my opinion that short term aggressive traders can load long trades when NEO surge past $55. If not, bears would be in charge.
All charts courtesy of Trading View
Feature Image Courtesy of Pixabay.