Our highlight of the day is EOS.  Even if most altcoins as NEO, LTC, Lumens and IOTA didn't record impressive gains, that surge and close above the middle BB is important.
Because of that and the fact that momentum is generally positive for most altcoins including EOS, bulls may as well look for buying opportunities in lower time frames.
Let's have a look at these charts:
XLM/USD (Stellar Lumens)
In a trending market, stochastics often provide a clear picture when it comes to the strength of underlying bears or bulls.
In this case, Lumens are obviously in a bull trend and even though recent gains have been low, it looks like buyers are pushing for higher prices. Indicative of this projection is the diverging %k and %d stochastics signals which already have a buy signal. Then again, from yesterday's analysis there is a stochastics buy signal in place.
As it is, buyers are finding resistance at the middle BB which from the chart looks to have been a huge obstacle for bulls in the recent past.
Nevertheless, I still recommend buys with targets at $0.40 with possibilities of further gains if there is a convincing break and close above the middle BB.
In the mean time, buyers should fine tune their entries in the 4HR chart and look to enter long when a stochastic buy signal prints or if prices explode past March 20 highs at $0.28-whatever happens first.
IOT/USD (IOTA)
From the chart, it's obvious that IOTA buyers are finding resistance at the middle BB and the 78.6% Fibonacci retracement level at $1.45.
Even though we are net bullish at least in the short term, any bearish confirmation below $1 will most likely cancel signal bear trend resumption as per the weekly chart trend.
In my view, the best way to fine tune long entries is to wait until prices close above $1.45.
Alternatively, short term traders can wait for stochastic buy signals to print from the oversold territory in the 4HR chart because the daily chart stochastics is turning from the oversold territory.
After all, zooming in you can see bears are in charge and no wonder yesterday's bearish close. Anyway, if our bullish conditions are met and today ends up bullish, March 21 forecast will remain valid.
EOS/USD (EOS)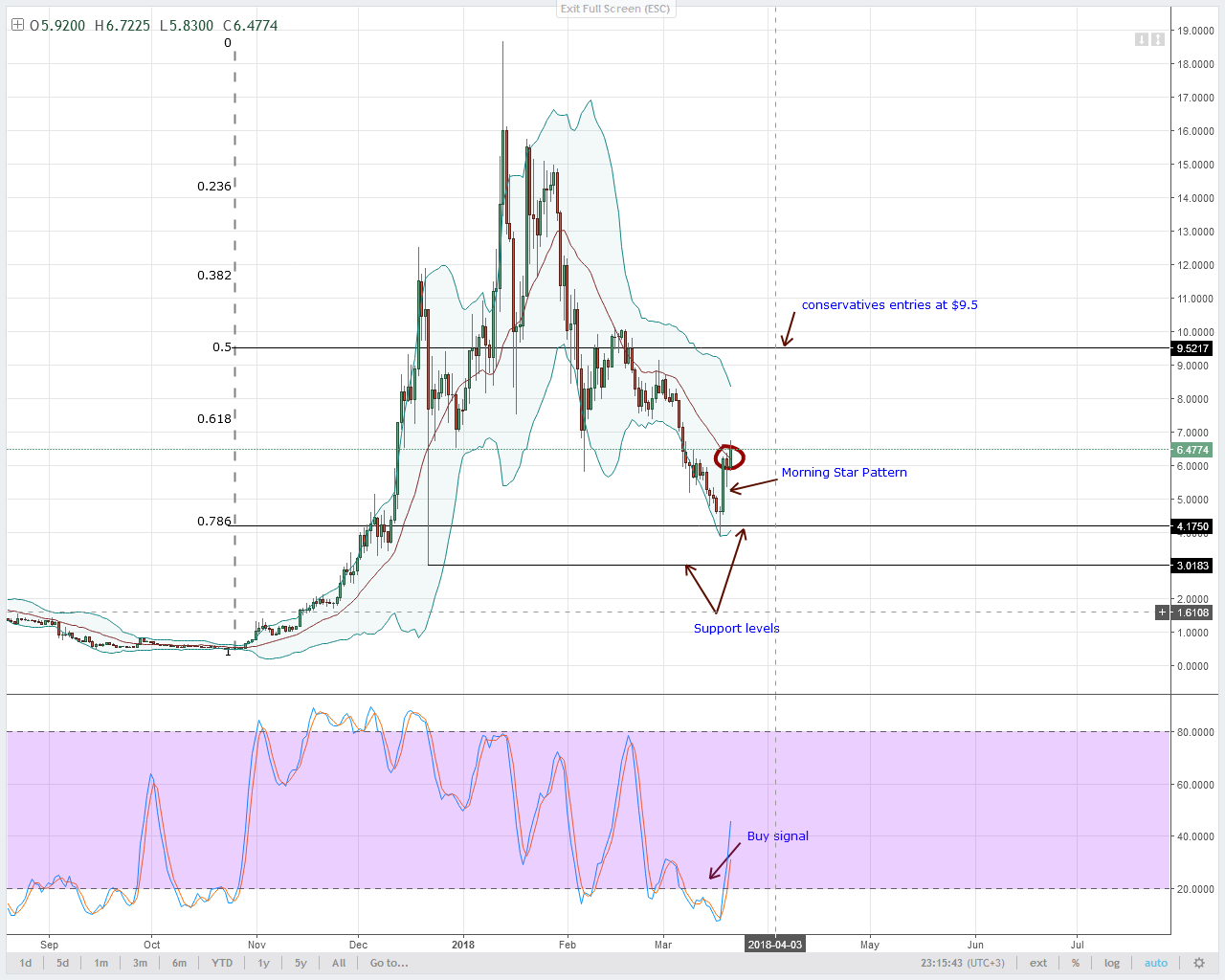 For the first time since the bearish trend on January 30, EOS buyers are trending above the middle BB. Furthermore, with March 21 bullish candlestick, there is confirmation of the Morning Star bullish reversal pattern meaning there might be further gains in days to come.
Evidently, this line remains a strong resistance line and with yesterday's breach, we can as well look for entries in the 4HR chart.
I will remain net long and advocate bull targets at $9.5 especially if prices continue to trade above last week's highs of $6.2 or thereabout. Any pullback will be a loading opportunity as buyers recover previous losses.
LTC/USD (LTC)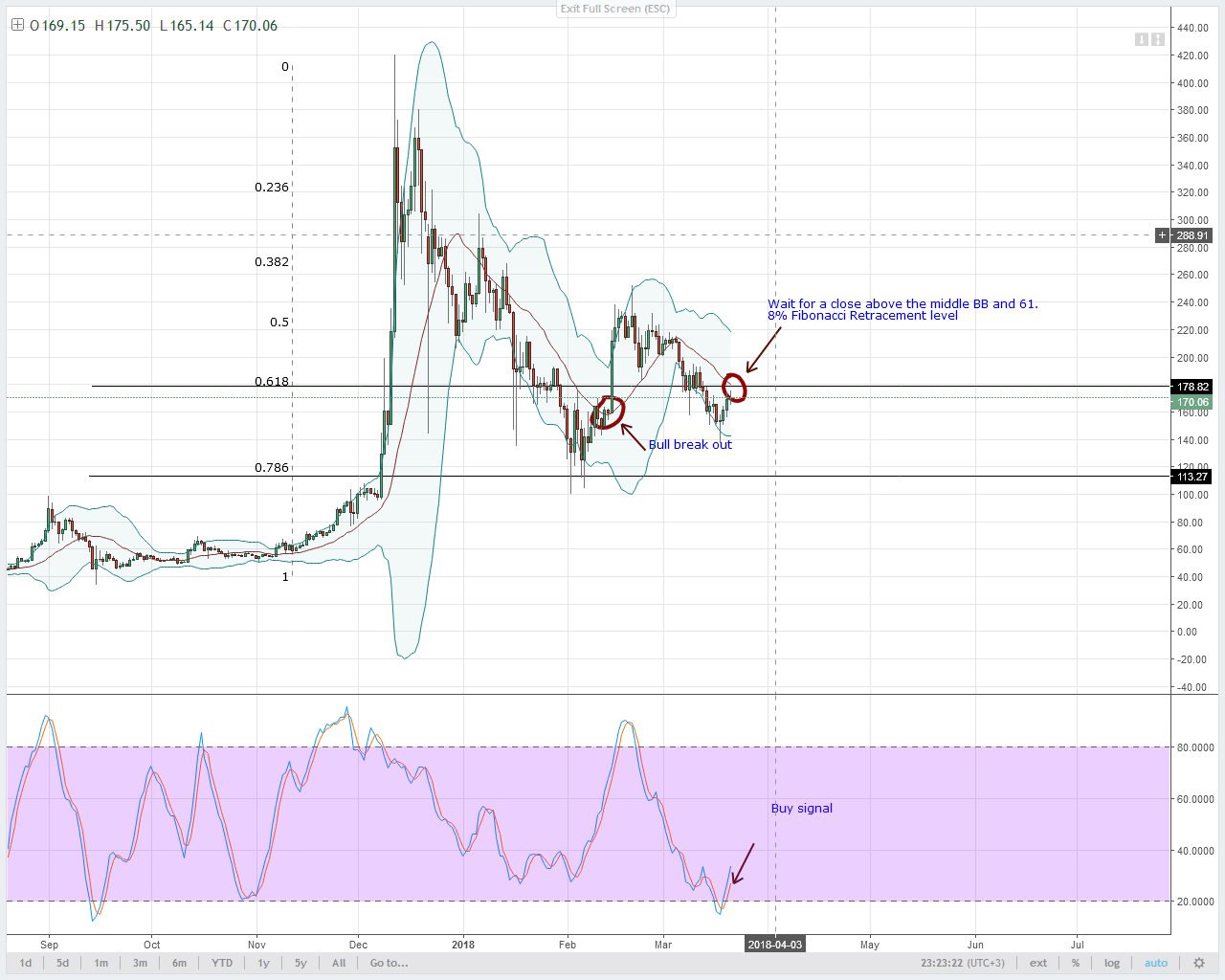 Yesterday's candlestick looks like a doji meaning buy and sell pressures are equally matched. However, considering price set up, chances of LTC supporters edging higher as per our plan remains high.
Because of this skew-and with complementing stochastic buy signal-I will recommend longs with first targets at $190. That's slightly above the 61.8% Fibonacci retracement level as visible in the daily technical chart.
Further appreciation may see prices testing $230 and that's where conservative positional traders may enter with tight stops just below $200.
NEO/USD (NEO)
Prices are stalling but regardless, as long as they are still held within March 20 high lows, chances of higher highs is elevated.
Remember, stochastics are generally bullish and with change of fundamental fortunes, there might be something nice in the offing for NEO. Our view remains constant and the moment buyers place their heads above $90, positional traders can enter with stops below $80.
All BitFinex, Bittrex and CoinBase charts courtesy of Trading View