According to data from CoinMarketCap, a 2.5% drop in BTC prices led to a 6% price erosion of Stellar Lumens by end of March 22. This goes on to tell us how dependent altcoins are on BTC volatility and how the correlation is direct.
However, even in the midst of all these reds and price erosion, it's EOS which stood out. After their new partnership with FinLab AG and a release of their technical white paper elaborating how they will handle scalability, buyers kept prices above the middle BB and $6 as the daily chart shows.
In real sense, EOS was up almost 8% at $7 gifting it a market cap of about $5.2B.
Let's have a look at these charts:
XLM/USD (Stellar Lumens)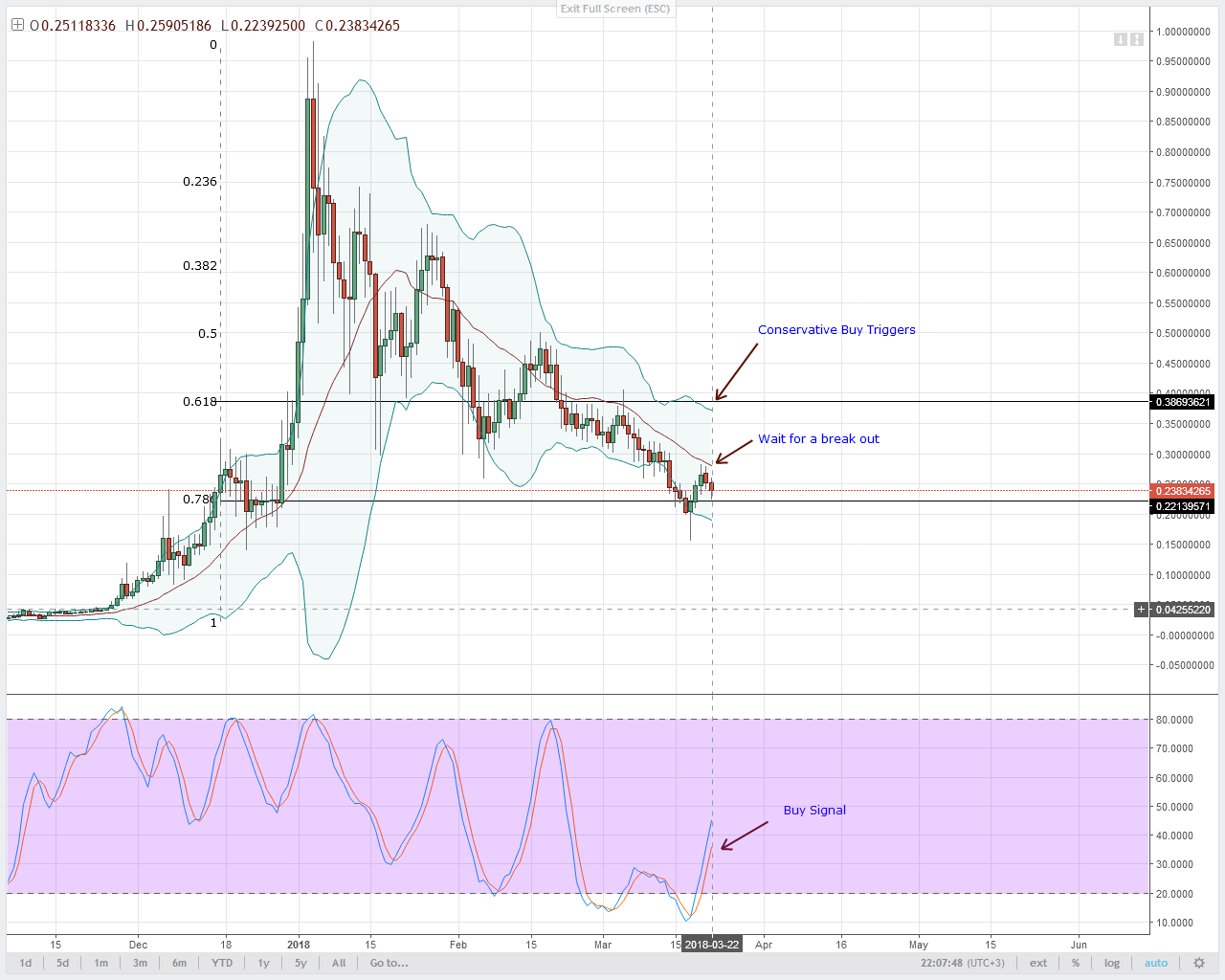 Regardless of what happens, the middle BB looks like a very reliable barrier for Lumens bulls.
Of course, nothing is static and as we have stated before, this week might as well be a turning point for Lumens assuming there is a surge past the middle BB-main resistance line in our preview-in the coming few days.
Before that happens, buyers should take caution and wait for reaction at $0.22, the 78.6% Fibonacci retracement line. Remember, our ideal plan is to go long whenever a stochastic buy signal prints in the 4HR chart and perhaps trade the break out pattern.
So far, our conditions remain unmet and therefore we should wait for higher highs and initiate longs if prices close above March 22 highs of $0.28 in the daily chart.
That's about the middle BB and resistance line in line with yesterday's bull triggers.
IOT/USD (IOTA)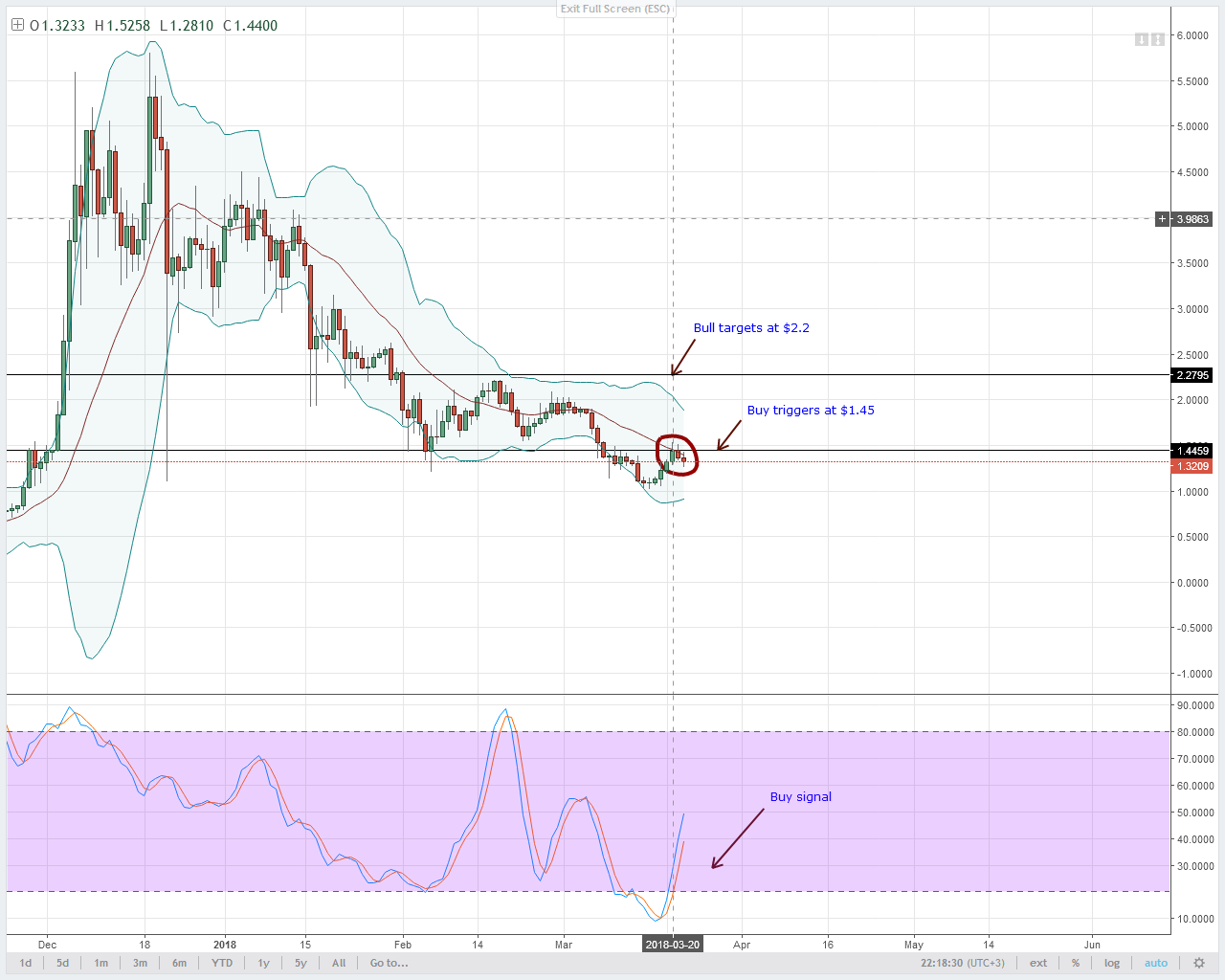 For March 21 forecast to hold true then IOTA prices might move higher and inevitable close above the middle BB at $1.45. This level, a confluence point with the 78.6% Fibonacci retracement line remains a key resistance line in our analysis.
Even though stochastics are extremely bullish, we cannot see direct translation of the same and the dump continues.
Now, any lack of higher highs today and we shall recommend buyers to take their profits or cut their losses. It's always better to wait in the sidelines and wait for a clear trend definition rather than trading a ranging market.
Remember, any close above $1.45 automatically triggers our short term longs with targets at $2.2.
EOS/USD (EOS)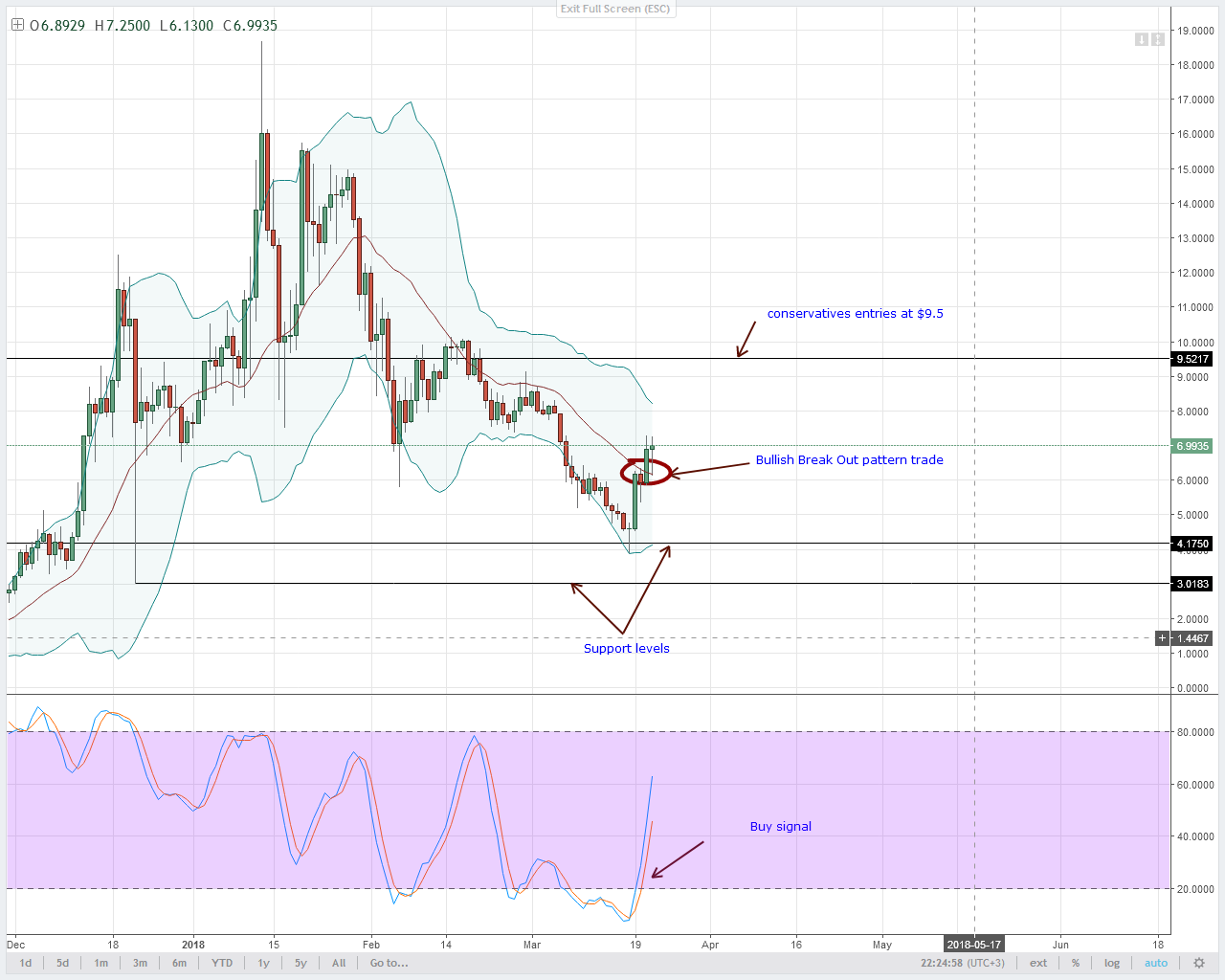 Of all altcoins, EOS is the only token that is registering positive gains.
It comes after an announcement of a strategic partnership with Germany's FinLab AG and the release of the platform's technical white paper. Well, these are positives and it's obvious that such fundamentals could bolster the token.
Anyhow, our concern now is if buyers will keep buyers above the middle BB as it is in the daily chart.
If they do then our March 22 projection remains valid and bulls should be refining entries in lower time frames, picking stochastic long signals only. After all, we are trading a bullish breakout and it perfectly makes sense to take buys only in the 4HR chart.
LTC/USD (LTC)
The middle BB and the resistance trend line are complementing each other in the process suppressing LTC prices.
Remember, with recent gains, we are net bullish and ideally, any surge past this double layered resistance would mean buyers aiming at $190 as the first target.
However, all this would mean nothing if buyers don't get ahead and drive prices higher. In our case, any close below $155 will automatically invalidate this short term bull move as it would mean sellers are in charge.
Therefore, in my view, this week's is definitive and any higher highs means reversal of LTC fortunes with potentials of higher high probable.
NEO/USD (NEO)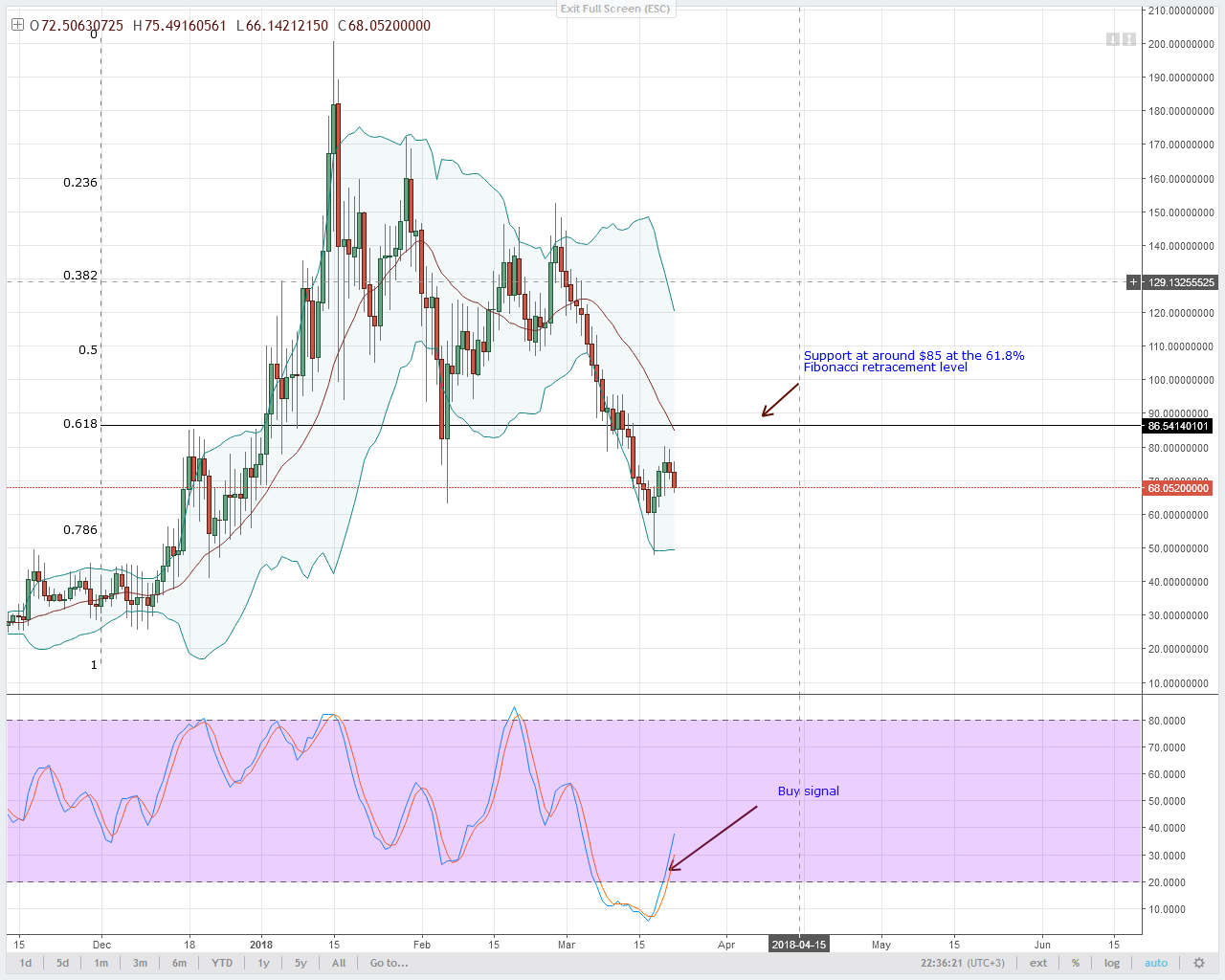 Prices are stalling. Regardless, as long as they are still held within March 20 high low, odds of higher highs remain eminent
Remember, daily chart stochastics are generally bullish and this might as well spur NEO prices from these weekly lows.
Our view remains constant and the moment buyers place their heads above $90, positional traders can enter with stops below $80 just like March 22 forecast.
All BitFinex, Bittrex and CoinBase charts courtesy of Trading View