While Ace is up 157%, BTC could only muster a 0.2% gain helping slow down the altcoins slide. Generally speaking, NEO, LTC, EOS, IOTA and Lumens are better off than yesterday's uniform drop. Why not? With Binance announcement and quashing of potential JFSA FUDs, cryptocurrencies should fair relatively well. Binance will instead shift their focus to Europe and already plans to open an office in Malta.
Basing our preview from the charts, we expect some gains in NEO, LTC and even IOTA whose candlestick by the way has a long lower wick hinting of bull pressure.
In NEO, our support lies at around $55. Anyway, if this week is technically influential, then prices should end above last week's highs and beckon buys.
Let's have a look at these charts:
XLM/USD (Stellar Lumens)
Even though we cannot see strong movements in the daily chart, there is a little bit of movement in the 4HR chart.
Apparently, Lumens prices are reacting at the break out level. This might be because of Stellar Lumens's announcement of their Lightning Network plans.
Anyway, technically buyers are rejecting further depreciation and with a stochastic buy signal at break out level of $0.20, prices might find support today.
I'm net bullish and as long as there is a confluence of buy signal stochastic buy signal in the both time frames under our focus, yesterday's forecast won't change.
However, if sellers gear up and drive prices past last week's lows of $0.15 then I shall reconsider my skew.
IOT/USD (IOTA)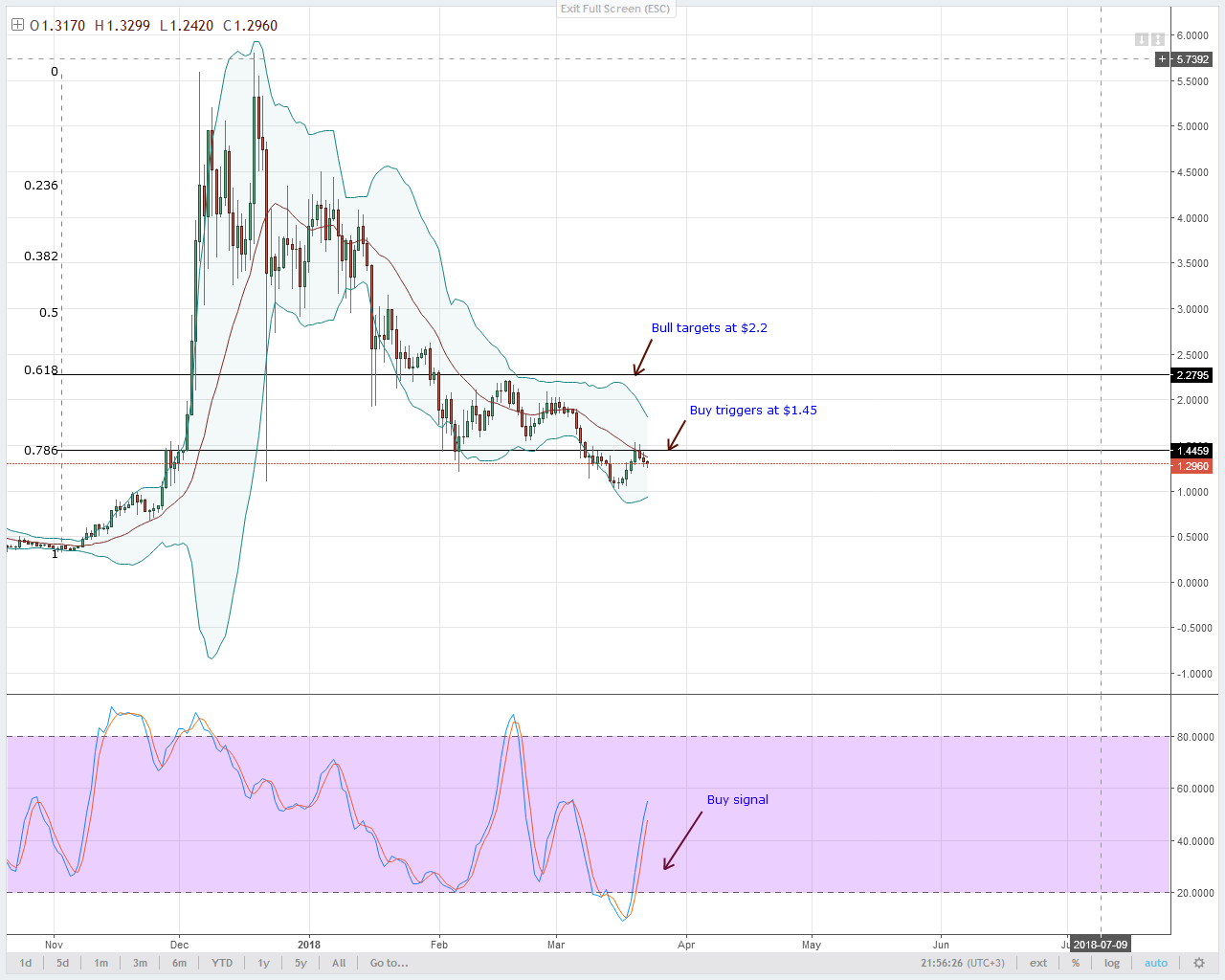 As per yesterday's forecast, I recommend buyers to take their long profits and wait for IOTA trend definition.
Of course, considering our projection over the past few days, if indeed the bull momentum is strong as the stochastics indicate then buyers would have to negate last week's bears.
It is for this reason that we should have favorable buy limits above $1.45 and wait for a bullish break out above the 20 period MA and 78.6% Fibonacci retracement line.
EOS/USD (EOS)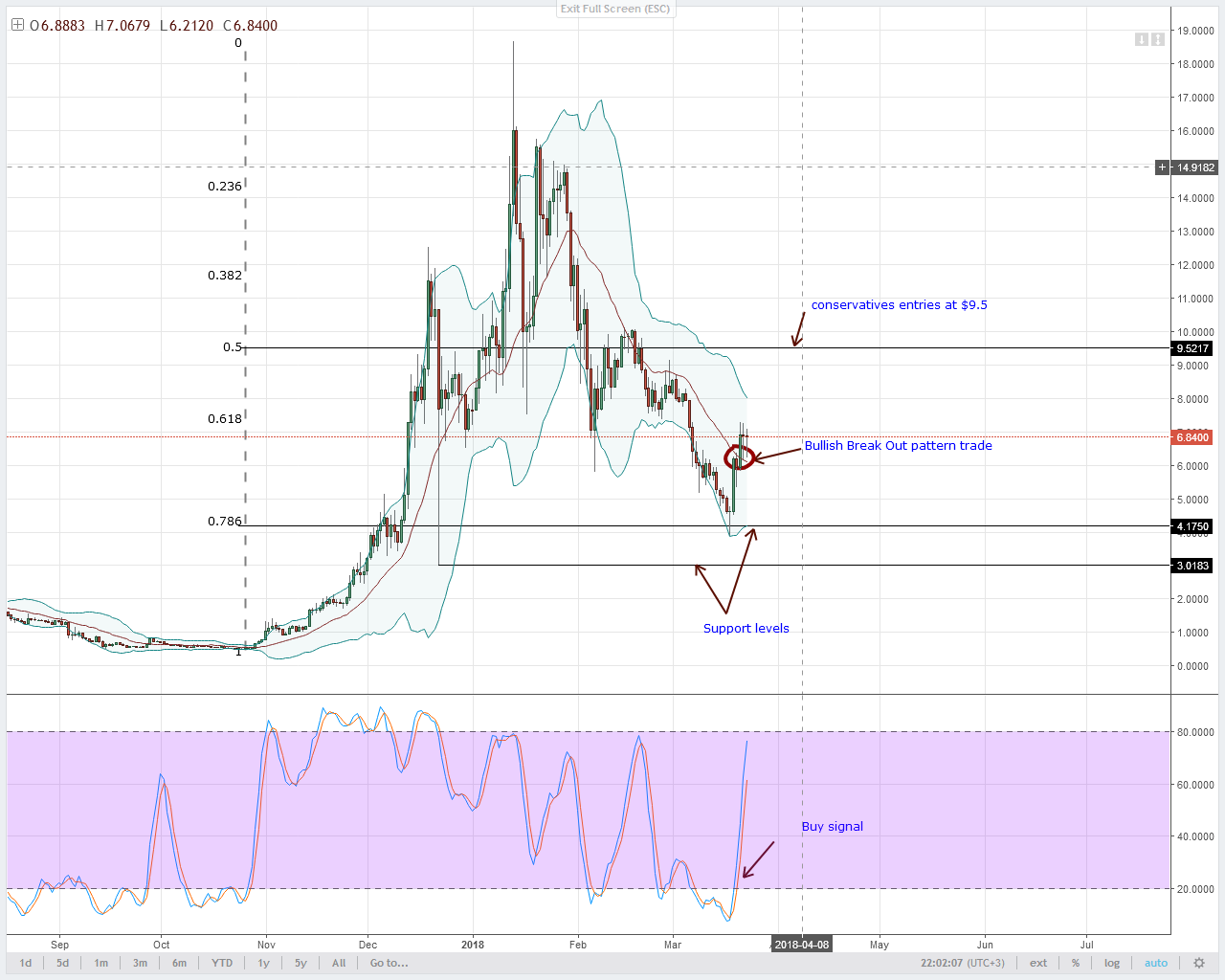 Positive fundamentals should buoy EOS in the coming days but most importantly, odds are it will close the week on a high.
Consequently, such bullish candlestick will result in a double bar bull reversal pattern in the weekly chart and probably lay the foundation of bull pressure.
Most notably, this pattern will be at key support level-the 78.6% Fibonacci retracement level and a mark hinting of EOS drastic lose from glory.
So far, buyers are keeping prices above the 20-period MA and $6. Besides, those long lower candlestick shows rejection of lower prices and as such, I recommend longs in lower time frames especially when buyers muster a close above March 22 highs at $7.2.
LTC/USD (LTC)
From the charts, LTC are drawing bulls Picassos but unfortunately, the resistance trend line as visible in the 4HR chart threaten to smudge this master piece.
All we can say is that it has been a patience game but with a stochastic buy in place, I expect higher highs and probably a break out. When that happens, then I will recommend buys and trade according to our previous game plan.
NEO/USD (NEO)
Alt coins are following the same script and the correlation with BTC is a no-brainer. As it is, our main support lies at $55 and that's a ball park figure where NEO is finding support complete with a stochastic buy signal.
As long as prices are kept above $50 or the 78.6% Fibonacci level marking last week's lows, I'm net bullish.
This means if there is confirmation of these recent higher highs in the 4HR chart, buyers can as well look for longs above $80.
All BitFinex, Bittrex and CoinBase charts courtesy of Trading View