Overly, Bitcoin and most altcoins were up by week ending March25. According to data from Coin360, Bitcoin and ETH, the two most liquid coins in the world are up 11.45% and 5% respectively.
This means somehow altcoins were supported and its definitely good news. EOS leads the recovery with a 54.96% gain in the past 7 days.
In the same vein, will G20 Meeting regulatory support, Binance spreading their reach and shaking off JFSA amongst other important fundamental events change the course of LTC, EOS and Stellar Lumens? It may or may not but in my personal opinion, LTC might chart higher especially if there is a convincing break above $170 in the coming sessions.
Let's have a look at these charts:
XLM/USD (Stellar Lumens)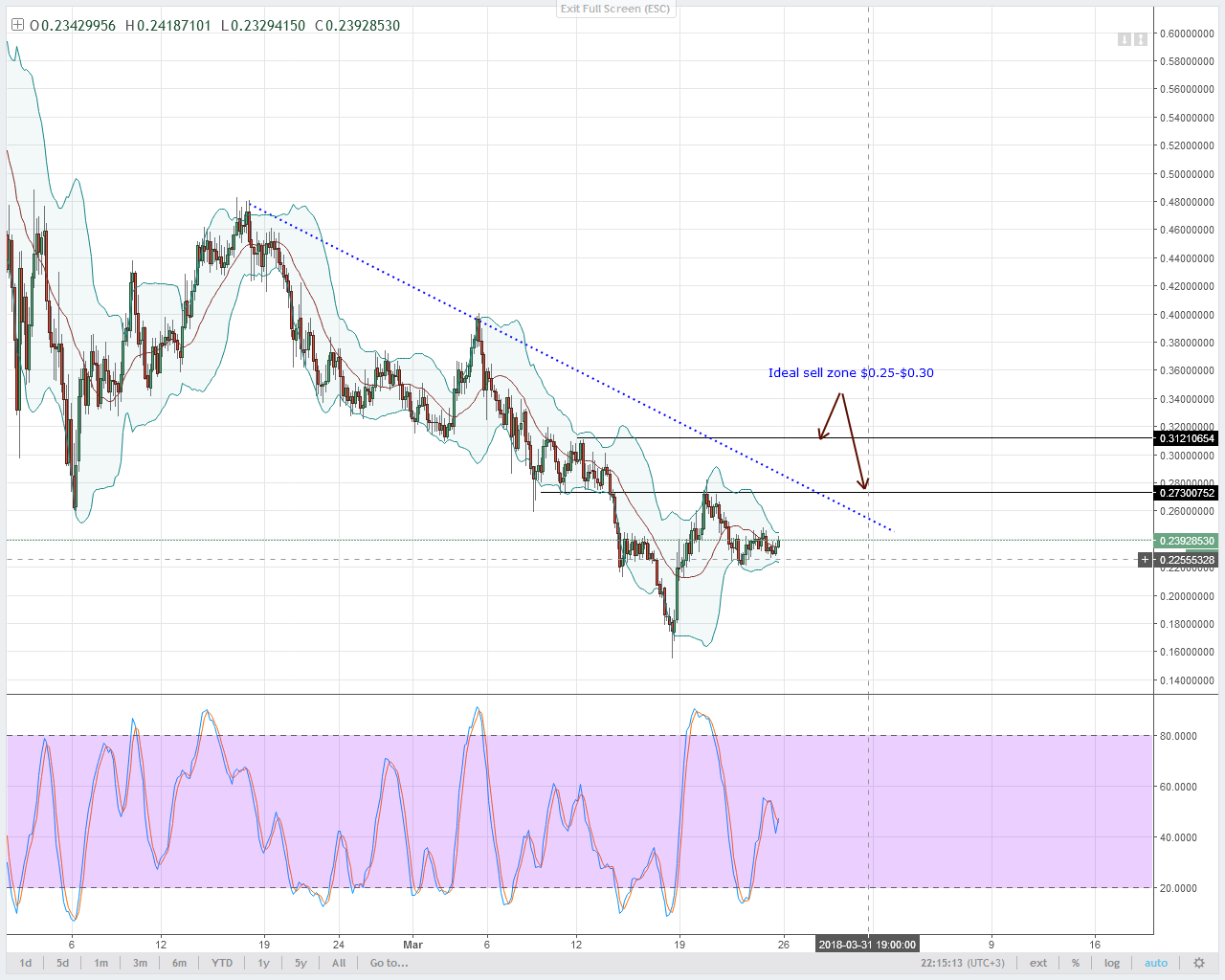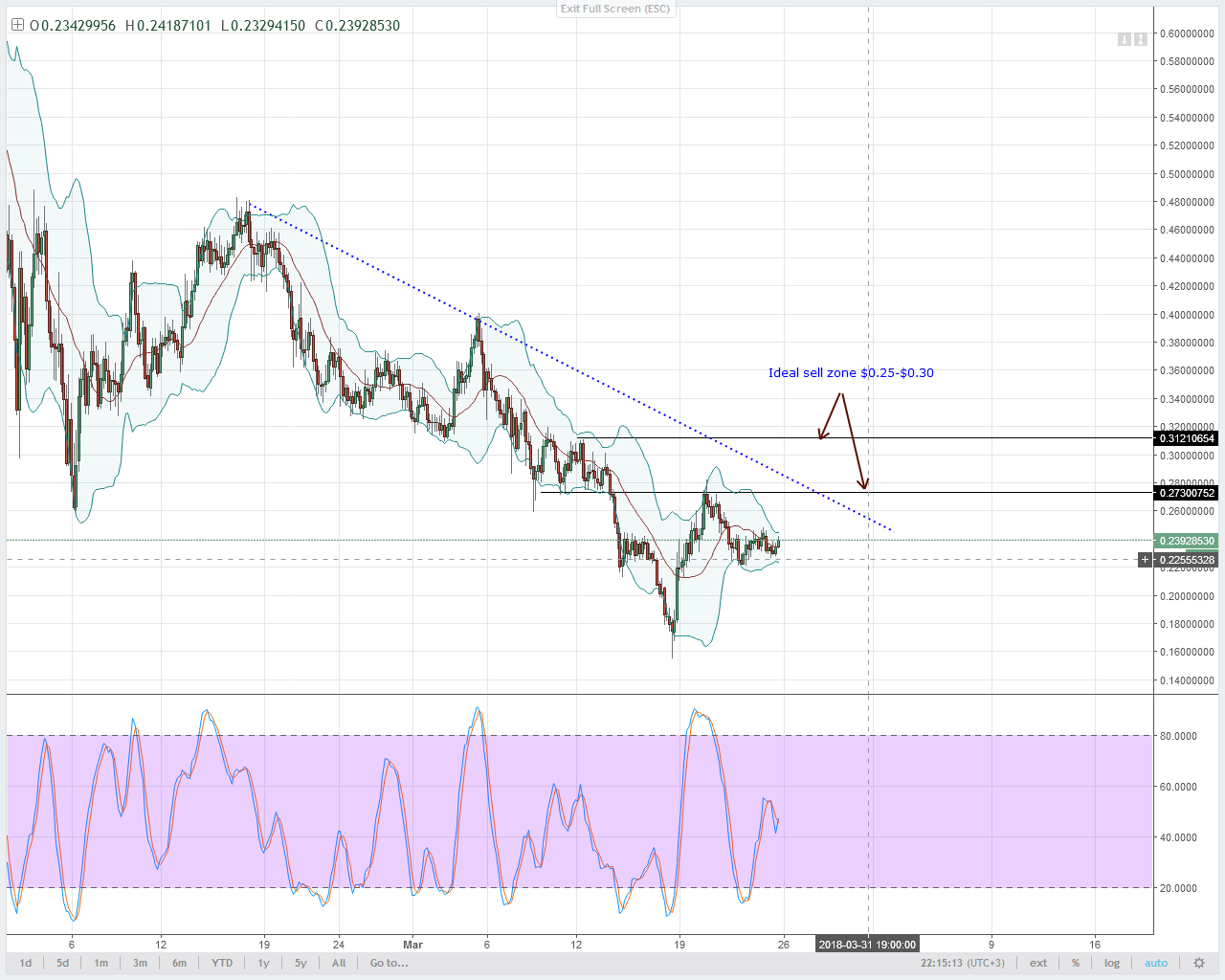 Technically, Stellar Lumens is in a down trend and more often than not, I won't recommend fading the general trend. In this case though-and over the past 48 hours or so, Lumens buyers are obviously rejecting lower lows.
Therefore because of this outlay, I will still maintain my previous stand and encourage short term longs with targets at $0.30 on the upper edge or we exit trades when a stochastic sell signal prints.
Otherwise, it will be interesting to see how prices react at $0.25 or around the resistance trend line connecting February-March highs.
IOT/USD (IOTA)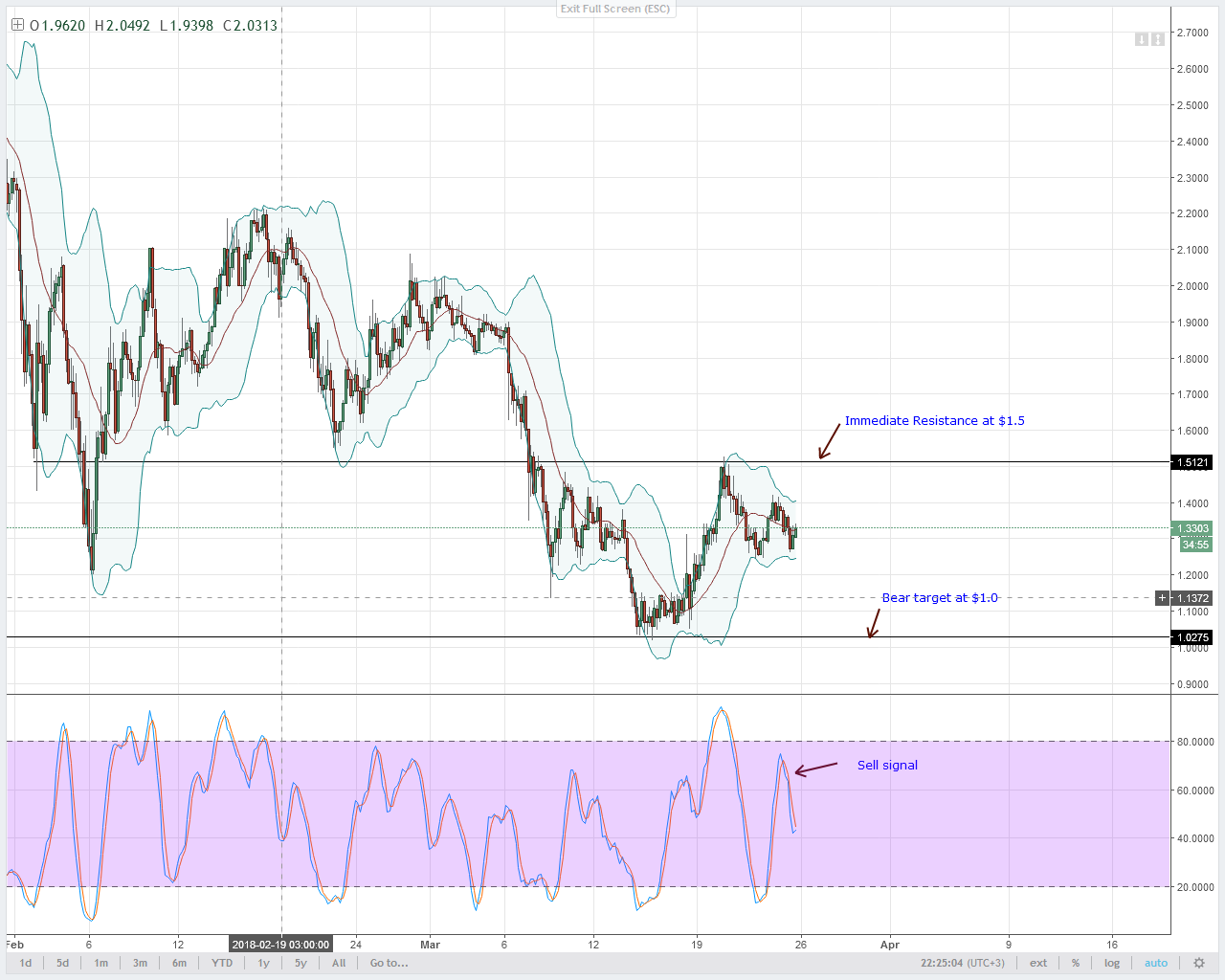 From our last preview, our position on IOTA remains neutral. However we remain net bullish if only prices surge past $2, the 61.8% Fibonacci retracement line and our immediate resistance line in our entry chart.
Overly, prices are bearish and we can see the reaction of sellers at each key support line in the higher time frames.
In the mean time, assuming prices find resistance anywhere between $1.5 and $1.6 with a stochastic sell signal turning from deep the overbought territory then we can as well sell. In that case, our immediate targets should be $1 or there about.
If not and buy pressure persists then we shall wait for a convincing bull break out and buy with stochastic buy signal dips with targets at $3 and $4. After all, we are net neutral on this pair.
EOS/USD (EOS)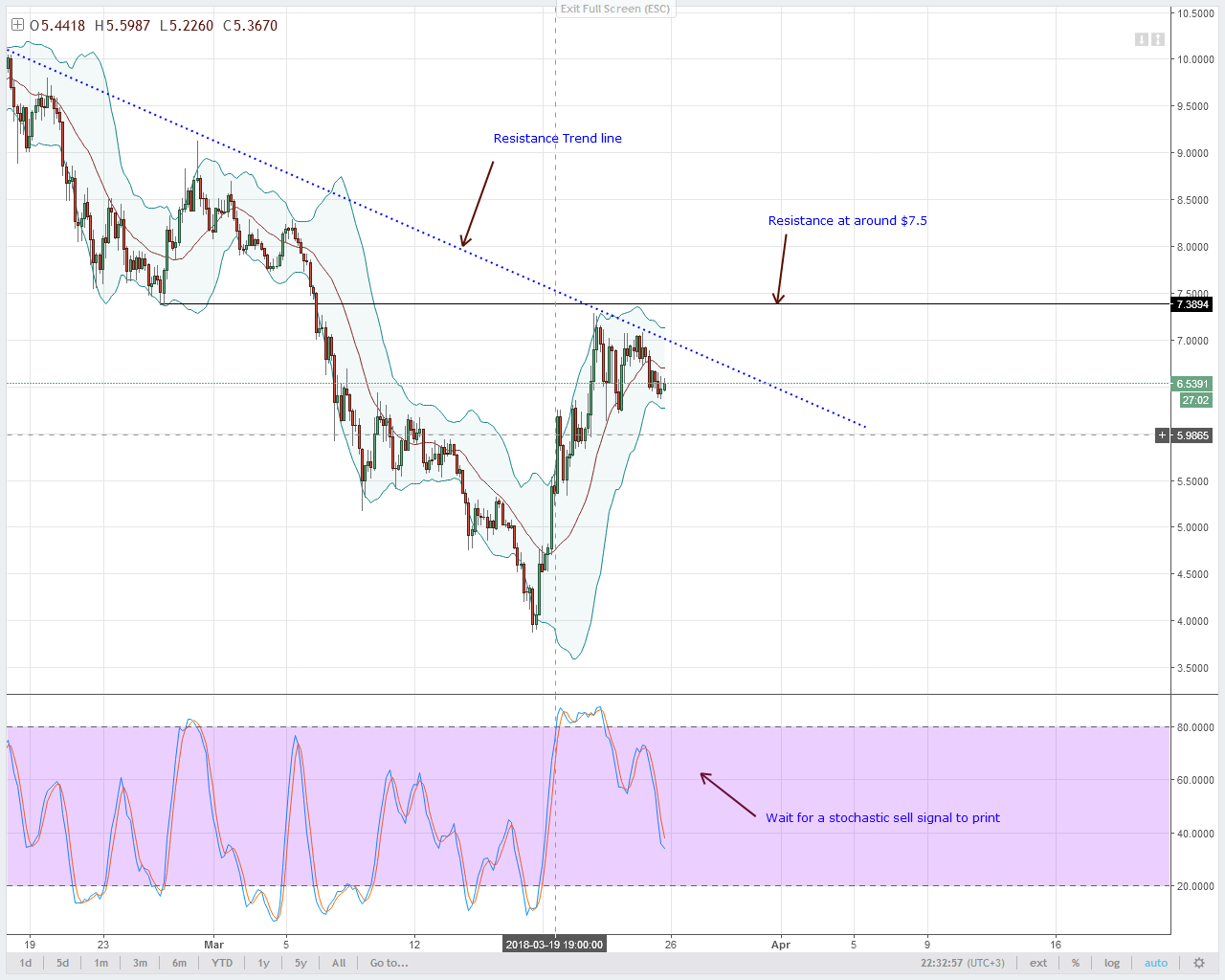 Even if it appears that buyers are in charge, that's not true and we can see price stagnation and rejection of higher highs in the last couple of days.
Evidently, sellers are in charge and we can see from price action that EOS bears have been charging lower despite the small time revival of prices after EOS-FinLab AG partnership announcement.
In my view, I will consider all EOS highs as selling opportunity especially if a stochastic sell signal prints anywhere below the resistance trend line clear in the 4HR chart. Even if prices break above it, liquidation may happen anywhere at around $7.5
LTC/USD (LTC)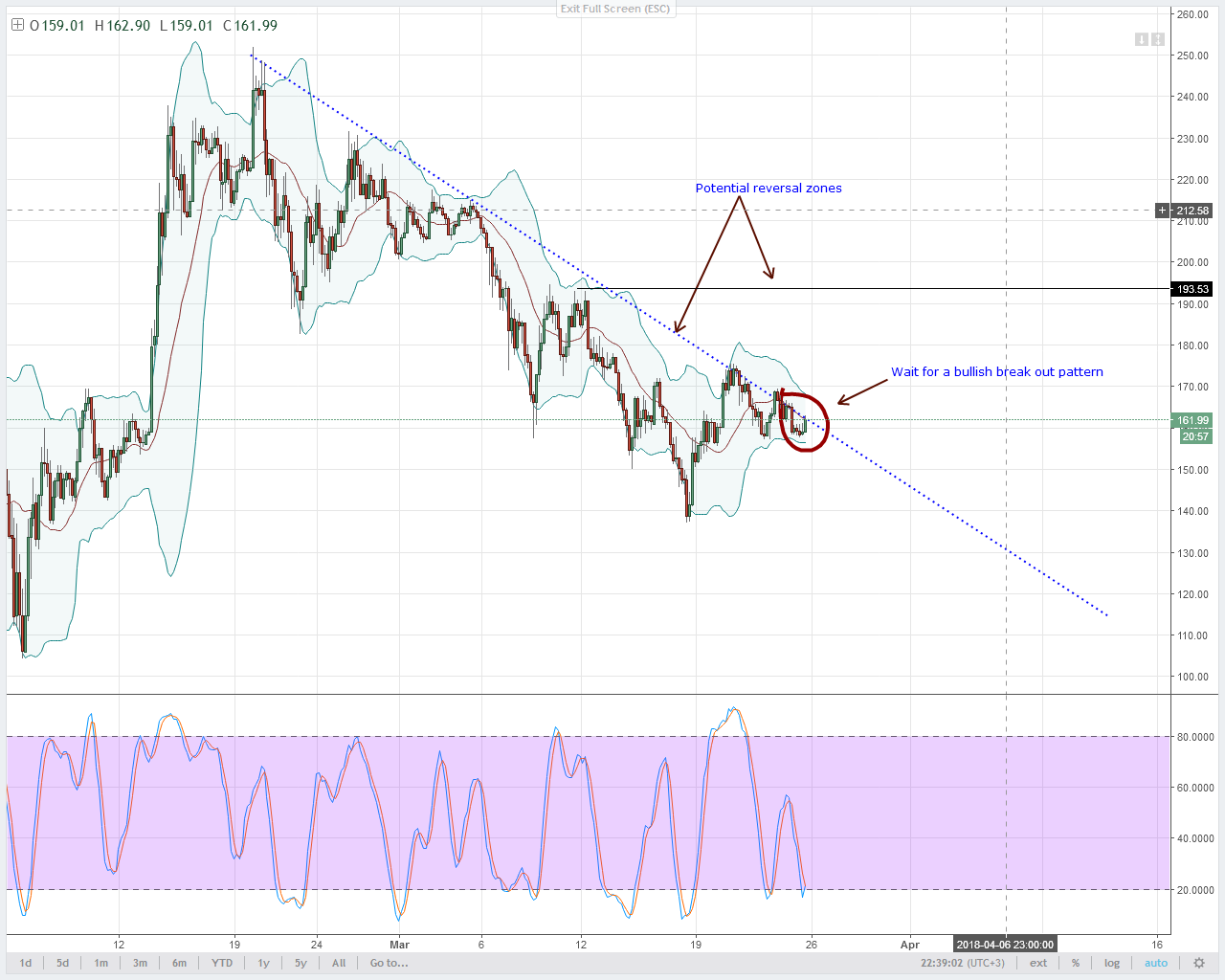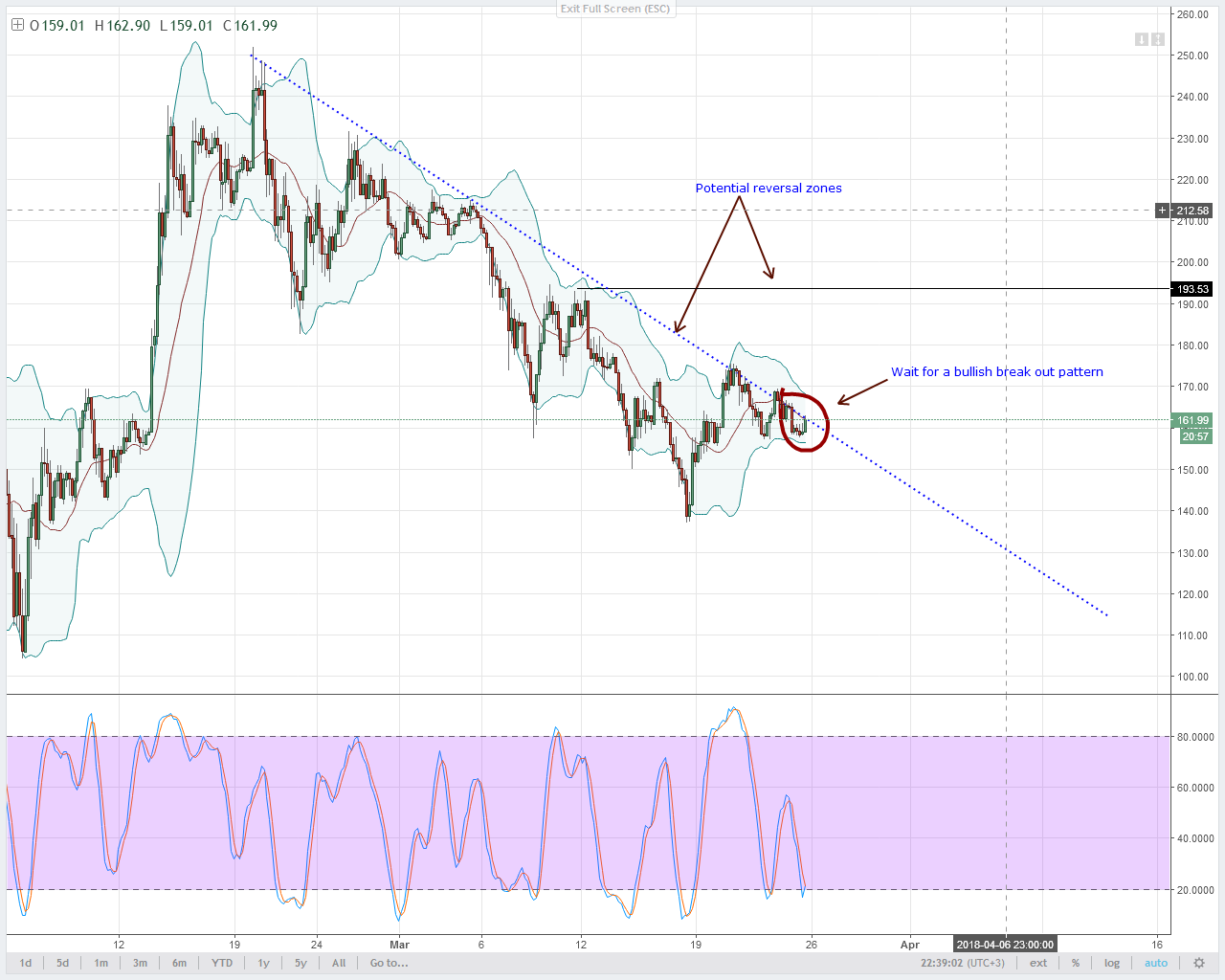 All we can say is that LTC bears are in charge and that resistance trend line says it all. So, we shall take nuggets from our previous forecast and wait for strong break out patterns accompanied by stochastic buy signals to go long.
If that happens today, then aggressive traders should buy LTC and place their stops just below $150. I must say, that's picking a potential bottom and undoubtedly, that's fading the main trend.
As such, trade small positions with ideal targets at $190 or exit when a stochastic sell signal turning from deep the overbought zone prints. Whichever comes first!
NEO/USD (NEO)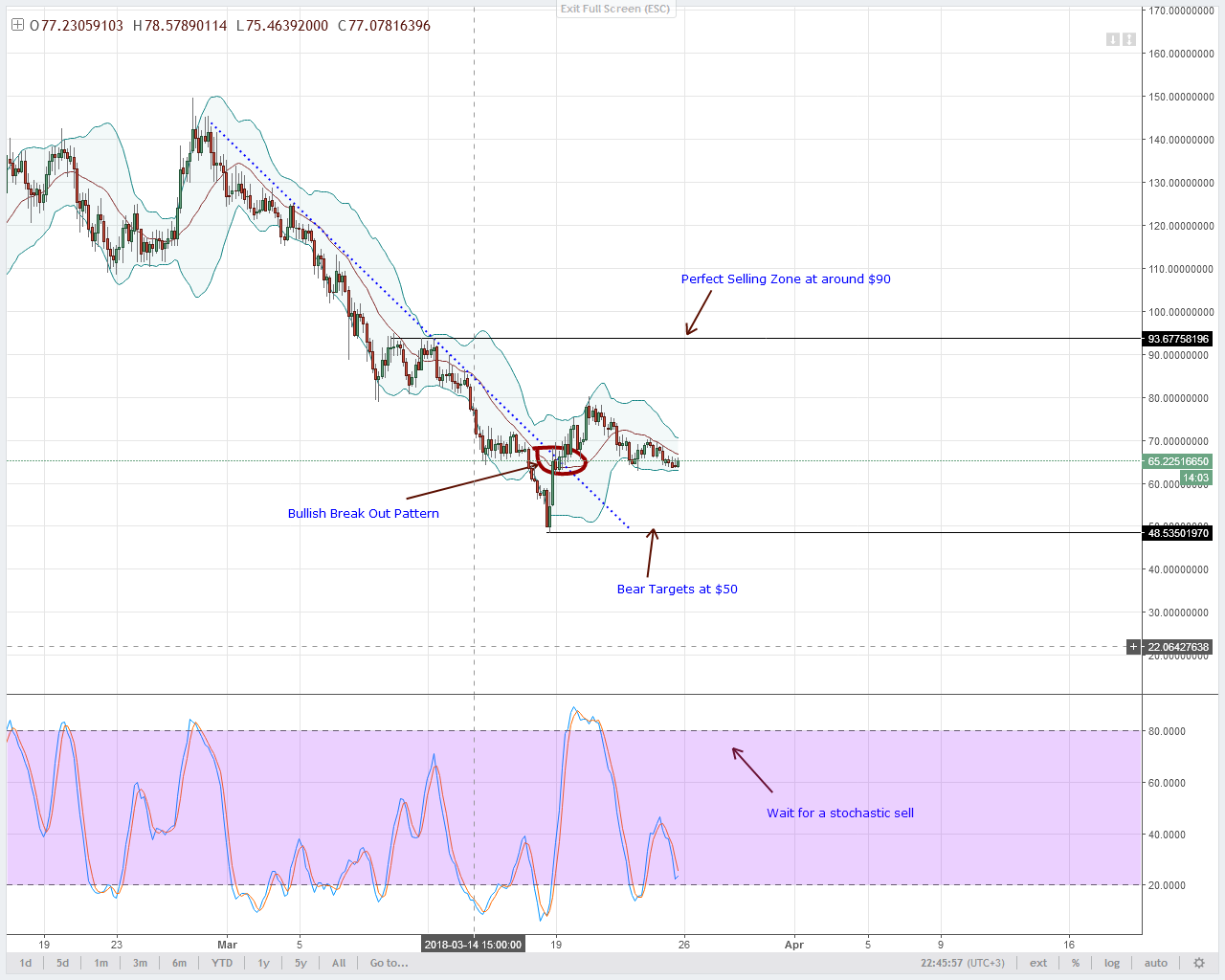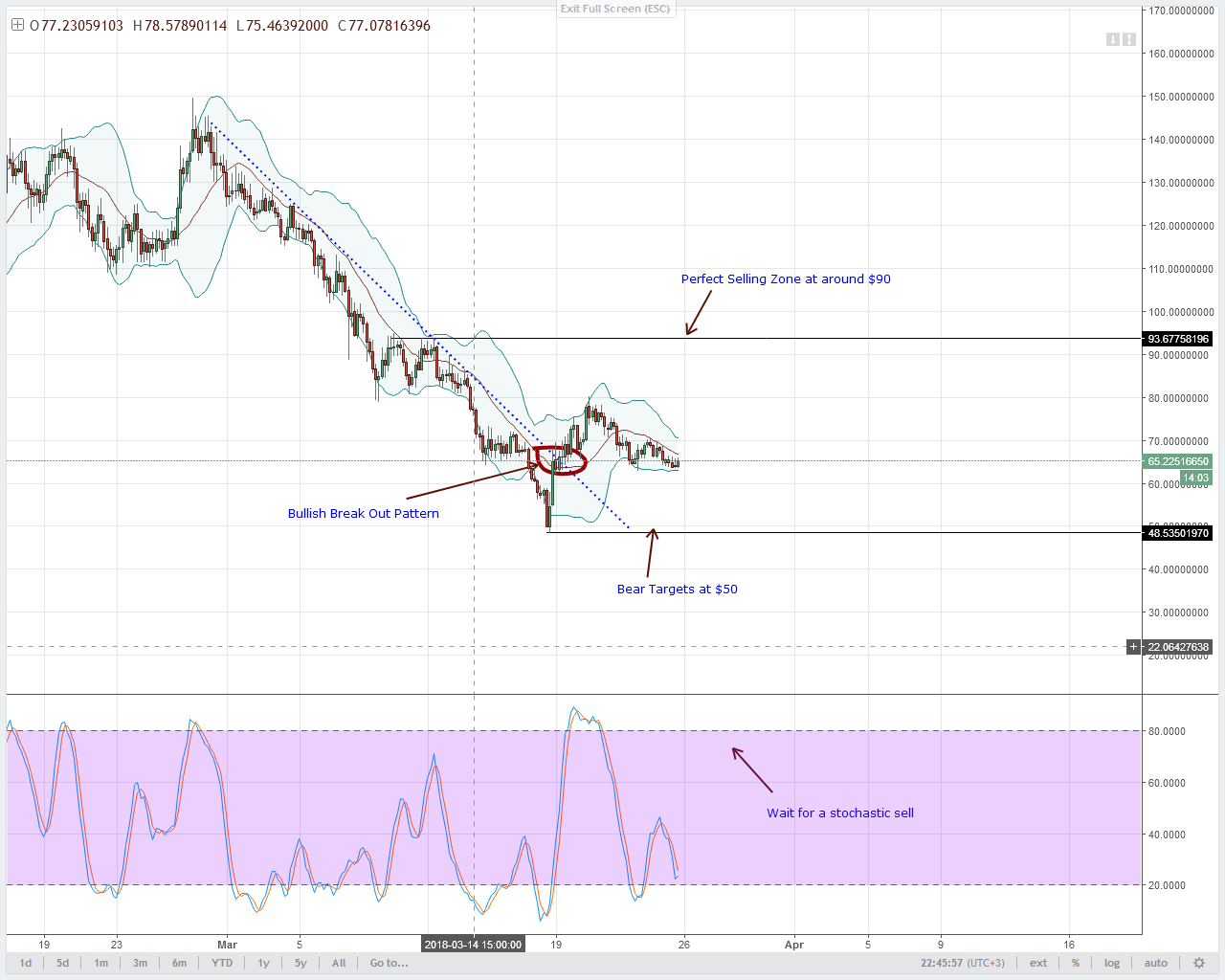 Like most altcoins, NEO is stuck within a consolidation but still, it's likely that prices might move higher in line with recent fundamental and even technical formations. In our entry chart, we can see prices NEO buyers rejecting lower prices.
In fact, we are generally trading within a minor bullish break out pattern after prices tested $55. Remember, $55 is last year's break out highs.
It's basically a level where prices began surging and therefore, the retest phase of a larger bullish break out pattern might as well be over.
In this regard therefore, I will recommend short term buys with stops below $50 and targets at $90. Since we are net bearish, I will exit whenever a stochastic sell signal prints.
All BitFinex, Bittrex and CoinBase charts courtesy of Trading View