Of all the coins in the top 10, Stellar Lumens is the only one in the green territory. It is resilient and it might even add to their gains especially if we see a pump past the 50 percent Fibonacci retracement level at 50 cents. Other than this and the obvious slide in Tron and EOS valuation, Litecoin and NEO moves are moderate and are buyers/sellers are yet to test key levels.
Let look at these charts:
EOSUSD (EOS)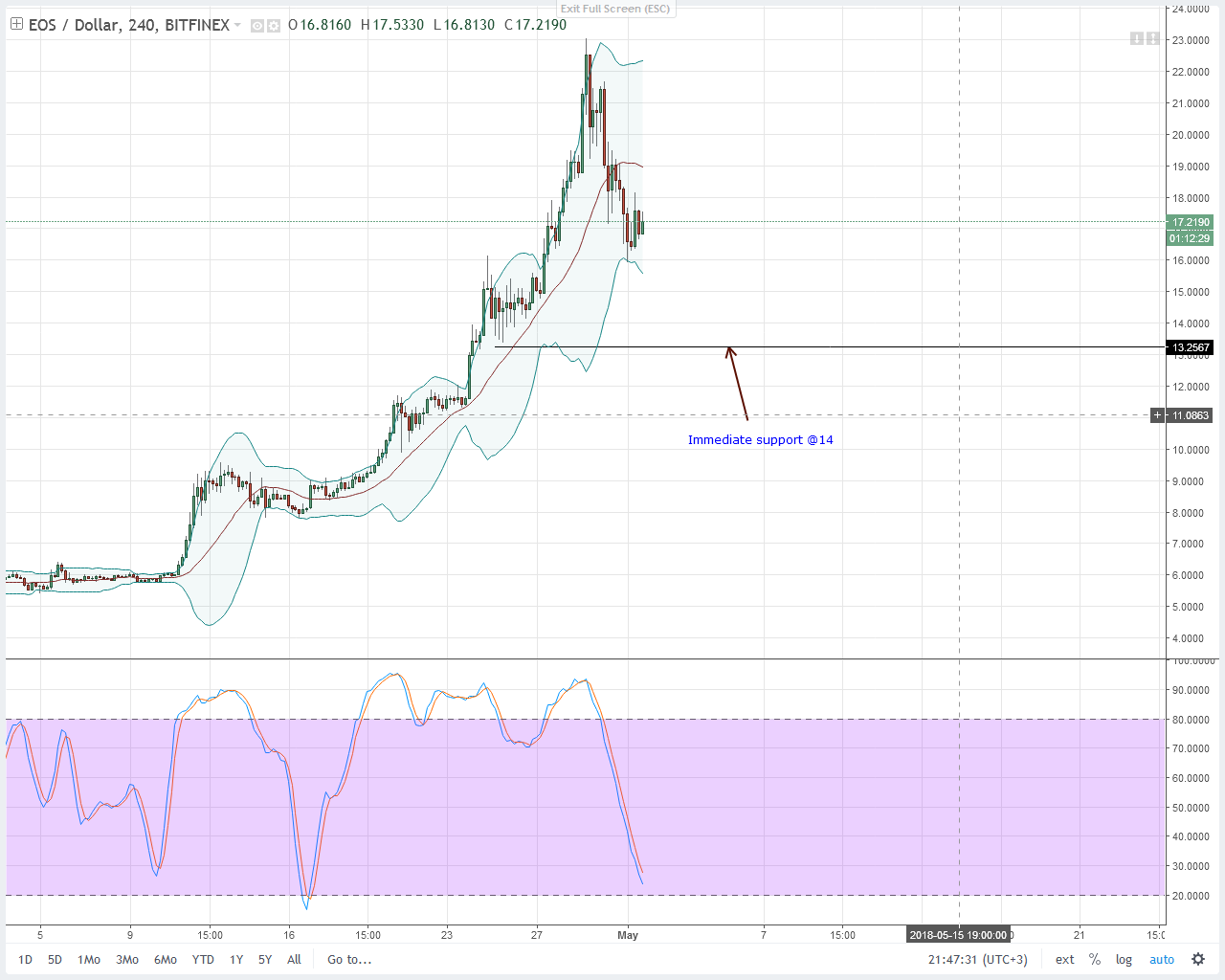 Yes, EOS is good…Oh stop it, EOS is horrible. I shall stick to Ethereum and even Cardano if things get messy. The tag of war continues. Those are just some few conflicting sentiments from supporters and critics. The thing is: there is no one platform that will ever get the full support within the crypto space. Of course, if you will want to judge EOS then the best time is when it launches in a month. The timer reads 37 days. So, let's see what happens.
Thus far, Dan is trying to defend the platform saying their smart contracts are provable just like that of Cardano. He says there is no issue with what developers call "overflow", a flaw that continues to plaque Ethereum. From different commentaries, this bug is a capital sink hole and a major weakness that needs to be addressed.
Now you can write provably-correct software in c++ https://t.co/mhQQaEKA0D . #eosio #ethereum

— Daniel Larimer (@bytemaster7) April 30, 2018
As it is, our previous EOS price forecast remains as it is. In fact, EOS is down five percent and we project further losses until maybe buyers come to prop prices at around $14. In our case, patience shall triumph and in that case, a shift in momentum from deep the oversold stochastic territory is the only buy trigger in my view.
LTCUSD (Litecoin)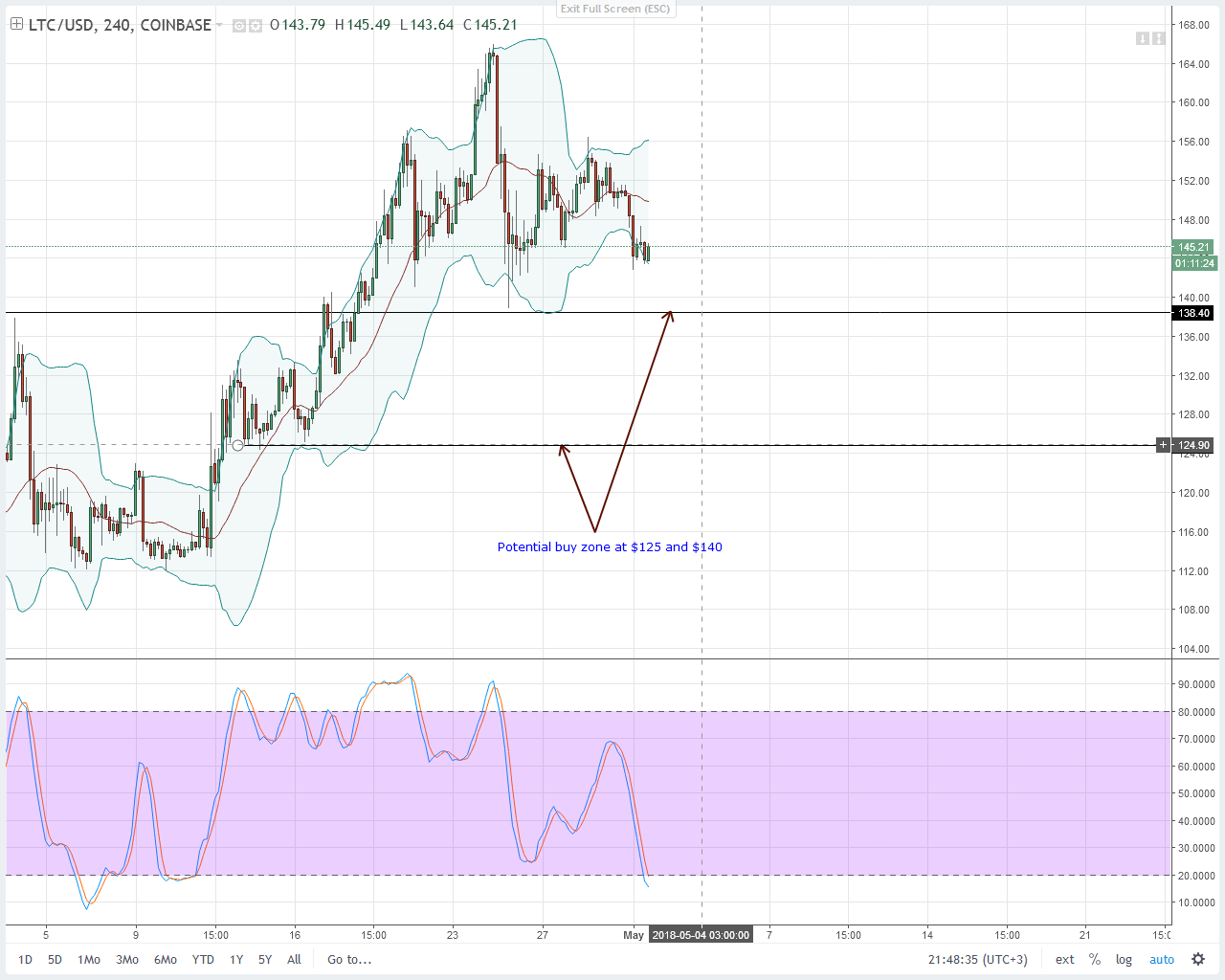 Adoption is what is not only important for Litecoin but for all crypto-monies, including Bitcoin. So, it's no better news that some 4,000 Ethereum, Bitcoin and Litecoin ATMs shall be launched in Argentina to soak up demand for cryptocurrencies. This is definitely good news and hope more countries with supportive legislation follow suit.
Price wise, our ideal support line lies at $140 and if that holds true then we expect bears to continue pushing prices lower. After all, Litecoin is down four percent in the last 24 hours and price action is towing with our previous previews.
Anyhow, here's our thinking considering Litecoin prices have been stalling. If a stochastic buy signal prints today with buyers pushing above yesterday's highs then we can enter this trade and aim for our first target at $180. If not, then we shall stay put and see what happens at $140.
XLMUSD (Stellar Lumens)
It's not really hard to see. There is a direct link between the coin exchange listing and demand. So, when rumors of CoinBase availing either Ripple or Stellar Lumens to their customers continue to heats up, expect prices to recover.
Then again, it may be a timely or even a misplaced rumor because BitFinex account holders can now trade XLM in exchange for a host of other fiat and crypto pairs as Bitcoin and GBP. Of course, we need more listing and platform announcement for Stellar to continue scaling the price ladder.
We are pleased to introduce trading for Stellar Lumens (XLM). https://t.co/poqPzTrK86 pic.twitter.com/0DPLXm6Mmp

— Bitfinex (@bitfinex) May 1, 2018
As it is, Stellar is the only coin in the top 10 that is resilient and in the green. Risk- averse traders can wait for a break above 50 cents or the 50 percent Fibonacci retracement tool before buying. Other can decide to buy now and place their stops below May 1 lows at 35 cents. Remember, overly we are net bullish this coin and so it all about entry point refinement.
TRXUSD (Tron)
Bittrex, Bit-Z and now BitFinex have declared their support for Tron mainnet launch in May 31. That's a few days before their Ethereum migration scheduled for June 21.  Because of this Tron is airdropping 30M TRX tokens to Ethereum holders as a sign of appreciation.
We have started our #TRX airdrop to #ETH community. Welcome #Ethereum hodlers to join #TRON community to experience #TRON high TPS platform and use $TRX to vote in #TRON super representative election! https://t.co/Y2dLkaOvre

— Justin Sun (@justinsuntron) May 1, 2018
Anyway, whether this shall be a catalyst behind TRX rally I don't know. What I do know is that TRX is down 10 percent in the last 24 hours. In fact it is one of the largest losers in the top 10 for the day but this shall quickly change say the rumored partnership with Alibaba is true.
From our previous Tron Technical analysis, our main support line is at 8.25 cents. That's on the lower side and suppose Tron find support-like it has been-along the middle BB, then we expect bulls to resume with their higher highs.
I reiterate: Tron and EOS are safe buys say until after their respective mainnet launch. If the latter is a disappointment, then prices will inevitable tank. If not, prices may move lower and in such case 65 cents is another key support line.
NEOUSD (NEO)
There's nothing much to write about in the 'news' end of this coin part form WinQ shall continue its test on the NEO blockchain. They also explained why they had to delay their migration from test net to NEO mainnet.
#WinQ continues on $NEO Testnet (and an exciting announcement)
Thank you very much for your support. $QLC #dApps #blockchaintechnology https://t.co/969Jdyy11v pic.twitter.com/ezshPwvMtn

— QLC Chain (@QLCchain) May 1, 2018
When it comes to price action, sellers are pushing prices down but still, price action seems to be moving in a range. In my view, yesterday's preview is still valid and that's how we shall trade this coin going forward.