After being titled as 2014's worst investment, Bitcoin was expected to leave its poor performance behind to pursue 2015 in a rather bullish manner. But looking at the current BTC/USD chart, it seems like the road ahead is as bumpy as it was before. The pair, in over the last 24 hours, has crashed below $300, to around $290.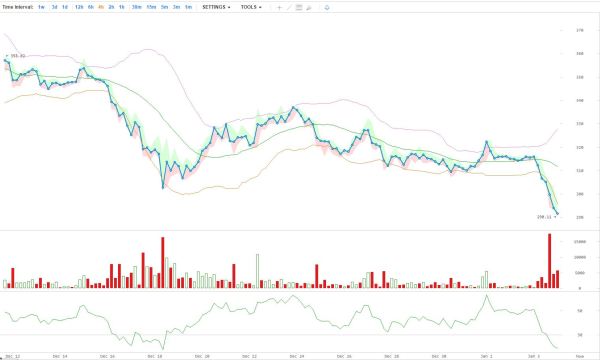 The price is currently way below its selling threshold, and has entered into an oversold area. As you can see the charts, the last few hours have encountered a huge number of selling orders. It somewhat reminds traders of the November bearhwhale fiasco, in which over 30K BTC were dumped on BitStamp within a matter of few hours. There the price crashed to around $275.
In our attempts to connect the dots, we stumbled on a Bloomberg article that described how the Feds are planning to raise interest rates within the next six months. It surely is adding muscles to an already strong USD, the impact of which could also be seen on the falling prices of gold, oil, and other foreign currencies. Bitcoin seems to have come inside the storm, but at a very bad time indeed.
It is quite visible that the bulls are not reacting much to the broken $300-level, thus sending the market inside a complicated bearish area. If the price is unable to float above the 290-mark, we might expect it to test the 275-support anytime in the coming hours. This particular point influenced a long rally towards 453 when tested last time.
We will do a separate technical analysis on Bitcoin's value in the coming hours. Stay tuned!