The New York Stock Exchange (NYSE) is reportedly planning to introduce a special global price index to value Bitcoin, a decentralized digital currency-cum-technology.
As reported by Mashable, the world's largest stock exchange is in the process to launch the Bitcoin price index through its Global Index Feed. It is further planning to make the index available free on its website, though for a limited time. The news website also managed to obtain a quote from the NYSE's  President, Mr. Tom Farley, who confirmed their plans to launch the Bitcoin index.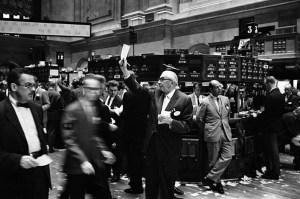 "We are now going to use our name, reputation and global index provider stature to provide bitcoin values that the rest of the market can look to," he told Mashable.
Farley, who is gradually proving himself to be quite an innovation-friendly Wall Street professional, was also credited to push investments into the Californian Bitcoin startup Coinbase. And now with yet another announcement, the 39-year old Wall Street veteran is bridging the intellectual gap between Bitcoin and the traditional finance markets.
In his opinion, new technologies like Bitcoin never intimidate the "Big Board". He feels excited by Bitcoin — in a good way — and believes this technology to do wonders, both as a currency and a record-keeping technology (the blockchain).
"It was that curiosity and also… let's not wait for this to fully evolve," Farley states, "let's get a seat early on and see how this matures."
Perhaps the rest of the finance world is beginning to see the same thing as the NYSE president. After years of severe and assassinative criticism, Bitcoin is truly coming out of the misunderstood perception that used to surround it. There are many Wall Street veterans that have taken important positions at a number of Bitcoin startups; and there is Goldman Sachs, as well as many other renowned finance giants, that had invested in the emerging Bitcoin companies.
But perhaps the most notable among all is the NASDAQ, the NYSE's rival stock exchange, that has also started experimenting with the digital currency technology. The future is indeed looking great for Bitcoin.