OKEx, the leading cryptocurrency exchange platform has announced a new partnership with skew, a real-time data analytics provider for Bitcoin and Ether derivatives, Options, Futures and Perpetual swaps. With this partnership, OKEx will be able to have its own dashboard on the skew platform.
Launched in 2018, skew is one of the reputed crypto market data analytics and trade execution services. It is designed to provide real-time information on trading activities and volumes of some of the leading exchanges. It recently launched the skewAnalytics Hosting Services which provides corporate clients with a dedicated public dashboard hosted on skew.com. OKEx is the first exchange to collaborate with skew to avail a dedicated OKEx Dashboard on its platform.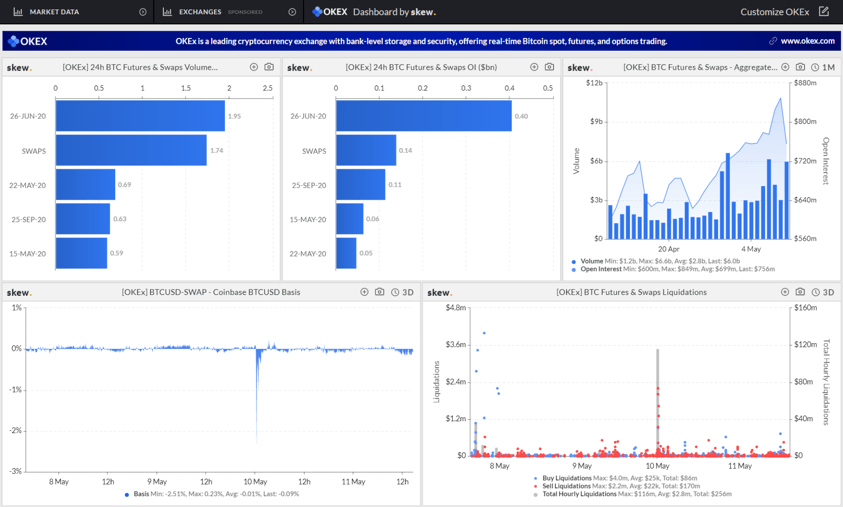 The dedicated OKEx Dashboard on skew enables OKEx to achieve greater transparency of Futures, Swaps and Options trading on the platform. It will also allow over 750 leading market participants to access dedicated real-time trading information from OKEx, right on their desktops.
 "OKEx and skew share the same ideal: that is to reduce the negative effects on traders caused by information asymmetry and to promote the transparency of the whole industry. Skew has made an outstanding contribution to this and we are glad to cooperate with them to launch an OKEx dashboard," said Jay Hao, CEO of OKEx. "The transparency of exchanges has increasingly become a concern for traders. We hope to provide traders with a true and reliable channel for mastering OKEx trading data, while enhancing the overall transparency of the industry," he added.
Emmanuel Goh, co-founder and CEO of skew said, "We are excited to be collaborating with OKEx to launch our analytics hosting services. OKEx is a key actor of the cryptocurrency markets, we are delighted to help them promoting greater exchange transparency for the industry."
The new OKEx Dashboard is available on the analytics page of the skew platform, alongside market data tab. On the dashboard users can get a complete breakdown of BTC and ETH Futures and Swaps, and BTC Options on the trading platform along with historical trends and more.
Access the OKEx Dashboard on skewAnalytics at – https://analytics.skew.com/dashboard/okex