The Bitcoin technologies, namely blockchains are sidechains are used for various other purposes than just for registering and facilitating transactions over the Bitcoin network. Some of the new companies like Astroblocks and Bitproof are building Proof-of-Existence platforms (there is also another platform by the same name) over the Bitcoin blockchain.
These Proof-of-Existence platforms provides a smart tamper-proof way of storing encrypted information on the Bitcoin blockchain. Each file stored on the blockchain will be associated with a unique irreplicable transaction hash. These transaction hashes will act as a reference to the documents stored on the blockchain. Anything once written on to the blockchain will be stored forever, without any way of deleting it and that is what makes it an ideal electronic system to certify and store documents.
We can safely say that intellectual property is the most valuable asset any individual or company can have. The process of obtaining protection for your intellectual property is still a cumbersome process. It involves filing the necessary applications, multiple times in few cases and waiting for a long time for the authorities to verify and grant protection. Blockchain based Proof-of-Existence platforms provides an alternate way for both individuals and companies alike to document their creations or discoveries and handle IP disputes more efficiently.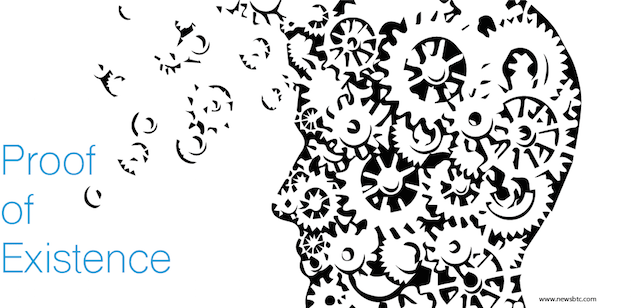 Whether it is a new scientific invention, design, artwork, screenplay, story or anything. The creator can record his works on these Proof-of-Existence platforms. In case of any dispute, the inventor can always contest any claims by using the transactional hash of the concerned document. The hash will also act as a timestamp that can be used to identify the time when it was uploaded onto the blockchain.
Now that anyone can make use of these Proof-of-Existence services, making it easier for them to claim and receive credit for their innovation and creation, no matter how small it is.