In a recent interview to TheProtocol.TV, Founder & CEO of the New York-based Bitcoin exchange Coinsetter, Jaron Lukasiewicz admitted to being a really big fan of the cryptocurrency and the technology behind it.
When asked about how his outlook on Bitcoin has changed with time, Jaron said that his passion has greatly increased and is now fueled by reasons other than when he first entered into the Bitcoin space. When he first started reading about Bitcoin in early 2012, it was just a novel concept and not very valuable, he said. Hence, he looked at it the same way, with not much depth. But now, he is highly optimistic of Bitcoin and blockchain being a suitable alternative to the arbitrary regulations, which have failed in doing a good job of achieving the intended goals of the government.
When asked to comment on the problems in the current banking system, Jaron cites high transaction costs as the major factor plaguing the sector. He asserts that "payments are so expensive for everyone in society, from top to bottom, especially the bottom." He also emphasized on the lack of ownership of funds in banks and sees the technology behind Bitcoin as a potential tool to address this concern. "I am really a big fan of Bitcoin because of how its built." Bitcoin users have the advantage of moving their funds, at costs considerably lower than banks.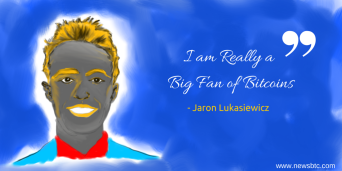 He voiced his opinion on BitLicense as well. Jaron comes in defense of the regulators, who have been repeatedly criticized for overburdening the companies with regulations, however, insisting that the imposed regulations should solely be for the benefit of consumers.
Being in New York has really been helpful to us as we are closer to our customers and have been gaining traction with Bitcoin companies, he added.
Sounding bearish on Bitcoin for the next one year, he expects the price to stay low until regulations are sorted out. But he is fairly optimistic on the digital currency for the long term.