Ripple price is trading within Sep 2018 high low and bullish
The management team at Circle convinced crypto valuation would rise.
Bear trading volumes high, XRP prices likely to find support at 30 cents
Although losses were market wide, XRP is resilient, absorbing sell shocks and rising above ETH for the first time in 2019. Even with this safe-haven status, we expect XRP to slide against the USD towards 30 cents.
Ripple Price Analysis
The ability of XRP to absorb shocks may be the reason why the coin is in second place. XRP, despite its specific use as a cross border liquidity tool for banks, is stable in the last hour. XRP prices are trading above 30 cents. Although yesterday's sellers rammed prices below the first support at 34 cents, our bullish overview is valid. The only time, as reiterated in the last XRP/USD price analysis, we shall revert to bearish is if asset prices collapse below 30 cents.
Fundamentals
David Schwartz and the XRP Royal Army may be having a field day thanks to Ethereum Classic's debacle, but the valuation table relays countering signals. As per Charlie Lee expressions, proof of work networks are true representations of decentralization. He goes on saying true decentralization paves the way for attackers to launch double spending attacks more so if the network's total hash is low. Such acclamation is everything against what David Schwartz stands for: speed and security.
Even with superior throughput, Ripple and other systems making use of proof of work alternatives have no power to dislodge store of value coins as Bitcoin in the long term. Though the gap will widen, the crypto market as a whole will expand as adoption increase more so if more products are built allowing for seamless crypto payment backed by education. Rachel Mayer, the Product Manager for Circle Pay and Circle Invest, said in a recent Reddit AMA session:
"we need to BUIDL better consumer products that feel like native internet apps so that you can use crypto seamlessly (outside of speculative investing). Finally, it is our responsibility to continue to educate not only regulators but your friends, family, and acquittances of why blockchain technology is here to stay and the value it will unlock for them and the rest of the world."
Candlestick Arrangement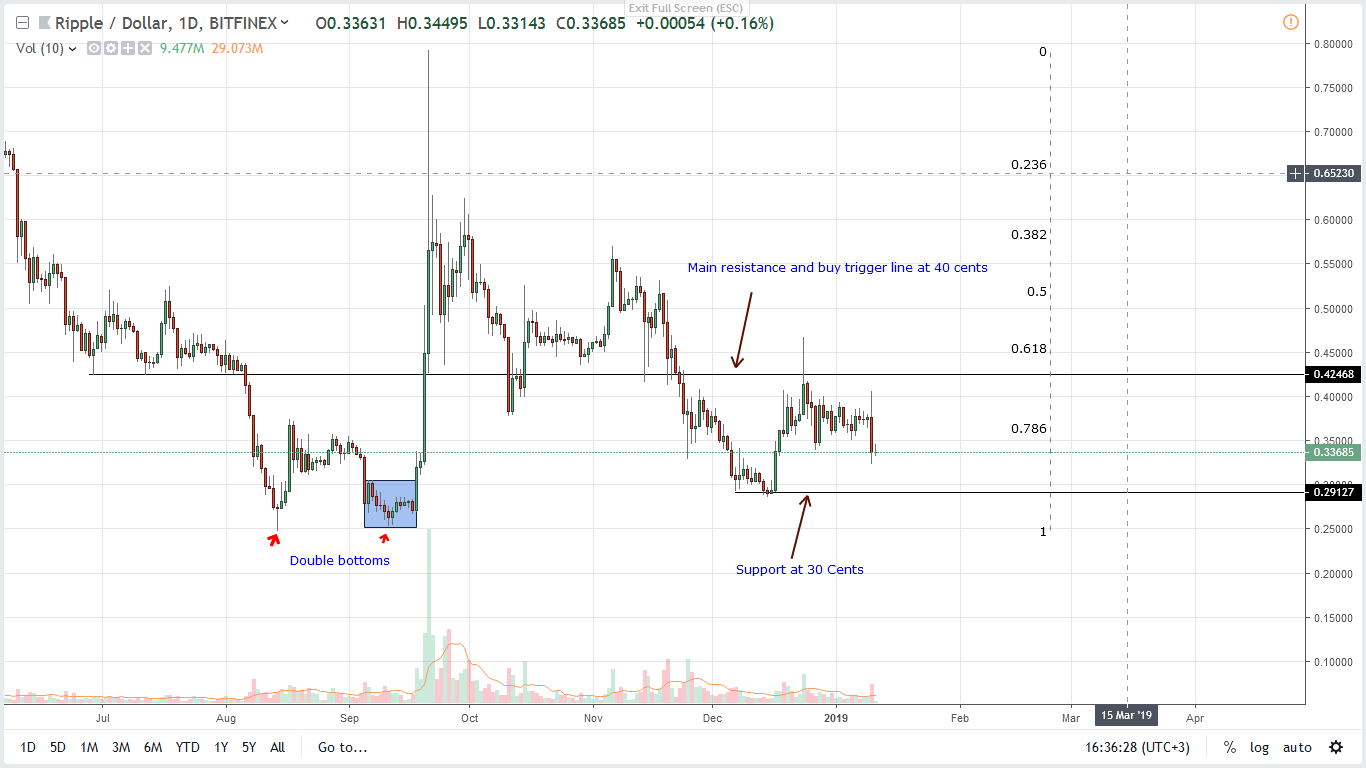 Cementing our bullish stance is the failure of bears to wipe gains of Sep 2018. Before that happens, our trade position will remain constant. Technically, every low should be another buying opportunity with ideal targets at 80 cents. In the meantime, traders should move their XRP stash to stable coins or fiat depending on preferred exchanges. Once prices find support at Dec 2018 lows at 30 cents, then we can liquidate them for XRP.
Technical Indicators
Even though we are net bullish, yesterday's declines were propelled by above average volumes—83 million versus 30 million. Basing our analysis on volumes, this is bearish. This interpretation will hold unless there is a counter bar fading trend, backed with high volumes above 83 million. Because of this, odds are XRP will drop towards 30 cents in the next couple of days.