Ripple price surge 10 percent
SWIFT GPI Link proof of concept with R3's Corda
Transactional volumes picking up, spikes above averages
SBI Holdings may be behind an audacious plan of integrating SWIFT GPI with RippleNet via R3's Corda Settler. The latter use XRP, and if that is the case, our previous XRP/USD trade assertions will be valid. With a 10 percent spike, it is likely that XRP could retest 80 cents.
Ripple Price Analysis
Fundamentals
Good news for Ripple and XRP. SWIFT, the global payment messenger platform, is in a proof of concept stage, trying out its new GPI Link payment standard withR3's Corda. If anything—and if this testing phase is a success, then we could see SWIFT integrating XRP indirectly via the Corda platform. Remember, in Dec 2018, Corda Settler launched. Corda Settler is an application that facilitates cryptocurrency payments between enterprise blockchains via XRP.
We are excited to announce our partnership with @swiftcommunity to integrate gpi with Corda Settler. @Cordablockchain https://t.co/FyEJScr0j8

— inside_r3 (@inside_r3) January 30, 2019
Furthermore, there is an existing partnership between R3 and SBI Holdings where the former has a 60 percent in the SBI R3 Japan venture. It doesn't stop there. SBI Holdings also has a 60 percent stake in SBI Ripple Asia consortium, and the banking group is a keen supporter of XRP and Ripple solutions.
"SBI Ripple Asia is providing a next-generation payment platform powered by DLT (Distributed Ledger Technology) to financial institutions and remittance transfer providers in Asia as a joint venture of SBI Holdings and Ripple, a US FinTech venture."
Candlestick Arrangements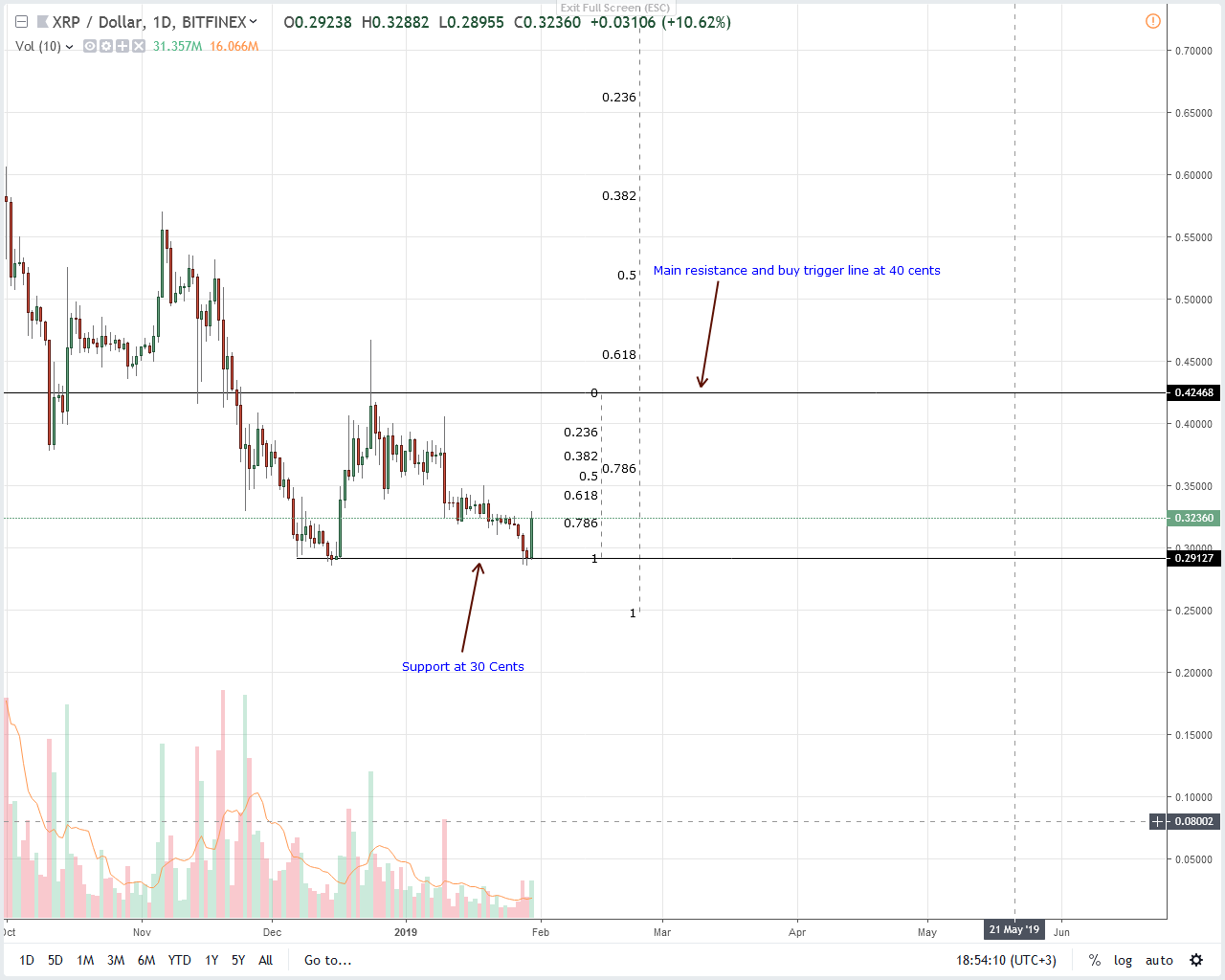 From the above, it's not hard to see why Takashi Okita of SBI Holdings is not pulling strings as SWIFT trials on Corda. XRP is up 10 percent at the time of writing with decent trade volumes.
We shall gauge the level of market participation by close but what is clear is that there is a double bar bull reversal pattern off 30 cents. The bar does confirm bulls of mi-Dec 2018 as well as bringing to light the previous trajectory set by Sep 2018.
Because of this, it is likely that XRP bulls will drive prices above 34 cents igniting risk-off long positions with first targets at 40 cents.
Technical Indicators
Even though we have a clear bull bar, transactional volumes are light—but above average. At the time of writing, today's bullish engulfing bar was pumped by high-volumes –23 million. Trading ranges are extensive, but volumes are below those of Jan 28—31 million and less than 83 million of Jan 10. All the same, we are in the early stages of a trend reversal, and transactional volumes are building up.