Latest Ripple News
The crypto market may be reeling from the pounding of last year, but Fred Wilson, a Managing Partner at Union Square Ventures, is optimistic. In his view, he expects the expansion of the global market to buoy cryptos helping actualize dashed promises of 2018.
Citing potential market-moving macros as a slowdown in economic activity in China and geopolitical factors as a possible premature end of Donald Trump's presidency and Brexit, the venture capitalist said these events will generate volatility, further galvanizing cryptos as safe-havens in the process drawing demand for the coin as prices reverse from the climb up from the pits of 2018.
"I think we will see major dislocations in the leadership of the United States, a bear market in stocks, a weakening economy, many issues with the global economy including a messy Brexit and a sluggish China. All of this will lead to a more cautious stance by investors in the startup economy. Also, crypto will not be a safe-haven for any of this although there will be signs of life in crypto land in 2019."
Though 2019 may be the reversal year, "the process could take much of 2019 to play out." During this time, there will be demand, but sell-off will force asset prices to drop retesting current lows before a rally drive prices to a new high by the end of 2019.
Ripple (XRP) Price Analysis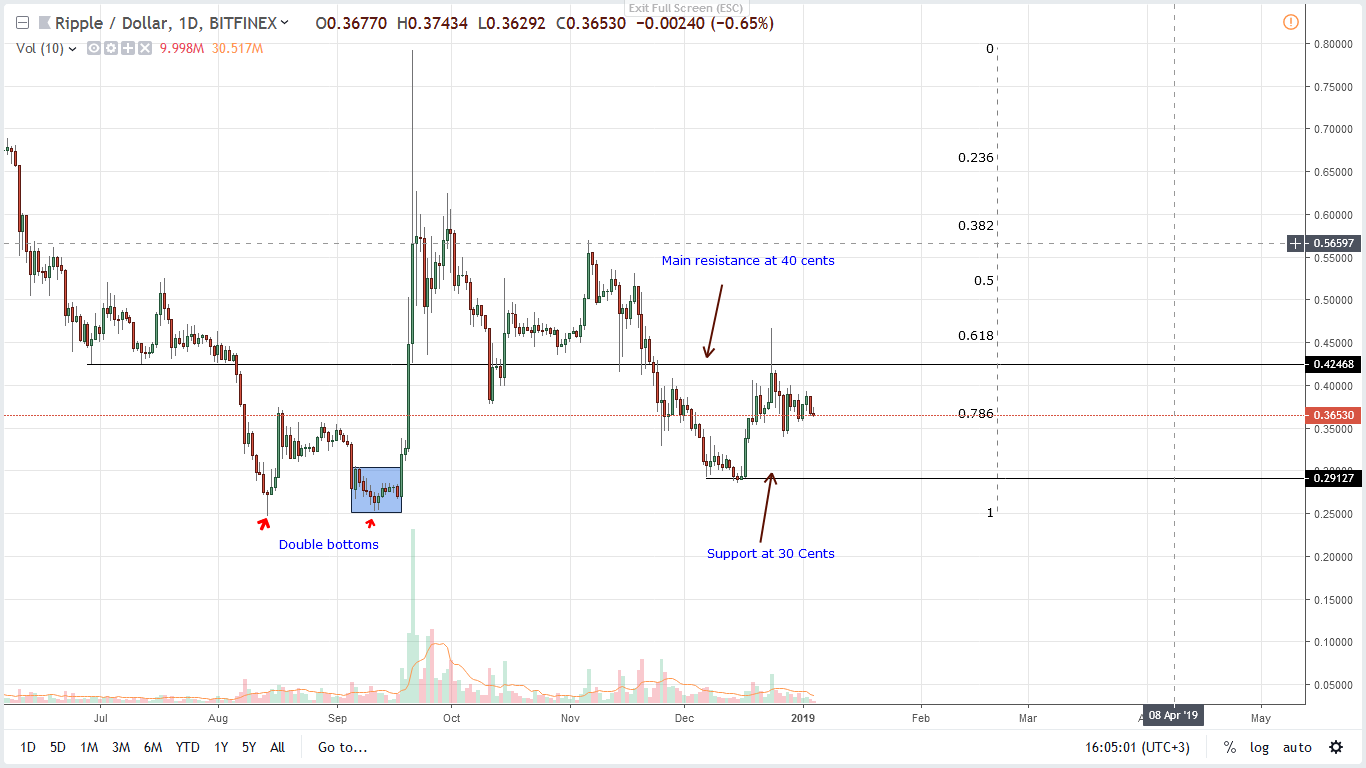 Fred is optimistic, but XRP is struggling against bears at the time of press. XRP is down 1.9 percent in the last day but up 5.4 percent from last week's close. Although we maintain a bullish outlook as long as XRP/USD is ranging within Sep 2018 high low, there is the risk that prices will collapse below 34 cents and even 30 cents to 25 cents as sellers wipe out Q3 2018 gains. Odds will be high if bulls fail to build enough momentum by close above 40 cents by the end of this week as sellers flow back in a retest phase.
It is also our expectation that prices will snap back rallying above 80 cents to new highs in weeks ahead more so if prices sync with our previous XRP/USD trade plan rallying above 40 cents at the back of strong volumes. In that case, we shall trade as before with first targets at 60 cents.
Assuming XRP/USD print higher, our trade plan will be as follows:
Buy: 40 cents
Stop: 37 Cents
Target: 55 Cents, 60 Cents, 80 Cents
All Charts Courtesy of Trading View
Disclaimer: Views and opinions expressed are those of the author and aren't investment advice. Trading of any form involves risk and so do your due diligence before making a trading decision.