Latest Ripple News
Aside from EOS and Stellar Lumens which are recent inventions, it still beat logic that CoinBase is yet to list XRP. While it is understandable that CoinBase can practice their discretion and list any coin that adheres to their listing framework, XRP is a liquid asset and far more than just being a tradable instrument. The coin is a real utility that banks can use to move funds across the world. As it fashion itself as superior alternative to SWIFT—a global payment system that has been in operation since 1972 and wholly owned by banks, Ripple and XRP are still struggling with legal challenges.
Also Read: Iran Disconnected From SWIFT, to Launch State Backed Crypto Rial
With lawsuits, CoinBase are not taking a chance despite decentralization efforts than has since seen reduction of Ripple's grip on the coin's validation to 48 percent. Until the security stain clears, speculation would continue to affect prices in one way or another more so if the exchange goes on and list Stellar Lumens (XLM) or ADA.
Basic Attention Token (BAT) is launching at https://t.co/bCG11KveHS and in the iOS and Android apps within the next 15 minutes. You may need to update your app to properly buy and sell BAT. We will update when BAT is fully live. https://t.co/YgLcxAaMiT

— Coinbase (@coinbase) November 8, 2018
These coins were amongst the five coins under exploration of which BAT and ZRX are now available at the exchange.
Related: Ripple's CEO Says Blockchain Will Change the World of Global Payments
Regardless, Ripple's drive seems to be paying off. Through a fruitful partnership with Amex and LianLian Group, the multi-billion e-commerce industry in China will in a year experience the fluidity, speed and efficiency of RippleNet after Amex were given the go-ahead to by Chinese officials.
Amex & Ripple. Can you say blockchain is taking is eating the financial system?
American Express, Santander team up with Ripple for cross-border payments via blockchain https://t.co/KXzSxG6BLW

— CryptoLab (@northernCA) November 13, 2018
XRP/USD Price Analysis
Weekly Chart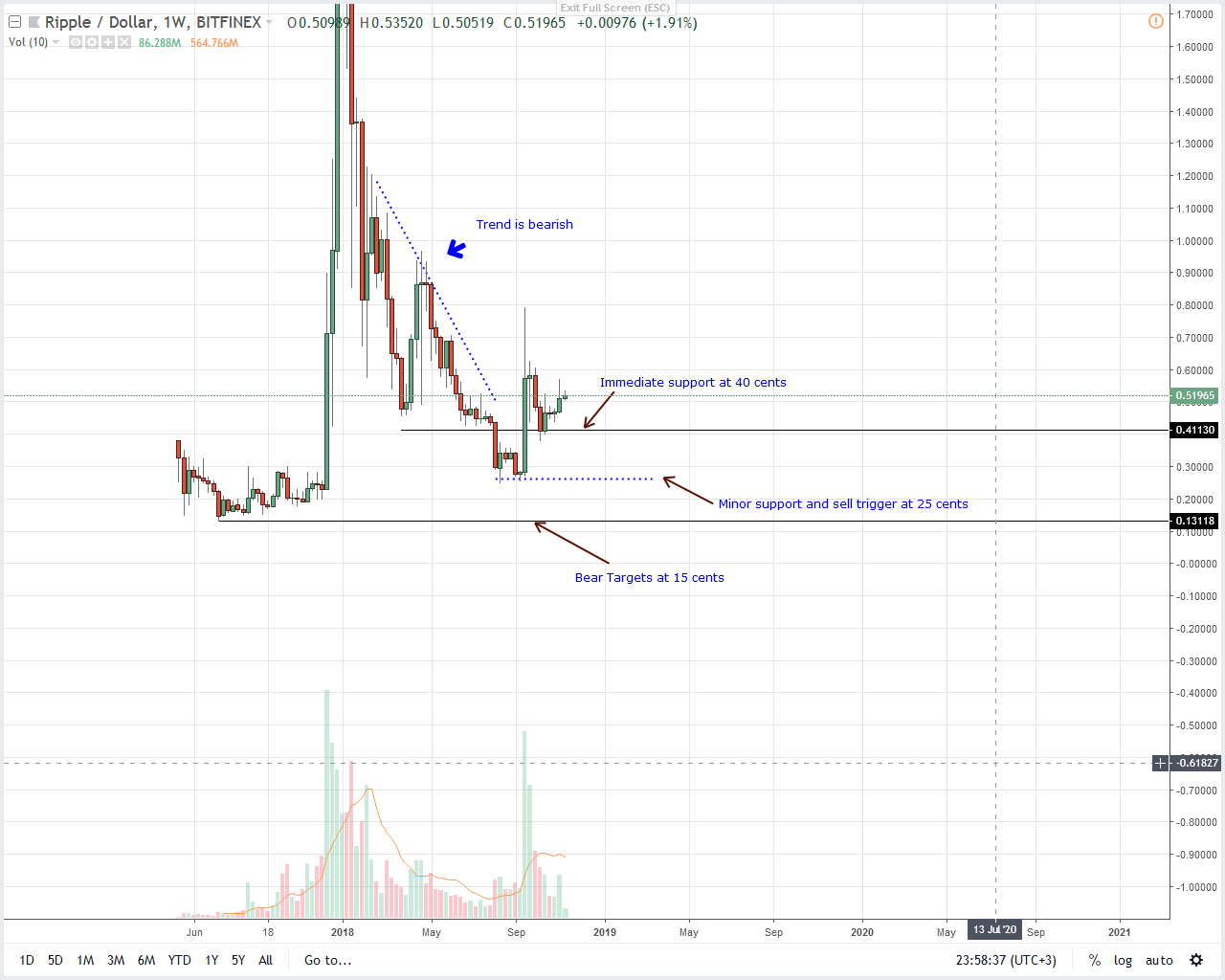 After Stellar Lumens, XRP is one of the top performers in the top 10 adding five percent in the last week. But despite lower lows, XRP/USD is technically bullish thanks to surges of week ending Sep 23. At the back of this trend re-defining gains were strong volumes and wide trade ranges cementing our convictions.
Now, like in our previous XRP/USD trade plan, we shall recommend traders to load up on dips in lower time frames as long as prices are above 40 cents, previous resistance now support. However, from candlestick alignment, the best approach is to wait for gains above 55 cents—the 38.2 percent Fibonacci retracement level. Once there is a break above, conservative traders can buy on dips with stops at 50 cents and first targets at parity.
Daily Chart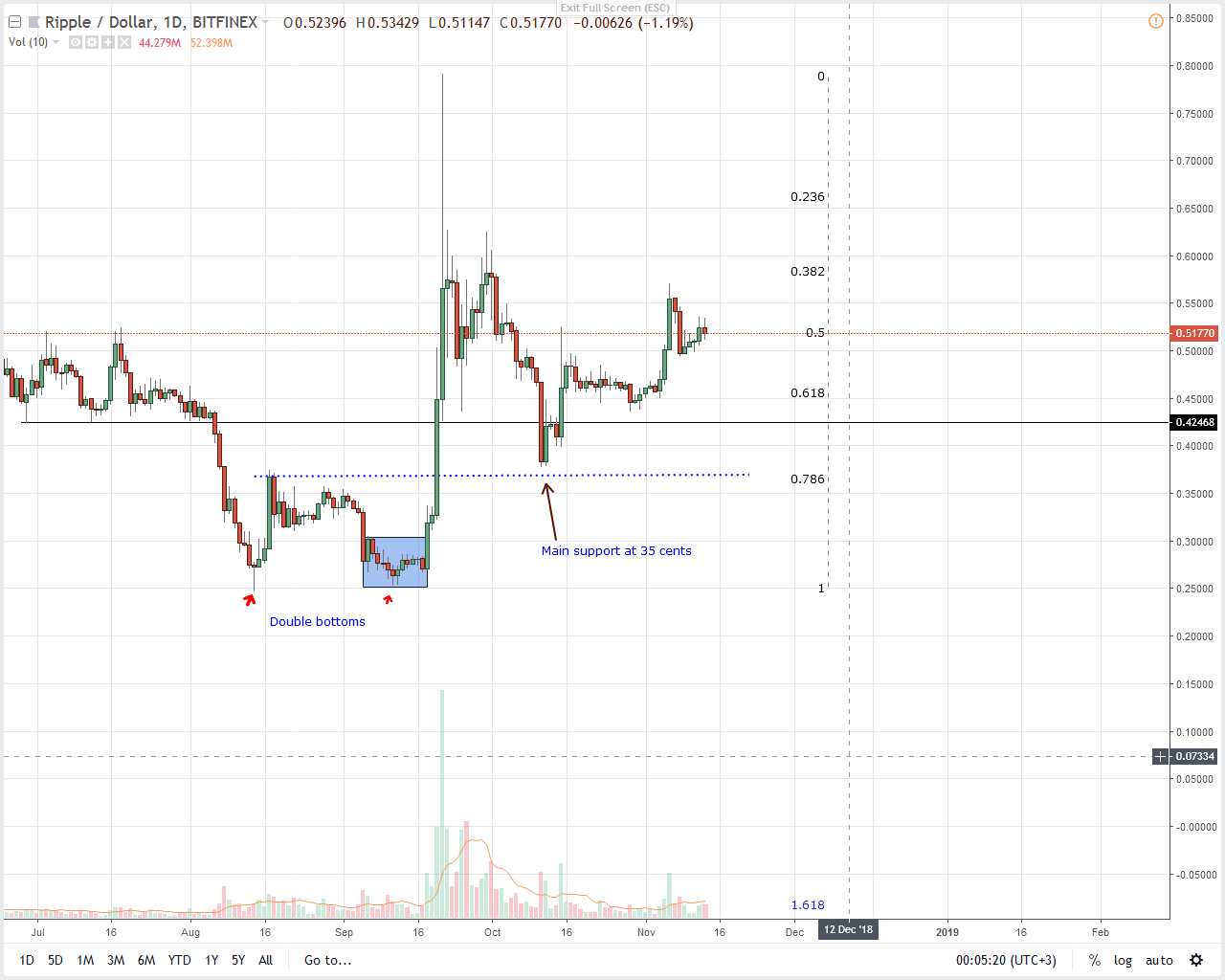 As visible from the chart, 50 cents is a reaction point and since Nov 6 bull bar confines price movement of the last seven days, buyers stands a chance to print higher in days to come.
This is more so from an effort versus result point of view and the fact that we hold a bullish preview in line with our previous XRP/USD price analysis.
Moving on, we recommend risk-off traders to load up at spot with stops at 50 cents with first targets at Oct highs at 80 cents. Should prices dip and our stops cleared then we shall revert to neutral observing how prices react at 50 cents and later 40 cents aware that loses below the latter cancels this trade plan.
All Charts Courtesy of Trading View
Disclaimer: Views and opinions expressed are those of the author and aren't investment advice. Trading of any form involves risk and so do your due diligence before making a trading decision.