Ripple (XRP) upside headwinds, down 7.7 percent
XRP based ETP launched
European investors are set to gain access to XRP through a controlled manner as Nordic Growth Market (NGM) launches LTC and XRP-based ETPs. At the same time, Banco Santander will spend $22 billion on One Pay FX in the next four years. Meanwhile, XRP is up but prices are cooling off and could drop to 32 cents.
Ripple Price Analysis
Fundamentals
Traders with access to Nordic Growth Market (NGM) will now have access to Exchange Traded Products (ETP) based on digital XRP following the launch of new products based on two digital assets, XRP and LTC. Nordic Growth Market is the second largest stock exchange in Germany. Therefore, the addition of XRP based ETP will hugely impact the adoption of the third most valuable digital asset. In addition to bringing XRP to German investors, Nordic Growth Market will ensure that these investors access the asset in a regulated manner.
The first XRP ETP (exchange traded product) ever is live on SIX Swiss Exchange today, as they had previously announced! No delays here, exactly on time like Swiss clockwork ?Congratz to SIX!https://t.co/gqI0vrhAzo pic.twitter.com/xmW8THQOlL

— Crypto Couple (@coupleofcrypto) April 2, 2019
In other confidence-boosting news, Ripple is expected to enjoy growth after Banco Santander announced that it was planning to spend $22 billion on digital technology in the next four years. In the announcement, the bank stated that RippleNet powered One Pay FX would benefit from this fund. The bank is aiming to improve on its real-time payment system days after announcing a 230 percent growth.
https://twitter.com/XrpCenter/status/1108965578331426824
Candlestick Arrangement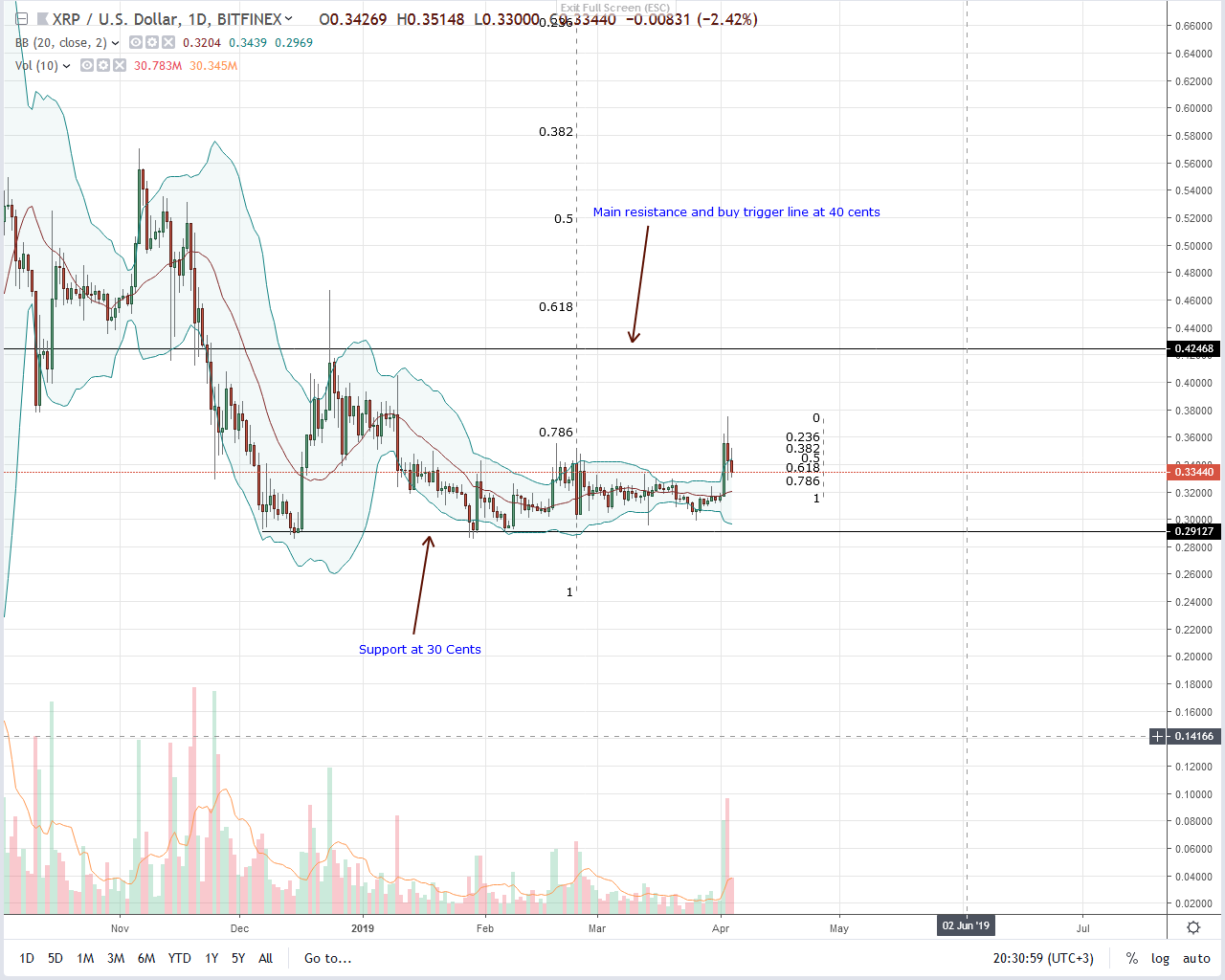 With supportive fundamentals and supportive candlestick arrangement, Ripple (XRP) is striving. At spot rates, XRP is perched at third with a market cap of $13,919 million after adding a 7.6 percent in the last week.
However, with an over-extension after yesterday's close, XRP prices are down 7.7 percent in the last day. But this was expected. Like we mentioned before, Apr 2 rally did rouse bulls but in the process of doing so caused an over-valuation. With demand—supply dynamics at work, we expect XRP to be fairly valued and that means further liquidation on the cards.
Despite this development, our XRP/USD trade plan is firm and the trend is already set. Buyers are in control and there are better entry opportunities in the short-term now that XRP prices will likely slide to 32 cents or the 78.2 percent Fibonacci retracement level of Apr 2 high-lows. After that, it will probably take a couple of days before bulls resume trend, retesting 37 cents and eventually closing above 40 cents in a trend continuation phase typical of breakouts.
Technical Indicators
Meanwhile, volumes are up driving prices higher. Although Apr 3 volumes were above average but bearish, the failure of sellers to drive prices lower, wiping out Apr 2 gains is bullish. Now that Ripple (XRP) is within a bullish breakout pattern, any wide-ranging bar with high volumes driving prices above 34 cents could ignite participation further fueling XRP demand.
Chart courtesy of Trading View