Ripple prices slide 2.5 percent
Volumes drop reflects low prices
Although centralized exchanges play a role, it should be a worry if they become too big to fail because if they do, then it will pull down the market with it. Meanwhile, sellers are back, and Ripple (XRP) may drop to 34 cents or lower in a correction.
Ripple Price Analysis
Fundamentals
We can draw many lessons from the GFC of 2008-09. Before everything crumbled, the so-called global banks, too big to fail, lent out money to unqualified borrowers and because they couldn't pay back their monthly obligation, the house of cards fell, pushing the global economy into a recession. Six weeks later, we had the Bitcoin whitepaper, and it has been a roller-coaster ever since.
Now we have CoinBase. A centralized cryptocurrency exchange that now supports Ripple (XRP) after years of turning the other way despite apparent demand from customers. However, CoinBase is more than a bank. Under the NYDFS, the exchange is also an approved and Qualified Custodian. In their agreement with the stringent state of NY, they can "store large amounts of cryptocurrency in a highly secure way," list new assets and even experiment with staking which the exchange is piloting with Tezos.
Furthermore, they are facilitating cross-border payment to countries like India using Ripple (XRP) and USDC for free as long as the receiver as a CoinBase account. All this is after raising $300 million in Serie-E funding, money they didn't need, said their COO, Asiff Hirji.
Let's not also forget that they are seeking a general banking license, controls Keystone Capital in their bid to become an SEC-regulated broker-dealer and with a broad base, are actively integrating with traditional financial companies like Barclays. Now, the real worry is this: is CoinBase becoming a systemic concern for the cryptocurrency market?
Candlestick Arrangement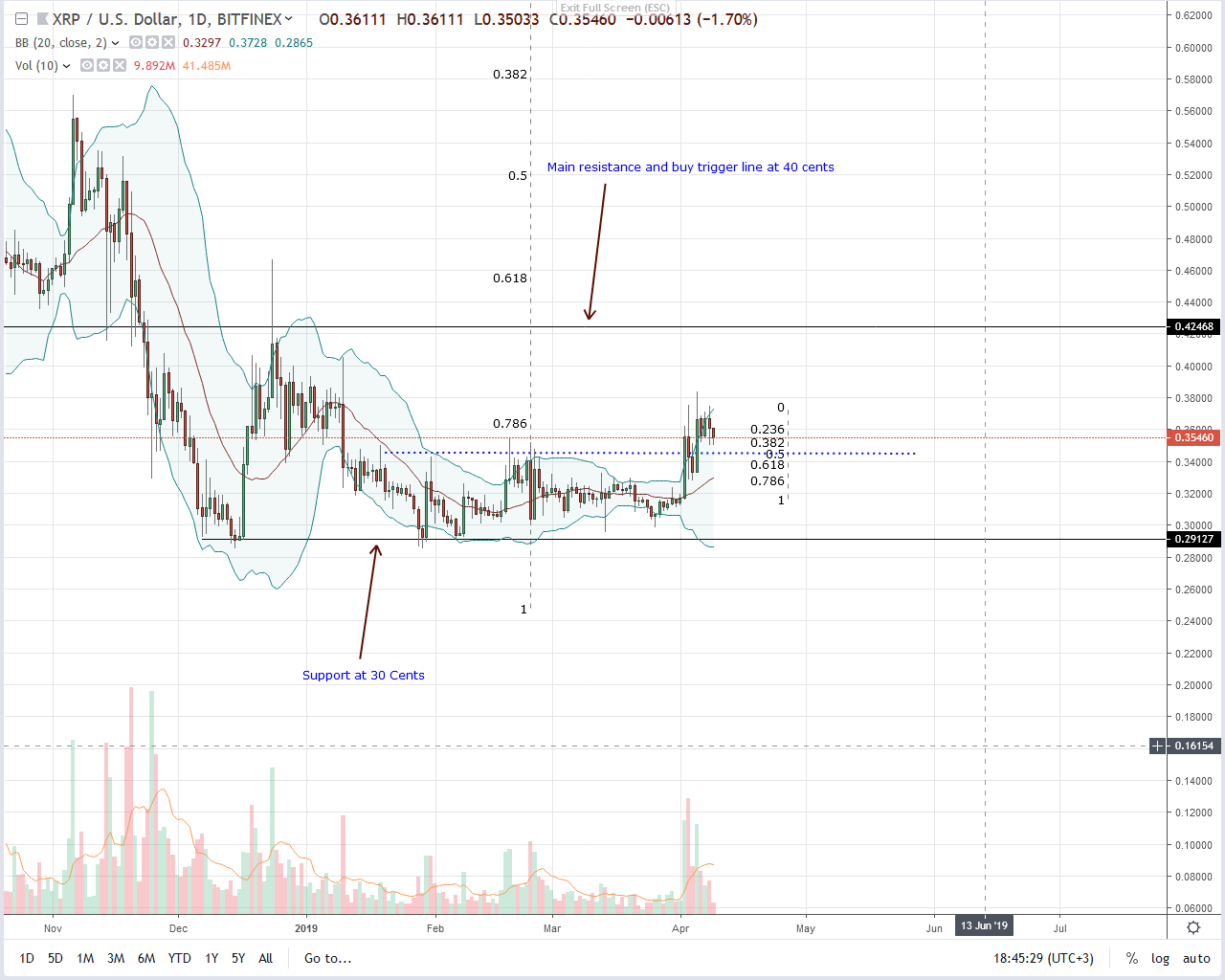 Even with building, development, and launching of new products, Ripple (XRP) is stable and down 2.5 percent in the last day. We retain a bullish outlook but despite candlestick arrangement and favorable fundamentals, odds are the third most valuable coin could pull back towards 34 cents in a correction, gifting traders another opportunity to ramp up.
Notice that we have lower lows relative to the upper BB and as long as prices are oscillating within Apr 5 high low, then Ripple (XRP) is technically bullish. If not and prices slide below 32 cents reversing gains of Apr 2 and Apr 5 as bulls cool off, then we shall exit our longs as we wait for trend resumption towards 40 cents.
Technical Indicators
Our anchor bar is Apr 5 bar—76 million against 37 million, and as a breakout bar, it confirms bulls of Jan 30 and corrects the undervaluation of Mar 26. Buyers are in control, but as prices drop, a safe bet is to wait for a breach of Apr 5 highs at 37 cents marked with high volumes forming a foundation for 40 cents and higher.
Chart courtesy of Trading View