Ripple (XRP) is down 20.8 percent
Spain's Santander expanding; opens a UK and Poland payment corridor
Banco Santander is opening a new corridor from the UK to Poland via its One Pay FX app. Efficient, attention is back to Ripple, which is under pressure to see more of its clients adopt xRapid. Meanwhile, XRP is under pressure and down 20.8 percent from last week's close.
Ripple Price Analysis
Fundamentals
The idea of xCurrent is to "enable banks to settle cross-border payments with end-to-end tracking." That, plus the fact that it is a blockchain-based-a disruptive technology, has seen banks flock to the efficient and cheap option.
Through the RippleNet, a suite that is made up of xRapid, xVia, and xCurrent, there are over 200 global banks connected via a single efficient platform. However, the challenge is to convert these global banks into xRapid users. A hurdle but a necessity if Ripple is to unleash its full potential, xRapid introduces speed and efficiency unlike in legacy systems.
Most importantly, the use of XRP as a medium of exchange during FX conversions is beneficial for XRP investors. The more use, the more the demand for XRP. Good news is Banco Santander is opening up a new payment corridor from the UK to Poland.
Already, the decision is attracting good reviews from users, attesting to the speed of settlement and cost of the One Pay FX powered by xCurrent.
Candlestick Arrangements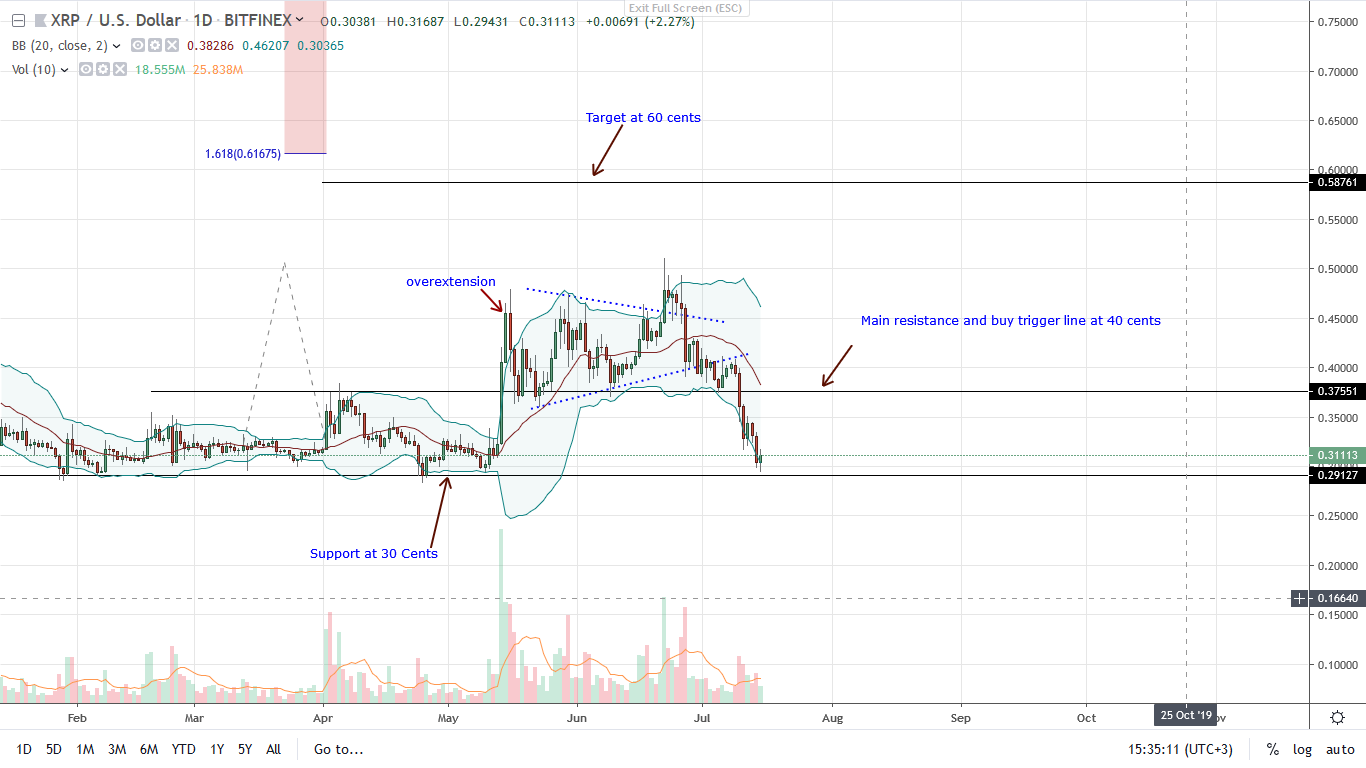 Presently, XRP sellers are in control. Pressing lower in the last week, XRP is at a precipice. However, it all depends on whether the third most liquid cryptocurrency will find support at Q1 and 2 2019 low of 30 cents.
Not only does it coincide with the 78.6 percent Fibonacci retracement level of Sep 2018 leading bar, but the fact that it has been impervious to sellers in the last seven months is telling of its significance.
Therefore, while buyers have a chance, cautious must prevail. In that case, the short-to-medium term trajectory of XRP depends on whether bears press lower, forcing prices below 30 cents or XRP bulls flow in, offering support.
If the latter is the case and a bull candlestick print today, then risk-off traders can buy the dips with targets at 34 cents and 40 cents. On the other hand, losses below 30 cents will be significant, signaling weakness and a possible degradation to 25 cents and even 17 cents in the next coming weeks.
Technical Indicators
From above, participation is vital. If bulls or bear flow and there is an unusual reaction at 30 cents, then the accompanying bar must be with high trading volumes exceeding the recent average of 25 million and ideally 187 million of May 14.
Chart courtesy of Trading View. Image Courtesy of Shutterstock