Ripple (XRP) performance dismal, bulls add 1.3 percent in 24 hours.
Despite apparent efficiency, a central bank official said he sees no potential in Ripple
An official from Singapore's MAS is skeptical of retail bank digital currencies capabilities after the country's Project Ubin linked with Canada's Project Jasper effecting the first transaction. Presently, Ripple (XRP) is lagging in performance in the top-10 as bulls fail to cross above 34 cents.

Ripple Price Analysis
Fundamental
Over and above everything, Ripple is, first of all, a global fund transfer and payment platform. Proponents claim Ripple's leading solutions are new –age solutions designed explicitly to deal with decade age problems of high latency, high fees and well, extra costs through Nostro–Vostro accounts.
That is what the blockchain startup's executives seek to introduce to a world yearning for change but barred by a rigid but core network. Although the 43-year-old system in SWIFT may be slow but responding to changing times, it did contribute positively to economic growth. Even so, Sopnendu Mohanty, the Chief Finance Officer of Singapore's regulator MAS, is skeptical of retail bank digital currencies.
While speaking at MIT's Business of Blockchain, the Fintech officer said:
"We don't see much in the Retail bank digital currency, but still much hope that we can remove a lot of inefficiencies […] when it comes to cross-border payments."
His comments come after Singapore's and Canada's central banks connected via Projects Ubin and Jasper for the first time.
Candlestick Arrangement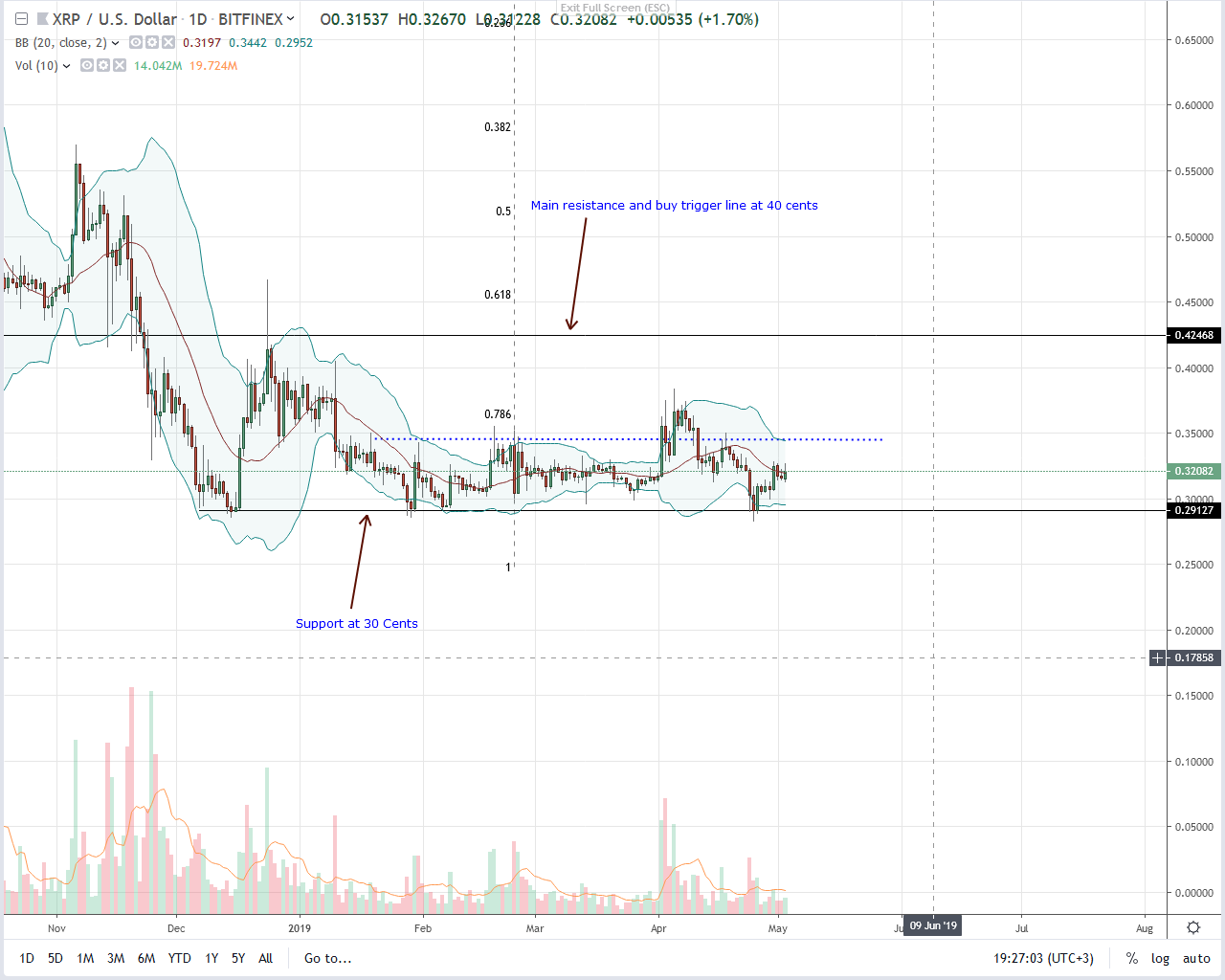 Aside from Tether (USDT) which is stable and down, Ripple (XRP) is the second worst performing asset in the top –ten adding 1.3 percent in the last day. Although we are bullish on Ripple (XRP) prospects, it is after prices rally past essential resistance levels. One of them is 34 cents. The level caps XRP bulls forcing prices to consolidate within a 4 cents range with supports at 30 cents.
Nonetheless, it is likely that this level will hold, preventing liquidation towards 25 cents as prices retest Sep 2018 main supports. Overly, the longer the consolidation is, the stronger the breakout and depending on the direction, any surge above 34 cents or better still, 40 cents must be will high transaction volumes exceeding 79 million of Apr-2.
Technical Indicator
From the chart, sellers have the upper hand because buyers are yet to reverse losses of Apr-24-25 comprehensively. As laid out in our last XRP/USD trade plan, it is after prices edge past 32 cents or Apr-24 highs with above average volumes exceeding May-2 average of 20 million and 79 million of Apr-2 is when buyers would be back triggering another wave of buyers aiming at 40 cents.
Chart courtesy of Trading View