Ripple (XRP) is up 2.6 percent
Footprints in the Middle East and Southeast Asia highlight Ripple's advantages
SWIFT is dominant, but Ripple's progress is noticeable. Even though most of their partners use xCurrent, clarity in the future will ease their transition to xRapid. That will drive demand for XRP and therefore prices above the current 20 cents consolidation.
Ripple Price Analysis
Fundamentals
Blockchain companies cannot flourish in isolation. It is even more challenging when the startup is ambitious. As per their statement, Ripple is one such company. Cementing its position as a cheaper but complementing platform for SWIFT, Ripple is recording positive progress.
Over the years, SWIFT has roped in more global banks thanks to the efficiency it brought. Given the demands of globalization and end-users in a never-ending search for more, SWIFT is undoubtedly lagging in several aspects.
Theoretically, Ripple should be the perfect option since their solutions are speedy, secure, and above inexpensive. But that's not the case. Regardless, there is progress. Presently, Ripple has a foothold in South East Asia with Yoshitaka Kitao's SBI Group hellbent on seeing Ripple succeed.
In the Middle East, The Saudi Arabia Monetary Authority (SAMA), following their successful piloting of xCurrent is promoting Ripple's solutions to local banks. Similarly, banks in Kuwait are interested with some already using xRapid.
Candlestick Arrangements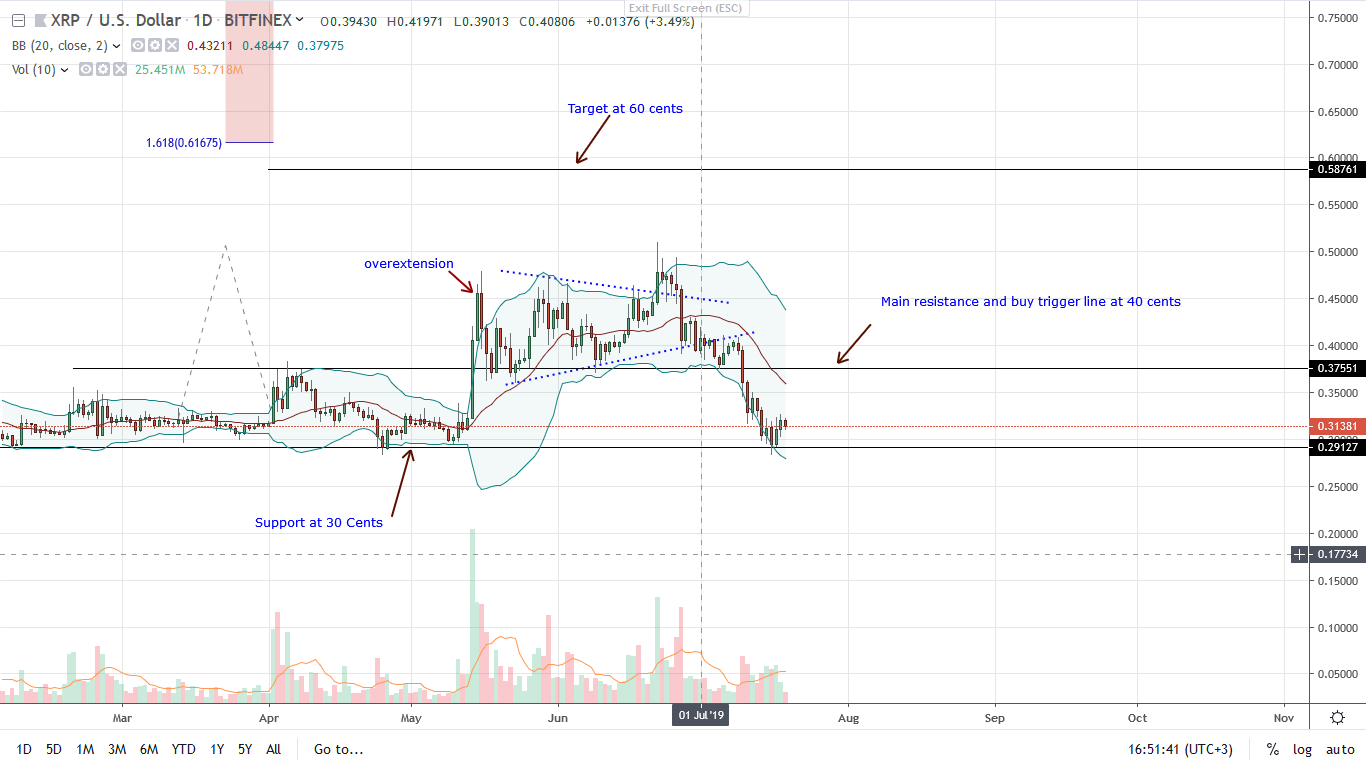 Changing hands at 31 cents, XRP is neutral and ranging. At the time of writing, prices are up 2.6 percent in 24 hours.  Considering the resilience of buyers in the last couple of days, XRP is bullish with Q1 2019 support at 30 cents being significant.
Notice that not only do we have a double-bar bullish reversal pattern with higher highs from the lower Bollinger Bands (BB) with increasing volumes, but the divergence away from the lower BB is hinting.
Therefore, while bears could be in control, risk-off traders, in line with previous XRP/USD trade plans, can buy the pullback with stop limits below 30 cents.
As a result of this, the first target will be at 34 cents and later 40 cents if demand picks up over the weekend. However, assuming sellers flow back, driving prices below 30 cents, this trade plan will be null.
Technical Indicators
Confirming bears will be a spike of participation, exceeding trading volumes of June 22 of 113 million or 187 million of May 14. Similarly, a break out bar with equally high trading volumes lifting prices above 40 cents could open the door for 50 cents and later 80 cents.
Chart courtesy of Trading View. Image Courtesy of Shutterstock