Besides news of CoinBase move to Japan and listing Ripple (XRP) tokens, Brad Garlinghouse, the CEO of Ripple is pretty confident that dozens of banks would be using xRapid in the near future. He said this in an interview with CNBC and that's another reason why our view of taking long position is strong. In the last 24 hours alone, XRP is up five percent and today we might see those gains increasing.
From the News
So after countless rumors of CoinBase listing Ripple (XRP), critics are now but realizing that Ripple might after all be listed in this liquid exchange if recent news is anything to go by. With CoinBase shifting bases to Japan, proponents will have a clear pass to buy Ripple (XRP) from one of the world's largest and trusted exchange. Inevitably-and this is not even rocket science, moves like these will see prices rocketing to new highs to the benefit of the coin holder.
The only thing that CoinBase have to do is to apply for a license which as we have seen is becoming harder with Japan's FSA. This mandatory requirement was not there because cryptocurrency exchanges often self-regulate within this jurisdiction. We can only conclude that was a reactionary implementation following Coincheck's NEM heist that saw more than $400 million of investors' money lost. Nonetheless, many expect CoinBase not to have challenges in a country that is very open to new technologies and home to cryptocurrency enthusiasts.
Eventually Coinbase will integrate #XRP and Ripple won't pay a cent for its listing. I love karma https://t.co/YebUkQLOsu

— Muni? (@xrp_hunter) June 5, 2018
While this was happening, Ripple is hard at work and driving blockchain education to technical institutions. In an announcement, Ripple said they are setting aside $50 million to support an initiative called the University Blockchain Research Initiative [UBRI].
#Ripple Announces $50 Million #Blockchain Research Initiative https://t.co/q5Jw8ihRmj pic.twitter.com/zUsMPdtaDG

— NEWSBTC (@newsbtc) June 5, 2018
With this new partnership, 17 top universities across the world would access funding to research on various blockchain projects and innovate as much as possible. In a statement, these universities can at any time prioritize on what they would like to concentrate on be it on payment systems or any other blockchain field of their choice. Besides, these funds would be used for research acceleration and creation of in-demand blockchain curriculum for students.
Ripple (XRP) Price Technical Analysis
Weekly Chart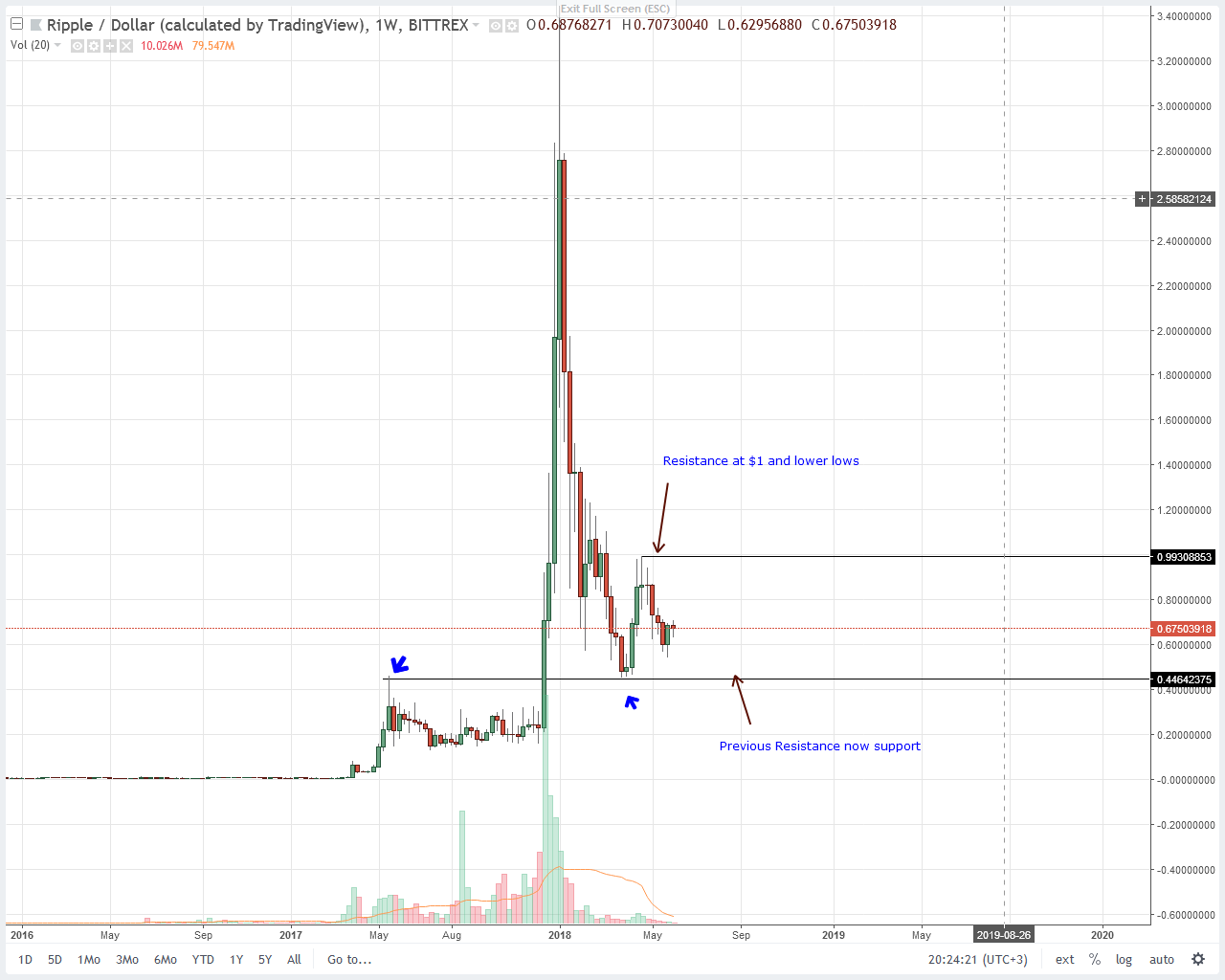 From our previous analysis, we said the way last week's candlestick shall close shall determine the trajectory of this week's prices. Well, from the weekly chart we can see that prices ended up higher meaning buyers were pretty much in charge. In fact to cement this, we can see a double bar bullish reversal pattern in the midst of a bear trend. What is important now is a follow through of last week's bullish candlestick if indeed May series of lower lows were long coverings. Remember, unless we see higher highs and a possible break above 70 cents, then bears are undisputedly in charge.After all, bears have been in charge for the better part of the year.
Daily Chart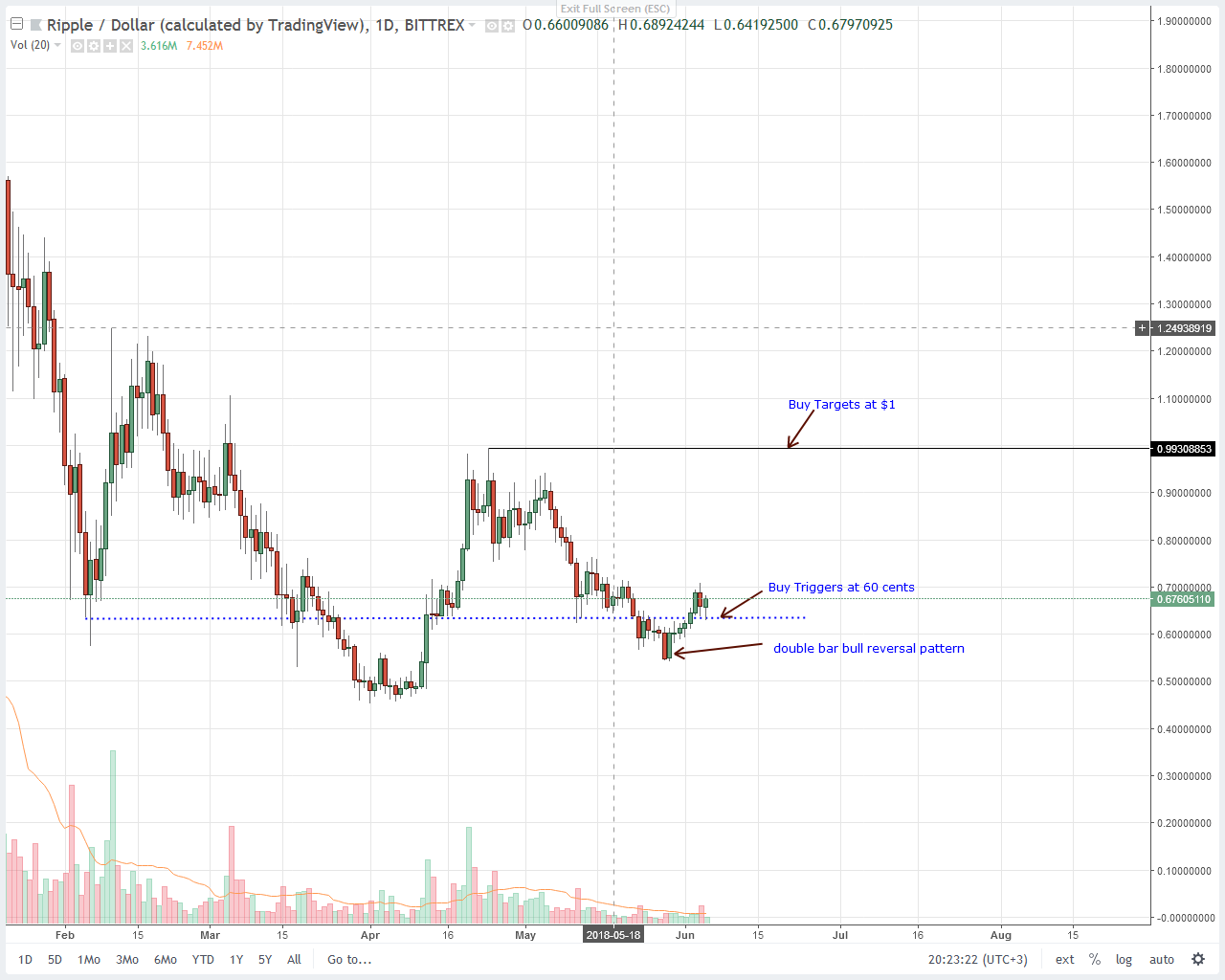 Our trade plan here is simple. We are net bullish despite sell odds being stacked against us. Now, because of this predisposition, two things can happen. Either sellers reverse yesterday's gain and breach below 60 cents or Ripple buyers add their longs following CoinBase news and break above June 4 highs at 70 cents. In my view, taking longs in line with the weekly chart and our general skew would be the best approach. Therefore, today, buyers can begin picking long signals in the 4HR chart and aligning themselves with the current trend. Our ultimate target lies at $1.