For Ripple bears to cease, then we must either see strong fundamental announcement like any of ripple technology being adopted by a central bank or abnormal injection of buying volumes. This is the only way to stop this bearish skew. Otherwise, odds are, sellers might push prices towards 45 cents. As such, it's but logical to trade with the trend and sell in lower time frames as long as prices remain below 60 cents.
From the News
When companies like Revolut respond to user demand by increasing their cryptocurrency offerings, good things happen to those added cryptos. In this case, Revolut are now availing Ripple and Bitcoin Cash to their customers. Ironically though, Ripple is inherently meant to be stable, soaking in speculative forces without huge swings.
? With so much excitement surrounding #XRP, here is everything you need to know about one of the most talked about Cryptocurrencies. ? https://t.co/o3zio8QTir

— Revolut (@RevolutApp) May 23, 2018
Ripple is simply but a facilitator, an agent for transferring value and a bridge allowing movement of fiat value from one jurisdiction to another during international transfers. Now, Revolut customers would be in a position to transfer their fiat holdings and instantaneously buy Ripple while increasing their investment in cryptocurrency. This fiat-crypto transfer is via Bitstamp, a Luxembourg exchange who shall be charging a 1.5 percent transaction fee.
Of course movements like these are encouraging and a reprieve now that we are in an incessant bear market which has since wiped more than $10 billion in Ripple market valuation. Nonetheless, we are still positive and asserting that Ripple is a 5+ year holding investment with chances that it would turn out to be the largest facilitator of international payments across the world in the future.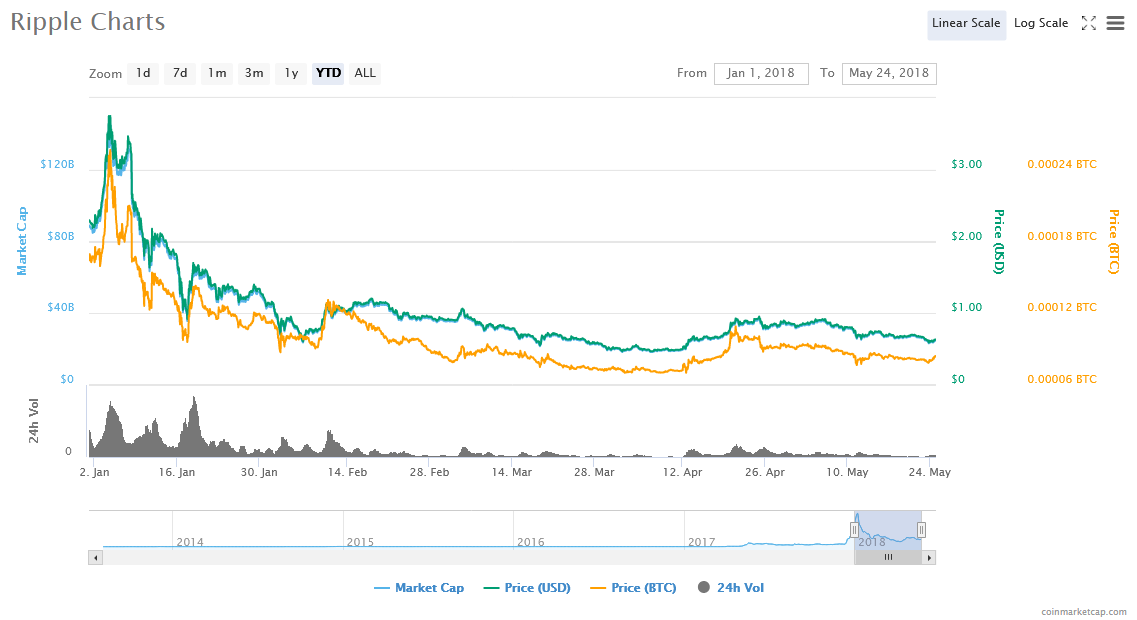 It would be even interesting if the number of global banks adopting xRapid pick up while not forgetting that some traditional and major remittance companies as Money Gram, Western Union have piloted the project. Speed, security and cost cuttings have all been checked so it's up to willing start-ups to get up and leverage on Xpring initiative as they prop themselves and Ripple.
Ripple (XRP) Price Analysis
Weekly Chart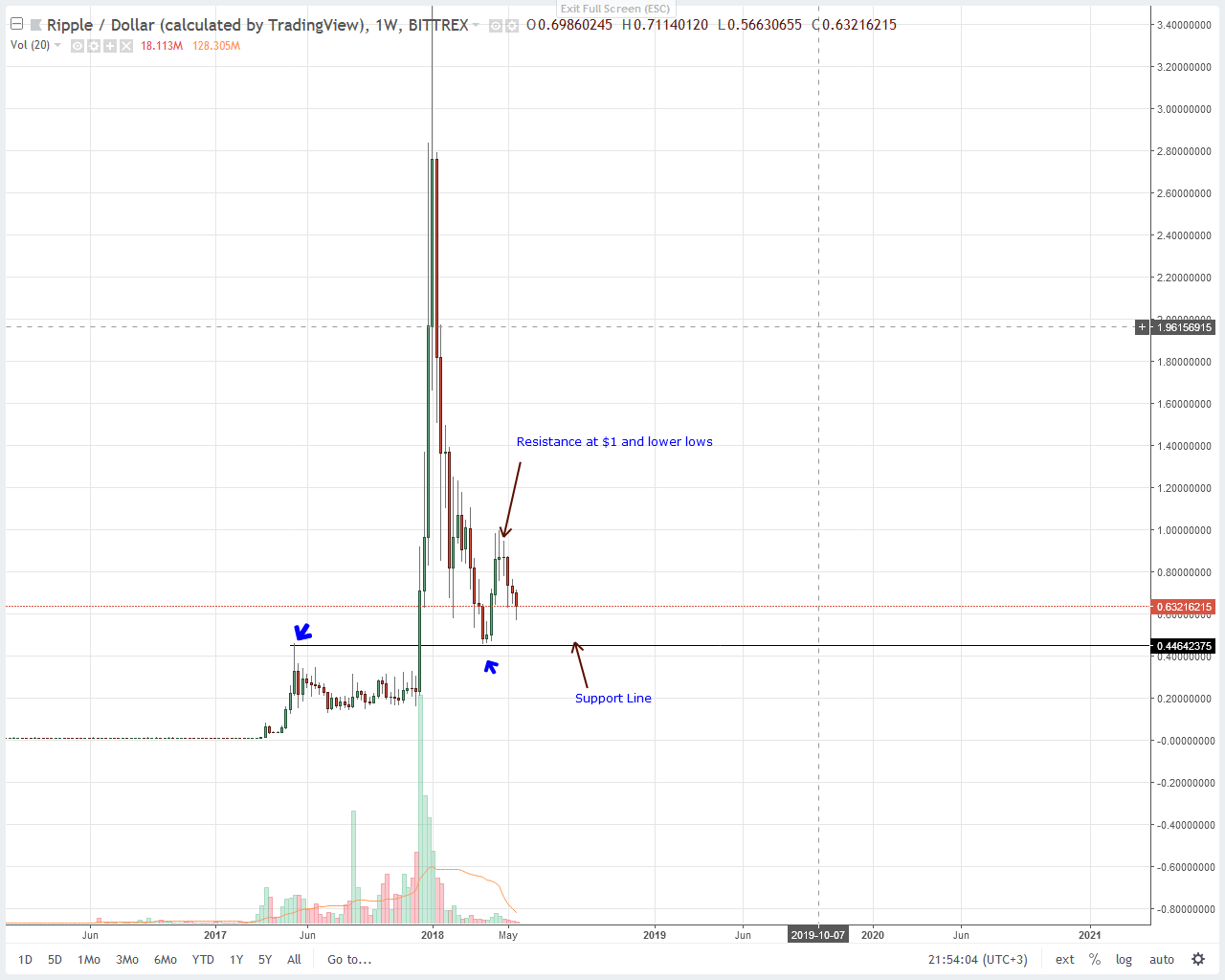 Like before, current lower lows is most likely a long covering. This is so especially if we take into account the alignment of previous weekly candlesticks. Notice that while we all agree that bears are truly in charge, the last five weekly bearish candlesticks are trying to reverse the last two weekly candlesticks by week ending April 22.
Then we saw that buyers were pushing prices higher and bouncing off previous support region. Unsurprisingly, this is the same level that sellers might retest at 45 cents. In my view, this is but an effort and result scenario. Here, previous supports are playing a key role acting as trend divisors.
Furthermore, besides, note that the last bullish candlesticks had an average 100 million in volumes. In contrast, the last five candlesticks average volumes stand at 35 million. This is why it is taking a whole lot of effort-five candlesticks-against two to reverse previous gains. Regardless of sentiment then, I remain positive of Ripple support. It's conditional though. Prices must oscillate above 45 cents for this to be valid.
Daily Chart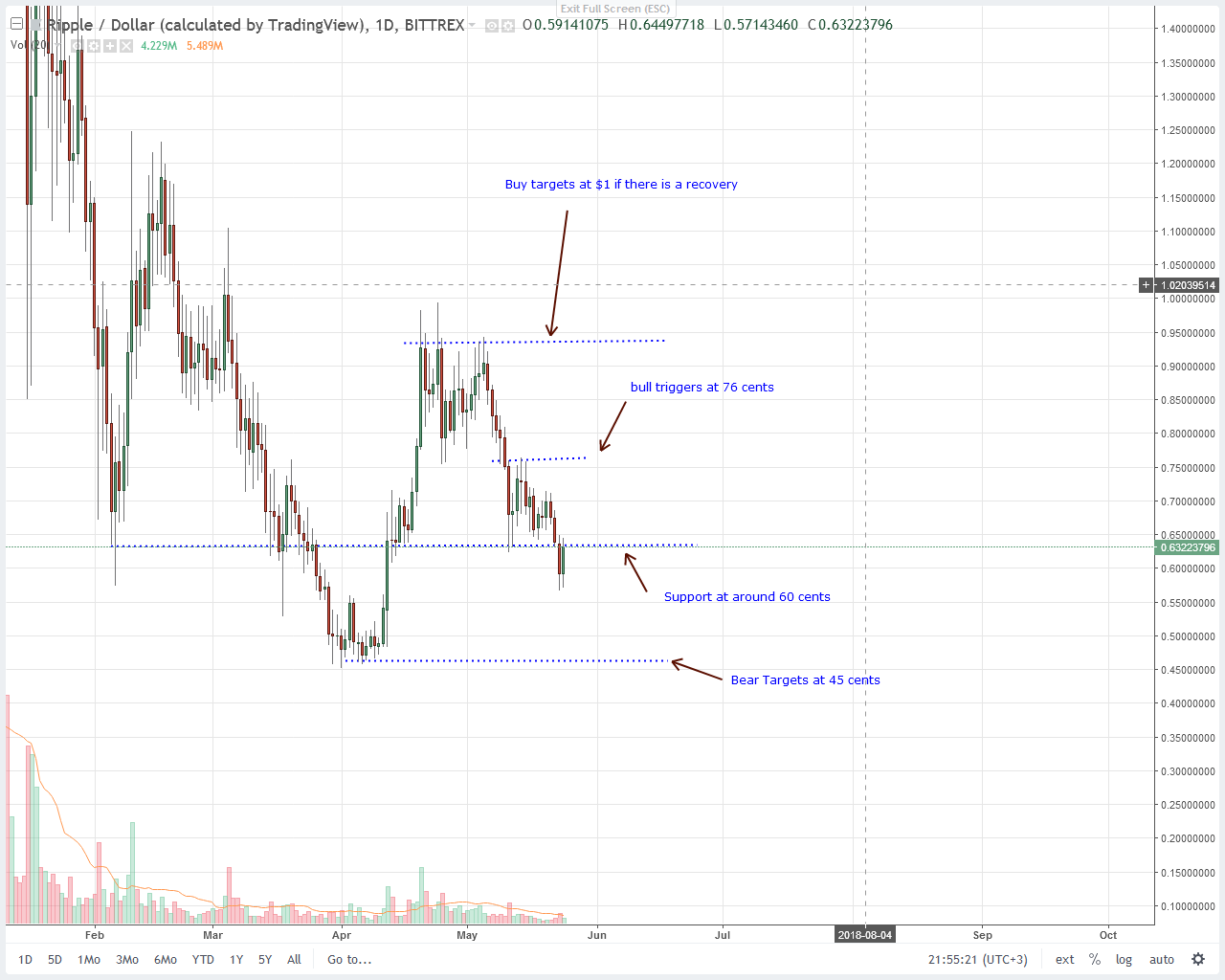 Bears are in charge and as long Bitcoin sell off goes on, Ripple shall add to their losses. Of course, unless we see strong supports through volumes spikes buoying prices.
Yes, prices did not edge lower yesterday in line with May 23 break below main support. However, you should note that trading volumes is incomparable to break down volumes. That's May 23 bear candlestick volumes. We need similar participation levels and close above 60 cents for us to surely confirm Ripple buy pressure. Otherwise, considering this technical set up, selling in lower time frames and aiming for 45 cents would be ideal.