Ripple prices solid above 34 cents
NGM launch XRP Tracker One allowing investment in a regulated manner attracting institutions and other HNWI
Boerse Stuttgart's NGM did launch two ETPs tracking the performance of Ripple (XRP) and Litecoin. The XRP Tracker One allows investment without exposure and risks of owning the underlying asset and is regulated meaning broadcasting exchanges are under the microscope. A day after launch, XRP is up 6.8 percent, outperforming Bitcoin (BTC) and Ethereum (ETH).
Ripple Price Analysis
Fundamentals
After three, or even five months of consolidation, Ripple (XRP) is back to the limelight. By leading the surge, the third most capitalized coin is now up 6.8 percent from yesterday's close and is benefiting from Bitcoin lift-off. But it has not always been like this. Despite market supporting fundamentals and Bitcoin printing higher highs in the last couple of weeks, Ripple was mostly unchanged. Luckily, there are many reasons to be optimistic.
A standout is a recognition by the World Bank and the mentioning of cost savings and speed of xRapid. As a solution that seeks to change status quo benefiting the end user, the global financier notes that Ripple's solution has the possibility of impacting people's lives positively. Being one of Ripple's core product, xRapid do leverage XRP as a medium of exchange. The digital asset, in a recent Weiss Ratings survey, turned out to be more popular in the US than Bitcoin.
From these developments, Nordic Growth Market (NGM) operating by Swiss's FSA rules, seeks to take advantage of the coin's popularity by availing an exchange-traded product (ETP) based on XRP–XRP Tracker One, allowing investment without exposure. The XRP Tracker One has a valid ISIN Number meaning they are legit securities.
Candlestick Arrangements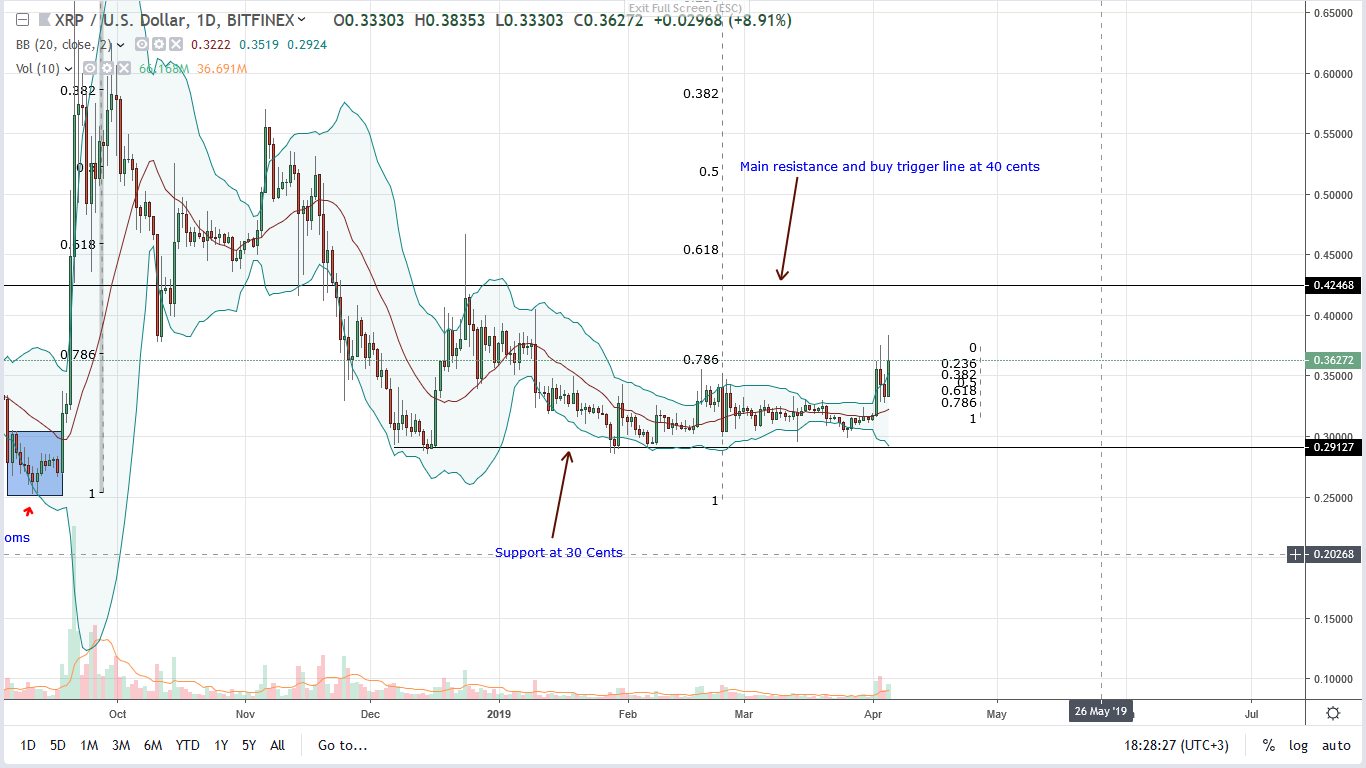 Back to price action and the trend is clear. Bulls are firing XRP. By adding 6.8 percent today, Ripple (XRP) is leading the way. By the close of today, the coin will likely be above 34 cents meaning our previous XRP/USD trade plan is valid and risk-off, aggressive traders can load up on every dip.
Already, we can note that momentum is high because, despite Apr 3 and 4 bars closing above the upper BB, prices found support in the Asian session arresting liquidation.
As a result of this development—and high participation levels exceeding those of Apr 4, bulls are firm and aggressive traders should load up on pullbacks as long as XRP is above 34 cents.
Technical Indicators
Volumes are high, and even though the initial excitement is subsiding, Ripple (XRP) prices are trending above 34 cents. Because of this, we expect higher highs with targets at 40 cents. After that, any gain driving prices above 40 cents must be with high volumes preferably above those of Apr-2, 79 million.
Chart courtesy of Trading View