Ripple (XRP) rally, add 44.2 percent
An Ethereum (ETH)—Ripple (XRP) flip could happen in days

After a six-month consolidation, the stage is ready for Ripple (XRP). Up 44.2 percent at the time of press, XRP is closing in on Ethereum (ETH) and could flip the asset if there is a ballpark 25 percent price increment. At this pace, bulls should set their targets at 80 cents and even $1.40.
Ripple Price Analysis
Fundamentals
Before May-14, Ripple (XRP) performance had been lackluster. Underperforming Bitcoin (BTC) and other top-10 liquid assets, observers said the XRP was decoupling to the delight of Brad Garlinghouse, the CEO of Ripple Inc. In his view, the final decoupling from Bitcoin would be mainly because of the "investor rationale." That will be when investors would appreciate what each project brings to the table. While talking to CNBC, the crypto leader said:
"There's a very high correlation between the price of XRP and the price of Bitcoin, but ultimately these are independent open-sourced technologies. It's early, over time you'll see a more rational market and behaviors that reflect that."
He further adds that most crypto assets will "disappear" in a decade because the sphere "is still a nascent industry, the speculation in the market dominates the trading activity. I think it's a matter of time until people better understand the different use cases."
However, with CoinBase Pro decision to support XRP trading in the stringent, compliance demanding state of New York is a big boost for the asset. To some extent, it does clear XRP of the "security" tag, allowing for unbridled investment in the world's third most liquid asset.
Candlestick Arrangement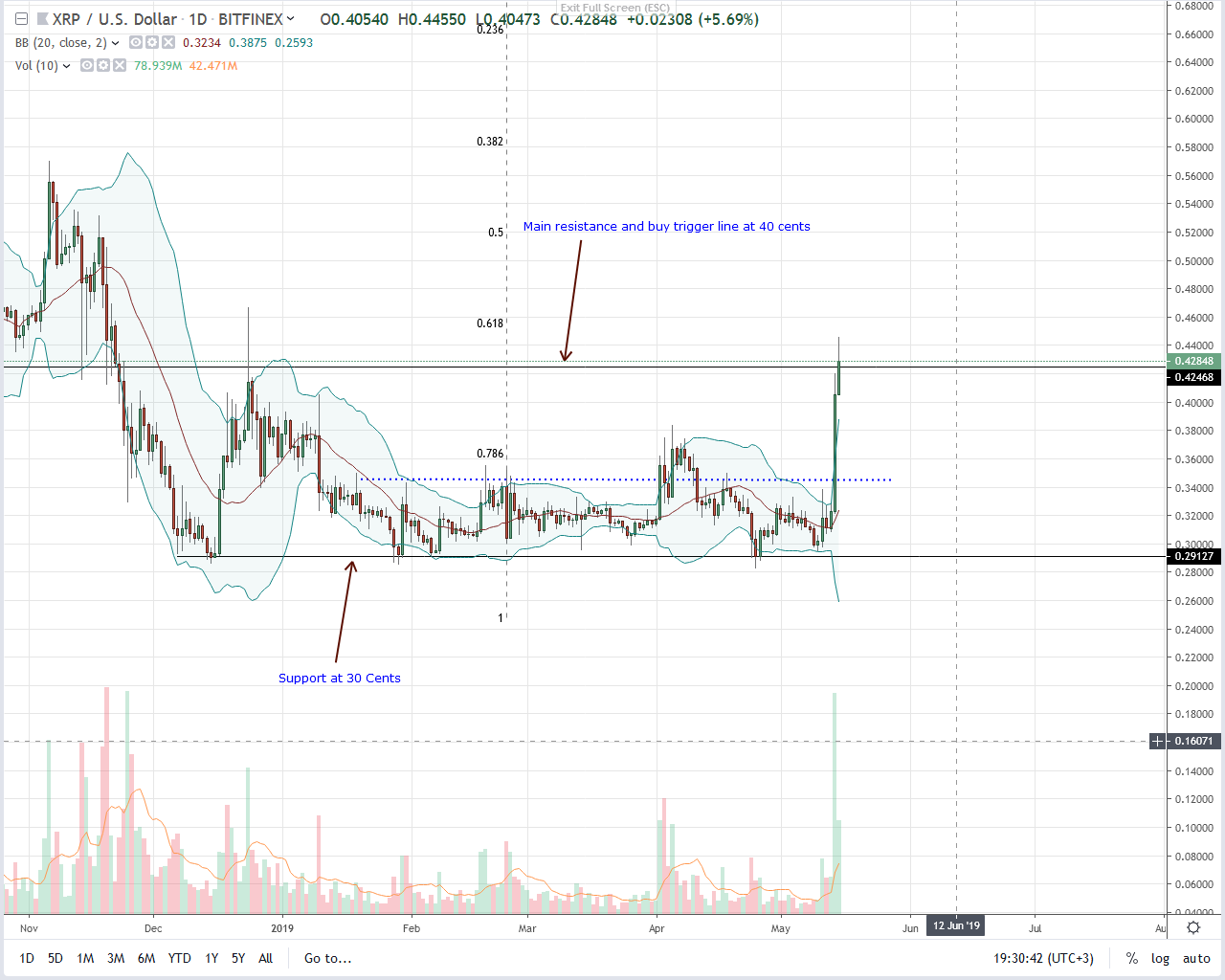 At spot rates, XRP is trading above 40 cents with a market cap of $18,076million,up 44.2 percent in the last week and closing on the ETH gap. Besides the injection of buy pressure, what's worth noting is that prices are now trading above two critical resistance levels at the back of high participation levels.
Because of this sharp spike, all our XRP/USD trade conditions are right. As a result, the best course of action is to fine-tune entries in smaller time frames with the first modest target at 60 cents and later 80 cents.
On the flip side, in case there is a correction, ideal buy zones will be anywhere between 35 cents and 40 cents in a retest trade.
Technical Indicators
Since Sep 2018 bulls are back—analysis from an effort versus result point of view, supportive of buyers as prices are still consolidating inside Sep 2018 high low. Anchoring our trade is May-14 wide-ranging, bull bar with 187 million against 35 million. In a trend continuation, we expect XRP to close higher with equally high volumes ideally above 100 million.
Chart courtesy of Trading View