Ripple prices below 34 cents, in range mode
JPM Coin not a threat, Brad Garlinghouse assures
Transactional volumes low, averaging 14 million
Brad Garlinghouse, the CEO of Ripple Inc, is confident that JPM Coin private nature is not a threat to XRP. Even so, Ripple (XRP) prices are struggling and yet to breach the 34 cents mark.
Ripple Price Analysis
Fundamentals
In a way, JPM Coin is a pioneer in that it is the first major, USD backed cryptocurrency issued by a major bank. Here's why it is noteworthy. Aside from Jamie Dimon opinion on crypto, the bank he heads is a mover. JP Morgan and Chase have a net income of US$32.474 billion and AUM of US$2.733 trillion. However, it doesn't stop there. The bank is a behemoth on its own and one of the oldest in the US.
Therefore, their decision to issue a stable coin redeemable 1:1 with the USD is something remarkable if not shaping. It also spells stiff competition for Ripple Inc eager on clipping market share from SWIFT, a self-serving global network created by the world's leading banks.
Despite this, Brad Garlinghouse is unfazed, and at the recent DC Blockchain Summit, he said the problem is with its centralization. Explicitly formed for institutional transfers, Brad insists that JPM Coin fails to tackle a use case and therefore will find it hard to gain traction.
Candlestick Arrangements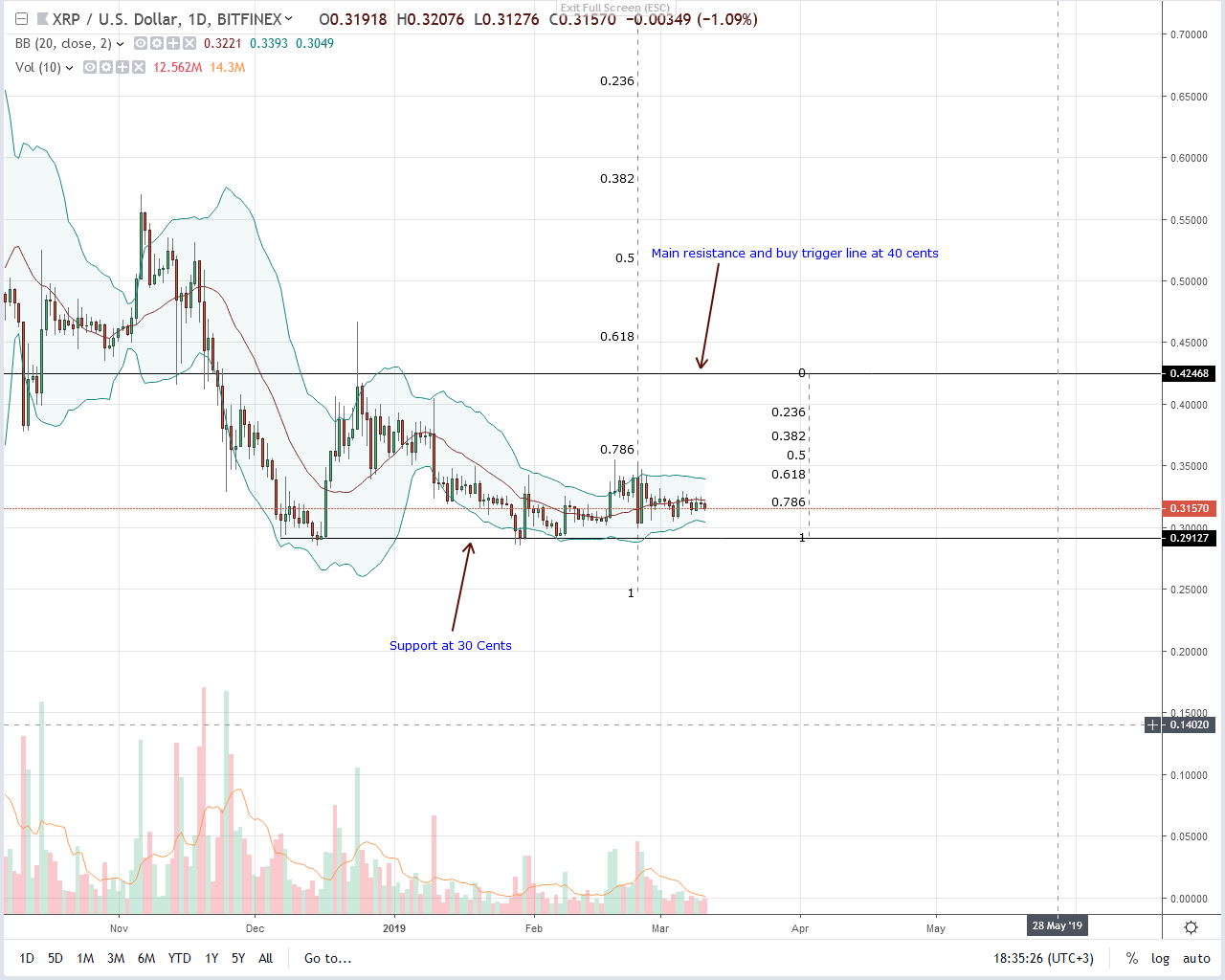 At the time of press, XRP is stable and trading within a tight trade range. Even though we are bullish on the coin, expecting a rebound from 30 cents, it is the lack of conviction from the optimistic side of the equation that is stalling our prospects.
To reiterate our previous stands, Ripple (XRP) is technically bullish and the longer this BB squeeze becomes, we expect a break and close above 34 cents. The level marks the 61.8 percent Fibonacci retracement off Dec 2018 high low.
Before then, the failure of bulls to build momentum and rally above this mark means there are high odds of a break out that will validate our trade plans.
Technical Indicators
Compared to trade volumes of Feb 24, Ripple (XRP) transaction levels are low, averaging 14 million. Since our anchor bar is Feb 24—61 million, it is until there is an increase of activity, driving prices above 34 cents or below 30 cents complete with high trading volumes—preferably above 61 million, that we shall add our longs or liquidate our position.