Fundamentals are positive for XRP and so far, more exchanges are actually listing XRP as their base currency for expediency purposes. However, regardless of all these, we are yet to see conclusive gains as prices yield to sell demand and are now trading below 45 cents and edging close towards 40 cents. Any dip below that means traders should short XRP and aim for 15 cents.
From the News
A Taiwanese cryptocurrency exchange, Bitrue will be offering trading pairs with XRP as base. By doing so, it is diverging from the tradition set by most exchanges whose base currencies are dominated by ETH and BTC. Besides, Bitrue are inclined to provide general transparency to the ICO market and to make sure that happens, they shall only list professionally selected ICO tokens. This is on top of collaborating with Wanchain, a cross chain platform.
Attention #XRP supporters! XRP as base currency is almost there at Bitrue exchage. Coming soon on July 27 8 am(ET) and 8pm (GMT+8)! To the moon!

Visit https://t.co/DctiEwbs1w
customer support: https://t.co/QaGLrOZaTF#tothemoon #XRPCommunity #xrpthestandard #XRPgoGlobal pic.twitter.com/Li6P9dfqcx

— Bitrue (@BitrueOfficial) July 27, 2018
Mike Novogratz backed Alphapoint, a cryptocurrency service firm will be powering DCEX, a decentralized cryptocurrency exchange. That's not the point though, what stands out about DCEX is that they shall avail XRP as their base currency, avail 15 trading pairs and list 10 coins from Bloomberg Galaxy Crypto Index. Donde, the CEO of DCEX said they settled on XRP so that they can cheaply and easily move funds.
Today we're very excited to announce the launch of @dcexofficial, powered by @AlphaPointLive. DCEX is the first-ever digital currency exchange to utilize $XRP as its exclusive base currency.
Read more here on our blog: https://t.co/YGnzPcvxrR #fintech #XRPCommunity #blockchain pic.twitter.com/HRKcoPjkSH

— AlphaPoint (@AlphaPointLive) July 30, 2018
After Gemini, NASDAQ will be supplying the much needed technology to SBI Virtual currencies and VC Trade. NASDAQ is helping the crypto-verse to clean up its image, guide it back to legitimacy and validate its role as a contributor to the global markets.
XRP Technical Analysis
Weekly Chart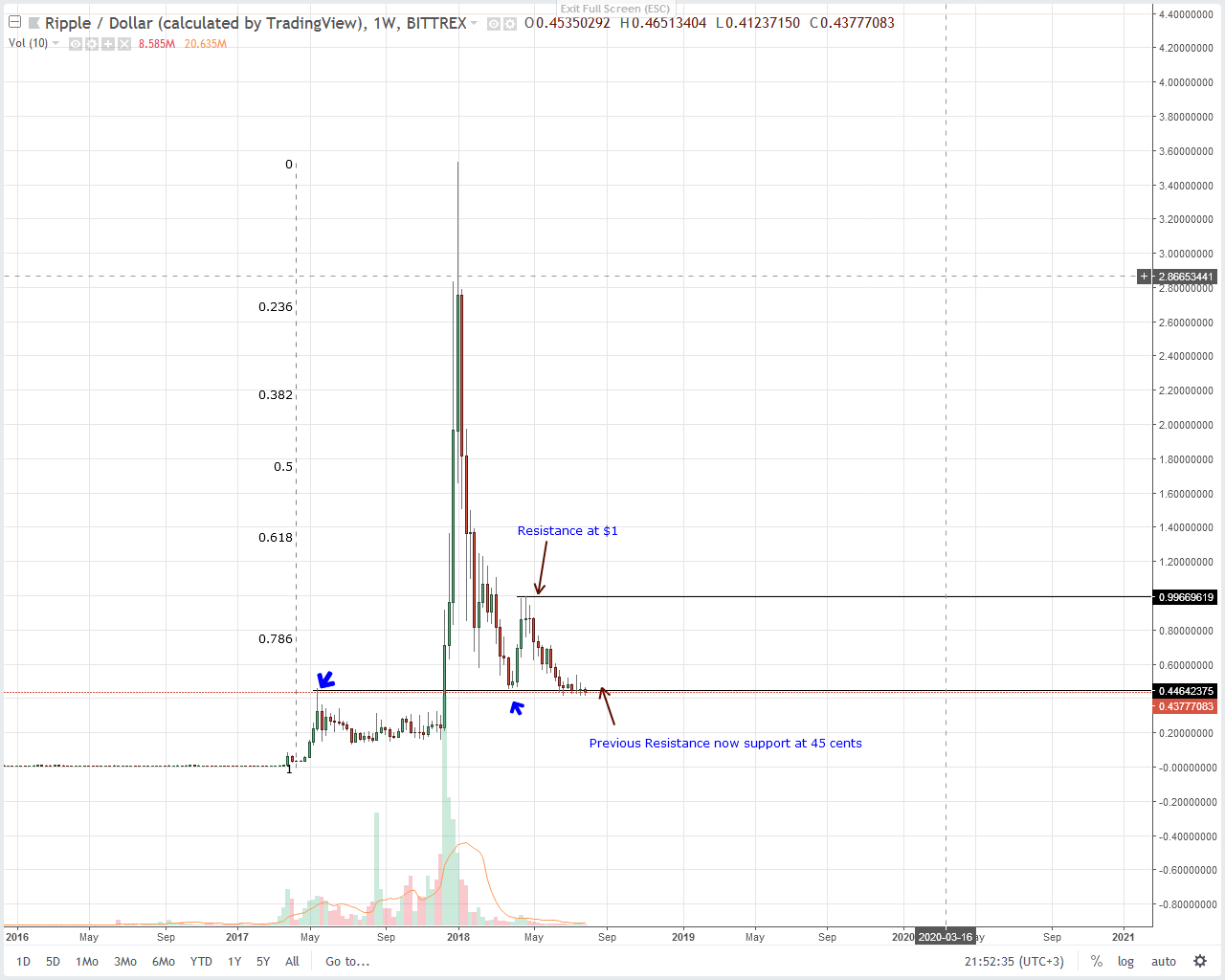 Even after two months of horizontal consolidation, it is likely that sellers will nonetheless have an upper hand and drive prices lower. So far, XRP is down four percent in the last day and week but what stands out is that XRP prices are trading below the 45 cents main support as drawn out in our last XRP technical analysis.
From the charts, 45 cents not only 2018 lows but it is the weekly chart's sell trigger line. So, this week, odds are there will be activation of our XRP sell conditions. For a recovery, XRP buyers must muster enough momentum and edge above week ending June 24 highs at 55 cents.
Note that, that strong bear candlestick set the precedence for current depreciation and has been containing prices within a 10 cent trading range in recent weeks.
Daily Chart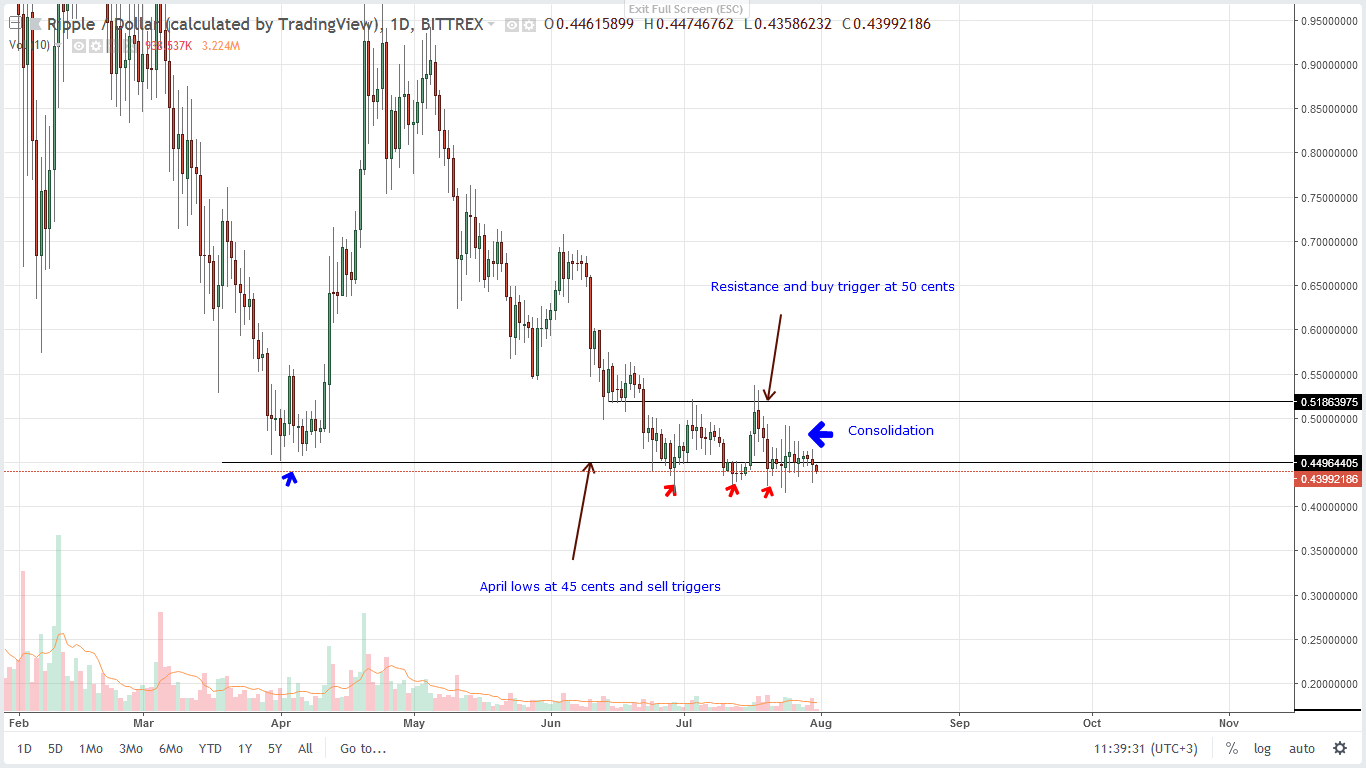 It's clear: sellers are in charge and are not relenting as they snap back in trend validating the general bear break out trend set in motion by that high volume, bear candlestick of June 22.
While we were upbeat about XRP, the fact that they are trading below 45 cents hints at further losses. For affirmation, both set of traders-aggressive and conservatives-should be prepare to short on pull back once we see prices trending below 40 cents.
In line with our last XRP technical analysis, ideal bear targets would be 15 cents.
Disclaimer: Views and opinions expressed are those of the author and aren't investment advice. Trading of any form involves risk and so do your due diligence before making a trading decision.