In the last week, the depreciation was slow now that Ripple sellers are finding resistance at 60 cents. Despite this, sellers did confirm the 3-bar reversal pattern clear after week ending May 6 close. Today, it's just a matter of waiting and if there are favorable news that would buoy prices then the better. In any case, our reasonable buy triggers are set at 75 cents while sells can find theirs at 60 cents.
From the News
Implementation of blockchain technology towards solution of every day's problem will for sure help accelerate adoption of DApps that make use of them. Take Ripple for example. At its core it uses blockchain ad they avail four products for their clientele. One of them is xRapid, a cross border payment or money transfer facilitator that strives to make the market more efficient.
Through a demonstration at the Consensus 2018, David Schwartz said that companies and or start ups that implements xRapid are guaranteed to save up-to 70 percent of costs. During their demonstration, xRapid, which uses RippleNet, could move funds from the US to Mexico in two minutes complete with the transaction receipts and registries at the blockchain.
Standing room only at @JoelKatz's live demo of 1st #xRapid payment! #Consensus2018 pic.twitter.com/n9Ezd6WKu6

— Ripple (@Ripple) May 14, 2018
Since everything is done in a transparent manner, there is no need of fear because of the end to end tracking of transactions that cushions everything against potential fraud.  Besides there is no obligation for users to make use of XRP tokens so they need not to worry about the up and downs of XRP market pricing.
While at it, Ripple announced Xpring, a smart initiative by Ripple, for funding companies, entrepreneurs and start ups who use Ripple products. Through an official announcement in their company's website, Ripple said they are ready to incubate, fund, offer grants or even invest in start-ups that leverage on their technologies.
Excited to announce Xpring, a new initiative that supports businesses growing on the XRP Ledger, and initial investments in @SB_Projects, @blockchaincap, @Coil_ and @omni. Together, we will grow the #InternetofValue! https://t.co/Vx7cBrnz3D

— Ripple (@Ripple) May 14, 2018
In my view, this is a bold move and they actually see the benefit of starting earlier and building up the whole Ripple ecosystem. Driving this program would be Ethan Bear who is also the senior vice president of Ripple and Xpring. Before this, Ethan was the Director at Facebook Developer Network.
Price Analysis: Ripple (XRP)
Weekly Chart
We can decide to look Ripple from a bullish perspective or a bearish point of view. Yes, we cannot argue that prices have been trickling down in the past few days completing an ideal break below consolidation in a three bar bear reversal pattern. In fact before last week we had a bearish engulfing pattern bringing forth an Evening Star formation. What we wanted was a confirmation and lower lows towards our ideal 45 cents which is also the main support line in our analysis.
Now note that by week ending April 22 we had a bullish candlestick but the fact that prices are finding it hard to convincingly close below it means recent lower lows were actually long coverings. In our case, we shall turn on the bearish torch-I'm bearish already-and recommend shifting trailing stops to 70 cents if there is close below 60 cents today. If not and Ripple end up bullish, exiting those short positions is prudent.
Daily Chart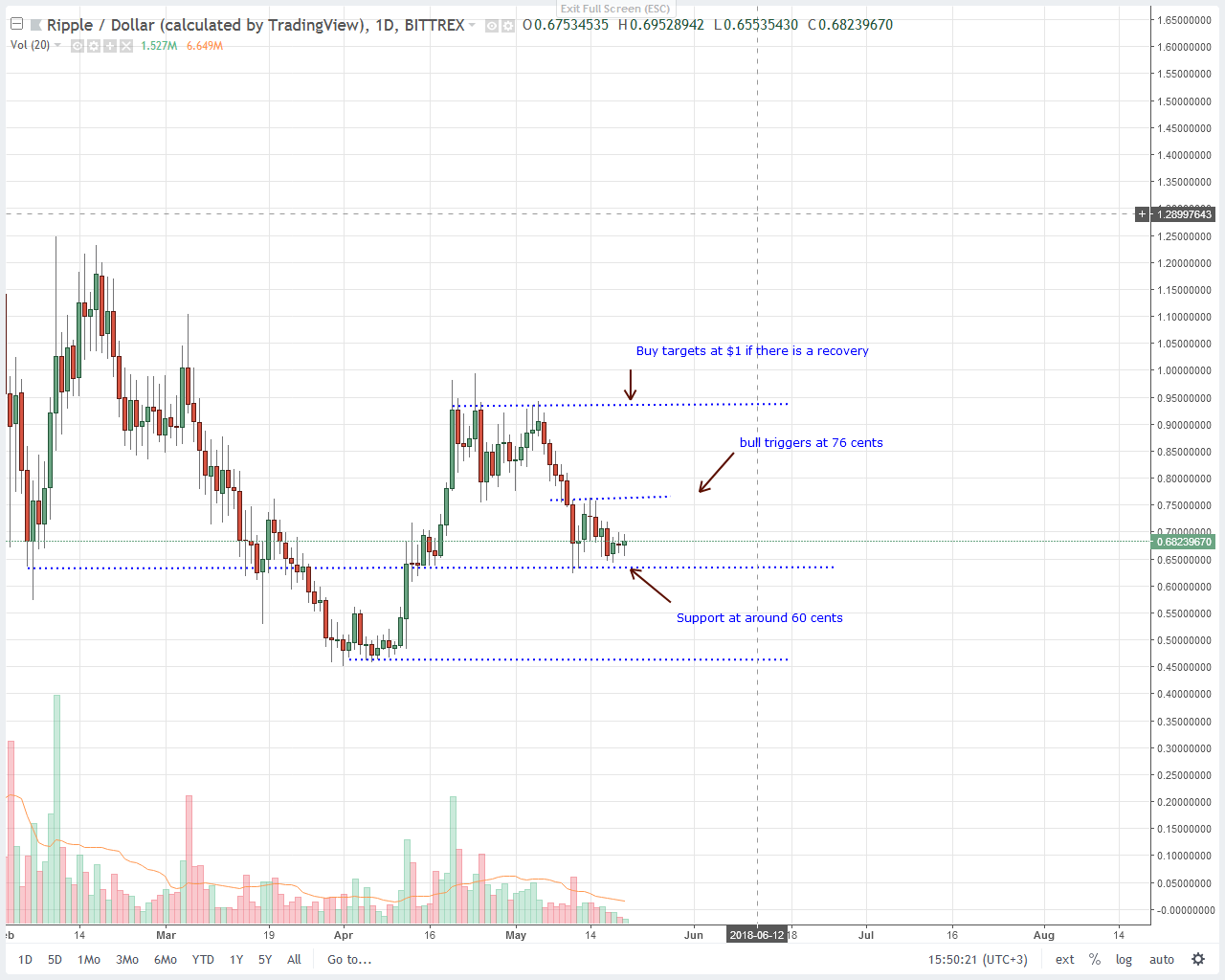 In the daily chart, odds are buyers are in charge. It isn't really hard to see why. Our previous support line at 60 cents like a spring board for buyers following that double bottom formed between May 12 and 18. In case we are wrong, that support line at 60 cents will be our bear trigger line especially if bears push prices lower as they sync with the overall bear trend.
On the flip side, I will recommend buys if and only if today end up as a bull candlestick confirming higher highs we have been seeing in the previous days. My ideal bull trigger line is at 75 cents or around May 14 highs.